Super World Sports – Osaka Furitsu Taiikukaikan 01/08/92
Osaka Prefectural Gymnasium
Osaka, Japan
Attendance: 4,850
Gong Magazine's 10 biggest news stories in Japan of 1991 were revealed and it's nice to see SWS make any list at this point so let's look and brag about their relevance:
UWF splits into three groups
All Japan continues doing mega-great
Small indie FMW draws two crowds of more than 30,000 fans
Masa Chono wins the singles tournament for New Japan in August
Tatsumi Fujinami wins NWA title from Ric Flair
Giant Baba returns to action after missing six months
W*ING promotion forms
Dynamite Kid retires/Yoshihiro Asai jumps from Universal to SWS.
Well that was nice. Let's get to SWS' newest idea: a Tag Team Tournament for some nice new belts!
So at NJPW's Super Warriors in Tokyo Dome (which would end up starting the Jan 4th tradition), Riki Choshu pinned Tatsumi Fujinami to unify the Greatest 18 Club World Martial Arts title and the IWGP title.
Afterwards, Choshu stated by merging the two titles he became the most important singles champion in the world and then stated that if he wrestled Tenryu for the title in SWS, then SWS would claim that title and he or someone else would have to go to SWS to get it back. Why the hell would Riki be talking about SWS at a time like this? Here's the copy-paste from the Observer:
There is a huge story behind the scenes going on which is why he did this interview. Apparently Sagawa Express (equivalent to Federal Express in the United States) has been backing Inoki as he runs around the globe doing nothing playing the politician angle for the Japanese public. However since the company has lost money, they had to cut back on outside endeavours including backing Inoki's political adventures. So Inoki needed a political sponsor and went to Hachiro Tanaka, the so-called "super-rich mark" who owns Megame Super Opticals and also owns SWS and PWFG. The two apparently made a deal that would include a joint card later this year (none of this is confirmed yet but as the story goes, they have a Dome date booked secretly) with a gimmick of SWS vs. New Japan headlined by Choshu vs. Tenryu.
That match would eventually happen but it'd be a year later and naturally a lot of other things would happen in between then. Imagine Cody beating Roman then calling out Nick Gage for a match at Wrestlemania 40.
Samson Fuyuki (Revolution) & Takashi Ishikawa (Revolution) vs. Shawn Michaels (WWF) & The Great Kabuki (Revolution)
Oh my God, HBK and Kabuki??? We're getting closer to WAR territory with these random teams. We're JIP seven minutes to Ishikawa shoulder-blocking HBK and Michaels taking as many flips as humanly possible. He needed practice for Hogan. Kabuki takes one move then takes a rest, so this could have been JIP seven minutes or seven seconds into this match. Michaels gets slammed on the ring ramp so Kabuki avenges the Sexy Boy with a DDT on Ishikawa. Michaels continues to oversell everything, at one point he tries to Flair Flop but Ishikawa holds him up like "no no, you need more beating." Kabuki gets the hot tag but it breaks down quickly because Kabuki can only do one spot before needing a bowl of milk. Michaels gets sent outside over the top rope (getting as much air as possible) before ducking an Ishikawa lariat to fall right into Fuyuki's crucifix to end it.
I enjoyed what I saw here but at the same time, I'm glad we only saw the highlights.
Tenryu & Hara head to the ring to announce the Round Robin Tournament for the brand new SWS Tag Titles. Even though we had matches for it at the last show. Moving on.
SWS Tag Team Round Robin Tournament
Shinichi Nakano (Palaestra) & Tatsumi Kitahara (Revolution) vs. Kendo Nagasaki (Dojo Geki) & Kenichi Oya (Palaestra)
Virtually nothing happens for five minutes. It's like the gap between matches at Wrestlemania 39 but with less cinnamon. Kendo gets worked over but without brawling on the outside he can really half-arse a match. Kendo holds Nakano for a Missile Dropkick from Oya and the impact causes Kendo to fall over too and the crowd's laughter is the only reaction we've had so far. Kendo lands a pleasant piledriver but there's such little immediacy from everybody involved you'd think they were going an hour in front of ten people. They pick it up to second gear in the last few minutes and the finish is alright, with Oya trying for a DDT on Nakano until Kitahara kicks him and turns into the match-ending Northern Lights Suplex. Ignore this match like a homeless person wearing better clothes than you.
Undercard Digest: Akira Katayama's last match is shown, complete with career-ending dive and all. It's as brutal as you'd think and no wonder the crowd has been extra-sedated this week after witnessing something as horrific as that.
Ultimo Dragon (Fuck Universal) vs. Comando Ruso (CMLL)
Hey, Russo did go to Japan to get the Luchadores after all!
Ruso tries to keep Ultimo grounded before responding with basic Raw 1998 stuff, so if you ever wondered what Ultimo vs. Val Venis would look like then strap yourselves in. Dragon dives to the outside but Ruso makes like Rocky Horror and takes a step to the right so Dragon splats on the mats. Ruso follows with a Rolling Senton off the apron, mostly missed by the camera crew. Ruso drags him inside but Ultimo disapproves, sends him back outside so he can dive through the ropes with a beautiful suicide dive. Back in, Dragon lands on his feet after a backdrop attempt before countering Dragon's Victory Roll by rolling back. A Frankensteiner Pin can't put away Ruso, who retaliates with a sweet-looking moonsault which Ultimo responds with by rolling out of the way. It's only fair. Ruso powerbombs Ultimo but he takes too long setting up a suplex and ends up dunked outside in time for THE ASAI MOONSAULT WHICH WAS MISSED BY THE CAMERA CREW SO I CAN'T GIF IT. Ruso ignores it because lol lucha and responds with a fantastic release Powerbomb.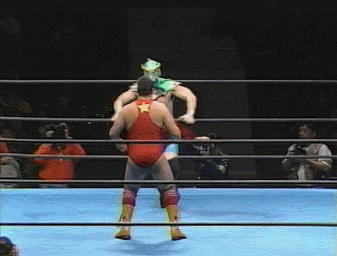 Dragon is then locked in the Mexican Surfboard because Luchadores were contractually obligated to do that move whenever in Japan. Ultimo rolls out, lands the In-Ring Asai Moonsault before nailing the German Suplex. Sadly Ultimo fudges the transition into a Bridging German so he awkwardly pins his opponent and then angrily takes his hand away from the ref when he raised it, clearly mad with himself.
Aside from his Steven Universe gear, Ruso wasn't anything special but Ultimo is at this amazing level of being able to have great matches with anybody able to keep up with him. He messed up the finish and the production missed two dives and this match was still worth watching!
SWS Tag Team Round Robin Tournament
Davey Boy Smith (WWF) & Naoki Sano (Palaestra) vs. George Takano (Palaestra) & Shunji Takano (Palaestra)
Shunji stood next to the other guys in this match like a weight-loss commercial. Sano and George throw big bastard kicks at one another before the human fridges tag in. Bulldog flexes to the delight of the crowd and is somehow able to press slam Shunji over his head without his shins shattering. George plants Bulldog with a beautiful sit-out dropkick off the top. Sano airplane spins George before both men go at it on the mat while attempting to remove either man's arms and ankles. The Takanos work over Sano with Shunji breaking a sweat with a Piledriver while George dives over the top rope with a dive. Bulldog tags in but he can't do much because George is feeling it tonight, landing a top rope splash with such impact he bounces off Bulldog's tits like he's a milkwaterbed. Sano tags back in and double-stomps George which probably had no effect given that that he's built like a Nissan Micra. Both men continue to throw hard kicks to prove how good they are to the rest of the world I guess, with George landing another giant splash and follows that with a bloody moonsault too. Did they think they were eligible for the Kip Frey bonus system? Bulldog tags in and sends Sano soaring outside, before Sano gets back in the ring just so he can fly over the ropes with a sweet Tope Con Hello before Bulldog splashes Shunji to win. Man, what a beautiful hard-hitting match with everyone working hard and with a point.
SWS Tag Team Round Robin Tournament
King Haku (WWF) & Yoshiaki Yatsu (Dojo Geki) vs. Ashura Hara (Revolution) & Genichiro Tenryu (Revolution)
AHHHH TIME TO SIT ON THE FAT BOY CHAIR AND PUT MY FEET UP ON THE OLD MAN FOOTSTOOL. Hara and Yatsu start off and take it easy as there's a loooot of show time left so we're going long tonight, baby. Both men tag out to their older, tougher dads with Tenryu taking Haku down with an ankle lock, which only leaves him open for abuse from Yatsu. However Tenryu ignores a beautiful Haku dropkick and tags in Hara as this got fast quick. Hara and Haku go headbutt for headbutt to Christopher Nowinski's joy. Haku doesn't appreciate that joke so he wails away on Hara until both men tag out as the pace is hellish this time around. Gone are the days of Tenryu getting worked over for ten minutes to the sound of women crying in the front row, oh no. This time Yatsu turns Tenryu into a pretzel on the mat so Hara runs into slap his opponent around like Butterbean playing with Bart Gunn to keep this match competitive. Tenryu can't take Haku out with lariats so Tenryu busts out the enziguri…but that doesn't work so Tenryu sacrifices himself to land a giant lariat/body bang into Haku, which only barely takes THEMONSTERMENG down so Tenryu thinks "oh fuck this" and tags out. Hara the plucky youngster bodies Yatsu around while Tenryu has a breather like Vampiro after walking ten yards. A rejuvenated Tenryu kicks away on Yatsu's poor bastard face for an extended period of time, with Hara joining in so he can hold up Yatsu like the Catch Of The Day to annoy Haku. Haku tags in seconds later and mauls a deserving Hara in seconds, necessitating a tag out to Tenryu who delivers an amazing sweat chop.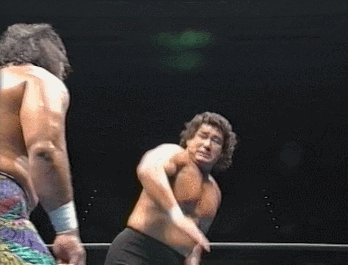 Tenryu misses the Blind Elbow so Yatsu tags in to get some Butterflies in before Haku resumes his Headbutting shift. Hara gives Tenryu time to recover before he starts throwing Enziguris like Tim Donaghy calling fouls. Dirty Powerbomb connects but Haku saves Yatsu and the match breaks down, allowing Haku and Yatsu to land stereo Enziguris. Tenryu fights on, even as The Natural Powers land a lovely Doomsday Device, he's still kicking out of shit. The Powerbomb Slice connects but Hara gets in the way of the ref enough to give Tenryu enough time to kick out, so everyone starts ignoring the ref like it's thirty seconds into an AEW tag match as Tenryu takes another lariat before succumbing to Haku's top rope splash to end it.
Smashing match from the big old lads who aren't actually old but look it, like Clive Dunn in Dad's Army. All four guys have been instrumental in not only producing excellent main events with lashings of violence but also reminding me why I'm following this weird little big company that no-one cares about.
Overall: Two very strong tag matches and a slice of Ultimo Dragon pie? Hell yeah, SWS rebounds after last time's crap show to save itself (for a few weeks at least).
I've been Maffew and SWS is getting better.