Super World Sports Takasaki-Shi Central Gymnasium 08/05/91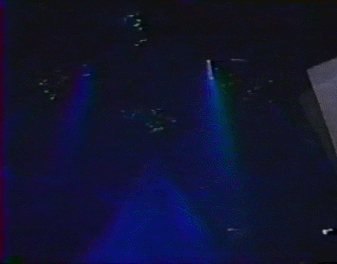 Sendai, Miyagi Prefecture
Attendance: 2,769
Aired on WOWOW Cable TV
Meltzer delivered his awards and SWS walked away with MOST UNDERRATED WRESTLER (Naoki Sano), ROOKIE OF THE YEAR (Ishinriki) and BEST WRESTLING MANEUVER (Orihara Moonsault) which is a nice positive for a promotion so criticized. Meltzer hopes Orihara survives doing the move on a regular basis to see 1992, which is kind of back-handed after you've rewarded the crazyness.
Oh also Tenryu picked up the Observer award of Newest President of SWS.
This show is a set-up for SWS's big show at the Yokohama Arena in four days time (going head-to-head with New Japan's first Sumo Hall show) which will feature the second annual SWS tag team tournament. SWS wasn't crazy enough to run a 17,000 seater without something special so today's show features the return of his old tag partner Ashura Hara.
For a full breakdown of Hara's return I recommend you read KinchStalker's type-up of this whole comeback. Here's a summary if you're like Shunji Takano and can't be arsed to better yourself: Hara was Tenryu's tag partner from 1981-1988 before not just exiting AJPW but leaving wrestling altogether and going off the grid to quietly pay off his still-lingering debts (allegedly because of gambling). Tenryu had approached him earlier to join SWS but his request was declined by the then-President Tanaka. Well now Tenryu's the President I guess he got permission from himself and thus the former PWF and World Tag Team champions can ride together once more, with tonight giving Hara a chance to shake off any ring rust before Yokohama.
Oh and in a side-note that will become important as the end draws near: apparently Hara's return was met with great reluctance by other wrestlers but Tenryu ignored them and did it anyway. Hmmm.
Apollo Sugawara (SWS) vs. Akira Katayama (Palaestra)
We're JIP to Apollo getting stuck in the ropes like Andre The Giant. Well they were both at the same level athletically in 1991. Apollo is helped out by the ref before landing his one nice move, the spinning Samoan Drop, before some more basic moves connect. Crowd get more into it the more Akira kicks out with finally a lariat and a backdrop ending it to polite applause. Well look at that, I insult the guy and he produces a credible performance. About time.
Don Arakawa (Palaestra) vs. Tetsuya Yamanaka (SWS)
Don's a master of his craft, but his craft is "being so dominant and good at comedy that the guy might as well be invisible." Don could probably wrestle no-one and make it work. He's even stronger than usual here, barely doing any comedy before smashing his opponent daft and ending with a Cross Armbar. Eh. Donwards we go.
Masao Orihara (Revolution) & The Great Kabuki (Revolution) vs. Hiroshi Hatanaka (Dojo Geki) & Kenichi Oya (Palaestra)
We're JIP to Orihara sailing outside with THE ORIHARA CROSSBODY. He gets inside and that means even more unexciting Oya mat hold exchanges, because we hadn't seen enough of that this year. Thankfully Hatanaka is more interesting, getting a Giant Swing into an impressive Boston Crab. Kabuki tags in and sadly this means more AJPW mat-stuff for the sake of padding a match out. I go and check to see if the postman's been and when I come back. Kabuki is still in a crap leglock. Orihara simply kicks Oya in the face so he retaliates by punching him in the dick. Fair's fair. Orihara busts out the headscissors before more padding ensues. Hatanaka misses a flying spin-kick as it all breaks down but everyone's wrestling like they're conserving their energy. Which means it's a job for the WON award winner: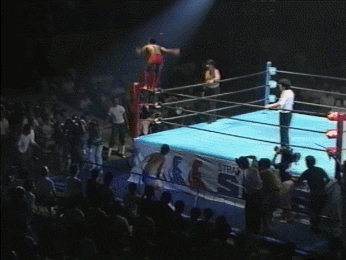 Kabuki comes in for several minutes of nothing before finally Orihara lands THE ORIHARA GERMAN SUPLEX for two before landing THE ORIHARA GERMAN SUPLEX again to end it. It's a bit harsh to say these guys were phoning it in when one of them was hitting moonsaults to the floor but here we are.
Fumihiro Niikura (SWS) & Rochester Roadblock (WCW/nWo World Tour) vs. Goro Tsurumi (Dojo Geki) & Kendo Nagasaki (Dojo Geki)
Goro and Roadblock start off, the bland leading the bland. Roadie continues to wrestle like someone who is copying what he's seen others do rather than actually know what he's doing. Goro and Kendo batter Niikura in the dullest way possible. Roadblock isn't good but is trying, Kendo is good but isn't trying, Goro stinks. Roadblock tries to makes it interesting with a clumsy crossbody off the top before Goro gets a small package for the win. The bits I didn't type out weren't worth wasting your bandwidth over.
Naoki Sano (PWFG) & Samson Fuyuki (Revolution) vs. Tatsumi Kitahara (Revolution) & Tito Santana (WWF)
PWFG ran their latest show on 07/26 from the NK Hall and casually drew 6,000 fans as shoot-style continues to pick up momentum. The show is notable for featuring the first proper unquestionable shoot match in the company's history between Yusuke Fuke and Thai Boxer Lawi Napataya. Quebrada goes into full detail about the whole thing and it's grease-filled controversy. Oh also Naoki Sano went to a thirty minute draw with some guy called Minoru Suzuki.
Sano has all the crowd love here but apparently not the editors' as we're JIP to Kitahara getting crabbed by Sano. Tito and Sano work well together but only in a fast-paced WWF midcard manner as Sano is apparently being phased out of doing PWFG style matches when he's in SWS. Fuyuki tags in to get stretched, only for everyone to brawl outside and across Japanese Tables, aka the only thing stiffer than Kitahara's kicks. Tito lands a casual Ganso Bomb (!) on Fuyuki for two. Sano saves him from death by delivering a delicious piledriver on poor Tito, complete with delayed recline and everything. Tito recovers and lands the El Paso de la Muerte which unleashes Kitahara and his kicks. It's not enough to put Fuyuki away, and neither is a missile dropkick so Kitahara continues the kicks that hit harder than the live version of Tom Sawyer. Sano angrily makes the tag so he can land the backflip into a spinkick before diving through the topes onto Tito as Fuyuki pins Kitahara after an Arse Splat off the top. OK stuff here from guys who are capable of so much more.
Rick Martel (WWF) & The Brooklyn Brawler (WWF) vs. George Takano (Palaestra) & Shunji Takano (Palaestra)
Brawler is so amazingly stereotypically 80s Bear with his jeans, cigar and hey-i'm-walking-heeeahhh voice that even Tom Of Finland would be like "woah, a little subtly please?"
Martel has been coming to Japan since IWE so hopefully he can get something out of Shunji. The Model gets a few dropkicks and armdrags then soaks up the mocking high-pitched applause from the crowd. It's not often you hear that from a Japanese audience. Brawler makes Shunji look good for a bit but as soon as it's Brawler's time to get offence the match turns into Von Wagner vs. Von Wagner. I'm fascinated by Japan's willingness to book the worst wrestlers against each other just to see what happens. Brawler oversells everything Shunji gives him then uses the most basic chinlocks & standing ankle locks possible. The only thing worse than his defence is his offence. Martel and the Takanos exchange ankle holds for a few minutes with Brawler stretching George's groin (careful now) over the ring-post, to comical "boooos" from the crowd. After some tepid brawling on the outside, the Takanos land a double dropkick. Shunji spits at Brawler and I'm amazed he had the saliva to do it. He's so out of shape it must have been like Gorilla Glue. The Takanos decide to isolate Martel for a while with extended chinlocks, which means we're building up to a hot tag to Brawler to kick it up a notch and that says it all. Brawler gets it and works over George's groin again as this match is going nowhere slow. It's the worst of both WWF and AJPW styles, with a match structured around a hot tag that's not getting heat with nothing meaningful offence-wise to boot. George lariats Martel out the ring and follows with a dive, before Shunji finishes Brawler with a top rope knee drop. Shunji doesn't look impressed and the crowd doesn't react. Look, I'll give SWS full credit for booking this and having the balls to see this dull disaster happen.
King Haku (WWF), Shinichi Nakano (Dojo Geki) & Yoshiaki Yatsu (Dojo Geki) vs. Ashura Hara (Revolution), Genichiro Tenryu (Revolution) & Takashi Ishikawa (Revolution)
Hara's pop is at the same level as Tenryu's which is reassuring. Booking him to return next to Ishikawa is a smart idea as his gut is at 'Randy from Trailer Park Boys' level so Hara looks svelte by comparison.
Hara starts off with Haku and goes headbutt for headbutt while refusing to go down. That's one way to prove you've still got it, going after the toughest guy like it's you first day in prison. Tenryu tags in so Haku bails and lets Yoshiaki take all the much-deserved abuse. That doesn't last long as Yatsu puts him down with a German Suplex and then we get some fast tag-outs and exchanges as these guys are going hard and fast. Whipping boy Nakano becomes the designated guy to make Hara look good but everybody is intent on doing something and tagging back out. They must have been trying to test Hara's stamina because Tenryu's not gone this fast in his entire SWS run. Hara gets stuck in the wrong corner but even that beatdown doesn't last long before Ishikawa lariats Nakano into the year 3010, to face the evil robot king and save the human race again. Nakano tries to start shit with Tenryu who hilariously just shoves him down like "what are you thinking my man?" Hara joins in with another colossal lariat, with Haku unable to stop him or knock him down in response. Ishikawa takes a bulldog on the unprotected mats on the outside with his gut protecting him like a car's airbag. To show how hard everyone's working, Haku busts out a beautiful looking dropkick:
Hara and Tenryu have a bit of miscommunication lariating Yoshiaki but the crowd's forgiving and they re-do it and everyone's like "eh, it's be expected." A double Enziguri on Haku goes much better, with Nakano seizing the opportunity to smash Tenryu with multiple Enziguris of his own…only for Tenryu to ignore them and finish the match with a quick Dirty Powerbomb.
This worked fine as a teaser for the big show and as a decent little main event that only went ten minutes but was all-action as everyone knew the purpose was to let the audience know Hara's back (as well as giving the crowd something to enjoy unlike the rest of the evening).
Afterwards, the Dojo Dickheads try and attack but are fended off by Tenryu & Hara with a Japanese Table. The good guys are presented a trophy for winning, so Tenryu makes like Bret Hart at Wrestlemania IV and launches it at them: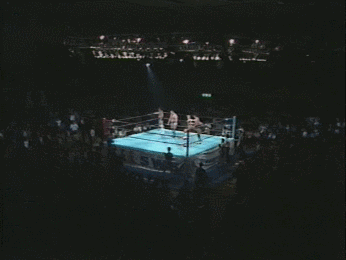 Fans we're out of time, see you next week for more Nitro!
Overall: Hara looked decent but everyone else treated this show like a dress rehearsal. The whole point of this was to get people hyped for the big Yokohama Show, so it's lucky for them that this show aired on 08/10…the day after the Yokohama show happened. Says it all.
Skip this show.