Super World Sports – Miyagi Prefectural Sports Center 07/09/91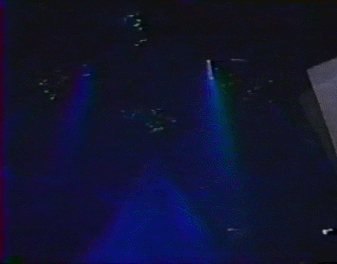 Sendai, Miyagi
Miyagi Prefectural Sports Center
Attendance: $$$
Glass Man (boop boop) Tanaka is looking at funding another new promotion, this one based around Koji Kitao. I don't know if this was the early days of what would eventually become Kitao Dojo but he'd have to wait until 1994 if it was.
Tanaka is reportedly is confused how the deep SWS roster can barely give tickets away for their shoes whereas the four-member PWFG's NK Hall is nearly sold out. So clearly the answer is "more Kitao."
UWF-i ran their third show and they're still ironing out certain issues, like flying in JT Southern (aka the drummer from Clash Of The Champions X) before checking to see if he can actually wrestle shoot-style. For an idea on how it went, here's Kazuo Yamazaki's happy face after winning.
Meltzer is dubious at SWS' plan to run the 17,000 seat Yokohama Arena in a month's time given that they've only been able to sell out Korakuen Hall with a half-paying crowd. I'm sure some sort of big return might help.
Akira Katayama (Palaestra) & Apollo Sugawara (SWS) vs. Hiroshi Hatanaka (Dojo Geki) & Masao Orihara (Revolution)
Ah we're opening up with a good match for a change? We're JIP to the good stuff with Orihara landing an Asai Moonsault to Apollo and the guard-rail. Hatanaka works over Apollo who knows his place and doesn't argue. Katayama tags in and takes a rolling swanton off the top from Orihara. Apollo saves with an airplane spin into a Samoan drop in the first impressive thing I've ever seen from him. Apollo takes more of a beating from Hatanaka and Orihara before landing a piledriver and letting stocky Akira in. Hatanaka giant swings him around the ring as this has become a highlight reel for Orihara's team. Katayama continues to take more and more cool moves before Apollo lariats Orihara and the bell rings to signal the fifteen minute time limit draw.
The match restarts with Akira piledriving a still groggy Orihara as it looks like they may get something in! Followed immediately by Apollo tagging in and getting worked over because he's a pawn in the game of life. Katayama tries his best to Single Crab Orihara to get something before delivering a stunning-looking Bridging German Suplex on Hatanaka to win??? Wow.
The first fall was looking like a sure-fire Akira & Apollo showcase with a lot of crowd-love near the end, with the second fall being long for the sake of long. Crazy that Katayama got the win after taking all the moves like a lazy Randy Savage match, but Apollo stepped up so I guess that's something to tell his kids.
Fumihiro Niikura (SWS) vs. Don Arakawa (Palaestra)
Niikura throws hard shots before Don sets the mood by asking Niikura to stop hitting him. Niikura tries but Don's opponents are always just passengers in his vehicle. Niikura takes some more long holds before rolling Don up for the unpopular win. Don always get a good reaction from the crowd but at the same time, the crowds don't care about anything else aside from his antics so they can often be like watching a baby figure out which correct shape to put in the bucket.
Kenichi Oya (Palaestra) & Rochester Roadblock (WCW Wrestling
for the NES) vs. Goro Tsurumi (Dojo Geki) & Kendo Nagasaki (Dojo Geki)
We're JIP to to Roadblock trying to work over Kendo, who has a total "oh brother this guy stinks" look on his face while it's happening. You can't act holier than thou when you're teaming up with Goro. Roadblock prevents Kendo from destroying Oya on the outside so rolls him into the ring to get destroyed instead. Good job. Roadblock gets the hot tag and impressively jumps over the top rope to set up an Axe Handle Smash. Kendo sends Roadblock into the third row as Goro finishes off Oya with an Angle Pick Hold. Roadie continues to try (some would say he's very trying).
Samson Fuyuki (Revolution), Takashi Ishikawa (Revolution) & Tatsumi Kitahara (Revolution) vs. Ishinriki (Dojo Geki), Shinichi Nakano (Dojo Geki) & The Great Kabuki (Revolution)
We're JIP as Kitahara is already kicking a hole through Ishinriki, who bails to the outside where Ishikawa is ready to batter him with an entire row of chairs.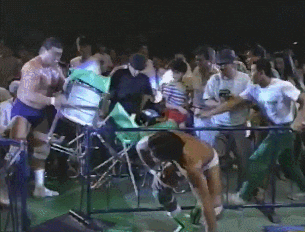 Kitahara continues to kick everything with a pulse until Fuyuki tags himself in to squeal and attack Nakano because he's got main event buzz since the last show. Ishikawa and Kabuki go at it yet again with the crowd reacting like Sami Zayn hitting Roman at the Rumble. Fuyuki isolates Nakano who gets a slam on the concrete and fed into the Kitahara shredder. Nakano somehow slips out of certain doom to tag in Ishinriki who immediately takes out Fuyuki with a dive off the apron and smashes another row of chairs onto him. It's lucky there were so many empty ones lying around. Fuyuki gets isolated so Kabuki can throat-thrust him to death. Kabuki locks in a crab on Fuyuki so Ishikawa chops him while he's wide open…but Kabuki is TOO GREAT and demands more! So Ishikawa hits him so hard he runs to tag out, presumably having shit himself. Ishinriki and Kitahara continue to slug it out before Ishin realises he hasn't done anything impressive for two minutes and dives off the outside to Fuyuki. This guy had Can't Miss written all over him (not literally. I don't think so anyway, I can't read kanji). Ishinriki dives and takes out Kitahara too as the crowd is going nuts. Kabuki ducks a Fuyuki charge and lands right into an Ishikawa lariat to end a sweet six-man match. SWS did one thing right and it was highlighting the best of their up-and-comers with the veterans who are good in small doses.
The Barbarian (WWF) vs. Shunji Takano (Palaestra)
Barbarian's last televised victory was against Sonny Blaze four months ago so I'm glad WWF is sending their brightest and best. We're JIP to Takano trying an over-the-ropes Sunset Flip to mild laughter. I have no idea why you'd include that in a pre-recorded show but maybe they were trying to send a message like Big Show in 2001. Barb chin-locks Takano with both men appearing very blown up before Takano gets something resembling a comeback attempt. Barb misses a top rope headbutt like Takano missed cardio for the past year before connecting with a top rope clothesline to put Shunji away. The way Takano moved in this match you'd think Barbarian showed up unexpectedly and Shunji had to be forced out of bed to do it.
Paul Diamond (WWF) vs. Naoki Sano (PWFG)
We're near the end of The Orient Express' usefulness and I'm glad Paul was able to get some time off his busy schedule of losing to The Bushwhackers every night. But never mind that, I found Sano's theme on YouTube!
Slightly more interesting than that is Diamond wearing a rainbow WWF shirt, which I do not recall being a thing during this period. Was this a Japanese only thing or is my memory of 1991 merch bad?
Paul hears the crowd reaction and immediately works the boos. Both men go through a lovely fast-paced exchange of dodges and strikes with Sano sticking to light heavyweight style for the time being. Paul has an impressive physique but one of the least threatening faces I've ever seen on a wrestler. He makes Bob Backlund look like Jos Leduc. Paul shows off his vertical leap and dropkick like he's Billy Gunn, before Sano backflips off the top rope to send Diamond outside and follows with a dive through the ropes (also like Billy Gunn). Diamond slows it down with a Manhattan Drop, generating the sound of disbelief from the crowd expecting shoot kicks. Diamond chinlocks Sano for a while as the crowd can be heard telling jokes. Sano locks in a Mexican Surfboard to shut them up, before tombstoning Diamond and trying for a crossbody, which Diamond swings into a powerslam before hitting a front suplex for the…win?? WHAT. Crowd are too stunned to even react.
The match was three segments: exciting light heavyweight exchange, two minute chinlock and then a closing minute and a bit of action. The crowd were not ready for a finish that abrupt after a lengthy chinlock. A quick Google reveals Diamond wrestled for AJPW in 1986 so I guess he has seniority and has to win cos LOL JAPAN. Sano sells the hell out of shoulder afterwards and has trainers come out and help him to the back. I don't know if he did that because he was hurt or because he knew the reaction was negative, but he wrestled the next day and for the rest of the month so draw your own conclusions.
Update: Diamond would shortly after this match be the first person to fail WWF's new wellness policy after being found with fake urine, so it would be the second time that month he'd take the piss.
King Haku (WWF) & Yoshiaki Yatsu (Dojo Geki) vs. Genichiro Tenryu (Revolution) & George Takano (Palaestra)
The Natural Powers are back again with Tenryu's former rival (I guess?) Takano being his latest tag partner. All four men are revving their engines at one another during the in-ring announcements. Haku stops Takano's spinkick by slamming him mid-swing a la Geese Howard.
Takano can't stop Haku so Yoshi tags in so Haku can keep his Super Armour for Tenryu. Tenryu chops Yoshi so he tags in Haku who destroyed Tenru last time but he's in mood now. Takano holds Haku in a Boston Crab position and Tenryu simply kicks him flat in the arse before walking away. Haku responds by kicking Takano directly in the groin, so Yoshi tags in and does the same before mocking Tenryu. "Ha look at your boy without feeling in his balls!" Yoshi and Tenryu exchange moves while Haku gets sent into a guard-rail. Haku tries to help Yoshi escape a Boston Crab but all it does it set up Tenryu and Takano double spin-kicking Takano. Tenryu handcuffs Yoshi for multiple chops and a Dirty Powerbomb, with only Haku making the save preventing the loss. Haku tags in and misses a diving headbutt so Takano can finally land his spin-kicks without getting countered. Tenryu even flies off the apron to continue beating up Haku. Tenryu's Blind Elbow lands on Haku but Yoshi interrupts and misses an enziguri so Tenryu half-arses a powerbomb on him. Not sure what happened there but Tenryu tags out to rest. Haku thumbs Takano in the eye but even he's ignoring offence now, so both men double spinkick Yoshi again in the corner for the hell of it. Haku sends Tenryu off the apron so Tenryu responds by shrugging it off and smashing Haku with a chair. While this is happening, Yoshi gets an inside cradle on Takano because FUCK YOU.
If you consider this Tenryu's Revenge after the initial attack then it was fine as there's only so many times you can have him make others look good, but I have to admit I preferred Tenryu dying horribly against The Natural Powers and trying to make a brave comeback then seeing Tenryu eat up all their offence before losing because his team mate isn't on his level. Fun, loud wrestling here though, I'm just criticizing for the sake of it.
Overall: Another mixed bag of Revels from SWS, for every Galaxy counter there's two orange cremes to make you want to never buy another packet again.