Super World Sports – The Battle Hall IV 06/26/91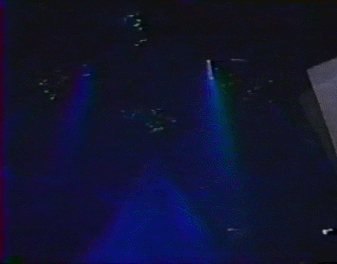 Tokyo, Japan
Korakuen Hall
Attendance: 2,297
Apparently Randy Savage is trying to work out a deal where he'll work for All Japan while remaining with WWF and even called Baba's office several times. This despite WWF and SWS working together. Savage wouldn't appear again for SWS so maybe there's some truth to this. Or maybe I just want it to be true for the sheer nerve of it all. (and in case you were wondering, Savage wouldn't wrestle for AJPW either and would return to Japan for the WWF/WAR Mania 1994 tour).
It's been reported that SWS was so desperate to draw a legit sell out for this show to shut up the HATERS that they lowered the price of GA tickets from the usual price of $22 to just $7. However it doesn't say who you had to cheer for if you sat in those seats.
Apollo Sugawara (SWS) vs. Rochester Roadblock (WCW MTV Beach Brawl)
Worst guy on the roster vs. worst guy on roster who is at least trying? Suddenly $7 seems like a lot. At one point in this brief JIP showing, Apollo moves Roadblock into position for some punches in the corner and because there's no attempt at a segue, Roadblock tries to sell it like Apollo's applying an ear-lock. Like I said, he's bad but he's TRYING. Apollo scoops Roadblock around while trying to remember his glory days of starting Pioneer before Roadblock misses an avalanche and gets an ugly roll up for the loss. I'm sure they put Apollo next to Roadblock in the same way you stand next to an ugly person in a club to look prettier, but Apollo's so naff all this did was make Roadblock look extremely fuckable.
Winner Stays On Gauntlet Match
Akira Katayama (Palaestra) vs. Hiroshi Hatanaka (Dojo Geki)
Akira would have a sad ending to his career and Hatanaka's "Career Highlights" section on cagematch is blank so there's high hopes for this. Akira kicks out of a top rope legdrop but nearly taps out a Boston Crab. Both men continue to exchange basic moves but the crowd is surprisingly loud for it all. Akira finishes with a German Suplex.
Akira Katayama (Palaestra) vs. Kenichi Oya (Palaestra)
Akira doesn't even let Oya get in the ring, sending him to the floor and connecting with a Tope Con Konichiwa, with Oya smiling the whole time as he gives Akira a tour of the guard rails. Oya calmly wails away on Akira before a series of backdrop suplexes puts him out. Not much of a match but a good showcase of Oya.
Kenichi Oya (Palaestra) vs. Ishinriki (Dojo Geki)
Alright, the Smallest Sumo! He's been the highlight of SWS the past few months so he'll deal with Oya The Prick. Or maybe not as Oya repeatedly shrugs off his sumo slaps and keeps him downed, which is a good strategy but doesn't make for a thrilling contest. Oya delivers a Backdrop Suplex for two with Ishinriki recovering to deliver his own version (with a release for more "oomph") to end it.
The Great Kabuki (Revolution) vs. Ishinriki (Dojo Geki)
Ishin lariats Kabuki as he's entering before sailing over the ropes for good measure. That's nice but we saw the literal same thing two minutes ago. I hope Kabuki busts out his lucha skills too. Ishinriki sells Kabuki's throat thrusts like death, but sadly Kabuki in a singles match isn't the best use of him because he's old and needs long rests and a bowl of milk after every spot. Kabuki gets a backslide to win out of nowhere.
The Great Kabuki (Revolution) vs. Fumihiro Niikura (SWS)
Niikura attacks Kabuki first and then spends the next few minutes striking and stretching him in a methodical manner. Kabuki takes some slaps before getting another backslide to win.
The Great Kabuki (Revolution) vs. Tetsuya Yamanaka (SWS)
Yamanaka attacks Kabuki and yes, dives to the outside. Man if I wanted to see the exact same match back-to-back I'd watch NXT Black & Gold. Kabuki takes more strikes and long stretches. He's so sweaty his make-up has completely removed. Yamanaka nearly gets the victory with a Sunset Flip but Kabuki escapes to the outside so we get another dive, meaning Kabuki gets even more time to chill. Back inside, Kabuki reverses a backdrop attempt with a throat thrust and wins with a lariat.
Match started off promising but quickly became repetitive and dull. If Kabuki can only work these types of matches by having the youngsters go at quarter speed, logic would say "don't book Kabuki in them" but I'm not a glasses company so what do I know.
Goro Tsurumi (Dojo Geki), Kendo Nagasaki (Dojo Geki) & KY Wakamatsu (Dojo Geki) vs. Don Arakawa (Palaestra), George Takano (Palaestra) & Shunji Takano (Palaestra)
Oh I'm not looking forward to this. The editors must have had the same thought as we are JIP to the Dojo lads working over Don for an extended period. Eventually it breaks down and Goro messes up a slam on Don before putting him away with a back senton. Let's make like Dua Lipa and move on without saying goodbye.
Takashi Ishikawa (Revolution) & Tatsumi Kitahara (Revolution) vs. Masao Orihara (Revolution) & Naoki Sano (PWFG)
These lads usually steal the show but it's going to be petty theft at best tonight. Orihara gets knocked down by Kitahara but he effortlessly kips back up, before getting beaten up some more. Good job. Sano and Kitahara go at it and the crowd is ready for the two strikers to trade skin. Doesn't last long as Sano tries to kick Ishikawa's head off but he's built like a chest-of-drawers so it doesn't work and Orihara gets taken over as Sano's personal shock absorber. Kitahara is his prick best kicking away at Orihara while grunting and being chubby. Kitahara's like if someone pressed C-right on Hashimoto in No Mercy 64. Sano gets the hot tag and manages to mess up a dropkick. Oh come on, even these lads can't have a bad showing tonight. Sano makes up for it with a beautiful Tope Con Y'Alreet to the outside and a double stomp on the inside. Orihara tags in and they land La Bombe de Revolution for two. Ishikawa resents Orihara getting offence in so he slams him on the unprotected concrete floor to resume further offence. Orihara's been paying attention to recent Tenryu matches because the Japanese crowds only respond to these type of heat sections if the wrestler is near death. Kitahara viciously kicks Orihara in the face and now the crowd is into this. Orihara very undramatically gets the tag to sell his beating as Sano wipes the floor with Kitahara and looks stunning with his fluidness and agility. Ishikawa gets the same as Orihara and Sano land more double teams including THE ORIHARA MOONSAULT.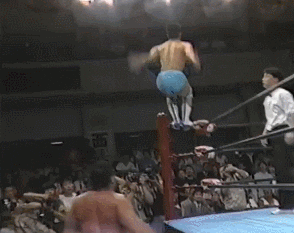 Sano gets THE SANO DIVE and Kitahara very undramatically sails over the top with THE KITAHARA EAT-SHIT. Crowd is cheering Oriahara's efforts so much that Ishikawa deals with it by punching him in the gut. That's such a great simple dick way of doing things. Orihara's sit-out dropkick is dodged and Ishikawa locks in the Scorpion to end it. Well-worked match with plenty of Sano and Orihara highlights make it easily the best thing so far but it was still a notch below their previous encounters. I'm not complaining though.
Genichiro Tenryu (Revolution) & Samson Fuyuki (Revolution) vs. Shinichi Nakano (Dojo Geki) & Yoshiaki Yatsu (Dojo Geki)
Ah now here's a first for SWS: A main event Tenryu match that doesn't involve WWF wrestlers or someone who needs babysat. Savage is done with the company and Haku had to fly back home to (googles) lose to Bret Hart on Superstars in under three minutes. So instead these two former All Asia Tag Team Champions join the feuding Tenryu and Yatsu for some main event goodness.
Crowd is already hot for this one. The veterans double clothesline each other down then miss flying enziguris to loud "OOOOAHH"s. Fuyuki tags in for a leg pounding with Nakano tagging in and getting instantly chopped apart by Tenryu. Nakano manages a cheeky clothesline for two but Tenryu isn't in a giving mood this week and twats the smegger some more. Yatsu saves his mate and gets the better of Tenryu for a while but as soon as Tenryu realises Nakano is in the ring he instantly recovers and autographs his chest. Nakano's facial expressions are wonderful.
Fuyuki slams Nakano on the unprotected floor because I guess that's the cool thing this year. Well it was that and Everything I Do (I Do It For You). Revolution keep on revolting all over poor, grimacing Nakano until he gets a lucky tag and…Yoshi comes right in for more Tenryu abuse. Oh man now that Haku isn't here, Tenryu isn't afraid of anything. Yatsu takes a double-team lariat (with both men lariating him from either side of the head) but Nakano saves the day and even manages a Fisherman's Suplex on Tenryu. His chest is red raw by this point so it's a pittance. Fuyuki is isolated in the Dojo corner, with Yatsu taking the time to insult Tenryu while he's beating his lad. Oh man. Yatsu even slams the larger Fuyuki onto the unprotected floor (it's the cool new thing, don't you know) with Samson wisely tagging out to Tenryu immediately. Nakano avoids the Blind Elbow but Fuyuki takes his head off with a lariat in revenge. Yatsu brawls with Fuyuki on the outside, allowing Tenryu to actually land the Blind Elbow but Yatsu interrupts that because he's wrestling two men at once because he's a bastard. He then proceeds to smash a chair over Tenryu's head multiple times before Fuyuki covers Tenryu to absorb the blows. The crowd is PISSED and are throwing crap into the ring in response. Yatsu even after all that can't follow through with a German Suplex so Fuyuki takes this opportunity to lariat him from behind, which leaves Nakano to very un-smartly try a jumping enziguri on Tenryu…who ignores him and plants Nakano with the Dirty Powerbomb to get a very decisive victory.
Lovely stuff here with a much-needed Supreme Victory here from El Presidente. Fuyuki bled buckets but only at the very end so it barely got seen on TV as they were too busy focusing on "Akihiro Mikate" being attacked by Yatsu. That's the name Meltzer uses but Google is like ??? so hopefully Manjiimortal can enlighten us in the comments.
Overall: A bloody awful undercard saved at the last second like Indiana Jones' hat by the two last matches. If you've any interest in SWS, just watch the last half hour or continue reading these reviews I guess.