Super World Sports – Aichi Prefectural Gymnasium 06/10/91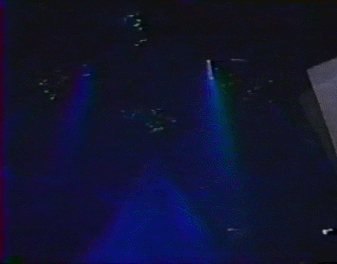 Nagoya, Aichi, Japan
Aichi Prefectural Gymnasium
Attendance: 7,709
According to JWJ, some of the magazine reports about SWS of late have been pretty exaggerated and are hurting Gong Magazine's credibility. Weekly Pro Wrestling, is banned from covering SWS because the group doesn't like negative articles in that magazine about them (even though the image of SWS is already terrible in Japan). Gong covers SWS like every card is fantastic, and those who attend know better. That doesn't sound like wrestling journalism. You'll be telling me they ask nice things at press conferences next.
"On the April Korakuen show, it was reported that fans were totally behind Tenryu and got into his match by chanting his name he was so over, but in reality, nothing of the sort happened and it's not a secret, even to those who didn't attend the card." Wait they're claiming Tenryu isn't the most over guy on these shows? Hang on, are they watching these things? There's more news about SWS papering Korakuen Hall to sell out which is fair enough but claiming Tenryu "looked terrible as of late" and isn't over sounds like Hegelian dialectics smark bullshit to me.
Don Arakawa (Palaestra) vs. Akira Katayama (Palaestra)
Akira takes Don down and plays with him so Don responds with serious wrestling for once. Akira starts headbutting Don who attempts to punch Akira in the head but it's too hard so he hurts his hand. The WWF influence rubbing off already. Akira lands a top-rope headbutt but Don finishes with a German Suplex and a Cross Armbar. Don's a perfect opening match guy as the crowd love him and they don't care how rubbish his opponents are.
Apollo Sugawara (SWS) & Tugboat (WWF) vs. Fumihiro Niikura (SWS) & Rochester Roadblock (WCW Pro)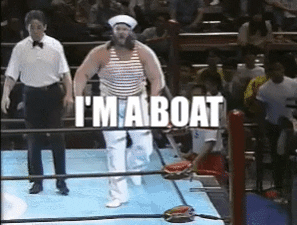 I appreciate SWS looking at their roster and deciding to shove everyone at the same level into one match to leave the rest of the card unharmed like that one Survivor Series 1999 match with Bulldog and the Posse. We are mercifully JIP with Apollo getting avalanched in the corner by Roadblock. Roadie is either tired here or he's regressing as he is barely able to get his arm out for a clothesline. Typhoon tags in and lands an impressive sit-out dropkick so the Japanese crowd is able to tell the two fat bearded American lads wearing red and white stripes apart. Roadblock misses an avalanche before falling to the powerwalking splash. We only got the ending, probably due to this apparently lasting NINETEEN MINUTES. Jesus, no wonder Roadie was so blocked. They would have been better just showing the entrances.
Ishinriki (Dojo Geki) & Masao Orihara (Revolution) vs. Hiroshi Hatanaka (Dojo Geki) & Tatsumi Kitahara (Revolution)
The previous six-man matches involving these guys have rocked but I guess they needed more lads for the main event so just a plain ol' tag match this time.
We're JIP to Orihara landing an elbow off the top but knocking the wind out of himself in the process to the crowd's tut-tutting. Why would you leave that in the show and also START THE MATCH WITH THAT. Ishinriki shows them how it's done by delivering a smooth Tope Con Moshi Moshi to Hatanaka. Orihara tags in and tries some high-flying but he's officially the middle-sized lamb to Ishinriki's little lamb and the crowd have had their fill. Kitahara simply dumps Orihara out the ring with a suplex before suplexing him on the ring ramp for good measure. SWS Kitahara is so cool. Orihara bravely makes it to the ring, only for Kitahara to kick him in the fucking face, causing the ref to give him a ten count to answer. Orihara tries a springboard crossbody but lands face-first into another kick. Kitahara then interrupts another ref count (to boos!) to deliver a jumping Ganso Bomb (!!) before tagging out to Hatanaka who somehow allows Ishinriki to tag in. Ishin launches Hatanaka to his own corner and demand he tag in Kitahara because Ishinriki wants a slice of man-pie. Kitahara obliges with kicks but Ishinriki shrugs them off to knock him down, and now that the scary man isn't around, Orihara has enough balls to tag back in and land (deep breath) THE ORIHARA MOONSAULT: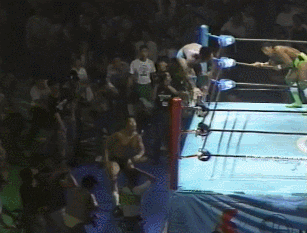 Orihara then lets Ishinriki dive to the outside too, to a bigger pop as well. Man that's got to suck. Hatanaka nearly puts away Orihara with a Running Powerslam but Ishinriki saves him because he's the best. Kitahara decides it'd be smart to take out Ishinriki on the outside so he can stop interrupting but while Kitahara is distracted, Orihara crucifixes Hatanaka for the victory. Great stuff here with SWS getting everything right with Ishinriki and these matches working to everyone's strengths.
Kitahara disagrees and kicks Orihara after the match because he's so cool a dick.
Samson Fuyuki (Revolution) vs. Kenichi Oya (Palaestra)
Does Oya know how to wrestle someone who isn't Orihara? Apparently not as we're JIP way into the match with Oya blasting Fuyuki with a sit-out dropkick off the apron to the floor, before denting the mat with a backdrop suplex. Both men try to be dramatic with lariats and things but crowd is having none of it. Fuyuki gets a seated arse drop off the top to finish. If you listened close enough, you could hear the noise of crickets shagging outside the arena.
George Takano (Palaestra) & Shunji Takano (Palaestra) vs. Goro Tsurumi (Dojo Geki) & Shinichi Nakano (Dojo Geki)
George is like Michael Caine acting his arse off in Christmas Carol while being surrounded by Muppets. Shunji is STILL wearing a bandage on his leg after the previous beatings. Coupled with the fact he's now wrestling with a shirt on really gives him that Don Muraco cred. Shunji gets worked over for a while before his bigger brother tags in and stomps away on Goro for like twenty seconds to the amusement of the crowd. Goro does the only impressive thing I've ever seen from him, which is countering a Lou Thesz Press into a Belly-To-Belly. That's enough excitement as Shunji takes more shots to the leg which is all he's apparently capable of. Oh, then George tags in and batters everyone so Shunji follows with a TOP ROPE KNEE which of course takes him out again, so George saves him again and gets the win after a body slam on Goro. If I was George I'd tell everyone I was an only child.
Kendo Nagasaki (Dojo Geki) vs. Naoki Sano (PWFG)
Bit of a mis-match here, to say the least. Kendo at least wrestles on the mat well to begin with, sticking with basic-but-convincing holds and doing stuff I've never seen him do before. It's like when Ian Rotten would do that one arm-lock sequence he could do whenever he took on someone like Chris Hero. It then turns into a regular normal-arse match until Sano dropkicks Kendo off the top rope to the outside but then resists the urge to follow Kendo, which was either a really smart "ah ha, I know you like to brawl so you have the advantage outside!" moment or Kendo wasn't in the proper position for a dive. I prefer the former. We go back to having a Val Venis circa 1998 style match until Sano tries a Mexican Surfboard but can't get Kendo up. Again, unsure if it was because Kendo didn't know how to do it but damn is Sano really trying to make something out of nothing here. Sano takes some brawling and guard-rail stuff on the outside to tell Kendo as a threat, before backflipping and dropkicking a minute later as if nothing has happened. Then Sano tries a Tope Con Ohayou but lands right into a chairshot from Kendo in a crazy moment.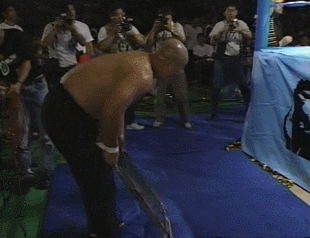 Kendo drops him on a guard-rail and then drags him into the ring, locks in a Single Crab and…wins???? I have no idea why you'd put Kendo over one of SWS' biggest stars right now, especially with Sano's interpromotional escapades into PWFG (and UWF-i) as well as having to wrestle at quarter-speed to make Kendo look credible. Baffling.
Tag Team Gauntlet Main Event
Power & Glory (WWF) vs. The Rockers (WWF)
A rematch from a few days ago, let's see if they've removed the things that don't work from their repertoire. Roma and Michaels start off and they work together marvellously. Oh man imagine Roma around for the prime Michaels cocaine years. We'd probably still be talking about their backstage ego clashes to this day. Roma in 1991 looks more of a star than Michaels and is able to slam him around with ease once he manages to catch him. Herc struggles with Marty because he keeps on flying around and Marty has certainly increased the pace from last time. He's sadly a bit too fast as poor Herc looks a bit off on a few moments, with Roma also being off with the save/elbow to partner bit because Marty is too quick. After a much-needed breather, Herc needs to be pulled off (oo er) from attacking Michaels so Roma clotheslines him out the ring from the apron. Herc slams Michaels on a Japanese Table to get him to slow down so Herc can pound away and pose (to the crowd's delight). Roma takes an amazing delayed staggering bump after running into the turnbuckles, tottering around like a tree until Michaels superkicks him. Janetty gets the tag and Atomic Drops Hercules (who grabs his balls to the fan's further enjoyment) while Marty and Roma exchange sweet pinfall reversals. 1991 Roma ruled. Marty gets a little lost so Power & Glory bust out the Rude/Warrior finish with the legs getting held down, with even a Michaels dive not breaking it up in time. This was the best and worst of The Rockers in one match, full of speed in more ways than one.
Power & Glory (WWF) vs. Genichiro Tenryu (Revolution) & Randy Savage (WWF)
Savage wastes no time sending Hercules out the ring while still wearing his Neon Cowboy gear. We cut ahead (so Savage can get his kit off) to Herc pounding away on Tenryu. When Savage tries to interject, Herc launches a table at him. Roma tags in and Tenryu takes one look at him and is like "oh I'm not selling for you" so Herc has to slam him instead. Savage keeps on trying to complain to the ref as Tenryu gets beat down some more, deciding to take the law into his own hands and takes out Herc with a stungun. Savage and Tenryu run through their trademark moves to end Roma with a Powerbomb/Elbow combo. Just a match to wear Tenryu down so he has sympathy heat for the following:
Genichiro Tenryu (Revolution) & Randy Savage (WWF) vs. The Natural Powers (Dojo Geki)
Tenryu and Savage go after Haku and Yatsu as they make their entrances, with Tenryu even using the iron ring steps to get them to piss off. We cut ahead to Haku chopping on Savage as only Haku can. Wait, is Savage playing the role of Tenryu in this match? Uh no, as Tenryu lays in some thick chops of his own across Yatsu's chest before Haku yells "It's Hakuing time" and Hakus everywhere. Haku handcuffs Tenryu and starts clotheslining him while holding on. Only a proper bastard like Haku can do that. Savage tags in to take more offence as at least they're sharing bump duty this time around. Tenryu tags in and there's some miscommunication and sloppiness as Tenryu has spent the last few weeks getting beat up he seems almost confused when he's able to be on offence. After spamming some step-up enziguris, Yatsu lands a Kneeling Powerbomb to eliminate Tenryu. This wasn't a patch on their previous bouts and had none of the heat as well. But I guess you can't have the same drag-out match with Tenryu getting beat up and generating sympathy every week (looks at Onita) oh wait.
The Natural Powers (Dojo Geki) vs. Takashi Ishikawa (Revolution) & The Great Kabuki (Revolution)
Ha wait, Ishikawa and Kabuki have been in Revolution this whole time? All they've done is annoy one another in six-men matches. The crowd have enjoyed their antics so obviously the smart thing to do is to team them up so they can't do any of them. Haku batters Ishikawa as the crowd sits on their hands. Kabuki takes a chair-shot so he can bleed (because it's a day ending in a y) but you can barely see it over his red face paint. Kabuki takes a shellacking but manages to tag in Ishikawa who…then also gets mowed down by THEMONSTERMENG. Haku locks in a Boston Crab which allows Kabuki to go to town on Haku while his partner is in pain in a nice moment. And then Haku tries to slam Ishikawa off the top rope but Ishikawa rolls through for the…victory pin-fall? The new big heel team losing in a nothing main event to feuding old lads? Urgh. Match was diddly.
Overall: Outside of Ishinriki's continued success, this was a dog of a show with some weird booking and mid matches. Make like Koji Kitao's anger management classes and skip this.