Super World Sports – Tokyo Ryogoku Kokugikan 06/07/91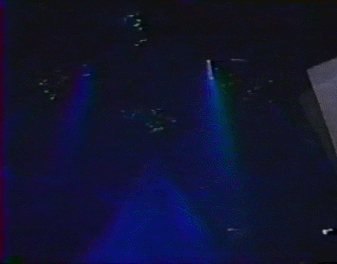 Tokyo, Japan
Ryogoku Kokugikan
Attendance: 8,691
The one with Tenryu getting his revenge on Haku!
Previously On SWS…
SWS President Hachiro Tanaka officially announced that he would soon be turning over the presidency of the company to Genichiro Tenryu. So as Tenryu's mate, this would mark the end of Kabuki's 'punishment' for being responsible for SWS' biggest scandal.
According to Tokyo Sports, this group wants to create three titles which will be called WWF International heavyweight, WWF world junior heavyweight and WWF International tag team. The story said that Vince McMahon has already approved of letting them create a WWF junior heavyweight champ which no doubt will be Sano. (Spoilers: Only the tag and light heavyweight belts would show up).
UWF-i ran their second show the day before this, headlined by Takada vs. JT Southern, the drummer from Clash Of The Champions X.
And in even happier news, Tenryu's ascension to Presidency has drawn genuine interest in the company so this show by all accounts actually did draw near the number they announced so bloody hell. Hachiro Tanaka should quit every week.
Fumihiro Niikura (SWS) & Hiroshi Hatanaka (Dojo Geki) vs. Akira Katayama (Palaestra) & Don Arakawa (Palaestra)
Sticking Don in the opening match is a good idea as the newbies won't dare interrupt his routine. Don tires himself out from an Airplane spin so Akira takes over and nearly gets the victory with an Oberbaum (German Bridge). Hatanaka tags in and swings away on Don who sells them all like a Three Stooges fingerpoke before tapping out Niikura with a Fujiwara Armbar. The action was simply mayonnaise filling in the Arakawa sandwich.
Kenichi Oya (Palaestra) vs. Masao Orihara (Revolution)
Oh for the love of…OK so for the fourth time on TV we get this match as Orihara continues the Japanese tradition of losing a lot to get him over. Japan would have loved 2006 Rey Mysterio. Oya's submission holds are getting better though, locking in a smooth Bow & Arrow to the crowd's approval. Orihara badly misses a springboard back senton with the crowd laughing. Oya didn't even move but he makes the most out of it by standing up and posing. This show is pre-taped, why include that? Masao redeems himself by busting out Excalibur's favourite ORIHARA MOONSAULT.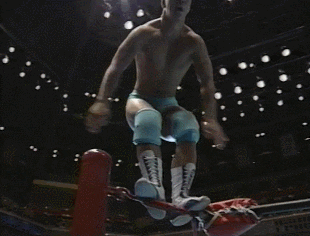 Orihara fights a piledriver but can't get it so Oya simply slips out in a nice counter. After kicking out of a top-rope dropkick and a piledriver, Orihara gets a backslide out of nowhere to finally pin his rival in anticlimactic fashion in a match he looked rubbish in. Oof.
Tugboat (WWF) vs. Rochester Roadblock (WCW Thunder)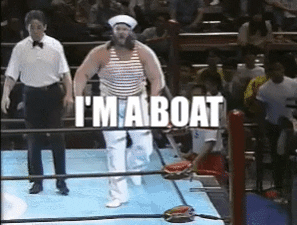 Both men are in my buoy stable. Roadblock's taller but Tuggers is wider so it all evens out during the start. Tuggers scoop slams Roadie who like the crowd, ignores it. They were excited at the start but after witnessing the horror of Roadie running the ropes they've changed their mind. He looks a baby duck taking it's first steps. Tugboat tries a bearhug after two whole minutes of action but Roadie takes over on offence with comical elbows. Roadie misses a second rope splash to mild laughs before Tugboat wins with the powerwalk splash (complete with HORN NOISE yell).
Apollo Sugawara (SWS) & Shunji Takano (Palaestra) vs. Goro Tsurumi (Dojo Geki) & Kendo Nagasaki (Dojo Geki)
Alright first they put Tugboat and Roadblock together and now they're following with this collection of guys. Someone's clearly having a laugh at the fan's expense. Maybe they're testing the limit of how much a paying crowd will react to. Kendo's good when motivated but the rest of them would run away from a fight with the Mean Street Posse. Shunji immediately brawls with Goro like last month but this goes badly for him as Goro dumps him onto one of those hard-arse Japanese tables and wails away on his already-bandaged leg. He bails to the outside to let Apollo do the work of two men when Apollo can't even do the work of half a man. After messing up a sidewalk slam, Kendo decides to mercy kill this match for the good of mankind and finishes with a leaping piledriver. Kendo wails away at Shunji after the match for being shit.
Samson Fuyuki (Revolution), Takashi Ishikawa (Revolution) & Tatsumi Kitahara (Revolution) vs. Ishinriki (Dojo Geki), Shinichi Nakano (Dojo Geki) & The Great Kabuki (Revolution)
Well a mix of these guys had a blinder last time so I'm glad SWS is sticking at it. Ishinriki is still over as the Little Sumo who is strong enough to win a test of strength with Ishikawa but also agile enough to throw sit-out dropkicks. Samson doesn't get any reaction but at least he's not being booed anymore. Crowd enjoys Kitahara and Kabuki going at it, with everyone selling Kitahara's kicks like they're poison and need to be avoided at all costs. He's a far cry from the walking mullet he'd turn into for WAR. Kabuki is tremendous in these matches as he gets a few minutes of looking sharp while annoying Ishikawa then tags out before he gets tired. He must have put "good time management skills" in that CV he was typing up before Tenryu was made President. Ishinriki takes a spike piledriver which is only a set up spot for Samson to dump him on a Japanese Table at ringside…but this only powers him up as he pops up and batters Samson to a giant pop. Then Ishinriki absorbs Kitahara's deadly kicks before dropping him with a springboard senton (suck it Orihara). Ishin then takes out Ishikawa with a crossbody off the top to the outside, and follows that up with a Mysterio-style springboard splash. Crowd is loving Ishinriki so much that when Samson tags in he gets booed just for getting offence on him. Kabuki tags in and throat-chops everyone Nakano ruins it by getting locked in a Sharpshooter from Ishikawa. This leaves him wide open for more Kabuki offence however, resulting in everyone brawling on the outside allowing Ishikawa to counter a crossbody from Nakano into a pin. These multi-men matches continue to be lots of fun and Ishinriki is dangerously over for a newbie. See if Tenryu had fallen in love with *this* ex-sumo then SWS could have avoided a lot of trouble.
The Rockers (WWF) vs. Power And Glory (WWF)
The Rockers come out to Crazy Train by Ozzy Osbourne, which gives me an opportunity to complain about having tickets to see Ozzy, only for him to cancel for being too worn out. I mean if Ozzy is finally feeling worn out then he must be mega-fucked. Kind of like how Hercules is looking here. He's all roid gut and hair loss but the crowd respects that. Herc is too slow for The Rockers and punches the mat after missing Marty, to the crowd's approval. Roma gets the multi-backbreak-transition into a running powerslam and crowd also approve of that (because Herc was yelling "APPLAUD!" on the apron). Jannetty takes the Jannetty Sell after a clothesline to no reaction because it came out of nowhere. I guess the SWS crowd don't approve of over-selling for the sake of it. Jannetty takes a series of bear hugs as he pleads with the crowd to chant for him but the crowd are pro-Power & Glory, as evidenced by the cheer for Herc's gorilla press slam. HBK gets the cold tag to clean house on Roma and throw double Superkicks on Herc. Michaels small-packages Roma so Herc interferes and moves Roma into a pinning position, so Jannetty tells the ref that Herc's interfering, only for Jannetty to do the same for a near-fall. Crowd love that wackiness and The Rockers capitalise with a crossbody/sunset flip combo on Roma. A decent but unremarkable match with some stuff working well and other stuff absolutely not working at all.
George Takano (Palaestra) vs. Naoki Sano (Palaestra)
Sano finally gets an entrance so we can appreciate his beautifully rocking sax theme…except I couldn't find it online anywhere so here's his NJPW theme instead.
Might as well enjoy Takano's too because there's not a lot of them on YouTube.
Sano has been a one-man wrecking crew in his excursions in PWFG and Takano was expecting to be the Number 2 guy before Kitao so I guess this settles the score on who exactly is the Sami Zayn of SWS right now. Takano's physique is crazy, like he simply dragged the cursor onto his sides and stretched to the left and right. Both men are eager to make this look as PWFG-y as possible with the constant moving and dodging of strikes, both men with the guard up and only lowering to throw suplexes. Despite the intensity, there's a few loud heckles from the crowd that cause everyone to laugh. Oh sure, be quiet for Tugboat but get bored during these two busting out stuff like this: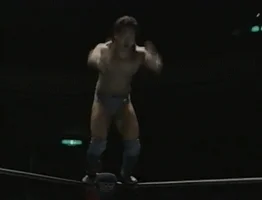 Oh and then after that, Sano the Powerhouse follows with a Tope Con Kon'nichiwa and then follows THAT with a rolling senton off the top to the outside! Takano manages to block Sano as he tries to continue and drops him on and off the apron with a suplex to the outside. Both these lads are freaks. We've abandoned PWFG style but that's for Takano's best. Sano locks in a Boston Crab but Takano escapes with THE POWER OF PUSH UPS. I love that spot. Takano keeps throwing moves at Sano but he refuses to get pinned and crowd is roaring louder and louder with every kickout. Sano attempts something Frankensteiner related but Takano simply pushes him off his shoulders before dropkicking him half-way across the ring. Then Sano lands the Tombstone Piledriver and another double stomp off the top before landing a release German Suplex before realising even that won't be enough and finally getting the pin after a Dragon Suplex. Christ, these two were working their bollocks off here with the pace remaining crazy despite all the offence they were launching at one another. Like a game of Worms Armageddon with unlimited Air Strikes.
The Natural Powers (King Haku & Yoshiaki Yatsu) vs. Genichiro Tenryu (Revolution) & Randy Savage (WWF)
Speaking of themes, Tenryu is back to Thunder Storm!
Kitao ended up with the lesser theme when he left I guess. There's so much residual anger from last show that The Powers attack Tenryu before Savage makes his way to the ring, leaving Randy to join in the brawl still covered in streamers thrown by the fans. Also he's wrestling topless which is a rarity for Savage during his off-the-roids period:
Tenryu and Yatsu start with the heat being off the charts already. Savage gets his axe-handle in early on Yatsu before both men try to stop THEMONSTERMENG. He actually falls over from some offence which is more than he sold in the entirety of last month's match. Just when it looks like Tenryu's making progress, Yatsu lariats him from behind which allows The Natural Powers to work over Tenryu. Just realised with his lack of roids and WWF team history, the term "Natural Powers" could describe Savage here. Haku continues to be effective in his current role of "unstoppable bad-ass" as whenever Tenryu tries to make a comeback, he ignores it and piledrives a few inches off his head. Crowd love every second of it and get louder the longer he gets beaten up. Lucky Tenryu is such a selfless worker by the standards of wrestlers of his stature or SWS would have nothing. Tenryu goes for a piledriver on Haku but HE'S TOO STRONG so he can't finish it. Tenryu finally gets the tag to Savage after a jumping enziguri, who then flies off both sides of the ring to deliver axe handles to the outside (not at the same time, though but I wouldn't put it past Savage to try). However, Savage gets busted open immediately afterwards, meaning he gets attacked and beat down for ages with Tenryu needing to save him. Gee, thanks for the help Savage. Yatsu is a complete bastard at cutting off Savage and the crowd boo him unmercifully before Tenryu gets the hot tag to Sloppy Powerbomb Yatsu for two, with Haku breaking it up. Crowd hate that. Tenryu's Blind Elbow gets broken up by Haku but Tenryu sees him coming and he elbow drops his own team mate. Haku angrily lariats Tenryu in response in a great moment. The Powers combine to land a Spike Piledriver on Randy on the outside so he can lie down and bleed for the remainder of the match, letting Haku land a crazy-looking sit-out powerbomb on Tenryu…for two. Then sadly The Natural Powers somehow fuck up a double powerbomb to…win? Oh.
Well, bad finish aside (it looked more like a Ganso Bomb in the end so you could argue it was more vicious looking) this was everything it needed to be: It established The Powers as Big Evil Bastards capable of beating the Number One guy in the company and the fancy American import quite decisively with the crowd eating up everything being served to them. Good main event.
Overall: A miserable first half followed by a tremendously fun second half demonstrates why SWS is so interesting, being able to be either crap or great with the flip of a coin.
There'll be more SWS next week, courtesy of the Number Two Most Popular Non Scott Keith Writer On The Blog Of Doom.