Wrestle And Romance
Korakuen Hall
Tokyo, Japan
Meltzer is speculating WAR is having financial issues and isn't planning on bringing any big name WWF guys over any time soon. I'm not sure about that exactly, it may be just common sense after realising Animal, Undertaker, Flair and Paul F'n Diamond combined couldn't sell out the Yokohama Arena so it may be a case of them not being worth the money.
On the other hand, Tenryu won a non-televised one man tournament at Korakuen Hall on 10/8 and only drew 1,000 fans so yeah maybe.
Luckily they have a lifeline labelled "NJPW"…
Like last time, this is an hour-long VHS release but it's OK as the matches have more heat than JBL in Germany.
Masao Orihara vs. Akitoshi Saito
Orihara lost to Aoyagi last time and his second Saito had to stop him from more offence, hence this match. And this tape rules already as we get shots of fans flipping off the NJPW guys during the ring announcements. Orihara reveals he has also shaved his head to fuck with the skinheads and the crowd appreciates the gesture.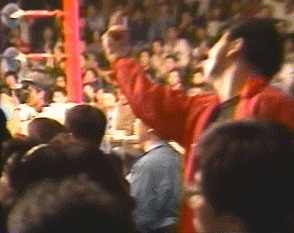 Saito's wearing the gi like his mentor but his attire doesn't stop Orihara from taking him down with a sleeper and the crowd sounds like a Dome show already. Orihara locks it in after an escape and the crowd are stomping their feet like a football game and it's crazy. IT'S BEEN THIRTY SECONDS. Saito tries a kick but Orihara has the sense to try and block them unlike last time but sadly for him Saito deflects the deflection and wails away. Orihara sees a flying one coming and turns it into an ankle lock in a sweet counter. Saito gets the ropes but Orihara drags him back into the middle and locks it in again. A furious Saito lands some massive kicks until Orihara absorbs another one to get another ankle pick to the mat. This time Saito grabs his own hold while they're on the mat together and forces Orihara to grab the ropes. Orihara gets another sleeper with victory looking assured until Saito wrangles out and Maeda kicks Orihara in the back of the head. It doesn't look like he'll make it so Saito lands a running one to make sure but Orihara Will Not Die and kicks out at two. Orihara manages an Exploder-style Fisherman's Suplex for two. Both men wrangle on the mat until Orihara lands a devastating piledriver with the larger Saito taking it at full 12 o'clock positioning for two. Saito chinlocks Orihara for a while as even these methods of catching a breather feel like they could end the match due to the intensity of the crowd. Orihara takes down Saito with another ankle pick but Saito sits up and punches him until the pain is too much and he has to figure his way out. And then kicks Orihara in the head again for the standing ten count. Orihara isn't too groggy for a German Suplex though which doesn't end it but a giant kick and a pin that was simply Saito putting all his weight on Orihara's shoulders with his hands gets the win at 11:14 with a mad Orihara protesting he kicked out. He didn't.
Aoyagi then needs to enter the ring to aid Saito in getting out in one piece while we get vivid shots of the blood dripping out of Orihara's mouth. Like last time, this was very simple very effective offence with an insane crowd.
Shiro Koshinaka & Kengo Kimura vs. Genichiro Tenryu & Koki Kitahara
Plenty of shots of the flag-waving, proud WAR fans this time around before this big main event. The fans must have watched the previous show and been furious at the lack of respect for *their* promotion that's only three months old. The NJPW invaders attack everyone before the bell and Tenryu can't even get his entrance jacket off so you know he's mad. Kitahara gets kept in the evil corner so he can get kicked and butt-butted and the crowd does not appreciate this. Kitahara tries to kick at Shiro who simply moves his head out the way. Shiro works well in this role as he's a super veteran so is already reluctant to sell anything Kitahara throws at him which only adds to the fan's annoyance. Kitahara manages a brief ankle lock on Kengo and Shiro breaks it up immediately, leading to Tenryu running in to kick Kengo to make it fair. Spike piledriver puts down Kitahara as they're simply toying with Kitahara which incenses both the crowd and Tenryu who wanders over to the other apron to give death stares. Kengo tries brawling with Kitahara at ringside and a fan with a Steve Burns-looking jumper is absolutely ready to fight Aoyagi as he tries to interfere. The WAR seconds end up brawling with Aoyagi and crew at ringside while Tenryu throws a table to try to calm things as they go further and further into the crowd with more and more fans ready with their fists up, waiting for the call. This is fucking great. Orihara is shown taking out the karate guys with chairs but you can't even hear the slams of the steel because of the crowd atmosphere. Shiro continues to soak up the jeers until he walks right into a Kitahara kick to the head which lets Tenryu finally tag in and you'd think Brazil has just scored the way the crowd cheers. The reaction goes to Tenryu's head as he's so fired up he sends himself out the ring with his own lariat.
Kengo gets smashed just for looking the wrong way at Tenryu before a brainbuster gets two on Shiro. Kengo drags Tenryu outside for the seconds to start fighting again (with Aoyagi's gi stained with his own blood from the previous chair shots) as Tenryu takes a spike piledriver on the concrete. Kengo lands his Flying Something in the middle of the ring as Shiro is practically singing on the apron to further piss off the crowd. Shiro works over Tenryu in the corner by busting him open with shots as the crowd begins to throw crap into the ring, which I've never seen during a Japanese show when the matches are taking place. Tenryu is motivated by a water bottle thrown his way and lariats Kengo out of mid-air. Kitahara tags in to immediately get worked over by Shiro as many of the fans in the Hall are stood up now. Kitahara takes a dozen back suplexes as we get camera shots of a bloody, miserable Tenryu watching this go down. Shiro lands a powerbomb (no praying this time because he knows God can't save him) so Tenryu casually walks in and slaps him. Kengo works over Kitahara as slowly as possible which confusingly gets a "KENGO" chant. And you thought Philly fans were fickle. Tenryu finally tags back in to chop Shiro but Kengo is there to cut him off immediately as more crap gets thrown into the ring.
Tenryu takes a butt-butt and a Flying Something but instead of going for the pin, the NJPW lads drag Kitahara to the outside for even more brawling with Ishikawa going after Kengo now. Tenryu jumps the commentary table to attack Kengo, which annoys NJPW rep Mr. Saito who I didn't even know was there. Tenryu doesn't give a damn. Shiro gets two from a German Suplex as Ishikawa continues to ignore the rules and batters Kengo at ringside. Shiro takes a lariat but kicks out as the crowd is BANANA yet again. Shiro takes more abuse but after the Blind Elbow, Kengo runs in to prevent more offence with Tenryu landing the Dirty Powerbomb with Kitahara blocking Kengo for…the two count. Crowd is ready to riot now. Another Dirty Powerbomb seconds later however finally puts the NJPW lads away at 19:45 and marks the first WAR victory in this war.
Tenryu celebrates by powerbombing Shiro multiple times after the bell. Mr. Saito runs in, suit and all, and demands Tenryu stop killing Shiro. Tenryu gets on the mic and I can only assume he says something like "the battle may be won but the WAR is far from over!" and runs to the back like Hordak.
Kengo finishes the night by trying to talk on the mic and getting showered by fans' rubbish.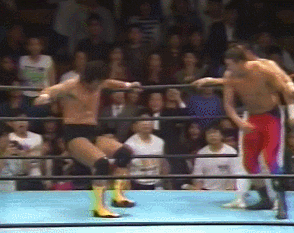 Overall: An absolute must-watch if you grew up reading wrestler's autobiographies where they lied and said OH THE JAPANESE CROWDS ARE REALLY QUIET AND POLITE AND NEVER MAKE NOISE. Well the Japanese must have been drinking yank juice when things turned inter-promotional because the action may not have been sophisticated but it was all there to enhance the crowd noise which was at Death Magnetic levels of intensity the entire tape.
Next Week: Hey let's see what NOW's up to.