Wrestle And Romance
Yokohama Arena
Kanagawa, Japan
Attendance: 12,000 (7,000 paid)
Wait it's the same event as last week? What's going on?
After SWS demise, WAR's Tenryu and NJPW's Chosu kept throwing challenges at one another which sounded like we would be just getting Tenryu answering the challenge at a big NJPW show. However, WAR announced that NJPW wrestlers would be appearing at WAR's Yokohama Arena show, which Meltzer reckons helped draw more fans than the Flair announcement (citation needed but he's probably right).
The matches weren't featured on the VHS we looked at last week as every puro company has their own tape deal and can't just have their wrestlers appear on other companies like that, so I believe this was a NJPW release.
Masao Orihara vs. Masashi Aoyagi
I know Aoyagi for being the guy Onita messed with to start FMW and I love his work as a moody karate guy. He's part of the heel Heisei Ishingun stable, which I wouldn't have thought made sense if you're there representing NJPW but he shakes hands with Orihara to start so I'm guessing that isn't important right now. (edit from the future: after watching their match against Riki Choshu's crew later on, I think it's fair to say they "heel stable" doesn't fit here).
Yokohama Arena crowds usually sound asleep, but this match has woke them up. All Aoyagi does is shove Orihara up to the ropes to force a clean break and the crowd is LOUDLY cheering for Mr. Karate. Aoyagi kicks Orihara when he's down and continues his strikes while Orihara does his best to stand up to them. It doesn't work but crowd appreciates his stupidity. Orihara manages to take down Aoyagi with a sleeper but he's too strong and continues to kick away. Aoyagi's body language is tremendous, he makes it obvious he's always ready with a strike and it's his opponent's job to do something about it. Aoyagi removes his gi but Orihara takes him down with an ankle lock, which goes nowhere so Aoyagi naturally kicks him some more. A flying spinning one does a number on Orihara's mid-section so Ayogai soaks up the crowd's love, which only gives Orihara a chance to recover and tease a dive to the outside. Aoyagi dares him to do it and Orihara decides that's not going to go well and declines. Oh man you know you're a hard bastard with a rep when you can make someone doubt themselves with a STARE. So Aoyagi rolls inside and kicks him some more with the crowd exploding everytime. Orihara lands a dropkick but can't land a powerbomb, so he attempts a charge but bounces his head off the top rope leading to another giant kick to send Orihara outside. Orihara has sadly taken too much damage and is unable to get back in the ring and gets counted out at 9:29.
Orihara does not take this well and attempts to attack Aoyagi after the bell, leading to Akitoshi Saito (Aoyagi's second) jumping in to prevent any further bullshit. Orihara then gets a pussy kick to Aoyagi when he's not looking to the crowd's disgust.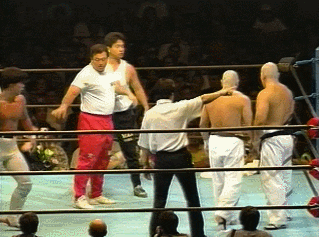 And the NJPW guys are supposed to be the heels? (edit from the future: no they're not stop typing this) Anyway this may have read like "and then a kick and then a kick and then a kick" but the crowd were imploding after every shot so this was very more-ish.
Shiro Koshinaka & Kengo Kimura vs. Samson Fuyuki & Koki Kitahara
I don't think much of Shiro Koshinaka. Maybe I just missed his peak but in the 90s he doesn't seem to do much other than butt-butt. I don't know anything about Kengo other than he's old and he strikes Fuyuki before the bell even rings, so he's got two things going for him.
Crowd is buzzing before this even starts with Shiro butt-butting Fuyuki. Kitahara's tag gets a big pop but Shiro's dismissal of Kitahara's kicks gets an even bigger one. Kengo tags in and also ignores Kitahara's kicks leading to Fuyuki tagging in to audible boos. WAR having just being established and SWS being a bad joke is not helping the lower card guys right now in terms of reactions against the invaders. Fuyuki can't get anything out of Kengo but Kitahara is able to chinlock the old bastard. Shiro dislikes that and tags in so he can butt-butt Kitahara as the crowd applauds. Fuyuki attacks Shiro from behind as the crowd continue to boo Fuyuki. Who can blame them? Kitahara tries throwing a kick to Kengo on the apron and gets booed too. Crowd is now actively chanting for the NJPW guys as Shiro gets worked over. He makes these youngsters work for it though with Shiro taking multiple shots in the corner, forcing Kengo to tag out and they start ripping Kitahara's tights to get at the juicy leg goodness underneath. Kitahara gets worked over for so long that some of the crowd eventually start booing. Or maybe they're yelling "KenBooo KenBooo." Fuyuki gets the tag to a giant mixed reaction as the tide is turning, with a Fisherman's Suplex getting cut off by Kengo's kick. And that gets some boos! But then Kitahara kicks Kengo after he backdrops Fuyuki and there's more boos from the crowd. Huh. Kitaraha shakes off a butt-butt which only angers Shiro who tries a Boston Crab but Fuyuki slaps him daft to release it. Kengo lands a flying something on Fuyuki enabling Shiro to submit Kitahara in the middle of the ring for a pop so vicious it shakes the hard camera at 13:44.
These two matches explain the subdued reaction during the rest of the show, the crowd was empty. Not even a Flair main event could follow this.
Post-match Kengo dares the WAR lads to show up for NJPW's event at the same arena on 09/23. Kitahara and other ringside people attack them on their way out because WAR are babies.
Koki Kitahara and Masao Orihara did indeed appear at NJPW's event on 09/23 and bowed to Riki Choshu during his entrance (and then got in Kengo's face when he showed up and got slapped).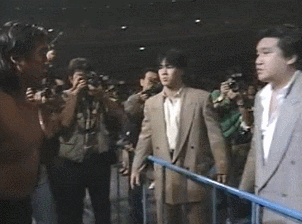 10/21/92
Nakajima Taiiku Center
Sapporo, Hokkaido, Japan
Attendance: 3,500

Genichiro Tenryu & Koki Kitahara & Masao Orihara vs. Shiro Koshinaka & Kengo Kimura & Masashi Aoyagi
Heisei Ishingun instantly start brawling with the WAR crew before they even make it to the ring. Tenryu is forced to give Orihara a cheeky slap to calm him down so the match can begin and the crowd is BANANA for this event which appears to be taking place in a warehouse.
Aoyagi starts where he left off and kicks Orihara a few times before Shiro butt-butts him and Kengo lands his flying something(I'm unsure what part of his body is supposed to be landing, it changes every match). Orihara ends up outside so Akitoshi Saito gets some shots in too. I think Orihara's going to start selling for the cameraman next. Orihara blocks a flying kick from Shiro but he remembers who he's messing with and takes a beating instead. Tenryu manages to tag in and there's audible boos for the biggest star in the company daring to lariat Shiro. Wow. These crowd reactions are fascinating because there were clearly a lot of fans who turned up just to see the NJPW crew.
Kitahara and Shiro go at it with neither wanting to sell until all three Heisei heroes attack at once. Orihara runs in to stop a submission on Kengo and crowd loudly boos that, even the WAR fans. Orihara looks like a bitch the longer this goes. Kengo and Tenryu tag in and crowd is LOUDLY pro Kengo. Tenryu takes a piledriver on the God Damn Concrete and fans are still cheering for Kengo. Tenryu shrugs it off to lariat Kengo off the apron so the fans wish death upon Tenryu. Aoyagi tags in and crowd are ready for this. Aoyagi lands a few cautious strikes before summoning the courage to kick Tenryu properly, which Tenryu absorbs and responds with chops. Shiro charges in and Tenryu takes all three Heisei lads' trademark moves as he's decided the only way he's going to get any crowd support is if they slaughter him. Aye, good luck there mate. Tenryu makes a comeback on Shiro and tags in Kitahara and Shiro makes it clear he ain't selling shite for the lad so Aoyagi tags in and kicks out after a suplex at one. So Kitahara armbars Aoyagi and I can't help but think there's some genuine anger in the hold due to the lack of cooperation he's getting. Tenryu tags in and chops away and he continues to get booed heavily. ON HIS OWN SHOW. Orihara gets his shots in on Kengo but he must be out of his bloody mind as he takes one punch and goes back on the floor. Aoyagi kicks away with gay abandon as the crowd applauds which I'm sure Orihara was thrilled with. He somehow manages a brief comeback but his moonsault meets Kengo's knees as the crowd laughs. "Ha ha he thinks he's a wrestler." Orihara is somehow able to land a dropkick on Shiro and Kengo which sees Tenryu tag in to giant boos. Tenryu gets some lariats on Shiro but everyone starts running in to prevent any advantage. Crowd loves every bit of cheating going on and the match completely falls apart with everyone in at once but somehow the ref still counts Shiro's praying powerbomb pin on Orihara to end the match.
We get a brief shot of a crying fan watching the match yelling her heart out before everyone continues to fight until Ishikawa appears to force the NJPW guys out the ring, but all they do is pose on the apron and soak up the streamers haha.
Orihara cries at the result and Tenryu hugs him to make him feel better. Aye well done idiot.
This was Gong Magazine's 1992 Tag Team Match Of The Year and it's a deserving victory. Heat by the gallon and everyone playing their role perfectly (which for Orihara was "little bitch").
Overall: No wonder NJPW was happy to have this released on VHS, their guys look like the coolest motherfuckers on earth, the LA Knights of their day. The action wasn't sophisticated but it was all secondary to the crazy reactions from the fans on both sides and thankfully this was just the beginning of WAR's true identity. An absolute must watch if you love soccer-esque crowd reactions for wrestling shows.
Next week: The sport is WAR, total WAR
When victory's a massacre
The final swing is not a drill
It's how many people Tenryu can kill