Wrestle And Romance
Yokohama Arena
Kanagawa, Japan
Attendance: 12,000 (7,000 paid)
Meltzer went to Japan to watch as many wrestling shows as humanly possible, presumably to keep himself busy and to keep his hands off Debbie Malenko (allegedly allegedly allegedly). He absolutely did not enjoy the WAR show:
Worst show (every way, shape and form) – Wrestling and Romance (WAR) on 8/13 at Korakuen Hall. Aside from the fact there was some exceedingly stiff work in a few of the matches and the Genichiro Tenryu vs. Masao Orihara match was a very compelling and gripping destruction match that made the Steiners vs. Fujinami & Iizuka seem like a three-year-old patty-cake game, this was as bad as any wrestling card you would ever want to see.

The show was scheduled to start at 6:30 p.m. Tenryu came out at that point and did a 20 minute Q&A with the fans. Actually, in this case my not knowing the language made it seem long and boring when, to those in the building, it really wasn't bad. What was next was bad. They had a bunch of prizes and before the show they had fans pay for Bingo cards. So everyone played Bingo. I thought it was kind of funny except Bingo lasted until 7:50 p.m., lasting roughly one hour, before they gave away all the prizes, which consisted of things like cheap rubber balls and pieces of paper with Tenryu's autograph. This was an unbearable as watching the Bushwhackers have to work three 20 minute matches in a row against the Rougeau Brothers. You know what happened next? They went to intermission.

Actually by this point it was almost funny how horrible the show was, except that the 90 minutes had seemed like about four hours. Then they announced the next big card for 9/15 at Yokohama Arena (they're going to have to give 100,000 tickets away to draw 15,000 there) and announced who would be on the card. First off, they announced the Road Warriors (Legion of Doom), which got only a polite response. Kind of surprising because despite how bad this show was, it was a fairly hardcore audience that exploded when Tenryu came out for his Q&A. Then Beverly Brothers–to no response. When I say no response, I mean out of the 1,600 there, not one reacted. Then they announced The Berzerker. Again, nobody reacted. The Undertaker. Five girls in kimonos popped like crazy, 1,595 guys sat on their hands. Paul Bearer. Two of the girls popped again. King Haku. Decent reaction, actually. Ultimo Dragon (Yoshihiro Asai). Only a fair reaction, no more than Haku, quite honestly. This was freaky since I've seen Asai tear the house down in the same building on numerous occasions. Negro Casas. Best reaction thus far, but still best described as lukewarm. When they announced Ultimate Warrior and Randy Savage, there was zero reaction.

At 8:10, the first match got in the ring with two rookies, one a roided up powerlifting champion named Yoshiro Ito who may have been making his debut. The match was no doubt as bad as Bill Kazmaier's debut match probably was up in Calgary (or any of his matches, for that matter). Well, it at least made me realize how great a worker Ted Arcidi really was. It was -*1/2, and that's being nice since both men were just starting out. Then came Tatsumi Kitahara vs. Samson Fuyuki and the first 7:00 were terrible. In fairness, it got pretty good from there and both guys worked for all they were worth to a 20:00 draw and were totally blown up by the end. Tenryu vs. Orihara came next and it was a massacre with Tenryu outweighing Orihara by what looked to be 100 pounds but they put together a good story and it was as good as it possibly could have been given the drawbacks. Next came Takashi Ishikawa vs. Great Kabuki in a 30:00 draw. Actually, the match had some moments, stiff chair shots, stiff tackles and clotheslines. Everything was stiff. Of course all totalled, that was probably only 2:30 of the match. The other 27:30 was so bad (like -**3/4) that whomever decided these two should go 30 before an audience of anything but their biggest enemies should have their bookers permit revoked. I know I wouldn't have wished this on my enemies. Then came another intermission before they ended the show with a Battle Royal, which Kabuki won. It wasn't good, but it was better than most U.S. Battle Royals.
Bloody hell Dave, next time tell us how you really feel.
Tenryu was interviewed about wanting to wrestle Riki Choshu and/or Inoki, which would both happen eventually. Tenryu also announced that Kengo Kimura and Shiro Koshinaka of New Japan would work the show we're looking at today but the match isn't on this VHS (and in fact would get it's own tape not longer after this, don't worry).
Also the current rumour is that Hachiro Tanaka (the guy funding WAR, NOW and PWFG) is willing to help sponsor Antonio Inoki's political party which is why NJPW is suddenly keen on intercompany activities. Hmmmmm.
Yuji Yasuraoka vs. Koji Inomata
I have no idea who Koji Inomata is but this is the only thing that shows up for him on Google so WAR didn't bother with chyron. Respectful wrestling to a respectful crowd response but it's one of those not-quite-young-lion-match-but-it-may-as-well-be style matches so I've got nothing to give it except golf claps. Yuji wins after some stiff face slaps and a nice-looking elevated single crab after 08:48, thanks for coming Inomata.
Nobukazu Hirai & Yoshiro Ito vs. Chavo Guerrero & Paul Diamond
Paul's had mixed results in SWS and thankfully Chavo is wearing smaller tights this time around because he was melting under the TV lights the last time we saw him. Paul works over Hirai before newcomer Ito tags in to a surprisingly strong reaction. He's playing the role of "hench" in this match despite the fact Paul is taller and wider. Ito tries to no-sell a charge before falling on his arse as he realised the crowd may be behind him but physics isn't. Ito gorilla press slams Diamond and flexes his barrel gut. Chavo and Paul work over Ito's leg in a workmanlike fashion before The Mountain Goats' favourite luchadore lands on his feet after a moonsault attempt before going back up and landing another one. Paul continues in first gear but Chavo continues to bust out sunset flips and gutwrench suplexes and actually looks like he wants to be here. Paul lands a crossbody which didn't work well cos he's too big for it to look smooth before simply pinning Hirai after a front suplex at 10:11 which looked horribly unplanned as Ito didn't run in quick enough and was stood there like twelve o'clock half struck. Yikes. I appreciated Chavo's effort.
In PWFG news, Minoru Suzuki and Ken Shamrock took apart one another for thirty minutes and drew 3,750 because shoot-style is best-style right now.
Ultimo Dragon vs. Negro Casas
Ultimo Dragon brings his kid with him but Negro doesn't care and clotheslines Dragon out the ring immediately. Both men run back in to continue going at it because both men are wrestling to this day which means they're both REAL ARSE LUCHADORES. Dragon armbars Negro down to the mat and he attempts to escape by front-flipping out of it so Dragon knocks him down and locks it back in very nonchalantly. He manages to escape so Dragon locks him back down and that whole sequence ruled in it's simplicity. Casas applies his own hold from his position and so far he's attempting to wriggle out of everything and it's been great. Casas takes Dragon down with just his feet and keeps him locked down with a surfboard, with Dragon doing everything he can to try and break out. How can you have this display of greatness on the show when everyone else feels the need to lay down and pretend to be a statue when they're in a hold? After the contractually obligated Mexican Surfboard, more holds are fought out of until Dragon lands the Backspring Elbow to send Negro outside but goes splat when he attempts a tope. Casas waits for Dragon to get erect before landing his own crossbody to the outside. However, Caras tries to charge Dragon while on the apron and gets monkey flipped into the ring post with Dragon following up THAT with an Asai Moonsault.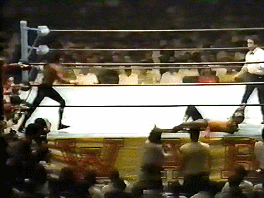 Tombstone Piledriver sets up uh nothing as Negro recovers because apparently that move is only fatal in Mexico. Dragon only gets two from a Bridging German Suplex and then only gets two from a sweet looking Frankensteiner Pin. Dragon gets desperate and attempts the in-ring Asai Moonsault with Negro attempting La Mahistral and surely even Dragon can't kick out of that? Bloody hell he does. Both men fight for the back-grapple with Dragon winning that victory and then the match with the Bridging German Suplex With Extra Bridge at 14:55 with Negro screaming bloody murder during the suplex.
THIS WAS FUCKING GREAT with both lads doing their best to be animated during their respective holds and exchanges, doing everything they could to make the grapples seem like hell to be locked into while also flying around like The Dambusters when necessary. Wonderful stuff.
The Great Kabuki vs. Takashi Ishikawa
Crowd adores Kabuki during his entrance because he's got a flaming sword and he sprays mist everywhere. These two have had numerous clashes in tag and multi-men matches but haven't had the best of success in singles matches because less is more for Oldbuki. Ishikawa lariats Kabuki immediately while The Great One makes no effort to disguise his blading. Ishikawa kicks away on Kabuki's forehead attempting to kickstart a bleeding that like is reluctant to show up like SWS crowds. Ishikawa can only lay it in with stomps and chinlocks because Kabuki's Kabuki. Ishikawa drags the Grandfather Clock outside so he can wipe his red stuff all over the commentator's table for the photographers. This match is going to look amazing in the magazines. Kabuki finally gets a back suplex and lariat but then immediately goes back to taking offence. There was no segue there which is either creative editing or Kabuki being tired, it's impossible to tell. Ishikawa lands a crossbody off the middle rope and Kabuki rolls through to get the unconvincing win at 9:36. Kabuki's like an early Slipknot single, all he does is Wait and Bleed.
LOD Animal Warrior vs. The Beverly Brothers
This was announced as The Road Warriors but it's mandated that Tenryu must have something go wrong with his WWF bookings as Hawk left the company (and his partner) to go hang out with bikers for a few months. Animal makes up for it by firing a bazooka.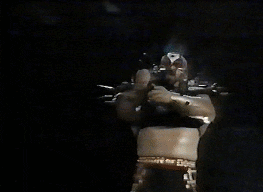 Animal shoves Cum Tuesday's Dad around while posing to get more reaction than anything in the previous match. Animal leapfrogs over Blake and dropkicks Beau. Animal no-sells everything until a chair gets smashed over him at ringside, which means we get several minutes of basic 1992 WWF offence. Axe handle smashes, eye gouges, scoop slams, they're all here. Finally a Flying Nothing meets a kick to the face for Beau. Blake accidentally headbutts his partner and Animal finishes with a standing jumping elbow at 6:14. Maybe a bomb would have been more appropriate for the entrance.
Animal would go back home to finish the WWF European Rampage Tour with Crush and wouldn't wrestle again until 1996, apparently due to a back injury he suffered during this WAR tour. Pretty handy timing considering his partner just left, just saying.
The Undertaker vs. King Haku
Haku's wearing a Hawaiian shirt which I understand and respect but that thing's been taken by the party animals and fat guys now so it's impossible to take seriously. Haku Pearl Harbours Undi (ah that explains the shirt) but Undi ignores it and chokes Haku in the corner. Haku lands some strikes and Undi always looked a bit shaky as to how exactly he was supposed to react to those when he was a no-selling dead person. Anyway he does the 180 over the ropes to land on his feet as the crowd "oooooos" away. Haku takes the rope-assisted-stunner to set up Old School. Haku strikes away but Undertaker does his stunned animation before he gets bored and chokeslams Haku for two. Haku lands an impressive suplex on the dead guy but the crowd stops reacting for Haku's offence as they're just waiting for Undi to sit up. And sit up he does, before landing a flying clothesline and a Tombstone to end it in 05:22. This was all Haku filling time around Undertaker's big spots and nothing else.
2/3 Falls WWF World Heavyweight Title Match
Ric Flair vs. Genichiro Tenryu
So after getting screwed out of a WWF Heavyweight Title shot twice, Tenryu checked the fine print and demanded whoever was the WWF Champion be sent to WAR instead of a named person (or just maybe asked Vince to politely not have the title switch hands a week before the show) and it's a VHS release so we get the full entrances which means the Jimmy Hart version of Thus Spoke Zarathustra!
So no excuses this time Tenryu eh? Flair gets a little handshake from Tenryu then wipes his own hair with it as the crowd is enamoured by his antics. Tenryu tries to contain Flair's flair but it turns out he has a hold for everything Tenryu can throw at him. Tenryu has enough of that and tries chopping Flair but it turns out Flair can give those back too, who knew? Tenryu can't get any advantage on Flair as he does a marvellous job of selling like crazy for his chops and armbars. Tenryu makes a comeback with some corner clotheslines causing Flair to flop to a lovely pop. He quickly regains control with more armbars and yelling YOU KEEP YOUR MOUTH SHUT at the nearly silent crowd. Flair yells at the ref and that doesn't get a pop either so Ric sticks with armbars and chinlocks. Tenryu spots Ric being off-guard and clotheslines him so Ric begs off only for Tenryu chop his chest worse than Garvin did in '87. Flair takes the mandatory toss off the top followed by an Enziguri but Ric blocks the lariat with both arms to set up a weird suplex/crossbody counter that both men move on from for Tenryu to powerbomb Ric for the first fall at 13:03.
Tenryu 1 Flair 0
Now it's time for Tenryu to dog Ric and smoother him with a sleeper with Tenryu risking disqualification by refusing to break it when Ric makes the ropes. Tenryu continues to slap Ric's chest like it's on fire and he's trying to put it out causing Flair to beg off…and get a cheeky eye-poke to draw the crowd's ire. Until he "wooos" seconds later and they all join in. Flair keeps trying to pin Tenryu over and over trying to wear him out. Tenryu tries to apply the Figure Four but Ric kicks him off and Tenryu flies out the ring like Blackbolt just yelled at him. Back inside Ric wears away on Tenryu's legs as the crowd finally starts chanting for Tenryu. Tenryu attempts to block the Figure Four but Ric twats away at his leg with his free hands while both men are horizontal. Tenryu can't combat that or Ric's hip thrusts and Tenryu is pinned at 24:04 by a Figure Four Air Fuck.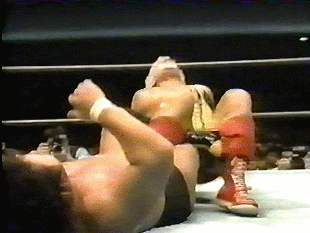 Tenryu 1 Flair 1
Tenryu can't even stand up for the next fall because of the damage to his legs so he tries to combat Flair like Inoki did Ali, with Flair simply walking away. Crowd sadly isn't supporting Tenryu like you'd think they would be. There's a feeling no-one believes he's winning here so they're only popping for the big moves. In their other matches they were jumping up and down by the time we got this far into the match. Tenryu sees the Figure Four coming and locks in an ankle lock while Flair is just about to fully lock it in. That's a really cool counter and I can't recall seeing anyone do that before. Flair sells it like he's seen the IRS knocking on his door but crowd is simply murmuring along. Tenryu slips and allows the Figure Four to get locked in but he avoid being pinned by it and locks Ric's ankle in with Ric forced to get the ropes so he can walk properly. Both men get vertical and go chop for chop until Tenryu gets an ankle lock and sweeps Ric off his feet. More AHHHing and OHGODing results in Flair kicking Tenryu in the face and going back to dogging him out until he attempts the Figure Fo-which gets countered into a small package for two and now the crowd are awake because they're a bunch of glory supporters. Ric blocks a stretch but leaves himself wide open for a backslide so Ric kicks out and starts busting ankles before flopping to the crowd's delight. Tenryu tries for the Blind Elbow off the top but Flair dumps him off with Tenryu managing to bang his leg on the way down three times like a pro. Both men slug it out with Flair unable to finish his Flair Corner Flop and taking an elbowing as a result. Ric manages to knee drop Tenryu's limbs some more because he's a bastard. He "wooos" a bit to annoy the crowd but they're back to being mid so Ric struts around the apron calling out the babes in the crowd until Tenryu Enziguris him into the ring post and lariats Ric off the apron. Tenryu goes outside to drag Ric back in but Flair sandbags and as a result…both men are counted out to give us a draw at 37:50. Crowd does not like that one bit and why would they?
Tenryu SUCKS Flair ALSO SUCKS
The match was well put together with both men getting their positives highlighted, with Tenryu doing an admirable job of making Flair look like a world-beater when his offence doesn't always translate that way. It suffered from a lack of overall heat from the (padded) crowd but maybe they were always going to get that with a 2/3 falls stipulation which 99% of the time go 1-1 anyway. Hard to tell. Also the finish was bloody awful and made Tenryu look stupid as well as a weakling. Regardless, it's still the best Tenryu/Flair match I've seen so far because they showed the whole thing and Ric works best when he's shown in full (unless he's on an airplane).
Overall: Padded crowd, WWF talent that couldn't be arsed, Dragon stealing the show, Tenryu looking foolish…SWS NEVER DIE. This was an OK show with some highlights that sadly existed in an era where puro was pretty frigging great overall so something has to change in this company to make it stand out.
Next Week: The Thing That Made WAR Stand Out.