Wrestle And Romance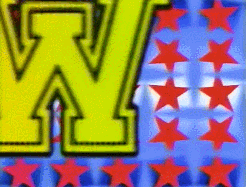 Korakuen Hall
Tokyo, Japan
Attendance: 2,200 (sell-out both nights)
SWS is deader than Yuji Naka's career but Tenryu ended up with Ultimo Dragon, King Haku, Masao Orihara, Tatsumi Kitahara, The Great Kabuki, Koki Kitahara, Samson Fuyuki, Ashura Hara, Takashi Ishikawa & Yuji Yasuraoka (as well as retaining the old WWF and CMLL deals) so WAR is very much alive. Hell you could make the argument that on paper, the split was the best thing to happen to SWS. No more Goro or Shunji Takano!
But even Fake Razor seemed like a good idea on paper, so let's see what the debut weekend of WAR ended up looking like:
To break up the WAR (armistice?) talk, PWFG would also sell out Korakuen for a show featuring ex-SWS lad Masakatsu Funaki defeating Kazuo Takahashi as he did his best to avoid the split drama and focus on shoot-style. UWF-i would draw 3,500 for their last show, so no wonder.
Both nights were recorded via handheld fan cams but I'll be skipping them as they're about as thrilling as rewatching Cena vs. Theory so let's move onto the TV broadcast of Night 2. It's only an hour long so these recaps are going to be brief.
Ponzona vs. Masao Orihara
Ponzona is still alive in 2023 and yes, still wrestles now and again because he's a REAL ARSE LUCHADORE. His mask isn't a hundred miles away from Mister Zero from Chikara. Orihara is able to keep up with the armdrags despite being lucha ones and not those pesky Japanese ones that I've never seen a Japanese wrestler actually do. Orihara lands a lovely springboard crossbody but the crowd isn't bothered until Ponzona lands outside and Orihara scales the ropes and let's the crowd know that Tenryu got THE ORIHARA MOONSAULT MOVE OF 1991 in the divorce proceedings.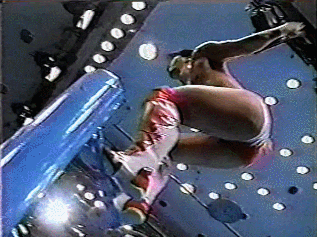 Orihara follows that up by immediately climbing the ropes again and flying off with a falling vertical crossbody, like he simply planked off the top which somehow seems riskier than the moonsault because at least you're landing on your feet on that one (in theory). Ponzona kicks out of a crucifix and his AHHH PHOOEY selling is impressive as he kicks out and flails his arms around to express his displeasure. Orihara isn't impressed and lands a German Suplex to win. A nice Orihara highlight reel.
Kerry von Erich vs. Samson Fuyuki
This would sadly be Kerry's last trip to Japan. Samson does his best to stand up to Kerry but he's got the face of a horse and a body to match so it's not very convincing until Kerry misses a shoulder charge and Goldbergs himself into the ring post. Kerry doesn't try and hide his spot-calling but Fuyuki doesn't get the idea of "you hit me and I duck" so I wonder how good Kerry's Japanese was. We mercifully cut to Fuyuki landing a Flying Nothing directly into the Iron Claw which the crowd love. It stays in a while and no-one sounds like they want Fuyuki to escape. Fuyuki does so by heading backwards out the ring and slamming Kerry's hand into the ring post so he can't claw anymore. And he doesn't as Fuyuki lands a Sunset Flip for the pin-fall as the crowd is stunned and not in a "wow!!" kind of way, but in a "no that's bullshit, what the hell was that??" kind of way. Crowd wanted to see Kerry at his best but they should have subscribed to KrispyLettuce's archive instead.
Ultimo Dragon vs. La Fiera
La Fiera starts off with some chain wrestling, by which I mean he chokes Ultimo with a chain. The ref for some reason rings the bell to start the contest while this is going on. C'mon man, at least Nick Patrick would try to hide it. We clip to Dragon coming back with a lovely backflip kick and a high crossbody to the outside. Fiera blocks a dive by simply side-stepping and follows that up with a Tombstone Piledriver on the outside, even positioning himself so Dragon lands on the concrete. Dragon bravely recovers to stagger near the ring where Fiera takes him out with an impressive tope. Fiera waits for Dragon to recover for a second time before launching Dragon into the third row of chairs as soon as he stands up. What a horrible get. I love him. Fiera flattens Dragon with another Tombstone in the ring and looks to put him away with a Frog Splash but Ultimo kicks out and the OOOOOOAHH is loud as the crowd is Very Much Into This now. Ultimo gets a lucky Frankensteiner Pin for a close two before putting away this rotten foe with a German Suplex, this time landing the follow-up bridge perfectly to a massive pop. Fiera played his role as a dickhead perfectly and the crowd were begging Ultimo by the fifth cut-off moment. Fiera passed away in 2010 but had stopped wrestling by 2007 so I do not recognise him as a REAL ARSE LUCHADORE.
Koki Kitahara vs. Takashi Ishikawa
We're JIP to Kitahara knocking Ishikawa down with a big kick as we're still in that part of Kitahara's career where his limbs are classified as lethal weapons. Ishikawa is a lethal gammon and takes over but he's not in any rush but the strikes become more and more vicious, with Kitahara getting busted open hardway. That takes up a few minutes but this is a WAR crowd and not a paid-for SWS audience so the fans are loudly begging Kitahara to stop getting rugby-kicked directly in the face. After fourteen minutes of this one-sided abuse, the ref decides to stop it for Kitahara's health. Japanese wrestling companies looking after the safety of their wrestlers? Hey I can put up with undead wrestlers and HUSTLE but I have to stop my believability somewhere. Match was mostly angle and face kicks.
Genichiro Tenryu & Ashura Hara vs. King Haku & The Great Kabuki
Alright let's see if we can remake the Natural Powers feud without Yatsu. Haku and Hara start off and continue their magnificent run of running at one another like two pissed-up moose confronting one another in a thin corridor. Kabuki sneak attacks Tenryu from behind which enables Haku to get a chair but Tenryu's not falling for that again so he ignores it until Haku makes him sell. Tenryu backdrops Haku out of a powerbomb attempt but Kabuki uses Tenryu's temporary vulnerability to thrust kick him. Kabuki's been magnificent so far and he's only done two things. Tenryu wonderfully attacks Haku from a downed position, unleashing all kinds of kicks like how Inoki probably remembers the Ali fight going down. Hara blasts Haku until an advert for flowers does a run-in and interrupts the match.
Tenryu knocks Kabuki off the apron, drawing a massive pop but the little bastard recovers and twats Tenryu as he runs the ropes, enabling a gigantic Haku shaped powerbomb for two. Kabuki finally gets a proper tag while Tenryu is down so he can pick at the scraps. Whenever Tenryu starts fighting back, Kabuki tags Haku back in to wear him down. Haku/Kabuki is a perfect brains/brawn team. Together they're basically Krang from the Ninja Turtles. Kabuki thrusts and chops Tenryu until he's able to make the hot tag to Hara who is so annoyed with the others he immediately starts pelting them with chairs. Haku ignores them so Hara ignores his headbutts and I start growing a beard just watching these two go at it. Haku tries an abominable stretch on Hara so Tenryu slaps Haku HARD to bail him out. Haku didn't look impressed with those and the two need to be separated by the ref, which of course lets Kabuki come in and lock in his own abdominal stretch on Hara.
We're past the fifteen minute mark so Kabuki is due a few Werther's originals so him and Haku make Hara sell on the outside with chairs. He's able to crawl back in and Haku locks in another abominable stretch. That's three in one match, J.R. must have been drinking top-shelf BBQ sauce while watching this. Crowd is again cheering wildly for Hara and I wonder where these reactions were when SWS was alive. Did the company's bad image scare off so many interested fans? Attendance seemed to say so. Kabuki and Haku use this time to rest on Hara as the crowd are popping for literally anything now so Kabuki may as well lie around. Hara lariats Kabuki but Haku immediately cuts that off and decks Tenryu who falls like Peter Griffin. Tenryu has enough and lariats Haku to set up the running double lariat. Tenryu kicks Haku's face when he's on the floor and goes up top for the match-winning elbow, except Kabuki knocks Tenryu off and Haku blitzes Tenryu in the corner in revenge for that kick. Haku sets up a powerbomb but Hara then blitzes HIM as everybody's throwing caution to the wind and smashing anything near them. Tenryu lands the Dirty Powerbomb but Kabuki interrupts yet again so Hara knocks him down and lariats Haku for good measure, allowing Tenryu to Dirty Powerbomb Haku again to end this smash-fest after 23:40.
Bloody lovely stuff here with everything working perfectly. Twenty minutes of hard-hitting action with everyone working to their strengths, which means brickhousery from everyone and poohousery from Kabuki.
Overall: I'm pretty sure this taping existed to fulfil an outstanding SWS TV obligation as WAR would only do another one in 1994. Which is a relief as it means no more TV tapings that got cut worse than Bruiser Brody's forehead. This was a sweet preview for the wrestlers of WAR but it also felt like 'just' a good SWS card and this company had better do something quick to escape that identity (spoiler: they would).
Shortly after these shows, WAR announced the 9/15 Yokohama Arena show with the "ten biggest names in the WWF" although only six were named (The Undertaker, Road Warriors, Ric Flair, Randy Savage and Ultimate Warrior) and the main event would be Tenryu challenging either Savage or Warrior for the WWF title. Good that Tenryu was stressing that WHOEVER WAS WWF CHAMP would be coming in after WWF screwed him on that title shot twice already. Glad they cleared that up, I can't see any more issues with any of those talent showing up at the next event!
But more on that time as next week we look at NOW's first show!

I've been Maffew and WAR HUH WHAT IS IT GOOD FOR etc