Super World Sports Declaration Of War 06/16/92
Nagasaki International Gymnasium
Nagasaki, Japan
Attendance: 3,860
SWS is dead, guys!
SWS had already announced that it's splitting into two different companies via the two stables (Tenryu's Revolution and Takano's Palaestra) and this final month of shows is only happening because they'd been announced and Tenryu feels obligated to put them out with whoever he can muster. Fortunately the Palaestra crew stuck around, I can't imagine how frosty the response would have been to their own company starting up if they'd no-showed these last shows. Or maybe no-one would have noticed.
Naoki Sano vs. Arkangel de la Muerte
Oh, this could be interesting. Sano kicks Muerte in the ankle and he immediately sells it like he's been shot by Adam Cole. Muerte takes Sano down with a grapevine but as soon as Sano is vertical he lays in those shots thick and hard, causing Muerte to take a breather. Muerte retaliates with shots of his own before relaxing with a dropkick. When that only gets two, Muerte heads outside in fear of taking more harsh shots and I think Sano gets the hint as he 0versells Muerte's shots as if to say "ok fine I'll work your style." Muerte lands a flying knee drop before following with a top rope crossbody to the outside. Muerte tries a cocky back stretch which is enough for Sano to back to the Old Me and attempt an armbar. Muerte is untrusting however and doesn't cooperate with Sano's attempts at reversal so Sano simply applies the armbar to skip to the end.
Well it was interesting alright. Muerte wanted none of Sano's harsh PWFG kicks so this was just Sano keeping up with basic lucha things until he got fed up.
George Takano vs. Goro Tsurumi
Shunji isn't accompanied by his brother who was off this show due to a car crash (and no I don't mean one of his singles matches) and OH NO, the roster issues means Goro gets a proper match. This is like that CCR album where they had the drummer sing. Goro sneak attacks George so Goro has a realistic way of getting offence but that doesn't last long as George dives only as George can: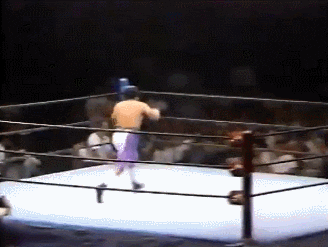 Goro stays on the outside wanting nothing to do with George so George heads out and grabs a chair and tries giving it to Goro to help him. Goro heads inside to hide his shame and to get kicked to death. Takano lets himself be locked in an ankle lock while he ponders his post-SWS bookings. George is happy to oversell Goro's awkward punches so he can get a rest until he needs to do something cool or get his own time-killing holds. When both men get vertical, George keeps on putting himself into positions so Goro can execute a suplex on him. George is nothing if not selfless. George rides Goro like the world's dumpiest skateboard off the top rope before a tombstone and a top rope splash ends it.
I think George picked Goro as he knew he was fat enough to catch him on the dive. Well done Goro, you managed to be tolerable with one of the hardest working wrestlers in the company.
Samson Fuyuki & Takashi Ishikawa vs. Tetsuya Yamanaka & The Great Kabuki
Fuyuki and Kabuki start off. By the way, one of the Observers from this time says "Kabuki is now doing a shooter gimmick with brighter face paint." I can only assume he means half the roster want to shoot him with a gun. Ishikawa tags in and seems intent on turning Kabuki into a Pez dispenser with his lariats. Yamanaka tags in to eat the delicious Pez candy Kabuki leaves behind because he's only little and he needs to put on the mass. Yamanaka gets a tremendous reaction for simply dropkicking Fuyuki and looking competent. Japanese wrestling crowds are fascinating in that they'll go nuts for a jobber getting offence and fully believe they have a chance of winning even when that never happens. Fuyuki gets suplexed on the ramp so the plucky youngster Yamanaka follows with a wild crossbody off the top. Ishikawa tries splatting Yamanaka through the mat but he won't give up because he's stronger than SWS dammit. Fuyuki and his children's carpet tights also can't stop him and this goes on and on with the crowd continuing to voice their approval. Ishikawa and Kabuki bust out their sharpshooter/clothesline spot they've done every spot and with them out the ring, Fuyuki lands a crossbody with Yamanaka reversing to a very close two-count. Just when it looks like the unthinkable may actually possibly happen, Fuyuki lariats him and pins him. I mean we all knew it was happening, but a part of us all wanted to believe.
Tetsuya Yamanaka would wrestle the final few unrecorded SWS shows and then…he has no more recorded matches. I have no idea what would happen to him, but it's grim seeing a promising career end just as it's getting going.
King Haku vs. Jim Powers
One last turn of the knife as WWF sends JIM FUCKING POWERS, a man whose last televised victory was two years earlier. And he wouldn't get another one. Haku doesn't go down for Powers' sunset flip attempt and doesn't sell Powers' chops but he does let him dodge his Patera charge. Haku piledrives the mis-cast jobber on the outside before battering him for a while. Powers tries a comeback but the crowd is not buying it and neither's Haku so he powerbombs Powers to end this quickly. This was definitely Haku vs. Jim Powers.
Genichiro Tenryu & Ashura Hara & Ultimo Dragon vs. Giant Kamala & Jerry Estrada & Jim Duggan
The Ugandan Giant is here to replace Big Boss Man who got announced then pulled back to do more work with Nailz. Dragon and Estrada start off but crowd is immediately distracted by Duggan's deafening "HOOOOOOOOO" while he's stood on the apron. Oh God I hope he starts chanting "USA". Estrada rolls though a pin-fall sequence almost as pretty as his Guns n Roses waist-coat to set up Tenryu/Duggan and the crowd are really into yelling "HOOOOOOOO" until Jim does it too many times and you can hear them yell "just fucking wrestle" back at him. Not much happens as Duggan is also trying to make sure Kamala doesn't eat Tenryu. Duggan goes through a good tough-guy sequence before doing his double bicep pose and Tenryu has enough of this goon to tag out to give us Hara/Kamala. Hara lands a hard chop to get the titties jiggling so Kamala tags in Estrada to bust out a sweat. Dragon and the one man coke-buying machine go through their lovely sequences before Dragon lands the Asai Moonsault and makes sure to eat shit on the landing.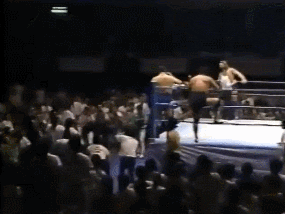 Crowd react like it's their first drink of water in three days before Duggan slams Dragon, this time with no-one reacting to his "HOOOOOOO". Dragon connects with a few of his cool-looking kicks to allow Tenryu and Hara to beat up Jim, but Bill Watts was right around Jim as he doesn't allow anyone to look dominate on him for too long before Kamala comes in for some comedy bumps. Hara nearly loses to Kamala's splash that looked like it couldn't have flattened a postage stamp and the crowd sound sad for him. The luchadores tag in and Ultimo ends it shortly afterwards with a German Suplex (having stopped doing the roll-through he was messing up on the regular). This was two matches happening at once with the WWF guys happy to slum it while Dragon was going at it like it was a Dome Show. Still, what better way to end SWS then a completely weird mixture of guys not working very well?
We end the show with adverts for the upcoming newly-branded companies:
Wrestling And Romance would end up with Genichiro Tenryu, Ultimo Dragon, King Haku, Masao Orihara, Tatsumi Kitahara, The Great Kabuki, Koki Kitahara, Samson Fuyuki, Ashura Hara, Takashi Ishikawa & Yuji Yasuraoka (as well as the WWF and CMLL deals).
Network Of Wrestling would end up with George Takano, Shunji Takano, Goro Tsurumi, Don Arakawa, Apollo Sugawara, Hiroshi Hatanaka, Kendo Nagasaki, Kenichi Oya, Fumihiro Niikura and Ishinriki.
That is a brutal, brutal split. Imagine one of those old NJPW shows that has the matches split over two VHS releases but instead of dividing the matches fairly, they just shoved all the main events onto one tape and whatever was left onto the other and you have the WAR/NOW talent split.
Naoki Sano and Masakatsu Funaki would spend their time focusing on PWFG and UWF-i which makes sense given their style and the size of those company's shows. Yoshiaki Yatsu would disappear for a year then show up at PWC (which we're not ready for yet), possibly because of how he was used as a patsy for SWS' death and rebirth.
So That Was SWS
I wanted to watch SWS because plenty has been written about this LOLCOW cash company showing up to to inadvertently create one of the greatest runs in wrestling history…for AJPW. Tenryu's absence opened the door for Misawa to un-mask and step up along with the rest of the Pillars and hell, NJPW weren't doing too badly during this time either having kickstarted their post-Inoki period with The Three Musketeers so SWS might as well take credit for that too. SWS didn't have much planned in the way of building up new stars (hey wait what happened to that dojo?) and didn't last long enough to have a next generation (Orihara, Kitahara, Fuyuki, Ishinriki) rise up so the big stars ended up being Tenryu, Hara, Yatsu and Haku…who were also the big stars at the start too.
After watching all their available shows, I'd say that overall SWS' rep is pretty much deserved. A wrestling company ran by a man who knew only how to open his wallet and say "yes Tenryu!" was always doomed to fail, especially when they were insisting on being seen as a big company when they really weren't. When your biggest feud ended up being Tenryu vs. Weekly Pro Wrestling and your most famous match ended up dissolving into a shoot, you know SWS had problems.
With all the crazy competition during this time, it would have been very hard to recommend a bunch of has-beens when Onita was blowing himself up and AJW were Dream Slamming one another. But that's not to say there's a bunch of stuff that's worth a watch in this finding-matches-via-youtube generation so here's some matches you should make time for (that aren't Tenta vs. Kitao):
Masao Orihara, Takashi Ishikawa & Tatsumi Kitahara vs. Ishinriki, Shinichi Nakano & The Great Kabuki (05/23/91)
Natural Powers vs. Genichiro Tenryu & Takashi Ishikawa (05/23/91)
Genichiro Tenryu vs. Ashura Hara (11/10/91)
The Road Warriors vs. Natural Disasters (12/12/91)
Kato Kung Lee, Masao Orihara & Ultimo Dragon vs. Blue Panther, Emilio Charles Jr. & Toshiyuki Nakahara (02/14/92)
Next week: This means WAR
I've been Maffew and I am also two companies, both of them miserable