Super World Sports Korakuen Hall 06/05/92
Korakuen Hall
Tokyo, Japan
Attendance: "1,980"
Oh there's way too much here to sneak into a cheeky preview. Click more to find out about how SWS dies!
(The following summary comes from KinchStalker's lovely article on SWS.)
So when we last left SWS, Yatsu had publicly announced his departure despite being one half of the tag champions. More importantly, he was the head of the Dojo Geki stable which was always intended as a buffer group between ex-AJPW Revolution and the ex-NJPW Palaestra. Yatsu was considered the best buffer as he had worked for both companies and trusted neither of them.
Meanwhile, Hachiro Tanaka was fed up with the amount of money he'd invested in SWS and the little (i.e. zero) profit the company was generating, from the costly WWF deals and the fact he felt Tenryu vs. Fujiwara would have outdrawn (and been cheaper than) Tenryu vs. Hogan due to the success of PWFG. The ex-president of Megane Super then decided to plot to break up SWS while not destroying it, which would have hurt Megane's corporate image. "Hey it's not our fault the company fell apart, it's these bloody wrestlers!!"
So Tanaka's plan was to have Yatsu publicly suggest the idea of the stables turning into independent promotions. Tanaka made it easier for him by offering Yatsu 200 million yen to basically not implicate Tanaka. Yatsu wanted out of the business so he got his retirement money and Tanaka got to dissolve SWS. Everyone wins right?
Tenryu disagreed after all the hard work he'd put in trying to get everyone on the same page, so Yatsu decided to announce a quick press conference figuring Tenryu would have no choice but to go along with the idea once he'd made it public.
Instead in a plot twist you'd see on the likes of House Of Cards, Tanaka publicly declared that Yatsu was saying these things of his own violation and no-one was interested in splitting up the company.
It's unknown if Yatsu got his hush money but given that he's still wrestling to this day I'm guessing "no".
Tanaka wanted to cancel SWS' upcoming dates and split the company now everyone knew about it but Tenryu refused as they'd already announced them and didn't want to let down the few loyal fans they'd made along the way. And they're all in this together, right?
During the Toyama Gymnasium on 05/19/92, all of the ex-New Japan talent (Takanos, Sano, Oya and Arakawa) entered the ring together to declare that they could not get along with Tenryu. Yatsu's press conference was cracking the company.
Yatsu had his last match for SWS at Korakuen Hall on 05/22. To demonstrate the public's overall reaction to the information they had been given, Yatsu threw shirts into the crowd as a parting gift, only for the crowd to throw them back into the ring while mockingly doing Yatsu's "orya" chant.
Days later, SWS would officially announce the company was splitting into two companies. So Tanaka got what he wanted and it only cost Yatsu his respect.
By the way, I have no idea where this show even aired as it was sent to me by someone cool on twitter and I can't see it listed anywhere on tape-trading sites so consider it a pit-stop before we drive the SWS truck into a wall at 10mph.
Naoki Sano vs. Hiroshi Hatanaka
Feeling out process leads to Sano attempting to armbar his forgettable opponent before giving up on that approach quickly and simply kicking Hatanaka in the mouth with a stiff shot to bust him open. Sano continues with some harsh slaps and another face-crunching kick.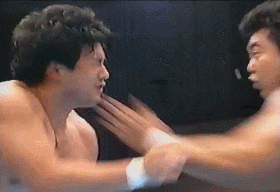 Hatanaka bravely tries to combat Sano's PWFG approach with a backdrop to the crowd's delight. Sano is absolutely not in the mood for this and delivers a German Suplex before cranking Hatanaka's neck back for the submission. Jesus that was a lot of brutality in four minutes.
George Takano & Kenichi Oya vs. Fumihiro Niikura & Kendo Nagasaki
Niikura and Oya exchange holds on the mat but Niikura is a much better dance partner for Oya than the usual lads who act like they're hiding from a bear so they lay down and play dead. George takes over on stretching duties and we get a lovely Indian Deathlock. Then Kendo tags in and does his usual drag-to-outside-and-smash-with-chairs spot. Every show mate, every show. Oya tries to make a comeback while knee-deep in chairs and George flies with his spinning wheelkicks but Kendo simply disregards it to land a piledriver, allowing Niikura to Dragon Sleeper Oya for the win. Not bad.
Samson Fuyuki & Takashi Ishikawa vs. Tatsumi Kitahara & Tetsuya Yamanaka
I don't know why Tetsuya Yamanaka is here with these established heavyweights but it's the only time he stood out. Ishikawa gets slapped by the young un, clearly sick of life. Ishikawa dents a chair over his young stupid head before locking in a Sharpshooter. Fuyuki takes over but fudges it so Kitahara anklebreakers the Walking Barnet on a table outside. Fuyuki likes matches where he gets a chance to lay on his belly and moan like a horny turtle, and Kitahara is willing to play along. Yamanaka takes a Fuyuki palm strike before Ishikawa puts him in another Sharpshooter. Kitahara tries to attack mid-hold but Ishikawa knows it's coming so he decapitates a charging Kitahara and sees off Yamanaka with a Sharpshooter…except the plucky greenhorn refuses to tap as the crowd get louder and louder in their support for him, resulting in Kitahara able to recover and kick Ishikawa's giant head until he releases him. Hot tag to Kitahara and he unleashes more kicks and a fat man top rope moonsault to Ishikawa. Fuyuki takes down Kitahara and tries another Sharpshooter but now it's time for Yamanaka to save his veteran tag partner. Crowd is going wild now. Kitahara can't put away Fuyuki with his offence but he can knock him to the outside so Yamanaka can sail with a sweet crossbody to the outside. Yamanaka then gets a springboard sunset flip and it's a shame Japan very rarely do the fluke 1-2-3 Kid style win because this was absolutely the moment to do it. Fuyuki lariats Yamanaka down and…he kicks out again! Fuyuki lands his Butt Stomp (barely, due to Yamanaka's thinness) and Kitahara interrupts the pin so Yamanaka gets one last volley of offence before Fuyuki backdrops him to end a tremendous tag match.
How typical can SWS get? The death sentence has already been written for the company and NOW they're making stars?
Ultimo Dragon vs. Arkangel de la Muerte
We're JIP with Ultimo falling on his arse and pretending he hurt his foot and goes for a few holds. SWS picks some weird points to start showing their edited footage. Arkangel comes back with a rolling flying shoulder tackle. Luchadores love flying shoulder tackles. Arkangel lands a tope rope crossbody and a splash but can't put away Ultimo. They never had a chance to but this crowd's popping like it could have. Arkangel gets the contractually-obligated Mexican Surfboard with Ultimo leaning out for a double pin/kickout. Arkangel get sent outside to take the Asai Moonsault which doesn't go well for Dragon.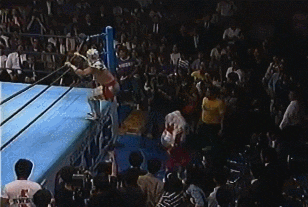 Ultimo drags his broken body in to miss a top rope splash and he looks ready to call it a day and go eat a sandwich. Frankensteiner Pin only gets two but a moonsault-off-the-ropes sets up the German Suplex Pin without a bridge because his body's like a jigsaw puzzle.
Below average for Ultimo but his body was getting treated like the buildings in Blast Corps. Arkangel looked solid out there but didn't do much to stand out from the dozens of other luchadores SWS has brought in. He sadly passed away in 2018 but he was of course, wrestling until his last day.
Genichiro Tenryu & Ashura Hara vs. Haku & The Great Kabuki
I love that with all the drama and bullshit going on, Kabuki somehow finds himself main eventing again even when he's not booking. If WWE were booking, Kabuki would lose to a Fire Thunder Powerbomb. Tenryu starts off with Haku and he can't outpower him so he Enziguris him quickly. Hara tags in to lariat the sweat off Haku's chest and double Enziguri Haku as we appear to be going home really early. Haku kicks out of the Blind Elbow so Tenryu manages to somehow Dirty Powerbomb him with Kabuki wandering in to shove his foot in Tenryu's face to prevent a follow up. Tenryu kicks Haku in the dick but like shooting Mongo, that only makes him mad. Kabuki tries to get some shots in so Tenryu forward rolls into tagging in Hara who rocks The Great One with lariats. Kabuki gets some kicks in but he's either working soft as a way of trying something with FMW or he's just old, but either way Hara only sells for a second before more lariats. Hara delivers more lariats at Haku so Kabuki has to distract so Haku can yell "IT'S HAKUING TIME" and Haku everywhere, with a top rope splash getting a near-fall. Crowd are begging Hara to tag in Tenryu so Haku locks in a Boston Crab and refuses to release it no matter how many times Tenryu chops him. Kabuki mists Tenryu in the only thing he does all match that gets sold. Hara bravely suplexes Haku but he's still tired so Kabuki tries his softest underhanded shots to fend off Hara. Kabuki lands a backbreaker and Hara immediately lariats him in response. It is Fuck Kabuki O Clock somewhere in the world. And then Kabuki locks in an Abdominal Stretch and holy shit, someone call Jim Ross because HARA SUBMITS.
Match was one long ending sequence and that wasn't a bad thing. Tenryu was in a really bad mood for obvious reasons and it was fun watching being miserable in the ring and ignoring 99% of everything Kabuki was doing so he could lariat his troubles away, if only for a few minutes.
Overall: Oh of course, with SWS half-way in the bin they put out a really fun show with A LOUD, FULL CROWD there to enjoy it while it lasts. What the hell happened, did fans read about the drama and decide now was a good time to see the very last bit of the Costa Concordia sink into the ocean? Either way, the wrestlers worked to the beat of the crowd and the fans were all the better for it. Also notice how the matches are better when they're forced to keep the stables fighting one another rather than mixing it up?
Next week: SWS Dies (Part 2)