"God made the Devil just for fun;
But when he wanted the real thing, he made Aja Kong!"
-Aja's theme song, "Jungle Emperor"
JOSHI SPOTLIGHT- AJA KONG:
Stats:
Real Name: Erika Shishido
Billed Height & Weight: 5'5″ 227 lbs.
Career Length: 1986-today (still active)
Trained By: Jaguar Yokota
-One of the most outstanding wrestlers of the "AJW Boom Period" of the '90s is surprisingly the short, squat monster Aja Kong. Handily described as a "Female Vader" to outsiders, that really doesn't even complete the picture of just how outstanding Aja was- she is like Vader if he was better at literally every aspect of professional wrestling. And that's not a knock of Vader! Aja's just THAT GOOD.
What makes Aja special is that she's not just the most terrifying of the Monster Heels (her physical presence is incredible), but she's charismatic, a great promo, and one of the best workers of the '90s. No mere "Plodding Monster", she can work Spotfests, brawls, bloody matches, Main Event Style, etc.- she throws amazing kicks, big power moves, the splashes you'd expect of a "Big Fat Heel", and more- she's a lightning quick version of Western guys like Vader and Earthquake, and none of them used a SUPER MOUNTAIN BOMB as a finisher. And best of all, she was an amazing seller, too- despite being a monster, Aja would go up for suplexes from women who weighed 100 lbs. less than her, scream in agony when hit with a huge move, and sell limbwork for the entire match (which, much as I love Joshi, they are typically very bad at doing).
As an Ace, she had the expected physical credibility (a big thing, even in Joshi, which often pushed slender "Pretty Girls" as stars), but was shockingly vulnerable. But all she needed was one or two MDK moves to finish anybody around- her moveset was remarkable, sporting the vicious Uraken (Spinning Backfist), which was either a TKO move, or one she could spam out repeatedly to wear down an opponent (if she holds them up by their hair and pats their face first, they're dead). The Super Mountain Bomb was death, and rarely seen because she just didn't need it.
Aja's best work was done with Nakano in their multi-year feud, Akira Hokuto, and Manami Toyota- great workers all, you could claim they all had their best work with Aja. Multiple ***** matches abound- nobody was ever better at performing in the "Big vs. Little" matches than Aja, and Toyota in particular played an underdog better than anyone. As much as I love Toyota's work, and Hokuto gets most of the respect from those unfamiliar with Joshi… I think Aja's every bit as good in her own way, and I wouldn't argue anyone saying she was the best. Hell, she once had three ****+ matches in ONE NIGHT at the V*Top Tournament in the Tokyo Dome- something that surpasses one of Bret Hart's proudest achievements; having three good-to-great matches in one knight at the first King of the Ring PPV. And I LIKE Bret.
But Aja's charisma cannot be understated- I don't speak a bit of Japanese, but even *I* feel emotion when Aja cuts an impassioned promo against a rival, or someone who pisses her off. There's a great bit when she's doing a promo with "Polite 'Hai'-Spouting Rookie" Sakie Hasegawa, and just startles her by slapping her on the back at the end of a rant. When Akira Hokuto was fading fast against rival Shinobu Kandori at "St. Battle Final", you can see Akira's beloved trainees crying (Las Cachorras Orientalse) for their "senpai", but it's Aja's agonized, heartbroken look that's stuck with me ever since I saw that bout. She was like a monster with feelings- an incredibly-difficult contrast to maintain. And I loved how she treated her World Title- she made it look like it MATTERED, wearing in proudly, demanding only the best challenges, and clutching it like a beloved child.
CAREER TRAJECTORY:
Giving an interview, Aja gives parts of her real-life backstory, indicating a childhood full of being ignored and bullied
Aja debuted for All Japan Women's Pro Wrestling (AJW) at sixteen years of age, under her real name of Erika Shishido. The daughter of a Japanese woman and a black American serviceman (something most bios darkly indicate means she had to get tough growing up), her size and power ensured her a rapid push.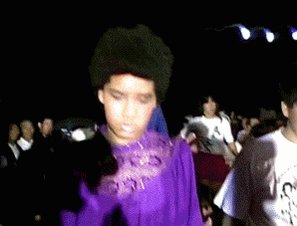 A 16-ish Erika Shishido in the beginning of her career.
She swiftly outpaced her classmates in the "1986 Rookies" (which included Megumi Kudo & Combat Toyoda of FMW fame), changed her name to Aja Kong (don't ask why the half-black wrestler got the surname "Kong", nor why she had to be a villain) and immediately joined killer heel Dump Matsumoto's Gokuaku Domei stable ("The Atrocious Alliance"). Dump's retirement two years later led to the dissolution of the stable, and Aja began feuding with Dump's #2, Bull Nakano, who eventually became the new ace of AJW.
Aja & Bull in happier times.
The Aja/Bull feud went on for years- Bull was unbeaten, as Aces tend to be, but you could see each war they had take more and more out of her. Wrestlemarinepiad '90 features a bloodbath of a Steel Cage Match, which required a Guillotine Legdrop off the top of the goddamn cage to end Aja's flurry of weapons shots, and the event two years later saw Aja kick out of everything Bull had save one final Moonsault- a sign that Aja's time as champ was almost there. When Aja finally unseated Nakano for the WWWA World Championship in 1992, the two rivals cried together in the ring over what their rivalry had meant to them, and led to Aja's reign as "Ace", which lasted all the way until 1995.
Aja & Alliance teammate Bison Kimura also formed the dominant tag team "Jungle Jack", repeatedly winning the 3WA Tag Team Titles until Toyota & Toshiyo Yamada unseated them. Bison's injuries kept them out of the limelight for a few long stretches.
Along the way, Aja wrestled classics against Hokuto, Toyota, and others- her monstrous image providing a great contrast to these scrappy underdog fighters. In the "Interpromotional Era" she largely engaged in tag bouts against other big stars, usually winning (or seeing her partner falter), and more… but 1995 finally saw the "End of Aja"- she was defeated by Manami Toyota for the 3WA Title, briefly winning it back in time to pay back JWP star Dynamite Kansai for beating her repeatedly during the Interpromotional Era- Aja would never win back the gold after that point.
She briefly entered the WWF as the new "Alundra Blayze Opponent", but some combination of Alundra quitting and Aja murdering Chaparita Asari on RAW ended that, and soon she was back. The tricky thing was, wrestlers who lose their "Ace" status tended to either retire or stick around in "Filler" bouts- entertaining matches that mean little to the general order of things, as Bull had done after losing. So Aja was in a tricky position. The years between 1995 & 1997 don't mean much for her.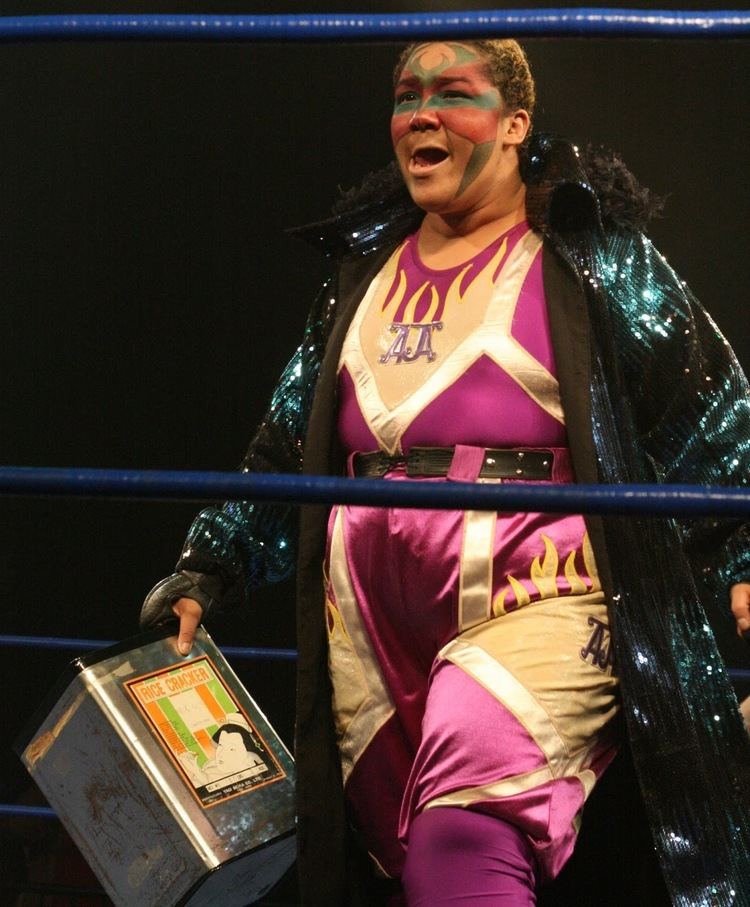 Aja soon moved on to form her own promotion, becoming a top star in Arsion, though giving back and putting over her trainees as well.
1997- AJA FORMS ARSION:
As I mentioned in my History of Other '90s Joshi Companies post, Aja was one of many AJW wrestlers who abandoned the bankrupt company during its 1997 downturn, as she was not being paid. She formed Arsion with some former AJW staff and backers, and had a degree of success- I remember reading about how "unselfish" she was, voluntarily putting over younger stars (something that was somewhat uncommon with old, established vets). She still held the Queen Star of Arsion title for a year, but jobbed out to Ayako Hamada and others. Unfortunately, management issues led to Aja quitting her own company in 2001. Arsion, at one point one of the more popular Joshi companies (it certainly got the lion's share of the attention when I first discovered Joshi in the early 2000s… though that may just be because of Ayako Hamada & Michiko Omukai's bikini pics), went through turmoil repeatedly before folding.
Aja & Amazing Kong formed a team so deadly I find it silly to imagine any other female duo defeating them. Hell, half the men couldn't.
Aja became a freelancer after that, forming a tag team with Amazing Kong called "Double Kong" and wrestling all over the place. They worked for GAEA, AJW, LLPW, Oz Academy and other companies, always as top acts. And shockingly, she continued to wrestle with a full schedule- her style "ages better" than the high-flying styles of other Joshi, and she was able to maintain work at a high level. She shocked everyone by even popping up on an All-Elite Wrestling event or two, meaning she's relevant to an entirely new generation of fans!
Aja is one of the most decorated women in wrestling history, holding the top belt in AJW, Oz Academy, Arsion, and GAEA. Not bad for someone who was probably being "phased out" in 1995 AJW.
MOVESET:
Kick to the Back of Seated Opponent (scooting them across the ring on their ass), Slingshot into Ropes onto her Knees, Lariat, Suicide Dive (rarely seen), Hit With an Oil Can, Splash, 2nd-Rop Splash, Sit-Down Splash, 2nd-Rope Sit-Down Splash, Brainbuster, Hanging Vertical Suplex, Elbow Drop, Mist Spray, High-Angle Backdrop Suplex, Falling Piledriver, Package Piledriver, Slam Opponent into the Corner, Avalanche in the Corner, Flying Back Elbow, Uraken (Spinning Backfist- Finisher), Super Mountain Bomb (Holds Opponent Upside-Down Behind Her and Jumps Off the Top Rope Onto Them- MDK Move)
Only one match necessary this time- it's a fuckin' doozy.
WWWA TITLE MATCH:
V*TOP TOURNAMENT OPENING ROUND:
AJA KONG vs. MANAMI TOYOTA:
* This is from the legendary Big Egg Wrestling Universe show at the Tokyo Dome, and the first round of a one-night tournament. Toyota, however, is actually challenging for Aja's 3WA Gold, as well! The entrances are beyond amazing, as Manami's "Sonic the Hedgehog" theme sees her down the titanic ramp at the Dome, doing these shy, nervous waves to the crowd with a worried look on her face… and then Aja bursts through the curtains, "Jungle Emperor" plays, steps out of the heat and smoke, and power-walks the entire veering pathway to the ring, never once taking her eyes off of her enemy, looking like the hugest star in the fucking universe while the theme screams that she's better than the Devil. That is BOSS.
Manami's wearing the signature black leotard with arm cut-outs, but has added tons of glistening bedazzled stuff and white linework all over it, while Aja's wearing a hot pink outfit with black flames. Very unusual gear for both. And Aja makes sure to hold the 3WA Title right in front of Manami, making sure she knows this is important. I'd say "Add a 1/4* just for that", but… this is Toyota vs. Kong. They ain't gonna need 'em.
Manami's like "Fuck your feeling-out period!" and goes immediately to a goddamn Manami Roll and a SUNSET FLIP POWERBOMB literally 20 seconds into the match, letting us know the psychology immediately- this is for the biggest title in the world to them, but is also Match #1 in a one-night tournament- they want to end this fast. And ain't nobody alive can start a match at a faster pace than Manami Toyota. Aja's like "The fuck?…" but manages to catch a flying Manami and hits a Mountain Bomb to buy herself some time. Aja beats on her, earning a "Fuck YOU!" bridge immediately, and goes to a crab, to which Manami responds "Bakayero!", awing the crowd. Aja stretches her, Gumby-style, as only Toyota can be stretched.
Aja relentlessly punishes Toyota's spine with brutal stuff (including that bitching Slingshot into the ropes, boucing Manami back-first onto Aja's knees), methodically tearing her apart instead of Manami's spam attacks, but then she throws Manami into the ropes… and she fires back with that crazy No-Hands Springboard Cross-Body. That's the most insane recurring spot I've ever seen- how many other people could even do that? But Aja stifles the comeback immediately with kicks, but then MANAMI starts throwing them, resulting in a nasty war of strikes that Aja wins, then hits a Super Jackhammer of all things, but Manami again bridges out. Jesus. Aja then splats her into the corner, and does a running charge from the other side, screaming "TOYOTAAAAAAA!" the entire way.
And she follows that with a fucking RUNNING DOMINATOR onto the ramp outside, and follows it up with a running shoulder tackle from all the way across the main ramp- oh god, this isn't a match. It's murder. That's brilliant, too, because the Dome is so big, and this puts the offense right out there where the whole crowd can see. Two huge Piledrivers and a Mountain Bomb all get two counts, and Manami FINALLY gets a consistent comeback by booting Aja off the top, hitting a No-Hands Running Springboard Cross-Body and a Missile Dropkick to the outside! And then sets Aja onto a table and splashes her through that! Moonsault gets two. She tries to cross the arms for her big finish, but Aja desperately struggles free, gears up the Uraken… and Manami BLOCKS IT! She pulls the arms back into the double-clutch and hits the Japanese Ocean Suplex for two!
How in the shit did this not kill both women?
Manami Roll is attempted, but this time Aja's ready and spikes her with a BRUTAL Powerbomb. Second-rope splash gets two. Getting desperate, Manami attempts the most suicidal move I've ever seen when Aja ascends to the top again- she engages the Victory Star Drop, underhooking Aja's arms with her legs and backflipping off the top, dumping both of them onto their heads in a sickening heap. The raw insanity and desire to win required for a Kamikaze Attack like that is just insane. CLOSE near-fall, and the crowd is slack-jawed while Manami freaks at the ref, beside herself.
Aja resists the Japanese Ocean Cyclone Suplex (possibly because of all the back-work earlier), and Manami's completely out of ideas. And so she goes to the only things she can think of- moves that worked before. And tragically, Aja's ready for them this time. She puts the knees up on the Moonsault, and when Manami tries the Sunset Flip Powerbomb, and Aja sickeningly hits a BANZAI DROP from there, sticking her legs straight out so you know Manami caught the full force of her weight. Manami lands on her knees from a backdrop, so Aja Urakens her but can't capitalize. Dying herself, she hits a brand-new insane thing- a Vertical Drop Falcon Arrow (borderline Steiner Screwdriver territory) for the win (17:17). And, in a beautiful move, she clutches the 3WA World Title to her chest like a toddler that almost got hit by a car. She knows how damn close she came to losing it.
What a brilliant match. Manami kept flying out with MOVEZ, but Aja was calm and patient, ready for her at every step- once she slows Manami down to start, she dominates 10-ish minutes with big stuff and painful stretching, but then Manami hits one of those offensive flurries, rendering her unstoppable. Then, when Aja proves to be invincible, Manami gets more and more desperate, hitting the Victory Star Drop and her JOS finisher, before giving up and going to the well one too many times- this great storytelling sees Aja's smartened up already, and she brutally counters both moves, hits her Uraken, but knows something more is needed, and drivers Manami onto her neck for the win. Absolute perfection- never slows down, ridiculous bumping, great selling (Manami is A+, and even Aja is great as a "flummoxed giant"), and even the stretching is moving about and is important to the story. You can't ask for anything more.
Rating: ***** (sort of the "Savage/Steamboat" of Women's matches. You have more epic wars at times, or more brutal brawls, but very few things ever flow as seamlessly as this match does. I would put this against anyone's best stuff)
WWF RAW:
AJA KONG vs. CHAPARITA ASARI (1995):
* Yes, really. Aja Kong made WWF Raw. This is from that strange time period when Alundra Blayze was getting ready to dump the WWF Women's Title in the trash on WCW Nitro, but the WWF was bringing in a bunch of Joshi wrestlers to replace the fired Bull Nakano (who'd been arrested for cocaine possession). Aja Kong was meant to be the new "Monster Heel", and this match and the prior night's Survivor Series were her intended showcase. Chaparita Asari is an itty-bitty high-flier who invented the Sky Twister Press (a corkscrew senton off the top), and looks to be about half Aja's body weight here. She's dresses as a combination of Jushin Thunder Liger and Jason Lee Scott. Aja's wearing an all-black Mabel-esque outfit with baggy pants and gold lines all over it, and is already playing to the crowd.
Vince & Lawler are already all over how freaky Aja Kong looks, and we see a flaw in WWF's Joshi presentation already- the ref is MUCH taller than either girl, thus making it look weird. In Joshi, all the refs are dwarfish men or skinny girls in soccer uniforms, so nobody looks more imposing than the wrestlers. And Aja's coming down to some calming, plunky "Japanese Music" theme rather than "Jungle Emperor". Well, at least it's not the Orient Express music, though I'd have LOL'd at that. Aja attacks right away, but Asari hits a pair of Cartwheel Handspring Mule Kicks that are quickly no-sold, but at least Vince & Lawler are impressed. Aja then viciously hairsnaps Asari around, then kicks the seated joshi so friggin' hard that the poor girl scoots about two feet across the ring on her ass.
Aja keeps pulling Chaparita up at two just to continue the beating, hitting a Delayed Suplex and a VICIOUS Package Piledriver. Lawler says her "American Hero", Fat Boy, just expired. Should I know who that is? I'm not down with the hip-hop. Vince actually makes mention of "a few potatoes being thrown around the ring" with this beating. Aja's sarcastic-ass smirk and "Oh, so sorry" expressions are just fantastic, and should have made her a mega-heel with or without English speaking skills, but alas, it was not to be. Aja no-sells everything Asari does until she misses a 2nd-Rope Splash, and then Asari wows everyone by unleashing a Sky Twister Press on WWF TV in 1995, sadly missing. Holy Hell that's a fast revolution- I don't think any man could spin that quickly (that's some "tiny female gymnast" stuff).
Aja picks her up, slaps her face around a bit for extra heelishness, and then spins around and Urakens her RIGHT IN THE FUCKING FACE and kills her at (4:00). Jesus Goddamn Christ that looked vicious. Now THAT'S a squash.
Rating: ** (just a nothing Jobber match, really, with Aja selling nothing except her own missed splash, then killing the kid with a Spinning Backfist. I've seen Barry Hardy look more competitive)
Haha, I love that Joshi all act super-dorky, even in their 40s and 50s. And it warms my heart that they're mostly all still buddies. This is Aja with Takako & Kyoko Inoue.
So that's my bio of Aja Kong- hard to call her "underrated" considering she's a legend and has been going strong wayyyyyyyyyy past her best-before date, but she's seriously one of the most well-rounded performers in wrestling.