Man, those clowns in WCW, always trying to turn it into a circus sideshow!
No, I mean literally.
– The top story this week is that Eric Bischoff is trying to broker a deal with Disney to run literal wrestling side-shows in Orlando at DisneyWorld, putting on hour-long shows for patrons and moving the base of operations for the company from Atlanta to Orlando in the process. Dave thinks that it's not actually the worst idea in the world, since the 900 line business is way down from a couple of years ago (call Scheme Gene's hotline now to find out how they turned it around in a hurry!) and the company is in the hole for $6 million a year thus far. But don't worry, Hulk Hogan is here to save the day!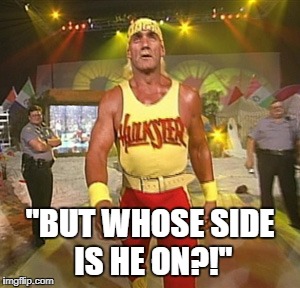 – Dave is wavering on Hogan actually being an effective draw at this point, since plans with him have changed so rapidly from "holding off to build up the match at Starrcade" to "we're six weeks away from the singles match with Flair and we should probably start building it up now." And they need the first show to do a pretty massive buyrate increase in order to justify his deal. If the goal is to lose the least amount of money possible, then the deal was a bad one, Dave says. If he can't help them get sponsors and new cable clearances, then it was a waste of money, even more so since Vince had the chance to match the deal and chose not to do so. And it's a catch-22, because by putting Hogan on TV every week, it actually lessens his value a lot. But they need to use him to justify his pay.
– Not to mention, you know they're 100% for sure going to put the belt on him as soon as possible, but how many dates is he going to work as champion, and how are they going to get the belt off him again when it's time to lose? (Easy, just retroactively change the rules of the match after the fact!)
– So is signing Hogan a mistake? Well, if WCW truly wants to be #1, they had to take that risk. Without him, they're still losing money anyway, and with him the Turner suits are far less likely to pull the plug on the company. (It came out later that this was a very real threat from TBS and Hogan basically saved the company from getting shut down under Bischoff.)
– Although they won't have Tonya Harding on the show as originally planned, All Japan Women still announced the "Big Egg Wrestling Universe" show for November, five months ahead of time. It will no doubt be the biggest women's wrestling show in history. Built around the retirement of Akira Hokuto and an 8-woman tournament to crown the "true #1 woman wrestler in the world", the show will have a main event of Alundra Blayze defending the WWF women's title against Bull Nakano. It'll be probably a title change since Bull is starting full-time with the WWF around then. (And indeed it was.) At a projected seven hours long, it will easily be the longest major show in wrestling history. (Seven hours? I WISH that Wrestlemania was only that long!)
– Maxx Payne and Cactus Jack appear to be done with WCW, as both gave notice this week and Payne is expected to debut with the WWF right away. Jack will be filling his WCW dates until his contract expires in September, but will otherwise be working indies and Japan. (Maybe he'll stick around ECW for a bit? I think we can all agree, however, that no one in the WWF would want to see Mick Foley there.)
– EMLL is shutting down its weekly cards in a variety of smaller cities due to an outbreak of fever…WORLD CUP FEVER. Basically they can't draw for shit until Mexico is eliminated, so once that happens they'll start up again. (According to Wikipedia, Mexico didn't get knocked out of the tournament until July 10, losing to Bulgaria, perhaps on a glorious Rusev Day with a young Rusev watching in the stands.)
– Mitsuharu Misawa debuted a new version of the Tiger Driver to put away Kawada in a title defense on 6/3 at Budokan, in what was said to be a **** match. (This guy has been champion for, what, two years straight now? And people were worried about Baba not making him a big star in 1991.)
– All Japan has basically thrown in the towel on Terry Gordy, pushing Steve Williams and Johnny Ace as the new top foreign tag team as an admission that Gordy isn't coming back. Williams will challenge for the Triple Crown at the July Budokan show, and speculation is that he'll win the belt because there's a ton of viable challengers for him and Misawa is running out.
– The Heavenly Bodies are so out of favor with Baba now that they literally lost every match on the tour, culminating in Dr. Tom doing a singles job to lowly Satoru Asako.
– New Japan officially announced that the August tournament will be called the G-1 Climax, featuring five nights at Sumo Hall with 12 men in a round-robin tournament. Oddly enough, the super juniors round-robin tournament that's been running on the undercards of recent New Japan shows have been completely stealing the thunder from the main event guys. (Maybe HHH was booking that, too?)
– Pancrase had a huge show at Budokan on 6/1, with Ken Shamrock losing to Frank Robman in a kickboxing match that was changed to those rules to allow Shamrock to lose without looking bad, since no one would expect him to beat a champion kickboxer in his own sport. The main event of the show, which drew 11,000 people was a mixed match between Maurice Smith and Minoru Suzuki, where they alternated wearing gloves between rounds.
– Meanwhile, in UWFI, Takada announced that if he loses to Gary Albright in the semi-finals of the tournament on 6/10 at Budokan, he'll give up the title to the eventual winner of the tournament. Dave feels like the best move is to have Takada lose the title and Vader win it, which sets up the big Vader-Takada match for the title down the line along with a bunch of other mega-gates to carry them through 1995.
And now it's time for…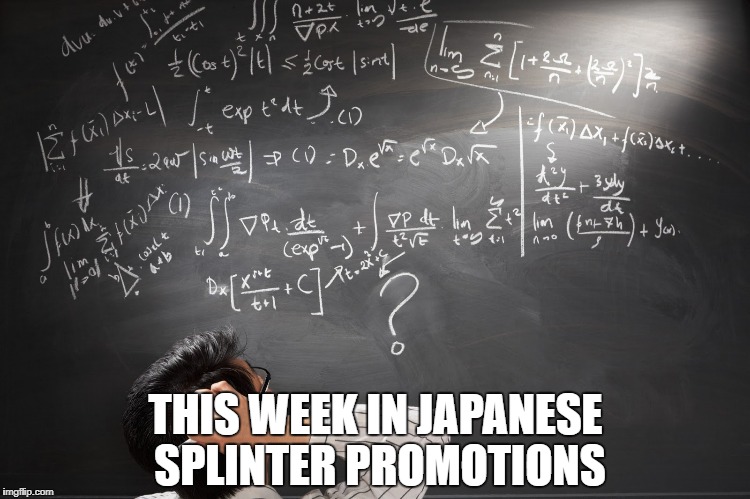 – Well, sort of, as the IWU (International Wrestling Union) is now known as UPW (Union Pro Wrestling) so as not to be confused with Quinones' new IWA promotion. (Well, that clears it RIGHT up.)
– For those who had "this week" in the pool for Eddie Gilbert rage-quitting Memphis again, collect your prize money. He's off to Puerto Rico. (We're coming close to the point where he pulls this stunt and then never returns, unfortunately.)
– Jake Roberts continues to play the most dastardly heel in wrestling, as he did a promo on SMW TV where he talked about he's such a big star that when he came into the territory, everyone in the locker room wanted his autograph, including the Rock N Roll Express. But he doesn't like them, so he wouldn't give them one. (Maybe it was in the delivery.)
– Dave notes that Sabu will finally get surgery on one of his broken hands in July, and relates the story about Sabu having to use super glue to seal up a cut on one of them in Japan. The hand then got infected, but Dave does note that it wasn't due to the super glue.
– Dave notes that everyone should watch the ECW TV show, because it's the exact opposite of the usual time filler and is "the constantly improving calculated result of a real Mad Scientist at work." Joey Styles has been replaced on the TV by a black guy named Willie Watts, which is a rib on Cowboy Bill.
– Dave relates how two sports Hall of Fames have inducted Danny Hodge and Ernie Ladd recently, and then ponders if either of them have inducted any chauffeurs lately?
– Global finally won the Dallas wrestling war, by default, when a tornado destroyed the home of Big D owner Gary Sturdevant and forced him to shut down the company. The current top stars of GWF are the reunited Freebirds, although Dave notes that the coma has really changed Terry Gordy and he's a complete shell of his former self.
– Juventud Guerrera was the apparent victim of a car-jacking in Mexico, with his 1994 Jetta being stolen just days after he bought it. ("Uh, yeah, officer. I didn't get loaded and drive it into the river…it was STOLEN. Yeah. In fact, I was CAR JACKED. Yeah, that's the ticket.")
– To WCW, where Ice Train was fired for budgetary reasons. (Hulk Hogan isn't gonna pay for himself. Plus I heard he might have a problem with Ice Train for some reason…)
– 2 Cold Scorpio did a radio interview about his time in WCW and pretty much let fly. He said Bagwell was a nice guy but couldn't lace his boots, then claimed that the drug test failure was a conspiracy to get rid of him thanks to selective drug testing. Dave thinks he's full of crap because they were getting ready to give him a big push and if anything it cost them a lot of money to cancel all the merchandising they had planned. Also, he claimed that Pez Whatley was a better wrestler than Ric Flair. Then he went off about the Arn v. Sid brawl in England, since he was the guy who broke it up. He said from what he saw, Sid was getting the better of the fight and he doubted Arn's version of the story. He did say that Arn did pretty good considering he was getting stabbed by a guy who is 6'8" with size 15 boots.
– Rumors are that Inoki will wrestle on the 8/26 Clash, although WCW won't confirm it.
– At the syndicated TV tapings on 5/31 and 6/2 in Georgia, Terra Rizing was repackaged into "newcomer" Jean-Paul Levesque, who is now a rookie from France.
– The announcement of Hogan's signing to the fans at the taping drew far more boos than cheers.
– They're running an angle where Evad Sullivan is a huge Hogan fan, but Kevin keeps tearing up his Hogan shirt and slapping him around. (He just wants to be a Hulkamaniac!)
– To the WWF, where Domino's Pizza paid $250,000 for sponsoring Summerslam, and they'll be all over WWF TV leading up to the show. (No kidding.)
– As a note, Mark Callaway and Brian Lee have been good friends for years, and in fact Brian was in Mark's wedding party. (I bet Kane wasn't even invited!)
– And finally, Bret Hart was interviewed for a British magazine, and gave his thoughts on Ultimate Warrior: "Warrior was a real hard person to like. I haven't missed him. He had no ability and was never a wrestler. But the WWF makes their cuts every year, and not everyone makes it. They replace the guys who aren't good enough. People have trouble handling it when they go down the listings, and eventually they get cut." (So maybe Vince was just making cuts in Montreal…?)