Joshi Spotlight: ARSION's Second Show (April 1998)
By Jabroniville on 23rd October 2023
ARSION PRO-SHOT HANDHELD:
(April 11th 1998)
* It's the second ARSION tape! Except this one is just a handheld show in some tiny-ass indie theater. But ehy! Come see Aja Kong work her hardest to put over ANOTHER "Jobber We're Pretending Is Devastating Now", as she takes on Mikiko Futagami and acts like she's now a really tough super-shooter so ARSION can have their very own Shinobu Kandori/Dynamite Kansai-type wrestler! Reggie Bennett, Rie Tamada & Candy Okutsu get focus as they're supposed to shore up the upper-midcard!
And HOLY SHIT do Michiko Omukai & Yumi Fukawa haul ass to try and prove themselves to the fans that they're NOT just "Pretty Girl" wrestlers who were on the bottom of the card for their whole careers prior to this! That one ends up pretty special.
ARSION Roster: Aja Kong, Mariko Yoshida, Rie Tamada, Yumi Fukawa, Michiko Omukai, Reggie Bennett, Jessie Bennett, Mikiko Futagami, Candy Okutso, Fabi Apache
CANDY OKUTSU vs. FABI APACHE:
* Fabi (aka Faby) is a Luchadora, only 18 years old here and in her very first year wrestling. According to Wikipedia, she is the daughter of lucha star Gran Apache and was to receive additional training from Aja Kong & Mariko Yoshida. She actually sticks around for a good while, meaning she's in the full roster of ARSION. Candy's in the white & black "lingerie over wrestling gear" thing again, while Apache's in all black. Oh, now Fabi's taken the mask off.
So they go lucha-style pretty clearly, but Fabi's so green she's way out of position for half the stuff or does things the fans don't even realize are moves- Candy's run-up cross-body comes up short so they're down in a heap, and then Fabi does a weird powerbomb lift into a spin that looks like a fuck-up. Candy hits a lariat & Moonsault for two, Fabi BADLY botches a reversal of a powerbomb ("backdropping" Candy onto her head), and gets a clunky victory roll for two, but climbs and gets tossed with a run-up Northern Lights Superduperplex, but Candy misses a flying splash. Fabi slips trying a Lionsault to the tut-tuts of the fans and manages a short one for two, then a tilt-a-whirl backbreaker that has Candy at a perpendicular angle. Candy powerbombs her out of a rana (falling on her ass) and finishes her with a missile dropkick & another powerbomb at (3:32).
CALL MAFFEW! Just AWFUL. Fabi was super-green and was doing lucha stuff in a way that made you realize how difficult it ACTUALLY is to do, as luchadores typically twirl and spin through all of this effortlessly and use almost zero contact, while Fabi was doing a victory roll and just going THUD as she ducks down for the roll and Candy has to awkwardly roll over her. She wrestled like she was a ton of bricks. Probably a lot of nerves and trying too much. This is why 18-year old Japanese wrestlers spend 2 years doing half-crabs and bodyslams.
Rating: 1/4* (almost a pure DUD)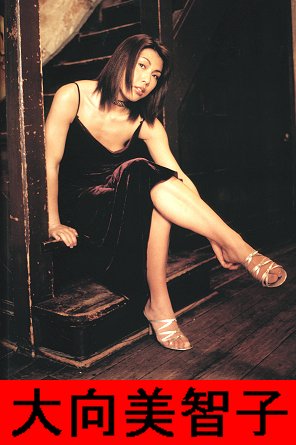 Omukai gets a pretty big push in the "Dark Ages" of joshi- she was a nobody in LLPW who suddenly got the "Rising Star" push in ARSION for some reason. Pictured above: The reason.
MICHIKO OMUKAI vs. YUMI FUKAWA:
* On ARSION's first show, Omukai came out of nowhere to wrestle Aja Kong to… well a ***1/2 match where Aja went out of her way to make Omukai look competitive and like a dangerous striker instead of a gangly idol. Fukawa is seven inches shorter than Omukai and has years less experience but has developed the ARSION submission-heavy style. Fukawa's in blue & Omukai's in red.
Hot start as Omukai keeps going for those high-kicks that flummoxed Aja and gets a run-up flying armdrag while Fukawa counters with precision stuff like an impressive rana. We now go SHOOT STYLE as they fight for takedowns and hold each other back from submissions. MMA Michiko finally tags her and starts spamming kicks to her grounded opponent (Yumi not REALLY getting badly harmed but being unable to stop them), then gets a bridging suplex & sleeper, but Fukawa impressively bow & arrows her outta that and then slaps on a nasty leghold. Omukai hits a slingshot attack for two and tries an armhold repeatedly, then just starts smashing the arm up and drilling Fukawa with kicks until a backdrop suplex gets two. Fukawa finally starts landing some speedy counters, including trapping a kick with a Perfect Plex for two. Omukai finally kicks her on the follow-through, but gets caught in a standing triangle of all things and has to lift Fukawa to the corner, where she swings off with a cross-armbreaker that has Omukai scrambling.
Fukawa gets a DDT & Lionsault for two and goes right back to the arm, but Omukai counters a whip with a roundhouse kick for two, then catches her coming in with a powerbomb for the same. Omukai twists her up with some great submissions that have Fukawa fighting, but after a Tiger Driver gets two she's tied up in another arm thing! Fukawa persistently sticks to it, but Omukai cranks off some more kicks, but Fukawa's back to the arm and hits the Buff Blockbuster for two. Fukawa tries to fly again, but takes a NASTY bump when Omukai Germans her off the second rope (right on the head!), and Omukai cranks her with the Flying Enzuiknee… for two! Omukai twists on the arm viciously, and when Fukawa makes the ropes, she quickly springboards off with her giant roundhouse kick, and instead of covering locks on a nasty armbar with her legs scissoring the other arm and Fukawa has nowhere to go- Omukai wins by submission at (13:10). Instead of being good sports, the girls get into a slapfight into a pullapart brawl before we're out.
Damn, where is this coming from!? These two girls were on the job squad a year ago, and now they're swinging for the fences with all this submission and striking stuff. Omukai was interesting as she was being put over as a striker so kept relying on it, but Fukawa was good enough at defense that it looked less like Omukai was KO'ing her and more like it was this endless blitz Fukawa just couldn't quite avoid. I'm loving the Grapplefuckery style where they just keep fighting for stuff instead of the boring "AJW/JWP Resthold" style of time-padding. Shorter, compact Fukawa was left with precision rollups and counters, which played quite well with Omukai's lanky frame and dominance. But then whenever Fukawa starts going for speedy stuff again, Omukai's there to pick her off with her longer reach and other cool things. Fukawa starts getting WHUPPED by the end, spiked with that German and now Omukai starts hitting arm stuff of her own to one-up Fukawa doing it, and her superior striking pays off with the swandive wheelkick allowing her a chance to hit an unfuckwithable submission over a helpless opponent. Excellent psychology, making everything look like the "Human game of chess" and one-upsmanship.
Rating: ***1/2 (amazing match, especially considering the tiny setting- very smartly-wrestled even though neither has killer offense at this point)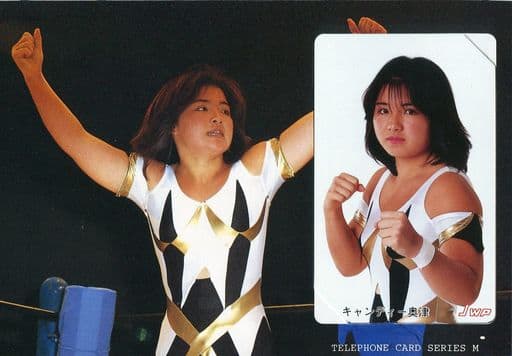 ARSION head Rossy Ogawa was REALLY BIG on Candy for whatever reason, and so she got a pretty long-term push in ARSION, probably in an attempt to make at least an upper-midcarder out of her.
CANDY OKUTSU vs. JESSIE BENNETT:
* Weirdly, Candy is out again for another match, this time against mid-ranked powerhouse Jessie (who I guess was trained by D'Lo Brown, if Mike Lorefice is correct). Jessie's in black with flame designs and Candy's in her same gear.
Jessie counters Candy's speed with power stuff and DDTs her for two, but Candy actually fires back with repeated forearms to take her down and DDTs her right back. Jessie runs into the Kick of Fear (not exactly precise), but manages a corner charge, only to run into Candy's run-up missile kick, but fires back with a lariat-ish takedown for two. Jessie with a fallaway slam & weak lariat, then shoves Candy off the top but misses her Guillotine Legdrop and takes a German suplex for two. Jessie manages to swat Candy down and hits a big Ligerbomb (Reggie's finisher), but they mess something up and Jessie dangerously attempts a Pedigree at a low angle, twisting Candy's leg underneath them on the pin for two. Jessie with a sit-out spinebuster for two, then counters a forward-roll for two, but then they hit the money spot- Candy able to hit the Rolling Germans on her much larger opponent for the win (6:49)!
A very smartly-worked match from Candy, who fought Jessie's game and did mostly simple stuff that both could do, and she was able to impressively hit her signature Rolling Germans on Jessie, who had at least 60 lbs. on her. It wasn't too long, didn't have the grappling that Jessie probably couldn't do, and fit more the "AJW Style" albeit much shorter (which isn't always a bad thing). The one interesting thing was that nobody could maintain offense for more than a move or two before getting countered by the next thing. It makes recapping tricky because you gotta type a lot of "but then" stuff but it makes for an interesting bout.
Rating: **1/4 (solid midcard match that played to Jessie's strengths)
Rie Tamada was one of the "mid-tier" Zenjo wrestlers for years- she was at the experience level where people typically get the "next level" push that Kaoru Ito & Tomoko Watanabe got and should have been beating higher-end wrestlers… but she was small and decent-but-not-great and the old wrestlers now weren't retiring, so there was nowhere to GO with her. So ARSION represents a new pasture to try and make something of her career.
REGGIE BENNETT vs. RIE TAMADA:
* Reggie's likely an upper-mid wrestler around this time, while Rie's hovering in an interesting zone- an established Zenjo wrestler, she never really got that final push to a higher level and now she kinda/maybe might? Reggie's in the Bam Bam Bigelow gear, while Rie's in animal-print and gets a veritable sea of white ribbons.
Reggie swats Tamada out of a JB Angels armdrag to start, then counters her various charges by just running into her full-steam, then biels her and counters lucha-type stuff by just headlocking the shit out of her. Tamada starts some stuff going but gets powerslammed for two, and Reggie hits a delayed suplex and then just lies on her in a mount for a while. This is clearly resting and getting her wind back but actually makes sense psychology-wise because it's actually a pretty reliable way to tire out your opponent by just lying on 'em and MAKE them get out- Tamada's gotta do all this struggling while Reggie can just lie there. Tamada eventually kicks out of a pin and then counters a whip with a German, then missile dropkicks the knee and puts on a leghold as Reggie growls in a gravelly high-pitched voice to try and put it over. Reggie catches her charging in with a big chokeslam, but gets Tornado DDT'd for two. Reggie elbows free from a Dragon Suplex but can't get her Ligerbomb, and Tamada armdrags her out of a tilt-a-whirl slam and missile kicks her, but charges into that slam for two. Tamada ranas out of another Ligerbomb attempt and gets a Bridging German for two, avoids lariats and another Ligerbomb (GREAT double-switch by having Rie try the rana, but Reggie hauls her up out of it only to get sunset flipped), but Reggie just sits on her and hoists her up for a big Spinning Ligerbomb for the win at (8:57).
Not a bad match at all, taking advantage of the size difference by having Rie fight from beneath and have to use leverage and lucha-type armdrags and stuff to harry Reggie. Yet whenever Tamada tried to charge in, Reggie would meet her and hit counters of her own- Rie kept having to use technique to win, but didn't have enough "go" to really hold Reggie down for anything. I liked Reggie repeatedly going for her finish but being unable to get it against her quicker opponent, but the finish was kind of a dud- she gets countered again and again until she just gets annoyed of it and grabs Rie and hits the move for real?
Rating: *** (a solid match for both- not too long and Rie played up the "small smarter person" against Reggie's reliable power stuff- good psychology with the strategy)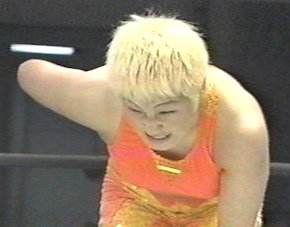 Futagami is another LLPW undercard dork given a new lease on life: She's now the "Shooter" of ARSION.
AJA KONG vs. MIKIKO FUTAGAMI:
* An interesting main event, as Aja, the biggest star in ARSION, now takes on Futagami. "Gami" has built up a "Serious Super-Shooter" persona in the gap between LLPW and ARSION, and now we'll see if Aja can work the miracle she did with Omukai from last show, and immediately put over the new act as a credible opponent. Aja's in the neon yellow/black gear, and Gami's in long black shorts and an animal-print shirt, with bleach-blonde hair.
Aja controls a bit to start, but can't get anything big and relies on her chops, then they grapple on the mat, Aja stuffing Gami with her sheer weight and leverage until Gami can fight out and target the knee with stuff, Aja countering with more of the same. Aja ends up in a figure-four and has to painfully roll around until she finally escapes, resting on the floor and limping. They slug it out with elbows but Gami's back to the knee with those dropkicks, Aja really selling the agony of these rolling legholds- she gets her boot up in the corner but runs right into a Northern Lights suplex for two. Aja gets a cross-body, but gets whipped off the second rope into an armhold- she dodges Gami's flying attack, but actually eats strikes and GOES DOWN (!) for a close two-count. Another leghold and she's getting desperate, but Gami takes a wild swing and eats the Backdrop Driver for two- another is reversed to a sleeper, but Aja kicks free of that and catches Gami charging in- BAM! Uraken! Aja won't even let her drop and immediately hits the Brainbuster for the desperation three at (13:38). Aja wins!
Man, Aja went all-out here to put Gami over and make it seem like this kid had a chance- hell, this was actually the "Savage/Bret Hart Template": sell all match and then pull out the last-minute win! But it was a high-tier version of that, selling like hell in legholds, putting over those strikes, and not being able to get any significant offense going before getting worked over again- not like how Bret/Savage would just lie there and eat offense until pulling it out. Every time Aja did something, Gami was back to a front dropkick to the knee. Aja selling those front dropkicks to the knee is interesting, as it's a very "simple and practical" way to work her over, as there's not a lot of options for the heavier, slower Aja to avoid that and it lets Gami take a measure of control. In the end, she just had to catch Gami trying something a bit too careless- even so, that was a pretty emphatic series of moves. But it's quite important here that Aja was on the defensive for the ENTIRE MATCH, unable to really take the lead because Gami was younger, hungrier and faster and had a counter for everything- Aja fighting from underneath is a pretty big rarity.
Rating: **3/4 (not the most exciting, dramatic bout, but "Wrestling 101" in terms of putting someone over before the veteran crushes them)
So yup- more of the same from ARSION- Yumi Fukawa trying her damndest to get the new style over and swinging for the fences with her effort, Michiko Omukai being built up as a top-tier midcarder with dangerous offense, Reggie Bennett being used as a powerhouse able to stomp all the smaller wrestlers in matches under 10:00, and Aja Kong working overtime to put over the new generation as legitimate threats. It's a very interesting promotion to watch, with some matches that are really eye-opening in showing you something. As much as a company shored up by Candy Okutsu & Rie Tamada is gonna struggle, it's the most fun of the current ones to watch.