Bryan Danielson vs. Kamala (and other Dream Matches!)
By Jabroniville on 18th October 2023
Welcome back to more Dream Matches! This week, I have a wild assortment of "WTF?" matches, including one inspired by a recent Twitter post. We start off with maybe the most disparate two men possible in the strangest match- the Ring of Honor World Title match between "The American Dragon" Bryan Danielson… and Kamala the Ugandan Giant! In 2006! Honest to God!
Then it's a weirdo match from All Japan, as Mike Awesome continues his AJPW tour teaming up with The Amazing Red of all people (as the green-clad Spriggan) against Jimmy Yang & Elix Skipper! Then, a recent Twitter post about how Steve Boz ruined his chances to ever become a recurring WWF jobber inspired me checking out him & Race Steele vs. Dean Malenko & Perry Saturn in a pretty good WWF Metal squash that was poor Boz's only chance! Then it's over to the UWF in 1987 as Sting & "Hot Stuff" Eddie Gilbert team up against The Fantastics!
RING OF HONOR WORLD TITLE:
SPECIAL GUEST REFEREE PRINCE NANA:
"THE AMERICAN DRAGON" BRYAN DANIELSON vs. KAMALA THE UGANDAN GIANT (w/ Kim Chee):
(Liberty States Wrestling, Sept. 30th 2006)
* Hahah, jesus. BRYAN DANIELSON, legendary super-worker and technical wrestling god… and he's up against a past his prime 1980s star KAMALA of all people. U.S. indies, everyone! Danielson is the ROH Champion and I guess got to defend the title in other companies. At least they stack the deck against him by letting Prince Nana, a friend of Kamala's, act as the referee. Danielson's in purple trunks, while Kamala's in the usual loincloth, looking saggier than usual, but still a full head taller than Bryan. They're in front of all of 50 people with a theatre stage behind them- oh, indies. Kamala is 56 years old here, so don't expect a workrate paradise. As opposed to like… every other Kamala match, I guess.
Naturally, they play off the size disparity right away, Kamala being freaked out by the handshake attempts of Bryan and whipping him across the ring on lockups. They do the mandatory 1980s test of strength spot, Bryan being hauled down but stomping the foot to end it. Kamala whines and complains and Nana gets in Bryan's face about it. Bryan bounces around from some basic shots, but manages a series of forearms (Kamala doesn't seem to know how to sell them, doing his "wave back" sell like he would for punches to the jaw) and a 2nd-rope dropkick to send Kamala bailing. Kamala drags him to the floor and whips him into the posts while the ever-smug indie fans keep singing Kamala's theme song.
Back in for some shots, but an avalanche misses and Bryan drops him with forearms and a flying headbutt, but Nana immediately turns around and ignores the pin. Bryan gets in his face about it and that leads to more Kamala chops- Bryan fires back on the floor but tries a headbutt and THE POWER OF OLD-TIMEY RACIST TROPES is too much for him, as he sells the impact himself and goes down. He manages some more shots (actually selling his hands from the hard head, bless him), but gets eyeraked and Kamala throws him through the curtain to backstage and they fight out of it, taking the curtain with them, and Bryan chokes him out USING THE CURTAIN ROD, then beats Kim Chee's ass when he interferes! Kim Chee goes into the wall! Prince Nana goes into the wall! But Bryan gets a chair and Kamala counters him, drilling the Dragon with it repeatedly until the bell is called at (11:04).
This was about the best possible match you were getting out of 56-year old Kamala, Bryan doing old-school '80s spots with him and bouncing around for his shots, and keeping things simple with strikes and flying moves instead of trying to do technical stuff. He sold like nuts, cartoonishly bouncing around as befits a 2006-era Kamala match, acting like throwing punches against the giant was actually causing Bryan himself physical pain, and he kept the match moving at every turn. A tremendous carry-job, silly as the match was, with no finish.
Rating: *1/4 (about as good as you're gonna get- tremendous showing for Bryan and Kamala didn't really look as limited as he actually was)
(about 1:30:00 in)
GLADIATOR & SPRIGGAN vs. JIMMY YANG & EXTREME BLADE:
(All Japan, Feb. 16th 2003)
* Oh man this is a wild one- it's Mike Awesome and the AMAZING RED of all people, and they're teaming up against Jimmy Yang and Elix Skipper, circa his big TNA run! So it's three of the definitive little guys of the era plus the 6'5″ monster powerbomb king. But we're in a tiny gymnasium and it's in the post-NOAH split All Japan. Yang's dressed like a douchey rapper in his fatigues and ECW T-Shirt of Shame, while Skipper's in short-shorts and a black mask with an "X" on it. A Spriggan is a kind of faire-folk from English mythology, typically thought of as wizened-looking old men who loved pranks- I guess the link to fairies fits the diminutive Red. Who's now… in green? Oh that's just WRONG! The triangle cut-outs on his outfit make him more of a stereotypical elf (food mascot, not LOTR). Or Kaoru Ito.
Blade & Spriggan do a short sequence into a headscissors & the 619 (actually called that by the commentator) by Spriggan, then Blade spins him around on the mat and ax-kicks him from the floor. Yang does the X-Pac kicks on Spriggan and we're clipped to Gladiator launching Yang, who avoids an avalanche but charges into the slingshot shoulderblock for two. Spriggan pops the fans by landing on his feet from a German and spinkicking Blade for two, then escapes The Play of the Day (overdrive) and does a really phony set-up into Code Red (like, Blade just backs into him for no reason so Spriggan can hook himself on, lift himself up, then spin him backwards for the short-powerbomb move). Gladiator with the spinebuster/flying splash combo for two- Blade DDTs out for a hot tag (they're using the Western formula?) to a springboard dropkicking Yang, who adds a backflip kick and heel kick until Spriggan nails him to set up Gladiator's spear. Spriggan does some stuff but his super rana is reversed to a Super Ligerbomb (!)- Gladiator saves. Wow the crowd didn't even pop for that. Blade hits a spinning tope on Gladiator and Spriggan hits his standing Shooting Star Press on Yang for two- he flies off onto a knee, but keeps landing spinkicks and a tilt-a-whirl inverted DDT gets two, but charges into a boot and Yang hits him with a corkscrew moonsault to the back that folds him like an accordion (who DUCKS against that?) for the three at (9:19 of 10:21 shown).
This was a fun little undercard MOVEZ match, Spriggan going all-out with his "full-body spin" kicks, which are cartoonish but look cool. Blade moved smoothly but wasn't in it as much, while Yang had some stuff but mostly ate Spriggan's offense. Which fits, as he was scoring the winning pin over him. Gladiator was… a shell of his former self by this point- only 4 years after the Kobashi match but with Russo's booking and WWE discarding him and he was just a different guy. He still had some of the old moves, though- it's fun watching this and the Kobashi one back-to-back and seeing the exact same offense.
Rating: **1/2 (perfectly fine undercard bout- flashy and no psychology but with some neat flipz)
Immediately after this, they air some amazing commercials (Gregorian chants on CD! A GAORA sports program advertised with P!nk's music, which is weird as I'm so used to classic wrestling so hearing a modern artist is bizarre. And then Gladiator's one of the guys who comes out for All Japan's tribute to Curt Hennig (who defended the AWA World Title in All Japan a few times)- he gets a ten-bell salute and then they play his WWF theme.
https://twitter.com/davidbix/status/1704827816217596049/photo/1
THE RADICALZ (Dean Malenko & Perry Saturn, w/ Terri) vs. RACE STEELE & STEVE BOZ:
(WWE Jakked, May 5th 2001)
* So why am I reviewing a generic squash match from Jakked, the D-show of D-shows? Well, because of this hilarious tweet about how Steve Boz ruined his wrestling career by accident. The dumbshit was brought from Windy City Wrestling to do some squashes and sees Eddie Guerrero do a Figure Four "on the wrong leg" (it was a Nagata Lock), and decides to be helpful and teach Eddie Guerrero, who was wrestled everywhere in the world and is a massively respected worker, how to do it properly. Eddie is like "oh thank you very much" and Boz is surprisingly not murdered for it, but Kevin Kelly, who I guess was handling the job guys at the time, was like "Tell Steve we won't be needing his services again". And shockingly, Steve Boz is STILL WRESTLING as of 2023, having never gotten out of the indies.
Steele is a tall-ish guy with a generic wrestler physique & black shorts, while Boz is in blue & black tights, and a bit skinnier. Steele has a black line across his lower back for some reason. Maybe it's just the bad video disguising a tattoo.
Steele & Dean do generic stuff to start, Steele actually drawing even with the veteran, so Dean pops him one during a handshake- Saturn charges right into a powerslam, though and in comes Boz with an axehandle. He throws terrible X-Pac kicks but Saturn ducks one and kills him with a clothesline, but Boz does a slingshot kick after tossing him to the corner. Boz with a rana attempt, but Saturn powerbombs him and tosses him, nearly using a chair of all things (against a JOBBER?), but Terri distracts the ref so he can ram Boz into the steps. Boz actually comes back again, tossing Dean off the top from a superplex attempt and missile dropkicking him. Steele in with a leg clothesline and it's actually a HOT TAG, but Saturn pops him with a superkick and drills Boz with the Moss-Handled Three-Toed Family Gredunza (spinning perfectplex), then Dean stops a sunset flip from Steele with the Texas Cloverleaf for the tap-out at (4:36).
Man, that was a CRAZY-long match for the time- it's so weird that the Attitude Era was all about 90-180 second RAW matches but they gotta fill time on Jakked so Saturn & Dean have to go 50/50 with a pair of noname dweebs from Windy City Wrestling for almost five minutes! Steele actually looked pretty good (he only had a 3-year career, retiring in 2002), while Boz was a kind of squat, unathletic-ish guy who was trying athletic moves. He's in matches 20 minutes long you can find on YouTube, but I fear them.
Rating: *1/2 (actually not bad, with some solid attempts at offense by the jobbers, but pedestrian and mostly low-effort by the stars)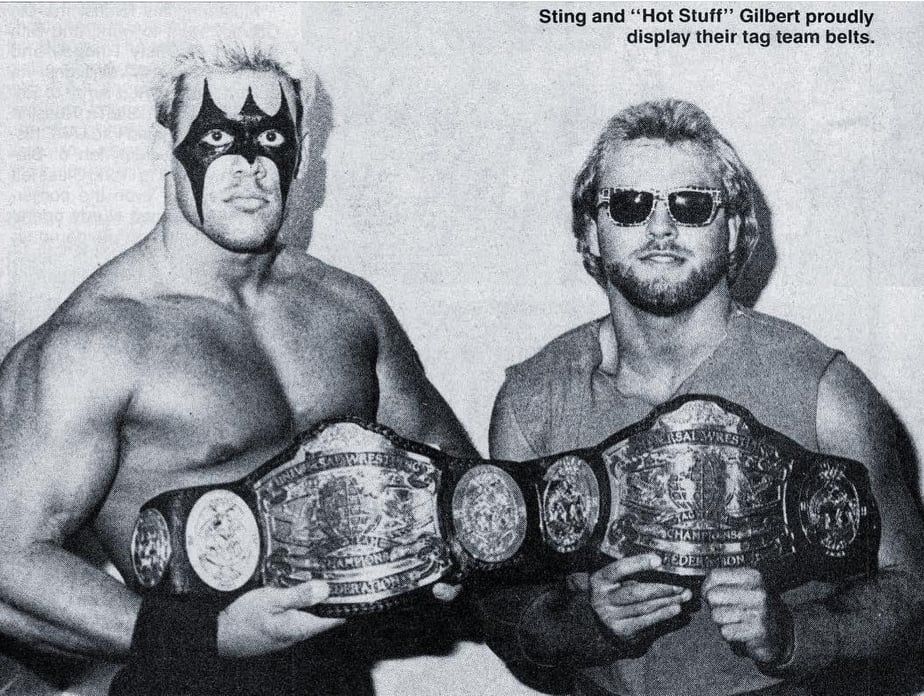 Sting with tag partner Eddie Gilbert, who is on the top of the "guys I hear about all the time but have maybe seen once" list.
THE FANTASTICS (Tommy Rogers & Bobby Fulton) vs. STING & "HOT STUFF" EDDIE GILBERT (w/ Missy Hyatt & Rick Steiner):
(UWF, Feb 7th 1987)
* It's a match from WAY back in Sting's career, as he looks just like he would later in WCW, but he's still super-green and teamed up with Eddie Gilbert, one of those guys I've heard tons about but have only seen maybe once or twice. Sting's in yellow & Gilbert's in red tights. The Fantastics are in blue trunks and I eagerly await Jim Ross calling the match so I can remember which one has blond hair and which one brown. This is I guess their last match in the UWF according to the comments section.
Fulton (the blonde!) outwrestled Gilbert for a while, then Rogers does, easily headlocking Gilbert and dropkicking him out of the ring and the Fantastics do a double-strut that is shamefully unchoreographed. Gilbert is all hot about it, but gets wiped out trying a slugfest and is fighting blind until Sting literally has to grab him and tag himself in. Well Eddie's getting a lot out of doing nothing, I'll give him that. Sting & Rogers do a double-international into a lightning-fast criss-cross but Rogers gets caught with a clothesline when he changes direction and haha his death sell is TREMENDOUS. Just face-down with his ass up and his arms splayed out. A clothesline, slam & elbow continue the attack, and Gilbert goes to mop up but fucks it up and a double-clothesline leads to a double-down and double-tag, and Fulton throws goofy overwrought punches to both guys (Gilbert literally FLYING back off one). Fulton takes a swing at Rick on the apron and gets decked from behind for it while Rogers cleans up in the ring but just walks away. Fulton hits a flying cross-body on Sting, but Missy takes the ref and Rick comes in with a Gucci bag and smashes him so Sting can get the dirty win at (8:05).
Bill Watts's "Our stuff is REAL!" stuff is hilarious when you see Gilbert here bouncing around like a crash dummy for things like Fulton's fake-ass punches, but good on Gilbert for just flinging himself all over the place on that. My takeaway here is that Rogers has way better movements and tight offense, though. The first 6 minutes was basically Gilbert doing simple sequences and overselling getting outwrestled and bailing and doing other character stuff, then Sting got in to do simple stuff (notice how all he does are clotheslines and a slam?), then it's the hot tag into heel cheating. It protects Sting and gives the heels an unearned win.
Rating: **1/4 ("just character stuff" at first, which is okay but not really that great, but the final stuff was pretty good)