Bam Bam Bigelow vs. Mantaur (and other Dream Matches!)
By Jabroniville on 20th September 2023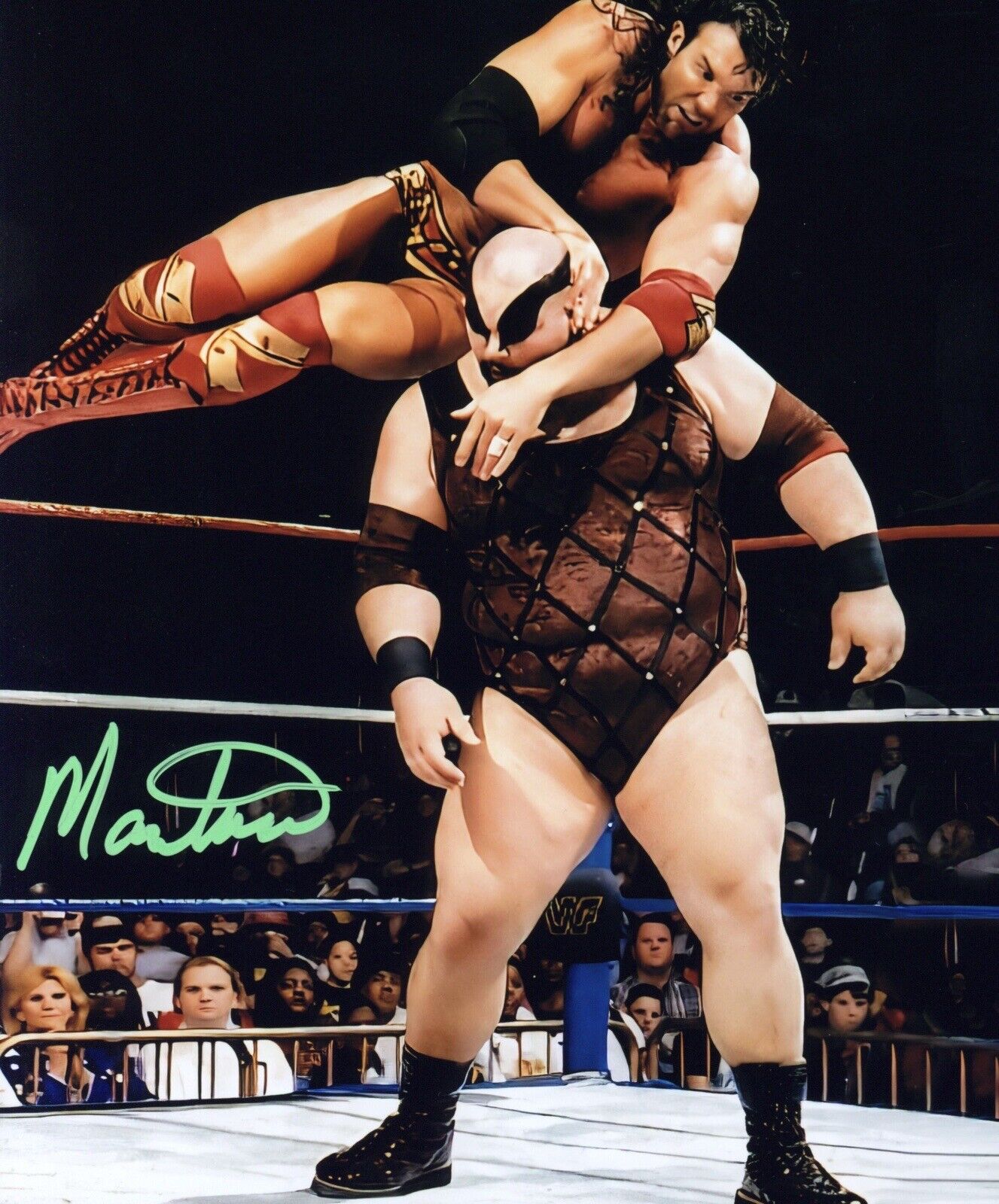 Underreported amidst the ton of recent wrestling deaths was that of Mike Halac, aka Mantaur.
Welcome back to more Dream Matches! This time, I have another FAT MAN STAND-OFF for you, as Bam Bam Bigelow faces MANTAUR just after the latter had won a bunch of jobber matches so they could pretend he was a featured act! Then it's over to Zero-One in Japan as legend Shinya Hashimoto takes on Masato Tanaka, who is familiar to US audiences via ECW!
Then it's over to WCW for more of my tribute to Terry Funk, with Terry's mid-90s run in a match against a very bored Brian Pillman! "Dangerous" Devon Storm gets a WCW Prime match against "Men At Work" Chris Kanyon, and shows off just why Storm never really "made it" via his shitty version of 1996 indie flippy guy offense. Finally, I throw in a beautiful WCW Power Plant match between roided rookies, as it's Horshu vs. Mike Tolbert!
… oh hey I just realized that every featured match today but one is a tribute to deceased wrestlers! Hooray!
BAM BAM BIGELOW vs. MANTAUR (w/ Jim Cornette):
* OH HELL YEAH IT'S TIME FOR A FAT MAN STAND-OFF! The YouTube video here is of a French broadcast with who I think is Ray Rougeau on commentary (I can recognize his cadence and voice even in French). Bam Bam is a babyface with a Bob Holly-esque sound after the "BAMMMM BAMMMMM!" part of his theme. He's wearing a ridiculous Power Rangers Villain costume with a frill made of flames and big fire gauntlets. Mantaur is decidedly a JTTS gimmick, but they had him squash a lot of jobbers for the first month or so to establish him, which was the style at the time- he's nearly as big as Bam Bam, but less rotund and more broad.
Mantaur jumps Bam Bam when he turns around and throws some overhand clubbing blows, a slam, and clotheslines, stopping to do his "MOOOO!" thing repeatedly before missing an elbowdrop. Mantaur wobbles from a clothesline (lol Bammer bumps from one but MANTAUR won't?) and gets dropped by a running dropkick- a big bodyslam gets two. Bam Bam works the arm and does headbutts, but Mantaur counters to a jaw-jacker and clotheslines him a third time (tripping over him) for two. It's time for the "slow stomps" and general working the back, then the world's laziest chinlock (just sorta doing the camel clutch grip but with both guys lying down), Bam Bam fighting up 60 seconds later and dropping him with two headbutts. But he calls for a slam and Mantaur reverses to a vertical suplex- holy shit that was actually pretty cool. Got some HEFT on that! But Mantaur tries to finish with the Stampede and "Ken Pateras" into the corner, Bam Bam doing a Flair-like flip out of the way and running to the other side, where he finishes with the Flying Headbutt at (5:20) when Mantaur finally drops. Decisive win for Bam Bam! Hit him right in the belly, though, which is funny- Mantaur took FOREVER to wibble-wobble on the sell before falling way too close to the corner. Bammer had to be like "WTF is he doing?" on that.
A mix of "pretty weak" and "this is fine", with both guys bumping pretty well, befitting a FAT MAN STAND-OFF, but Mantaur's offense is mostly dreadful and 1/5 of the match was the chinlock spot. Not a bad finish, though- Mantaur tended to end with an avalanche (sorry, the STAMPEDE) so missing it and going right to the finish was solid, albeit the final drop was cartoonish as hell and he was outta position.
Rating: ** (perfectly acceptable TV Main Event for the time period)
I feel like Shinya Hashimoto is the least-considered of the "Three Musketeers" of NJPW by Western fans, possibly due to lack of familiarity.
SHINYA HASHIMOTO vs. MASATO TANAKA:
(Zero-One, 11/07/2003)
* So I've decided I want to see more Shinya Hashimoto stuff! Primarily because he was a mega-star for New Japan in the '90s but I've literally only seen one match, and it's the legendarily awful Bridge of Dreams one with Chono. His whole motif seems to be like "Japan's Dusty Rhodes", as he's a big jiggly ball of goo but is portrayed as this badass fighter- in his case, with more of a martial arts "kick your head off" vibe and lots of DDTs. Tanaka is familiar to any ECW fans as a guy who'd come over and have some fantastic matches (usually with Mike Awesome) before disappearing again, and he moved from the dying FMW to Hash's "Zero-One" promotion- a split from NJPW setting the stage for this minor company. Tanaka's in black fiery trunks, and Hashimoto's in his trademark long black flared pants with red stripes.
They start slow, feeling each other out- Tanaka slaps Hash, who doesn't lose his temper and just kinda glowers, reversing mat stuff, but Tanaka headbutts him in a test of strength and pummels him down. He tries to work the arm but Hashimoto just beats the hell out of him with slaps and throat thrusts until Tanaka goes down- fun bit where they don't do the "trading shots" but just try what they can whenever they can get it in. Tanaka keeps faltering, even when Shinya dares him to fight up, and gets blasted down again and kicked HARD a couple times, front and back. Tanaka rolls to the floor holding his guts after a particularly brutal shot, then comes in for more "short submission into a throat thrust" stuff and a fat-ass senton bomb. Grumpy ol' Hashimoto doesn't press the advantage and demands Tanaka get up and throw hands, and that costs him as a boot bloodies his nose and Tanaka hits a running corner elbow. He goes back to the arm, but Shinya's raw toughness is too much and he blocks a shot and brawls him down, knocking him glassy-eyed with a kick to the "jaw" (ie. upper torso). Hashimoto again waits for Tanaka to recover before pasting him with several more kicks, and slowly puts a beating on him until he gets too sloppy and Tanaka reverses a facelock for his Tornado DDT to buy himself a respite!
Tanaka fires off machine-gun elbows and a HUGE elbow charge, but lariats see Hashimoto getting more and more defiant until he fires back, but Tanaka ducks him and finally knocks him down for our first two-count of the match. But he overdoes it by aiming for a frog splash and oh that's not good for the ribs. Hashimoto pays him back with a few driving knees to the chest and doing a hat-dance on him, then refuses to allow a TKO and hits his floatover DDT for two (I love the little "arm-tug to the chest" he does before snapping back- that's some pro execution). Tanaka stuffs the Brainbuster (Hash's finish) and catches him with a Michinoku Driver & Rolling Elbow, but the fans don't react to the kickout. Frog splash gets two and he goes to a kimura of all things, but Hashimoto makes the ropes and hits a few counter-shots, barreling Tanaka over with a shoulder-thrust and hitting a JUMPING DDT for a close two. Hashimoto, fully fired up, overhand chops him to death and kicks his head off until Tanaka drags himself up Hash's body… only to collapse again. He's flat out, but Hashimoto refuses the TKO again and just stomps on Tanaka's chest, then chokes him out with a neckscissors while holding the arm and the ref just calls for the bell at (15:57) of a massacre.
This was a particularly brutal case of a guy completely outdoing his opponent, as Hashimoto is clearly on another level and mostly sits around daring his opponent to fire back. Hashimoto often stands over him and demands counterattacks- he sells being "caught" just fine but mostly he's standing there methodically firing shots into the chest of his struggling opponent, Tanaka doing a great job of being desperate without being overly sympathetic- coming off as agonized but defiant and trying to get back up. His rapid-fire elbows and charging shots are EPIC, though, especially the way he'd just fling his entire body into the big guy. Hashimoto has that weird thing where he's a big tub o' guts but looks tough and has killer execution (those DDTs are GREAT, and he can believably hit "cartoon karate" in a way that isn't MMA but looks cool). But it was mostly him standing there and stiffly beating the piss out of his opponent, who never had a chance to score a fall and only got offense by being tricky and sudden.
Rating: ***1/2 (murderous beatdown with some great stuff by Hashimoto, but extremely one-sided)
Terry with the greatest wrestler song of all.
FLYIN' BRIAN PILLMAN vs. TERRY FUNK (w/ Col. Robert Parker & Meng):
(WCW Pro, July 16th 1994)
* Some WCW Pro action, with… hey, Meng was Funk's bodyguard? The main commentator is some guy with a REALLY high-pitched voice. Brian's a babyface and in red trunks (with a black star like RIGHT where his asshole is, which is disconcerting) against Terry in his red & black striped tights.
Terry naturally stalls and jaws with the fans (any time I see him do this it's always him provoking black fans in the back), then throws chops on a dirty break with Brian, but Pillman catches him on the floor and knocks him way over the top, Terry doing this fun thing where he wobblings back and forth with this huge sneer on his face like he's extra-annoyed at being hit. He takes over in the ring again, grinding the absolute SHIT out of a headlock that Larry Z marks out for while Dusty proclaims repeatedly that he hates nobody, "But I have a really strong dislike for the Funk Family", comparing a Dustin/Terry feud to the Earps and the Clantons, and Funk dumps Brian and hits a piledriver on the floor. Fascinatingly, in 1989-ish, this move on Eddie Guerrero was treated like a disgusting, murderous assault unprovoked on a fine young man, while here it's just kinda some thing to gain heat.
Brian kicks out of a DDT and gets dumped a fourth time, but backdrops Terry out of a second piledriver and does his own, then another, smashes him into the stairs as this is somehow not a count-out, but resists a suplex to the floor with a weird, ugly skin-the-cat that looks equal parts like a fuck-up and how it would actually look if an injured guy tried that. Brian sells that (Terry kinda landed on him a bit) but Terry lumbers across the apron and collapses to the floor like a drunkard. He manages to reverse a suplex for two and they do what looks like they're completely messing up a drop-down spot except Funk deliberately long-steps over him to get hung up and they just kinda bump into each other, and Terry headbutts him so many times that HE takes a flat-back bump off it, Brian getting two. Brian immediately flies with a high cross-body and a flying clothesline, but Bunkhouse Buck (another Funk ally) just bolts to ringside and beats him up at (7:16). Lol, why didn't Meng do that? But in comes Dustin & Arn Anderson and it's a donnybrook.
Terry was a hoot and a holler in this match, just doing random bullshit and flopping around but looking entertaining as hell. Brian by contrast was just this "-_-" blank-faced guy the whole time, not getting fired up or anything- what was HIS deal in there?
Rating: ** (just for Terry doing his goofy shit)
The mid-1990s- when all you needed was dollar store Rockers gear and some moves swiped from Japan tapes and YOU TOO could be an indie darling getting shitloads of bookings with the Big Two.
CHRIS KANYON vs. "DANGEROUS" DEVON STORM:
(WCW Prime, April 29th 1996)
* Yes, the definition of a throwaway match, it's one half of Men At Work in a match against Devon Storm in his trek around all the companies in the US. Kanyon's out there in his jeans, an open vest and a hardhat, carrying a single small hammer, while Storm's out in maybe the most atrocious thing I've ever seen him wear (and considering he spent most of the '90s as a Marty Jannetty cosplayer, that's saying a LOT)- Rocker pants, a green & black singlet over a see-through shirt over a neon green undershirt, plus sunglasses and a giant mullet.
Kanyon attacks from behind to start, but Storm gets a simply terrible headscissors and cannonballs him on the floor. He follows with a flying headscissors and a Super Frankensteiner, but Kanyon "headbutts" him (missing by a foot so it looks like an eyerake) only to get backdropped to the floor in a huge bump (listen to the THUD when he lands on the whirling ring platform Prime used!) and Storm follows with the Moonsault to the floor, going right into the same platform! Boy's showing the MOVEZ tonight! They take a while to recover and back in, Storm hits the shittiest move I've ever seen, trying some kinda Sabu-ish "bounce off the ropes with your ass" moonsault flip but just dropping head-first onto the mat and harmlessly rolling back onto Kanyon, who gets his foot on the ropes. Storm nails him on a whip to the corner and goes up, hitting a somersault cutter that Kanyon sells like a DDT, PINNING HIM at (2:39). Wait- they were letting Devon Storm win matches?
This is a classic "two indie guys in a D-show" scenario where Storm is clearly trying to get noticed by showing every move he's done on the indies and bump like maniacs in a show I guarantee you nobody important in WCW was watching. It was sloppy and largely just a collection of all the shit Storm knew how to do. Except he didn't know how to do it, because he was clumsy as hell and fucked up 60% of them in some way, nearly killing himself and missing Kanyon repeatedly. And who made poor Kanyon be the jobber- he only hits 1-2 things all match and otherwise just bases for a million flying moves!
Rating: 1/4* (attempts at being flashy but an abysmal short match, with Storm shoving in 6 high-flying moves into less than three minutes, screwing up most of them. A pity quarter-star for a couple of good bumps- the deliberate ones, anyways)
MIKE TOLBERT vs. HORSHU:
(WCW Saturday Night, March 21st 1998)
* OH HELL YES it's time for a POWER PLANT MATCH!! Both Tolbert & Horshu were mega-roided kids fresh from the disaster that was WCW's training facility, where everyone was juiced to the gills and could only do "shoot them off the ropes, drop-down, dropkick/hiptoss" spots. That makes matches between them sometimes a hilarious affair of limited offense. Tolbert is a HUGELY muscular guy with a goatee and black trunks, using Chris Jericho's first WCW theme (the Mastodon knock-off) while Horshu is taller and more cut,b ut with the worst haircut in the history of hair and holding his hands up in a "horseshoe" shape. I still, 25 years later, have no idea what the fucknuggets this gimmick was supposed to be. He's… named after a horseshoe? But like it might be pronoucned in Japan? He's in the usual black shorts.
Tolbert works the arm with the pithold until Horshu knees him and hits a corner-whip into a bulldog, then a butterfly suplex for two. A chinlock leads to a sunset flip from Mike, but he gets drilled with a clothesline and choked out. Horshu misses a kneedrop and Tolbert comes back with a dizzying array of 1980s-style overhand punches, then a gutwrench suplex, but misses an elbowdrop. Horshu capitalizes with a backdrop suplex into a second-rope elbow, running the middle rope for it- getting the three at (3:35).
Hey, not bad for rookies with no experience! In that it was lame and super-basic but not actively embarassing. Tolbert was right out of 1985 WWF with his bulky physique and overhand punches, but they trained each guy in a couple of suplexes and they didn't just spam Internationals on each other. They both took FOREVER to do all their spots, usually just standing around or taking forever to set up a simple gutwrench or backdrop suplex like they were huge moves, but at least Horshu tried to do character stuff between his spots. His moves didn't look half-bad, but guys with that tall, lanky look often struggle in wrestling.
Rating: 1/2* (basic Jobber vs. Jobber match- a few decent suplexes but milked for a hugely long time)