Welcome back to more Dream Matches! This time it's a late request, as I finally touch on Sgt. Slaughter vs. Iron Sheik in their famous BOOT CAMP MATCH! Then it's a bunch of weird disparate stuff, like another Ted Arcidi match, as he teams up with Hillbilly Jim to face King Kong Bundy and Big John Studd!
Plus a weirdo mish-mash short-lived tag team of Bobby Eaton of the Midnight Express & Steve Keirn of the Fabulous Ones, as "Bad Attitude" takes on the main event duo of Sting & Ricky Steamboat in WCW! Then it's more ICEBERG, as I dig into the career of the NWA Wildside luminary as he takes on his longtime rival & partner Tank in a bloody Cage Match involving tons of weapons! And it DOESN'T SUCK! Finally, it's a classic "before they were stars" match as the future Balls Mahoney, John Rechner, takes on Virgil in 1992 WWF!
BOOT CAMP MATCH:
SGT. SLAUGHTER vs. THE IRON SHEIK:
(WWF, June 1984)
* The famous Slaughter/Sheik match. This was requested right when the Sheik died but I totally just shoved it on the docket of stuff to look at, lol. TIMELY! This was the end of a blood feud between the former World Champion and the peak "Military Patriotic Guy" gimmick Sgt. Slaughter. No holds barred, Falls Count Anywhere with the referee outside the ring.
Slaughter beats Sheiks' ass down already, and shreds the turban and tosses the pieces to the ringside fans. He slams Sheik against everything he can find on the floor and chokes him with his swagger-stick to emphasize there ARE no rules, but Sheiky goes to the eyes and "loads up the boot" to wear him down, still selling the beating he got. Sarge grabs the boot but gets gouged again, repeatedly doing the "selling but with just enough to fight back" stuff with aplomb, getting the occasional hope spots. Sheik hits the mat grasping his throat off a finger-thrust, for example, and then gets dropped neck-first on the top. Sarge follows by trying to tear Sheik's ear off with his teeth, then LOADS UP HIS OWN BOOT, leaving Sheiky writhing and twitching on the mat. Hah, this is already just such a different sort of brutal "anything goes" match. Sheik kicks out at only "1", but gets slammed and a staggering Slaughter climbs to the top and misses a Loaded Boot Drop and is down- Sheik capitalizes with a loaded boot straight to the head to bust him wide open.
Sheik gnaws away on a bleeding Sarge and gets cocky to the point of repeatedly SPITTING on him while we get the classic "concerned female fan with a hand over her mouth" shot. Great pantomiming from both guys- it's pretty hard to let the cheap seats see you "spit"- and Sarge of course gets so incensed he starts desperately trying to pull himself up using the ropes. He's so beat that Sheik is pounding him for every shot, but Sarge's blind rage is such that he flails up to his feet regardless, and a desperate boot ends up in a double-down. Sheik still can't pull off the "slam his head into the boot in the corner" spot, but suplexes Slaughter, who comes back with uppercuts and rams Sheik into HIS boot! Sheik comes up bloody and Sarge is like "hey, look at that" to the fans, repeatedly collapsing and holding himself up on the ropes just to stay upright. POPEYE PUNCH~~!! But he's too off-balance to cover in time, having to crawl over for two. He tries for an abdominal stretch but Sheik throws the loaded boot right into the balls- all legal!
Slaughter kicks out a couple times, then tries a bulldog but gets flung into the post. Sheik covers and Sarge gets the weakest kickouts ever, just kinda leaning to the side because that's all he's got left. But then a BIG kickout and when Sheik puts his head down- BANG! With the boot! Backbreaker gets two and he's still hurt, and a second one also gets two because he can't cover well. Slaughter adjusts the elbow pad to signal the Slaughter Cannon (lariat), but Sheik wisely counters with his Greco-Roman skills (translation: punch to the balls). The ref is like "hey WTF?" but Sheik not only ignores it, he CLOBBERS him, taking him right out. He takes off his boot, giving us wrestling's deadliest weapon, the EMPTY SHOE, and loads it up, but Slaughter gets a desperation Cannon and then grabs the boot and motherfuckin' Babe Ruths Shieky-Baby right on the chin for the 1…2…3! Sarge wins at (15:58) as the Sheik lunges free at 3.2 and rolls out of the ring, hoist by his own petard as his own weapon crushed him.
This was GREAT- just a violent, hateful brawl, taking advantage of the rules early by allowing all the usual "ref admonishment" stuff like gouging and biting so the fans immediately know it's something different. They thus earned their "double-down" selling in the early going, easily extended the match time and making it look extra-brutal since you could buy these guys needing time to recover and get their second winds with desperation comebacks. Slaughter's selling is just spectacular, as he has that great "flaily but just enough energy for ONE LAST SHOT" thing so utterly well, just launching himself at the other guy and hoping something connects. Sheik shouldn't be discounted, either- his "acting" was tremendous with great movements, and watching him flail around and do "roll over backwards" sells off boot shots reminds me that he used to actually be good.
Rating: ****1/4 (totally earns its rep as a legendary brawl- tons of double-downs and selling to put over the brutality, great "I'm dying and need the ropes to hold myself up" stuff, good acting from Sheik, and an ending that comes off as true justice- the heel getting a weapon and having it used on him)
HILLBILLY JIM & TED ARCIDI vs. KING KONG BUNDY & BIG JOHN STUDD:
* A main event in any arena in the country, it's a tag match where BIG JOHN STUDD is the best worker who you have to hope holds it all together! We're three minutes in a 6-minute clip before the bell rings so this is gonna be a fuck finish.
Arcidi (who, recall, can't even hold his arms at his sides he's so huge) looks like a dwarf next to the three other guys, and tags out to Jim, who gets dropped by a Bundy elbow but avoids a big falling one. Jim hammers away with hillbilly-fu, but misses an avalanche in the corner thanks to Bundy's raw agility and speed and gets double-teamed, but "rolls" out and Arcidi gets clubbed, only to "duck" a Studd shot and effortlessly hoist him up- the crowd loves that, but Bundy pushes them over and Studd drops the elbow and they beat the shit out of him, only for Studd to shove the ref, who calls for the DQ at (2:34). OH COME ON- less than three minutes? That was less time than the intros! They continue to stretch out and beat on Arcidi while Jim weakly "attempts" to get in the ring but is pounded off, and the heels just casually leave.
Rating: 1/4* (what a waste of time, lol)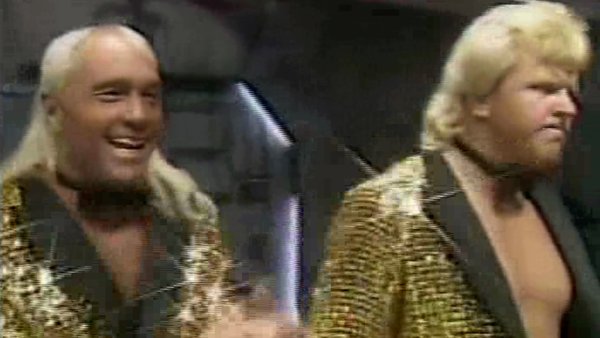 As a bald person, I find Steve Keirn's attempts to hang onto his hair offensive.
STING & RICKY "THE DRAGON" STEAMBOAT vs. BAD ATTITUDE (Bobby Eaton & Steve Keirn):
(WCW Main Event, Aug. 7th 1994)
* Oh my god WHAT? Bobby Eaton and STEVE KEIRN as a tag team? Steve with blond hair and his ugly-ass face acting like he's good-looking? They have matching robes and everything. Man why are they not called the Fabulous Express or the Midnight Ones? That would have been HILARIOUS and we'd still be talking about it. They have black & red tights, kinda like the Road Warriors but with flabby dad-bods. Sting's in purple & Steamboat's in yellow, and still has his WWF-ized "Winged Dragon" gear and a stick with fire on it.
Bobby bounces around for Sting's basics and takes a big bump to the floor off a clothesline. Keirn tries a top wristlock but Sting flips over both guys, clotheslines them, then tags Ricky in for a flying double clothesline and it's chops away. He works a headlock & cross-bodies Keirn, but gets clobbered when Sting distracts the ref by accident. Eaton with a flying elbow for two, and Sting gets a tag the ref doesn't see, and simply chooses to ignore him and circles around to kick ass (you can DO that?!)- Keirn & Ricky hit the floor while Sting lands the Stinger Splash on Bobby, and off the top is Ricky's high-crossbody for the three (4:30). A pretty simple mop-up of what was obviously a low-tier tag team.
Tag Wrestling 101 in short form- the babyfaces easily wrecking house, the heels briefly fight dirty to take the lead, then they're chased off when the faces just ignore the "blind tag" conventions and steamroll them anyways.
Rating: ** (finely wrestled but super short)
For those who don't remember, the age before the indies were full of skinny flippy guys had… a lot of chubby bleeding guys hiding their bodies in baggy shirts.
STEEL CAGE MATCH:
ICEBERG (w/ Jeff G. Bailey) vs. TANK:
(NWA Wildside, March 23rd 2002)
* Oh yeah, it's ICEBERG vs. TANK!! I knew I had to look up some Iceberg stuff after discovering him on my NWA-TNA review, but like… you ever type in "Iceberg" into YouTube in any context? Try finding just one person with all that pops up. Thankfully someone pointed out he was in NWA Wildside a bunch and that narrowed it down. Here he is fighting "Tank", who is… another indie guy, looking like a Fat Dax Harwood. Yeah I have no idea who either dude is, but their careers are inextricably linked judging by their tag team which held gold as of 2017 and having matches with or against each other from 2001-17. Both are big burly bald dudes, Iceberg being 400-ish lbs. of human diabetes. Both are bald guys wearing the ECW T-Shirt of Shame, Iceberg with a One Man Gang-esque denim vest over it. This cage match has specific rules- you can only escape through the unlocked door after 10:00 has elapsed. Also it's full of weapons.
They lock up and do FAT GUY NO-SOLD SHOULDERBLOCKS to start, but Iceberg quickly knocks Tank down and clobbers him with a kendo stick repeatedly. A chairshot sets up a side slam into an open chair in a spot that's as sloppy as it is painful-looking and oh my god this commentator could NOT possibly be trying to be more like Joey Styles, going "Good GOD!" in Joey's exact cadence. Iceberg uses a barbed-wire bat and grinds it into Tank's forehead as the pace is super-duper leisurely, but they tease Iceberg's new finisher, the Extinction Level Event ("he says we'll know it when we see it"). Iceberg takes too long charging in and hits the cage, so Tank can nail him with powder and set a baseball bat on fire (sorta) to drill him, then pop him in the nuts and stab him in the forehead with an icepick.
A kendo stick knocks Iceberg around and Tank dumps thumbtacks in the corner, quickly powerbombing Iceberg on them when he climbs the ropes for some punches. Tank with a Bret Elbow! But another sends him into the tacks, and Iceberg digs a sickle into his skull (Not-Joey also says "Skull!" with the same manner as Styles, and makes sure to do it over and over again so it really sinks in) until Tank manages to nail him with the stick and knock him down again. Iceberg's a bloody mess and Fat Dax works the cut with barbed wire, then counters a comeback with a Rock Bottom into the Anaconda Vice, but just lets go and stumbles around until the door opens at (10:00)- Bailey the manager slams it in his face. Iceberg strangles Tank with a chain and goes up to the top, coming off with the Extinction Level Event (somersault senton), but MISSES! Tank nails him with the Mafia Kick (running boot) and shoves Bailey out of the way to hit the floor at (11:23) for the win. Hey, they didn't use the table that was in the ring!
Not the worst "Two Guys Hit Each Other With Plunder" match I've ever seen, as at least both guys sell stuff and bounce around for the moves, and there's a somewhat natural flow as a guy uses a weapon, then tries something else and gets nailed with another nearby weapon. I mean it's pretty unscientific as counters go but a stick to the throat is as believable as anything to stop a guy's momentum.
Rating: **1/2 (pretty much does what it promises- you get gore, lots of weapons to vary up the offense, a couple big spots, and a babyface win)
VIRGIL vs. JOHN RECHNER:
(WWF TV, Dec. 26th 1992)
* Because you demanded it, Virgil vs. BALLS MAHONEY! John Rechner acted as a WWF jobber for a couple years there (Papa Shango once uses voodoo on his leg) before eventually becoming Xanta Klaus for a tragically short run. Here, he's a shapeless tall guy in a black singlet with all his hair short except the "Phil & Lil" tuft at the front, looking like a Dollar Store Mick Foley. Virgil's in the long tights with black & white stripes. Balls told the story once of expecting Virgil to call the match (being the "name" guy) but got a blank look instead, and had to call the match himself. Incredibly, this has both Bobby Heenan AND Jerry Lawler on commentary with Vince.
They start with go-behinds right away, Virgil taking an elbow but scoring some oddly timed punches Rechner didn't expect and calling a spot (he's got his head right in Rechner's ear) to a whip and a back body drop. Heenan riffs on John's HORRIBLE haircut ("they should not let this mat cut his own hair!") while Virgil scores a dropkick & inverted atomic drop (John's got his legs WAY too far apart on the landing and goes ass-first on the sell), then a suplex & legdrop alongside a ton of punches, then sets up the finish- clothesline, second-rope clothesline & Russian Legsweep get the pin at (1:57). Yes, he's still using a RUSSIAN LEGSWEEP as a finisher.
Rating: 1/2* (forgettable squash, with some odd choreography that might be why Balls remembers calling the match despite Virgil clearly calling some spots here- Virgil was a fairly clunky wrestler during squashes, and Rechner being a big dude probably makes it harder)