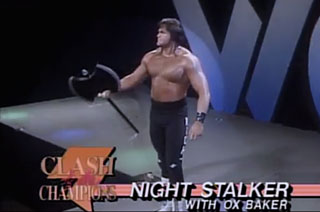 ANATOMY OF A DISASTER: SID VICIOUS vs. THE NIGHTSTALKER:
-One of the early infamous "worst matches of all time" was a business-exposing nightmare featuring rookie Sid Vicious & Bryan Clark on a Clash of the Champions show in 1990. I reviewed this ages ago for "Dream Matches" but I needed an easier one after the HHH/Steiner mess (thanks for the great response it got, though!).
Two "Body Guys", neither Sid nor Clark went through the all-important "Jobber Phase" of a young rookie's life, and were immediately put against each other when Clark was still a brand new guy, ten days into his WCW run. The result… stuff like "Sid slowly runs into a big hug from the Nightstalker". It's a 3-year vet having to lead a 1-year giant through a match. But hey- it's only scheduled to go under three and a half minutes. How bad could it be REALLY?
THE STAGE: WCW Clash of the Champions (Nov. 20th 1990)
THE PERFORMERS:
Sid Vicious: Sid Eudy was a monster of a man who had debuted in 1987, but could still work only a little as of 1990. He was a member of the Skyscrapers, but showed so much innate charisma that crowds would chat "We Want Sid!" and get excited for the two moves he knew how to do really well- the chokeslam and the powerbomb. By this point, he was one of the Four Horsemen, and WCW started booking him in a lot of of Big vs. Big matches. And he's all of three years into the business, having spent most of it as a tag team wrestler, and is expected to carry a match against an immobile green giant rookie.
The Nightstalker: Bryan Clark was green as absolute grass at this point, having debuted only the year prior, feuding with The Trooper (The Patriot) in AWA in its dying days. With his 6'6″ height and HUGE muscles (he was even bigger here than he was as Adam Bomb, with babyfat on his face and not as much definition as he'd get later on), he was obviously seen as money from day one, and was too big to just be used as some regular job guy, so he skipped a lot of important training in jobber matches and was simply pushed in his first couple years. With AWA dying, he joined WCW, and for some reason, ten days after his debut, he was thrown into this match against a guy just as big as he was.
Promoters, you see, tend to see $$$ in "Big vs. Big" matches, pitting titans against each other. It's Booking 101, really- nearly every promotion with more than one giant knows that kids think "What would happen if Giant met Giant?" and would want to see the match. Andre the Giant vs. Big John Studd was one of the top feuds of 1985, for example. It doesn't lead to many star ratings, but I remember thinking stuff like this was COOL AS SHIT as a kid. WWF would continue it with a delightful number of FAT MAN STAND-OFFS in the 1990s. Though of course this diminishes Sid's greatest attribute- his look- because he's now facing a man as tall as he is but even bulkier.
SID VICIOUS vs. THE NIGHTSTALKER (w/ Ox Baker):
* This one went on to some infamy- not just a bad match, but an IMPOSSIBLY bad match. And no wonder- Bryan Clark barely has a year into the business at this point, and should in no way be on TV as anything but a jobber. Still, you gotta love the spectacle of these two GIANTS out there- Sid is only a little taller than Clark. Sid is in a big red singlet here, while Clark is in long tights and CLEAN-SHAVEN- both are very odd looks for guys I'm used to seeing in other gear. Like, Clark maintained facial hair for the entirety of his career.
A test of strength leads to kicks from both, Stalker awkwardly coming off the ropes for a "shouldertackle", then Sid fakely leaps right into a bearhug. Like, you know how we tease modern flippy guys for helping each other twirl, doing moves that could only exist as a means to end up being placed in the other guy's reversal? That's what this is- Sid eagerly leaps right into Nightstalker's waiting arms. Also who does a BEARHUG in the opening seconds of the match? Nightstalker reapplies it as they're seemingly lost ALREADY, having a lil' chat in there, and Sid punches him in the corner until Stalker comes back with "knees" to the ribs and works the arm ("It's not gonna be the prettiest match on the card"- JR). I can't say enough about how light all these shots are- like a huge dude afraid to hurt the other and so he's hanging back on every strike so they look as delicate as possible. Sid is at least selling well, bouncing up with the strikes and collapsing to his knees on another, and his strikes are quick and look fine.
Sid comes back with punches, only to take more "knees" until Stalker just leans against him with his hands on Sid's Latissimus dorsi. okay, that's a new resthold- the muscle right under the armpit? The Big Cat (Mr. Hughes pre-obesity) comes down as Sid hits a big backdrop suplex, Nightstalker rolling over backwards on the sell. Sid gets distracted and punches Big Cat down ("He's turned his back on the Nighstalker! You do NOT turn your back on the Nightstalker!"- Paul E.), but Nightstalker then grabs the phoniest looking prop weapon in history- a big double-bladed battle-axe, and takes a "swing" with it, hitting the turnbuckles as Jim Ross calls it a "club-like thing" on commentary. The ref has to leap out of the way and doesn't bother to disqualify anyone (in a company where throwing someone OVER THE TOP is a DQ, you're allowed to commit Attempted Murder By D&D Weapon?), even as Big Cat slowwwwwlllly walks into the ring, stands there doing nothing, and gets kicked in the gut, and Sid grabs the weapon and pushes Nightstalker over with it, scoring the pin at (3:30). Yes, the "Push With Polearm" ending. Nightstalker kicks out at 3.1 and the Big Cat helps him beat down Sid afterwards. The staff part of the axe goes into Sid's back and they take the advantage, but he hits the floor and grabs a chair as we're out. Sid now looks like a weenie.
Okay, y'know how I mock the "Power Plant Basics" in matches, and how all the guys trained there did the same shit to start their matches? All "lockup to whip off the ropes to duck to leapfrog to armdrag"? Well there's a reason why rookies are trained to do that, and it's because of stuff like this- two big palookas who have no idea how to call a match and thus get stuck in there looking stupid because nobody knows what they're supposed to do, and they have no training to pick up the pace or lead to the next spot, with the International (the name for that sequence) is meant to accomplish- get guys comfortable with moving quickly and allowing them ways to transition to other stuff. I mean, the one time Nighstalker goes into the ropes he runs off so stiffly it's clear his mass is preventing him from proper athleticism.
The Nightstalker was in no shape to be in there, as all he could do was these really slow lifting knees to the upper ribcage area, looking super-fake. And speaking of fake, how about that "battle-axe" which is swung like it weighs nothing, and then Sid doesn't even use it like a weapon, just sorta pushing Nightstalker over for the pin. Both guys kinda remind me of how Jade Cargill is with her strikes, where she obviously reins them in a lot so she doesn't put a hole through her tiny opponents- something that experience and confidence kind of drill out of "Giant" wrestlers (and in AEW's women's div, it'd be political suicide to be "too stiff", as we've seen). But Nightstalker here was MUCH worse than she is for it. Obviously a dude that big can't just haul off and waffle someone at full force with a knee, but there's ways to mitigate it and not make it murderous and he was just too green to know how to do it (even Sid knows how to "save" it a bit by selling). By 1995 WWF, his strikes were fine.
Rating: DUD (I mean, at least it was short)
The Fallout: Dave Meltzer gave the match "-****" and said it was the worst all-time match or something, and it became rather infamous for its badness, but in WCW it was largely glossed over and forgotten quickly despite being on a major show for them.
Bryan Clark's WCW career was pretty much screwed after this, but they did that "WCW" thing where he just kinda farted around aimlessly for a year or two, collecting a paycheck despite not factoring in much. He had an alliance with the Big Cat, but was replaced at Starrcade by the Motor City Madman, then disappeared until the next year as a one-off "ghoul", then replaced an injured Diamond Studd in another match. Another couple years of seasoning in the UWF & Smoky Mountain Wrestling and he was finally ready for the big leagues again, joining the WWF as "Adam Bomb" in a midcard powerhouse role. Here… he also didn't get a push, mostly being used to put over Main Eventers, despite occasionally showing flashes of decent work, and being on the surface everything Vince McMahon could want in a wrestler (huge height, big muscles, great look, long hair) while not being that bad in the ring.
He'd head over to WCW, where he farted around the midcard as Wrath until he got a Mini-Goldberg run going as a jobber-slayer, only to get crushed by Kevin Nash and have his momentum halted as he slid back into the midcard jobbing to guys like Disco Inferno within a month. He didn't find real success until forming "Kronik" with Brian Adams, which was a highlight of the Russo-Era WCW. Both dudes were released after having a bad match with Undertaker & Kane and being demoted- refusing to go for more "training", they were done. Ultimately, Clark was a dude who seemingly should have been a top act at some point, but seems to have never made real friends in the business. Thus, he was always "The guy who loses to The Guy".
Sid… was fine. This didn't stop WWF & WCW from attempting to make him a new main eventer every time he showed up after this, despite Sid's own distaste for the wrestling business in favor of softball and whatever.
Mitigating Factors: Bryan Clark was so green at this point that a good match was essentially impossible. You can carry certain dudes, but at 6'6″ and 300-something pounds, there's really just no way- he'd be too big AND immobile to do proper stuff to. Sid being horrible at this point of course didn't help, but I don't think there's any way you're getting Clark out of ** territory at this point.
TO BE FAIR, the match barely has time to suck- 3:30 and it's over. The Nightstalker's strikes were embarrassing and the bearhug is an all-time bad spot, though. But it's still only 3:30 and Sid mostly looked okay in there (possibly just by contrast). I dunno how you can get -**** out of even the most botch-filled 3-minute match.
The main issue here was of course two green giants sent out there to die. Nighstalker was so green and bad he couldn't even be carried through THREE MINUTES without a ton of botches, business-exposing strikes, and more. Sid was so bad at leading a match that the entire thing was Resthold/Strike-Trading/Resthold/Finish, with no proper flow or even "These two guys are SO BIG and EQUALLY MATCHED!" spots (like how when fat guys slam into each other repeatedly to establish that both are indeed obese). Then you add in that terrible finish. Was there even an agent for this?
Worse still, this was a Clash of the Champions, which was a BIG EVENT for WCW, so there were more eyeballs and interest on this event than if it'd been some throwaway TV show. Why take a guy and throw him in against Sid ten days into his WCW career? Have him kill jobbers for a few months first! Let him get his bearings and put him against some decent workers who can point out his strengths and weaknesses! This dude should have been bouncing around some Armstrong brothers, not being sent out there to die against a roided klutz barely a week in.
Stuff like this, and the general cheap-looking nature of WCW's sets, rings, arenas, and pyro, really helped to hold them back when they were desperately trying to be seen as a rival to the WWF.