GWF NORTH AMERICAN HEAVYWEIGHT TITLE TOURNAMENT (Part One):
(GWF, Dallas, Aug. 1991)
* So after weeks of incredible peer pressure, and caving to the Blog's current obsession: "Shitty Indies", I'm finally reviewing the GWF! This being the Global Wrestling Federation, which as is obvious by the name, is an indie run out of one tiny portion of the United States. It seems like every indie of the 1990s was either an ECWA-style "skinny indie guys doing Rockers matches" or a regional promotion with some grandiose name (Universal Wrestling Federation! GLOBAL Wrestling Federation!), a money mark at the center of it, a couple indie darlings (Cactus Jack & Scott Levy), and 30 guys Vince McMahon didn't want. Case in point, this promotion's GWF North American Title Tournament features The Patriot, pre-fame Cactus Jack, a green-as-grass Godfather, and a heavily pregnant Bill Eadie as "Axis the Demolisher". This also gives us Stan Lane before he called it quits, Terry Gordy between Japan runs, failed WWF guy Al Perez, a pre-pubescent Buff Bagwell, and assorted other dweebs. This is FANTASTIC in terms of weirdo Dream Matches… but since it's a U.S. indie in the early '90s, it's probably just going to be a lot of guys lazily humping each other, doing nerveholds and cheap falls.
FIRST ROUND:
THE PATRIOT vs. SOULTAKER:
* HELL YES! We start off with Del Wilkes, the most "what Vince wants in a wrestler" guy to never last more than a couple of years in any company, and a very young pre-Papa Shango Charles Wright. Patriot's an obvious body guy with long U.S. flag tights, while Soultaker's a giant dude with a big, thick body but not as much definition, and Mantaur's hairstyle. He's wearing the black singlet he'd keep as Papa Shango.
Patriot gets the "Little Patriots" into a "U.S.A.!" chant, to which the color guy cracks "We must be at war with Parts Unknown", which is pretty great (too bad Soultaker was announced as being from Nevada). Patriot & Soultaker do a very basic sequence, putting Soultaker on the floor with a clothesline, but the heel just rams him into the apron and brawls away. Side slam gets two and he starts an abdominal stretch routine, grabbing the ropes a lot (lol why is the 6'6″ brawler doing IRS spots?), then REALLY clumsily going over with a hiptoss when the ref kicks his hand. But he takes right back over, hitting a corner charge, but pulls Patriot up at "2" and hits the nervehold of laziness. Patriot fights out but gets tossed, only to trip Soultaker up and smash his knee into the post, hit a backdrop, then go up for the Patriot Missile (flying shoulderblock)… but Soultaker dodges him, tries that corner charge again, misses and gets rolled up at (7:33).
Pretty boring match, with two restholds and Soultaker having some horrendous move application- he was just way too sloppy at this point, nothing hitting "flush" and his selling not being great, either. Not that he ever got even decent, but still. The finish almost keeps Soultaker strong, but those "miss then get rolled up" spots probably don't protect guys as much as bookers think they do.
Rating: * (pretty weak and boring)
AXIS THE DEMOLISHER vs. TERRY GARVIN:
* The hits just keep on coming, as Bill Eadie, now with a MASSIVE gut and not bothering to slick back his hair, shows up in obvious Demolition gear (with a slightly different mask) as "Axis the Demolisher", in something just begging to get sued. This isn't the "Terry Garvin School of Defense" ringboy-molester, but some guy who never made it- Terry Simms (who mostly did a "Gorgeous" Jimmy Valiant riff I guess on the indies), wearing a lavender singlet. He is TINY, and seems to be billed as one of those "Jobbers but they try really hard" acts that a lot of indies had.
Axis pushes around Garvin to start, but the kid fires back with a bunch of punches to send him for a breather- haha the kid's "huff and puff I'M SERIOUS!" face looks like a little kid trying to seem tough. The fans actually get into him with a "Go! Go! Terry, go!" to Axis's annoyance, but he manages to lazily just stuff the kid. Points for shouting "Go Terry, go!" when he knees the kid in the face, though. Axis works the throat and does a neck-vice as Garvin is actually working really hard with the selling- he fights up with dropkicks, but gets merked with a clothesline out of the corner. A falling clothesline sets up the Cobra Clutch at (5:27). Axis worked one of the laziest matches I've ever seen (though heel stalling always works if done right) but Garvin was good to go and obviously trying to get the fans behind him. Sold like a champ, too.
Rating: *1/2 (mostly saved by Garvin selling for three)
Matches Missed: Steve Cox d. Rod Price (who the frick are these two?), Stan Lane d. Action Jackson, Jeff Gaylord d. John Tatum (OH NO WE MISSED THIS CLASSIC OF THESE TWO GUYS I WOULD TOTALLY RECOGNIZE ON SIGHT), Brian Lee d. Bill Irwin (The Goon), Terry Gordy d. Randy Rhodes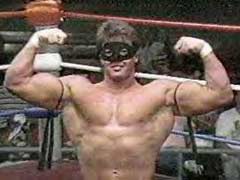 Well watching this whole thing is worth it right here.
AL PEREZ vs. HANDSOME STRANGER:
* Oh man, it's BUFF BAGWELL, but before he even joined WCW! And he's up against Al Perez, one of those dudes Vince put on TV a bunch around 1990 but never actually pushed, as I've never seen his work before and he was drummed out after a lot of pretty boring matches. Both dudes are HUGELY ripped here, with Perez in black trunks and Stranger in black & white tights. Stranger's got kind of a "male stripper" look with a little domino mask. Scott Anthony (Raven) is on commentary, dissing Stranger, whom he's feuding with.
The body guys do a long armbar-reversal routine while Scott whines about how much he hopes Stranger gets his arm broken in a lightning-fast pitter-patter. This goes on FOREVER, and is technically fine (especially where they roll through moves to keep the armbars on) but not exactly exciting… which I am to understand is Al's trademark. Perez manages a few strikes here and there, then catches Stranger with a leaping spin-neckbreaker. Perez keeps resting & taunting, but finally flies into the post- Stranger hits him with a clothesline and some basics, but Perez gets his foot on the ropes, then rolls through a rollup with his hands on the tights for the win at (6:39). The match was perfectly okay but not very interesting- Perez does heel mannerisms like someone told him to "smile arrogantly" but he doesn't really pose particularly well and just smirks a bit between moves.
Rating: * (fine but dull)
Scott Anthony, aka "1991: The Wrestler".
AUSTIN IDOL vs. SCOTT ANTHONY:
* You know it's a regional fed from the early '90s when Austin Idol shows up. His hair is at least ten years out of date at this point, and he's past his prime. Dressed like a marching band member in a pinstriped singlet, he's got bleach-blonde hair, and is up against Scott "Raven" Anthony. At this point, he's doing a "Pretty Boy" dancing heel gimmick with orange shorts, a long jacket and a big hat. It's a very "1991 music video" look. He cuts a goofy promo about how much the ladies "lick me all over like a big candy cane", while Idol retorts with "YOURRRRR MAMAAAAA!".
They do basic, but effective character schtick, Scotty looking like an absolute boob by getting a "receipt" shove and repeatedly missing Idol, then pratfalls from Idol making a scary pose at him. Idol with an armbar, then Scotty lands a knee and begins cheating freely with hair-pulling and eye-rakes. Idol eventually starts no-selling punches and comes back on the kid, but Scott gets his boot up in the corner and puts his foot on the ropes… but the ref catches it, and then they do the same spot but with IDOL doing it… and he scores the pin! Idol wins with his feet on the ropes at (6:17).
See this was funny- a totally bare-bones, easy-work indie match with almost no big bumps or big moves, but they just did simple schtick the whole time and had fans a bit into it regardless. Scott was an effective heel and Idol a perfectly fine indie-tier babyface with the no-selling and giving the heel his cheating comeuppance.
Rating: ** (totally bare-bones indie-level match with almost zero meaningful offense or bumps, but fine)
This is kinda what The Aztec's mask looks like. He looks like your average doughy jobber in a black onesie otherwise.
BAD NEWS vs. THE AZTEC:
* BRILLIANT!! "The Aztec" is just some wide, doughy guy in a black bodysuit with with lightning decals on it, plus a mask like Scorpion from "Saturday Night Slam Masters". I love how he takes like 20 seconds to finally figure out how to unzip his cape- that's some classic "Early '90s Indies" right there. He's billed as a high-flying Mexican wrestler that they've never seen before. And Bad News, who just recently quit the WWF, is here just called "Bad News" by the announcer and commentators.
Aztec's stuff does indeed some lucha-esque, as he manages a headscissors and the "pull on the arm" submission. Bad News catches him with his head down, then ducks a cross-body to put Aztec on the floor as they accidentally say "Bad News Brown" and mention EMLL (where Bad News works) and a match against "New Japan Pro Wrestling legend Antonio Inoki" in Pakistan that "drew 100,000 people" (CITATION NEEDED). Bad News controls with strikes and choking as they're like "Gee Aztec should use his high-flying" which this doughy guy is probably incapable of, but Aztec gets his knees up on a splash to little reaction. He hits a back elbow like his ass is made of lead and a weird flat-back dropkick, but Bad News stuffs a second flip out of the corner and Aztec takes a bad landing. The Ghetto Blaster (leaping enzuigiri) finishes for Bad News at (6:19).
This was WAY too long for the effort level given, as Aztec was plodding (and getting increasingly buried on commentary- "when you're wearing that full-body outfit, your body can't BREATHE" to explain cardio issues) and Bad News was doing his usual "throw overhand strikes and choke away" stuff.
Rating: 1/2* (more of an extended squash)
PS looking it up it turns out Inoki did a lot of matches in Pakistan against local heroes, but I can't find any against Bad News.
CACTUS JACK vs. "GORGEOUS" GARY YOUNG:
* Yes, it's 1991-era semi-thin Cactus Jack (with a BLUE lumberjack shirt and leopard-print tights), in between WCW runs and pre-fame. Gary Young looks like some generic white dude with my dad's mustache from the 1980s, in white/blue trunks with stars on them. He's a 14-year veteran at this point and at one point he & Cactus were the World Class Tag Team Champions, so there's some history. Gary seems to be mostly a JTTS in GWF.
They shake hands and hug it out to start, but Cactus promptly divebombs him with brawling & headbutts- Gary soon hits generic 1980s offense to take over, sending Cactus to the floor off a whiffed high knee. Cactus runs into an armbar, bringing them to the floor to escape but ends up getting shoved into the post. Young continues on the arm, but misses a dropkick and Cactus drops a leg on Gary while he's rolling over for two. Running facecrusher out of the corner and a piledriver gets two, with Gary's foot on the ropes. Gary catches him with a neckbreaker and sends him to the floor again, where Cactus does more brawling but gets backdropped trying a piledriver out there. But Gary eats shit trying a legdrop on the floor (that looked like it HURT), and Cactus tries the Hit-Buster (his elbow off the apron, but here it's just a falling version with no run) and misses, and ends up backdropping Gary into the ring and getting kicked trying to get back in, and it's a 20-count and he's Counted Out at (7:24). Okay, I didn't expect that- Cagematch says Cactus won, lol. Also he appears in the rest of the tournament instead of Young.
This was pretty solid- a very basic "back and forth" kind of thing with Gary's generic stuff going up against Jack's brawling. They hit the floor often enough to shake things up and Foley moved at a pretty good clip with his stuff to the point where he was obviously trying, and that helps a lot given how these matches can just go on and on. The finish was pretty bad, though, but it saves Cactus some face.
Rating: **1/4 (totally fine but not very great)
"SENSATIONAL" STEVEN DANE (w/ Alexis) vs. CHAZ:
* So Steven Dane is one of 9,000 bleach-blond Ric Flair Clones running around at the time I guess, looking pretty much like Steve Austin was when he started, complete with the long hair and glittery robe. He's, uh…. who is this? He went by "Steve Casey" jobbing in WCW until 1995, and seems like a middle of the road dude in GWF, where he has most of his career highlights (as in "won the Tag Titles twice"). And he's with some lady named Alexis who just looks like a normal person with floofy hair. She's apparently the former girlfriend of Chaz- oh, the American Chippendale, Chaz Taylor! … who the fuck is that? Some dude who wrestled mostly in Texas, and even did so until 2018! He is REALLY skinny, with a long brown mullet and short red trunks (is that a bikini cut? Why are the sides so thin?) that emphasize his love handles. He looks like a pre-Young Bucks Young Buck, which looks totally out of place in the bronzed era of 1991.
Chaz jumps Dane on the apron and drags him into the ring, hitting dropkicks until Dane bails. Chaz actually follows with a pescado, and the fifteen people randomly cheering are said to be "the crowd 100% behind Chaz", but Dane nails him coming back into the ring. Chaz actually counters a whip to the corner with a moonsault for two, but Dane manages a legsweep, legdrop & ripcord lariat. Back from break with the commentator putting over a miserable-looking guy in the crowd as a "Nigerian Prince" years before that would become a meme- Chaz keeps scoring mini-comebacks but gets sleeper'd. The crowd gets a bit behind him and he slams Dane into the corner, but Dane's right back on offense, frequently stalling and laughing while the kid does a pretty solid "OMG I'm dying" babyface sell. Dane eventually runs into the corner again and Chaz gets a thrust kick, then… starts doing the same offense from earlier in the match, because I guess he doesn't have a deep moveset. A terrible small package gets two, then we miss Alexis tripping Chaz up via a close-up of the frowning prince, and Dane grabs the trunks to get the pin at (7:51).
This was another totally generic 1980s-style match between unoriginal guys in plain (if tiny) trunks- I'd imagine when there was a more "communal" style in American wrestling, you saw a ton more matches like this in the indies. Mechanically it was fine, if boring, and Dane's moves in particular were pretty tight. Chaz is scrawnier and his stuff was more loose, but it's not that bad for a rookie.
Rating: *1/2 (pretty slow and not that interesting, but Dane is fine)
And that's it for the first round! Of the 1990s U.S. Indies I've seen, this is… one of them! I mean the weirdo matches are amusing as hell, but you can tell the promotion is made up of a lot of totally generic (I use that word A LOT during this review for good reason) dudes, all Johnny McWrestler types in plain trunks who just do the communal 1980s offense. Much as I tease all the guys who became Rockers Clones in the 1990s, it certainly shook things up a lot, because Garvin, Young, Dane, Chaz, Perez & Stranger on just this show were largely interchangeable guys.
Join me next week for the rest of the tournament! More of AXIS THE DEMOLISHER! Come see Al Perez, The Patriot and others! Stan Lane tries to work an entire match using only Larry Zbyszko tactics! And TERRY GORDY vs. CACTUS JACK in "The match where both guys actually try!" (they should have marketed it that way because holy buckets the rest of this tournament…).