Bull Nakano and Aja Kong, years before they became the Gods of Joshi and moved up the pyramid.
AJW'S TRAINING AND ELEVATION SYSTEM:
* So this is a column that was initially going to be about "AJW's Failed Rookies", which is something I've always been interested in. But I couldn't start that without talking about the training methods and how elevation works… and when I got into that I realized it was gonna be an entire damn column's length, so I was like… well why not just write about THAT first? So yay me!
THE ORDER OF TRAINING:
-A lot of this comes from both watching stuff, and talking to others more "in the know" about the behind-the-scenes stuff. A few documentaries and interviews with wrestlers have backed up most of it, too. And note that the year you debuted is SUPER IMPORTANT, particularly behind the scenes- even somebody above an wrestler on the card still has to listen to a "senior". Like no dissing an 8th Year cuz you got the White Belt and they never will. Note that "assessments" are held around January of each year, which explains why I saw so many people suddenly get huge pushes out of nowhere at the start of every year in my timeline, lol.
Note also that this is NOT limited to wrestling; the order in which you entered a place being important is a foundational aspect of Japanese culture. Anyone with more experience is a "senpai" and if they tell you to do something, you damn well do it. A "Big Senior" may as well be a god. You even speak the language slightly differently based on this level of respect. It's huge in baseball, for example, and any company has it (especially back when you were expected to work some place for life). This is a regular source of frustration for young people, and I've seen a lot of people complain about it as Japan's population ages and people don't move out of jobs.
* "Applicants": AJW's heads (the Matsunagas) and their trainers (some of whom are also Matsunagas) take a look at all of the applicants. This can number in the dozens or the thousands based off of how popular the company is at any given time. The "Crush Gals" boom of the '80s, for example, led to literally thousands of girls applying, so AJW could select from the cream of the crop. Bad years and unpopular times lead to much smaller classes- the Crush Gals Boom led to Yumiko Hotta, Aja Kong, Manami Toyota, Las Cachorras Orientales, and more… the crap year of 1990 led to Numacchi & Akemi Torisu.
* "Trainees": Applicants are accepted and made "Trainees". They often owe the company itself money, and live at the dorms at AJW's office. They're trained to wrestle in a particularly brutal system. If you make it to the end after a year you take a "Pro Test" and are allowed to wrestle publicly.
* "First Years": The girls debut as rookies in matches, usually in the first match, wearing the infamous "Jobber Swimsuit" that looks like a literal swimsuit, usually in horrible colors. The crowd patiently watches them struggle to work a bout. Matches typically end in an "amateur wrestling" sort of way, with one wrestler trying to force down the other's shoulders for the "3". Offense is based on amateur-wrestling, with bodyslams and the famous "standing back body drop" being recurring match-enders. These matches are a chore to watch, but a necessity- they get people some ring awareness and are kept simple enough that you don't get stuff like that Britt Baker/Anna Jay match I reviewed a couple weeks ago- it's designed so that someone knows what to do instinctively if things to wrong and can improvise, with no complex moves to muck things up.
First Years are usually instantly slaughtered by veterans, but can go 5-15 minutes with each other. They cook food, do laundry, wait tables, etc. at a restaurant and literally serve the active wrestlers, carrying bags and stuff- this lasts for a few years.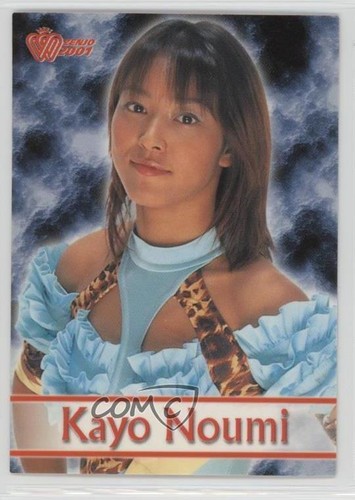 "Class of 1995" Kayo Noumi, who had maybe the rockiest road to stardom of any rookie, and shows just how tough and full of calamity training really was.
In a YouTube interview with Bull Nakano, Kayo Noumi (who admits to having run away from the dojo FIVE TIMES- an exceptional number) says that the lowest of the low jobs on the roster, which always went to her, was taking the oil cans Aja Kong was going to use for her match, emptying them out, then polishing them for use as weapons. She says at one point she carried too many, dropped one, and it spilled all over the veterans' luggage. Unable to clean it up despite staying up all night, she ran away again for a day. Shockingly, she maintained a pretty long wrestling career.
* "Juniors": Entering their second years, the rookies start to slowly develop unique moves and occasionally get better gear (Kaoru Maeda, for example, would do her "leaping high Thesz Press" early on- she showed off that move in her application interview!). They're still mostly doing opening matches and sometimes get murdered in a tag match teaming with a veteran. Rookies who impress are pushed a lot faster.
* "Third Years": These Juniors move up to doing mostly tag team matches, and will fight for the AJW Junior Title. By now they have pretty recognizable gear and will start getting the "impressive kickout" stuff. Like they will still get trounced by a veteran wrestler, but now it'll be like "OHHHHHHHHH Misae Genki kicked out of a GERMAN SUPLEX!" and the crowd will applaud. The veteran will get angry and beat even more ass, eventually pinning them with a third-tier finisher or something, but they'll get the handshake of respect afterwards. This is a clue to "watch this person".
Sometimes they get near-falls, usually via rollups. As a wrestler "Graduates", the top person in the class will usually job their AJW Junior Title to the person immediately below them- this isn't seen as "embarrassing" and is instead just a sign to the audience that this person has graduated and is about to be a featured performer- this one always takes me by surprise because Western fans are accustomed to think of jobbing as this horrible thing that means Wrestler X is getting buried, and it still takes me a while to get used to it.
* "Full Time Wrestler": Fourth years are able to move out of the dorms and get their own apartments (always tiny, because Japan). At this point, they are a full time wrestler. A regular performer, they will slaughter rookies, get their own finishers, and slowly do better and better against veterans, often lasting 10-14 minutes in midcard matches. They will get MANY big kickouts and even score near-falls with ACTUAL MOVES. The AJW Title is at this tier- it's usually traded among whomever of the "New Stars" is next in line for some emphasis- many wrestlers will graduate past this quickly. If you don't impress, they will get stuck in position (which can last forever- Miori Kamiya left AJW still in this role).
Matches between 4-6 year wrestlers tend to get a bit "spicy" (as Commissioner Bockwinkel, who you can see in the comments sometimes, says) as they are ultra-competitive with each other. The Matsunagas, like most bookers, know that they're the real enemy of the wrestlers, so they naturally create little rivalries- each generation thinks that the one after them is gunning for their spots (and they are), and so fight to impress and sometimes to hold them down. The next generation is of course mega-competitive both to stand out from EACH OTHER and to impress the Matsunagas.
Generally speaking, I find the "Fourth Year" era a really interesting one, as people are allowed to develop as stars and they "shake up" the midcard in an important way, creating fresh match-ups. Watching Kumiko Maekawa suddenly get elevated was awesome because it was an all-new star in there. Even Yuka Shiina and a few others graduating above "Jobber Swimsuit" status felt important and fun.
Horrifyingly, if a wrestler fails to get over or impress, or an elder is falling behind, they will get the dreaded "Put Over The Rookies" spot. And I am told this was an actual spot on the card and had like… a wage assigned to it and everything. In 1992, this was Miori Kamiya- a 6th-year who wasn't that great. She was the one jobbing out to Mima Shimoda just as the latter was starting to get elevated in late '92. In 1993, Suzuka Minami started putting over people, like giving Etsuko Mita her first big singles win over a "star", and this continued for years with jobs to Sakie Hasegawa and others.
Wrestlers who fail to impress thus see their momentum halted- by 1992, there was an 8th Year (Minami) well below 6-7th Years, and 5-6th years were beating Kamiya, a 7th year. Anyone in Years 5-8 can probably be of nearly any position in the card- people who impress the bosses move up faster while others can be held back for the usual wrestling reasons. Kyoko Inoue in particular was a REALLY successful 5th Year in 1992.
* "Main Eventer": About Year 7 is when a wrestler is supposed to peak in the pecking order, often replacing a former top wrestler. The eldest veterans by this point had often moved on- AJW used to have a system where a wrestler would get forcibly retired at a certain age- this number often changes (generally it's 25-27) and was never that permanent, and they'd just randomly fire people at any age if they felt they were too big for their britches (ie. they wouldn't always do what the bosses ordered), were threatening the popularity of someone they WANTED to push (Jackie Sato to Jaguar Yokota, for example), etc. Let's just say it's no coincidence that an ass-ton of "retired" AJW wrestlers formed rival promotion JWP in the late '80s and never looked back.
HOWEVER, in the Interpromotional Era (late 1992 to 1996), AJW dropped this policy and wrestlers stopped retiring. Likely, they knew that just firing Aja Kong, Akira Hokuto, etc. would just lead to them joining JWP or LLPW, giving AJW more competition that could outstrip them, so they wisely just kept people on. And then the company stopped focusing on internal feuds and pushed all sorts of one-time-only "Dream Matches" and inter-company rivalries (like Hokuto mowing down all of LLPW during a feud with Shinobu Kandori, or LCO winning the JWP Tag Titles and beating the whole company).
But this ended up creating a "log jam" at the top, as wrestlers wouldn't retire and so there was nobody who was jobbing to the next generations. Even worse, while the box office of the IP Era was incredible and fan excitement was tremendous, it essentially "froze" the ranks of AJW in particular, so absolutely everyone who should have been advancing for 2-3 years was instead caught in a holding pattern.
So Sakie Hasegawa, the big star of the Class of 1989, just farted around jobbing to veterans until they FINALLY started pushing her in 1995… and then she got hurt and retired. Kyoko Inoue's straight line to the main event was halted and she didn't win the belt until 1996. This also hurt Kaoru Ito, Tomoko Watanabe and others, and led to a lot of disgruntled people eventually as more and more veterans hit their peak and wouldn't move out of the way for those below them.
THE SYSTEM IN PRACTICE:
* So I started my "watch through all of joshi" thing with the start of 1992, after having reviewed all the big shows I could find. Because of this, I could see certain things had happened in a certain order. 1992 was the last "regular year" until the Interpromotional Era started, so it's a good barometer of how things typically worked, as it got messed up afterwards.
BIG SENIOR (debuted prior to 1985): Bull Nakano
EIGHTH YEARS (debuted 1985): Yumiko Hotta, Akira Hokuto, Suzuka Minami
SEVENTH YEARS (debuted 1986): Aja Kong, Bison Kimura, Miori Kamiya
SIXTH YEARS (debuted 1987): Manami Toyota, Toshiyo Yamada, Etsuko Mita, Mima Shimoda
FIFTH YEARS (debuted 1988): Kyoko Inoue, Mariko Yoshida, Takako Inoue
FOURTH YEARS (debuted 1989): Sakie Hasegawa, Tomoko Watanabe, Kaoru Ito, Bat Yoshinaga
THIRD YEARS (debuted 1990): Saemi Numata, Akemi Torisu
SECOND YEARS (debuted 1991): Chikako Hasegawa, Rie Tamada
FIRST YEARS (debuted 1992): Chaparrita ASARI, Michiko Omukai
-So it's no mistake that the unconquerable WWWA World Champion was Bull Nakano, the top of this pyramid. Backstage, she was 100% the boss over the other girls, as in literally "if she says you do it, you do it" (a 1991 documentary sees Bull playing Super Nintendo while Kyoko & Tomoko are seen cleaning up after her and actually feeding Bull's two dogs). But she was unseated as Champion by Aja Kong in late '92, culminating a massive years-long story. Aja thus leaped over the 8th Years and was seen as higher than any of them on the card- her & Hokuto did have a rivalry, though. Bison, on Aja's tier, was faltering and would be made to retire, and Kamiya was long held in a "4th Year" pattern- she jobs to Shimoda, the lowest of the 6th Years, at year's end and quickly retires.
A huge rivalry (on-screen and backstage, as it turns out) is between Manami & Kyoko, who is on the tier beneath her. Manami also feuds with Yamada and the two are equals, but the lesser two in their class are FAR beneath them. Mita in instead feuding with a 5th Year of her own (Yoshida) and is a minion of Akira Hokuto's. Shimoda, struggling to stand out and borderline wearing a Jobber Swimsuit, eventually begs to join Hokuto's crew and they form a full "Las Cachorras Orientales" stable. It would be 1993 before Mita would FINALLY move to a higher level, beating Suzuka Minami, who was now "the veteran speedbump who puts others over". Notably, the "White Belt", the All Pacific Title, would be traded among Bison (7th), Akira (8th) and Kyoko (5th), to let you know how rapidly Kyoko had impressed people and moved up the card.
Manami was clearly the one the bosses had their eye on, but she avoided the White Belt entirely and feuded with her rivals and with Aja Kong (who at this point was completely curbstomping her, but lost one fluke in the Japan Grand Prix, which was clearly meant to showcase Manami). Mariko Yoshida is seen as well below Kyoko in the pecking order despite being on the same experience level, but scores a shocker win over Kyoko in the same tournament- she jobs to Manami in a classic "elevation through defeat". It's clear she's "The Next One" (sadly, she gets a bad neck injury and misses 2 years, ruining her momentum as she has to start all over again from a "barely above rookie" position).
Sakie Hasegawa, on the right, was the "1989" rookie who was deemed to have the most potential. But two classmates ended up surpassing her in the long run.
The Class of '89- The "New Stars":
* Of particular note is the Class of 1989- they are the Fourth Years and thus this is when they are real stars. HOWEVER, you note a tier list even there. Sakie & Bat are far and above the biggest "stars" in the group. Sakie's already featured on TV heavily, gets big wins, a heelish persona, is actively feuding with Yoshida, etc. There is a very clear focus that she is a "big deal" and gonna be a star to look out for (even though the fans clearly boo her a lot and don't seem quite as "taken" with her, haha).
Tomoko & Bat are currently in a "Jobber Tag Team"- they dress alike and are at the bottom of the Non-Junior card… but Bat scores a big shocker win over Kyoko, gets to have a drag-out fight with Aja, etc. Her legit fighting credentials are emphasizing her a bit as a younger star who can really rock and surprise the veterans. She didn't seem as prominent on the card as Sakie was but she was more of a threat to a star and would probably have crushed her solo.
Kaoru Ito, meanwhile, has JUST started popping up on TV at one point. She seems to be emphasized way after the others, but I just suddenly hit this point in my timeline and there she was. It was quite noticeable. And by the end of 1992, she has defeated Sakie for the AJW Title and has a big rivalry with Tomoko going, and has scored upset wins over Mima Shimoda.
1993 and On:
* Now 1993 hits and a lot of this is thrown for a loop, mostly because everyone holds still for years. Stars like Hotta, Kyoko & Yamada are used as "safe jobs" to other company's stars (Shinobu Kandori beats all of them at some point, for example). Manami is an office darling and escapes a lot of the jobs, as do Aja & Bull, but people aren't elevated when they normally would be. Kyoko rises very quickly for a 5th Year, but by most standards, Sakie/Tomoko/Ito should be challenging for the White Belt (or winning it) AT LEAST by 1993-95, and that absolutely does not happen.
Instead, what we get is: Kyoko hovers at the White Belt/jobbing to Champs tier for years, but is at least a contender (ie. "won't win, but comes close") by 1995. Yamada halts just below Manami but she & Takako are both elevated to White Belt level in 1995-97. Sakie gets injured and retires before seeing the destiny the Matsunagas saw for her, but was probably gonna win Tag/White gold in 1996-97. Mita & Shimoda oddly never hit that level- Mita almost seems ready for the "Next Suzuka Minami" position as jobber to the 4-5 Years, but instead revives LCO with the struggling Shimoda and they become a main event heel TAG TEAM. Kyoko finally beats all the main eventers in 1996 to become WWWA Champion, probably two years later than she would have otherwise done it.
By 1997, the office realizes that Ito & Tomoko needed to be elevated, and it happens FAST. Ito immediately beats Manami Toyota (only recently the champ) and is neck-and-neck with Kyoko in matches. Tomoko wins a lot more and is the White Belt champ by the end of the year, too. Again, this is years and years after it would have ordinarily happened.
Of course, 1997 is the year AJW goes bankrupt and so all the elevation of the tiers below them goes to hell. Nearly all the wrestlers quit, and the people who would have ordinarily been seeing elevation by then are gone. Rie Tamada would have ordinarily been getting groomed for the Sub-Main tier by that point but was still farting around the midcard, for example. Even the talented rookies who debuted after 1993 were mostly quitting, like Yoshiko Tamura and the like.
And that's it! This was as much as I could find about both how it typically works, and how it worked in practice (and was screwed up by the Interpromotional Era freezing everyone).