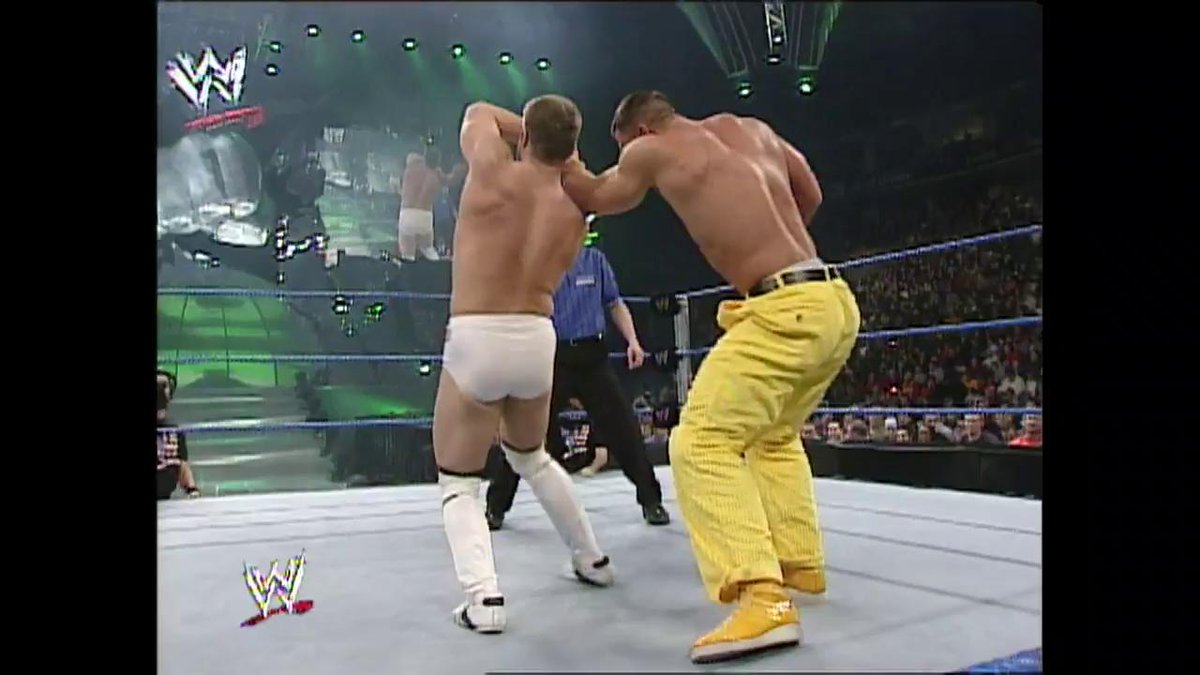 I somehow missed the "banana-yellow pants" phase of John Cena's career.
Welcome back to more Dream Matches! This time the headliner is a future WWE Pay Per View Main Event, but in 2003 and on the infamous D-show WWE Velocity, as indie darling Bryan Danielson shows up on WWE TV to put over this rising star- a roided-up rapping heel named John Cena.
More WWF Light Heavyweight Division goodness as Taka Michinoku and pre-2 Hotty Scott Taylor team up against Brian Christopher and YOSHIHIRO TAJIRI, back when he was just some generic pasty-faced kicky guy out of Big Japan. Yes, the Japanese Buzzsaw pre-ECW hit WWF RAW! Then it's to ECW, as Mikey Whipwreck's "Underdog Sensation" gimmick gets put to the test against the 1996 version of an indie darling, Devon Storm (yes, all you need is a discarded Rockers costume and a few moves swiped from Mexico and YOU TOO could have been an indie darling in 1996!). And then… yes, I have ANOTHER LIFEGUARD STEVE COLLINS MATCH, as he takes on WCW midcarder "Stunning" Steve Austin in a battle of the Steves! Finally, we end with a Street Fight between Ron Simmons & Maxx Payne… in the New York set of Disney/MGM Studios in Orlando!
JOHN CENA vs. BRYAN DANIELSON:
(WWE Velocity, Feb. 4th 2003)
* Welcome to WWE Velocity, where John Cena gets to demolish some dweeby indie nobody named "Bryan Danielson". LOL look at this dork's clean-shaven baby face and Indie Kickpads- what a ridiculous act. Speaking of, Cena has now revolutionized his career by being a douchebag wannabe rapper, before this of course became entertaining enough to turn him babyface, which took him from "cultural-appropriating doofus" to "big star for the kids" and the biggest star of his generation- wrestling is weird. Cena's in giant bright yellow jeans AND BOOTS and is roided out of his mind, while Bryan's in white trunks.
Bryan actually controls with basic arm stuff to start, but Cena rolls over and just brute-forces him into a test of strength- Bryan bridges out and monkey flips him, but Cena 360s him with a clothesline. Back elbow & bearhug of all things wear Bryan down, but the kid gets an enzuigiri, side kick (looked REALLY low) and European uppercut, then gets two off the Running Indie Kick to the Back. Bryan is noticeably calling the match (as the jobber?), and runs into Cena's boot, and is finished off with a spinning backdrop suplex turned into a falling Rock Bottom at (3:44). Ah, this was the era of "Every guy has a fucking spinning something for a finisher" as all the good moves were taken so people were just adding more spins to basic stuff.
This actually wasn't a squash at all- in fact, BRYAN carried the match, doing most of the offense. He sold well by bouncing around for Cena, got in a few of the indie spots popular back in the day (the "guy jumps on a dude who is bridging" one was seen a LOT), then it's the idiot charge into a boot and the finisher. Cena started using the F-U before long and never looked back. This one was only 4 minutes long or so, but was fine- Cena was never a smooth-moving, athletic guy but Bryan can easily bounce off a believable powerhouse even then. Bryan was good enough at bumping around and carrying it that I'd be surprised if he didn't get a bit of a look, even given his size and the era.
Rating: *1/2 (basic competitive, short Big vs. Small match)
TAKA MICHINOKU & SCOTT TAYLOR vs. BRIAN CHRISTOPHER & YOSHIHIRO TAJIRI:
(WWF New York, Nov. 1st 1997)
* Yes, not only is it "Too Cool EXPLODES!", but we have TAJIRI on WWF TV before his ECW run, back when he was a generic undersized Japanese dude used as filler for the Light Heavyweight division. That's easy to forget about, as he did not make the important TV shows very often, if at all. Scott Taylor here was a well-thought-of jobber, so was given a semblance of a "Second-Tier Babyface" run in the LH div, but he always just looked like a "Player Two" version of Christopher, who was mostly an undersized heavyweight (later the company would wise up and pair them off). Christopher's in black tights, Tajiri in white & blue trunks, Taka's in blue & black, and Taylor's in purple tights.
Taylor/Christopher start, Brian of course doing his hyena laugh and his dumb pose after a simple hiptoss, but Taylor does the Owen Hart wrist-grab off the ropes and headscissors him, and Brian gets double-hiptossed. Tajiri comes in with a bow & arrow on Taka, then a rana from the Fameasser position, which is unique, then hits a wheel kick and an Asai Moonsault! But then Taka dropkicks him to the floor and hits his Running No-Hands Springboard Plancha! See, this is what the division should have been doing. "Can You Top This?" crazy dives and shit. Christopher runs in to hold Taka, but gets dropkicked out and a tornado DDT gets two on Tajiri. Christopher nails Taka out of a sleeper so Tajiri can hit a primitive version of his Buzzsaw Kick combo, then hits a release German. Taka manages a hurricanrana and both tag out- Taylor gets a somersault double-leg on Tajiri's back for two. Brian elbowdrops Tajiri trying to break it up, then Taylor kicks him in a bit they probably choreographed in the back but looked a little awkward, and they double suplex Tajiri and Taka runs him into Brian and hits the Michinoku Driver for three (5:40).
A pretty solid match that shows what the division could have been about- it's probably no mistake that Tajiri & Taka got a long sequence, speaking the same language (both verbally and in-ring), with the white guys as "filler" doing their indie stuff. Granted you have stuff like these crazy dives being in the FIRST third of a match instead of the final third to lead to the finish, but they probably wanted to hook the fans early given the match was gonna be twice as long as the usual RAW bout around this time and two of these guys are total unknowns. Tajiri was wrestling like a man who wanted a push, but was largely absent from the WWF and made his career in ECW instead until returning a few years later.
Rating: **1/2 (ideal length for a good TV match, the flippy guys doing their eye-catching stuff)
Man, how many guys wore shirts like THAT trying to look cool in the 1990s? This guy totally "got" his generation of fanboys.
MIKEY WHIPWRECK vs. DEVON STORM (w/ Damian Kane & Lady Alexandra):
(ECW, 1996)
* haha, checking for more Devon Storm stuff, I get the Rockers-dressing dweeb showing up in ECW in 1996. This is featuring some people I only read about in PWI and have never actually seen on-camera before. Neither Kane nor Alexandra were long for the biz after this point- they were a married couple, Kane being an old-school guy in his 40s who gave Paul Heyman his start, so he was given a managerial role in the early Extreme era. Alexandra's wearing one of those V-shaped swimsuits under see-through material- Hat Guy mouths "wow" on-camera over it.
Storm looks like a total dink from 1989, wearing black gear with neon green tassels and bits all over it. He's dressed like a friggin' Rocker, when Marty jumped through the window to escape Shawn four years before this! Lose the feathered blond mullet and neon! Mikey's in a white t-shirt with Marvel's Venom on it, and just beat the Dirtbike Kid (there's a guy I need to review matches for) for the "European Junior Weight Belt". And OH MY GOD, I see TWO WOMEN in the crowd! At the ECW Arena! No shit! The boyfriend of the one disses Kane and keeps kissing the girl to taunt him while facing the camera- she's clearly annoyed and would rather be anywhere else on Earth, finally telling him off and getting up, lol.
They do basic indie reversal sequences, at points literally rolling onto their backs so the other guy can roll back onto them, and of course that gets applause. Uh-oh, that guy's girlfriend left. Storm slugs away and does a headscissors, but Mikey messes up a landing so his armdrag sucks. He headscissors Storm to the floor and follows with a cannonball off the middle rope. Kane boots him a couple times out there and Mikey ends up in an electric chair drop in the ring for two. Snap suplex & inverted figure-four keep up the work, then it's a flying headscissors out of the corner and a shitty rolling kick for two, then a Gory stretch. Mikey rolls forward for two, but Devon clotheslines him and hits another resthold, then gets a chair and teases a Super Frankensteiner onto it, but spites the fans (who are chanting "Mikey!") and tosses it aside, and gets clotheslined for it. Man that guy's girlfriend is STILL GONE- don't tell me the women's washroom has a LINE-UP.
Mikey gets some flash-pins for two-counts as some guy besides Faith No More Guy chants "This match sucks!" by himself to be cool, but Storm comes back with some strikes and Kane adds more shots. Mikey's dropped on the guardrail and sat in a chair, letting Devon hit a tope con hilo in that position! Okay that's decent. Damian insists on more punishment so Storm won't get a pin from a Moonsault- all the delays result in Storm getting crotched up top, but trying a backdrop superplex and Mikey lands on him for two. He manages the Frankenmikey (rana) for two, dodges Damian's elbow after a high cross so Storm eats it, then missile kicks him out and finishes Storm with the Flying Frankenmikey at (12:25). More importantly, that guy's girlfriend never returned. Man I wonder if she just up and left him. One look at the AIDS-ridden mats might have done it, but making her sit through a 1996 Devon Storm match was probably a bridge too far.
Match was… fine. Just there. Pretty boring stuff, as it was largely Devon Storm running through basic submissions and half-decent, loosely-applied offense as he has to carry the whole thing. He's only 24 years old here, and has no charisma or connection with the fans, so it's just some indie dork in a dated outfit going through generic stuff with a blank look on his face. Mikey was fine as an underdog babyface but he wasn't rallying or anything- just taking moves until he'd occasionally do a rollup. The selling was decent at points and his final rally was fine- his character was more of a "lucky spirited guy" so the fact that nothing hits flush isn't a big issue- it puts him over as a scrappy underdog.
Rating: *3/4 (too long for what they were doing and Storm isn't very interesting or precise, but had a few decent spots)
You have no idea how much I wish there were more of this guy's matches on YouTube.
"STUNNING" STEVE AUSTIN vs. "LIFEGUARD" STEVE COLLINS:
(WCW Worldwide, Nov. 5th 1994)
* HELL YES MORE LIFEGUARD IN MY LIFE!! And he's up against one of the biggest stars in all history just for maximum greatness. It's the battle of the Steves, Austin in black trunks (come on, put some color into your gear! You'll never stand out like THAT!) against Collins and his red shorts. Austin's hairline is TERRIBLE at this point- Mox-tier. Thank god he finally gave up that fight. He's feuding with "Hacksaw" Jim Duggan over the US Title, having just lost it, and is about to get hurt again, then return and get hurt AGAIN- he lasts until June '95.
Collins actually controls to start with a side headlock, doing a headscissors when Austin tries to get out of it- Austin bails and almost loses to a rollup out of an International and AGAIN Lifeguard headlocks him. Austin has to go to the eyes to start pounding away, then hits his "throw fingers" Bret Elbow for two. Collins fights out of a headvice but eats a big knee and Austin mimics swimming to taunt him, then drops two vicious knees and puts on That's A Wrap (standing reverse figure four) for the submission at (4:32). Man, that was his finish? Austin gave a bunch in the early going, but once he got on offense you could tell how good he was- not many guys have such perfect application of even things like driving knees and elbows.
Rating: * (tolerable for what it was- not QUITE a squash but once Austin got going he had good stuff)
STREET FIGHT:
RON SIMMONS vs. MAXX PAYNE:
(WCW, 5/21/94)
* One of Ron's last WCW matches, as he's in a Street Fight in the "Streets of New York" section of Disney/MGM Studios of all places. Like they held cards in one of the park's buildings all the time, but actually on-stage? Both are in street clothes, with Ron as a heel.
They brawl into an International to start, Ron shoulderblocking Payne to the floor, but ending up back in the ring for more rope-running until Maxx hits shoulderblocks of his own, rams Ron into a building setpiece, and hits him with a board, only for Ron to slug him and just BLAST him with it. Ron beats on him in the ring but gets powerslammed for two and bails- Maxx throws him into a stack of chairs (lol that's actual Disney property I bet) for two, but back in the ring Ron uses his belt, and counters a sleeper with it (getting a stunner reversal) and goes a-whippin' and chokes him with it. Maxx finally fires back with punches and clocks him with the board for two- a headbutt has Ron in trouble, but he just hops up and rolls into the ring after getting suplexed on the concrete, and when Maxx comes in after him, he nails him with a hidden hammer and scores the pin (8:27). Lol WTF- Bischoff is acting like Ron stole one. It's a STREET FIGHT! Why is he even bothering to hide it? Dude just hit him with a piece of wood two minutes ago! I mean I guess it took Payne by surprise so the sleight of hand was a good move, but Bischoff's outrage is silly.
Well it was a street fight and they fought in the streets. Perfectly adequate, if not very inventive, as they mostly "do a rope-running sequence in the ring, then bail and do some weapons, then run back in" on repeat for the whole match. But at least weapons were used and guys were thrown into scenery! All you can hope for in a match like this. And hell, blasting someone in the face with a hammer is a legit-ass TKO.
Rating: ** (inoffensive and fine- had solid weapon shots but an odd flow with all the bailing and rope-running in a hardcore match)