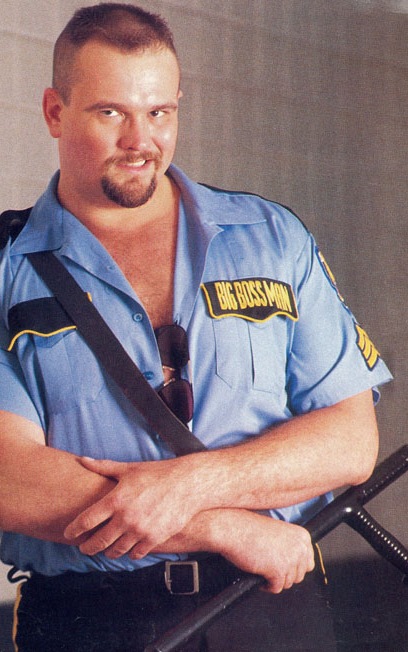 The WWF was never really a "Workrate Company", so the Big Boss Man is one of those guys who kind of slipped through the cracks and people only now have come to appreciate and credit with a lot of great performances and remarkable agility for his size. I now honor him with this hilariously suggestive picture.
Welcome back to more Dream Matches! This time I have a very solid TV match from 1992 as Shawn Michaels and the Big Boss Man do a rare singles match against each other, showcasing Ray Traylor's shocking speed for such a big guy as he does one of the best "evasion" spots I've ever seen, despite outweighing his opponent by eighty pounds! Then it's more 1992 WWF goodness as Virgil tries to take revenge against the Repo Man for the loss of the Million Dollar Title!
Over to 1998 WWF as Brian Christopher and a newly-heel Scott Taylor are paired up as heel goobers "Too Much" and set against… yes I'm subjecting you to more Devon Storm, as he and indie partner Ace Darling are paired up as jobbers on Shotgun Saturday Night against the new heel team! Then it's a random throwaway WCW TV main event of Sting, Marcus Alexander Bagwell & The Steiner Brothers against Arn Anderson, Larry Zbyszko, Bobby Eaton & Cactus Jack! Finally, a spectacularly weird WCW Prime match, as Sgt. Buddy Lee Parker takes on LIFEGUARD STEVE COLLINS in a gimmick I am just now hearing about. Read on!
SHAWN MICHAELS vs. THE BIG BOSS MAN:
(WWF Wrestling Challenge, Nov. 14th 1992)
* Shawn is JUST set to win the IC Title from the British Bulldog on the Saturday Night's Main Event airing this same day, and Boss Man is in the middle of a huge feud with Nailz, so I'm imagining this'll be a screwjob ending. But it's a pretty rare opportunity to see guys whose careers coincided but didn't interact that much- the Rockers jobbed to the Twin Towers but as singles these two didn't fight often- Boss Man was in WCW when Shawn had peaked, and returned when Shawn was gone. Sherri is out with an injury after Marty famously returned and Shawn pulled her in front of the mirror to save himself.
Boss Man cranks on a headlock to start, even pulling Shawn's hair to troll on him, but Shawn brawls out of a corner break, and then they do a REALLY good reversal sequence, Boss Man sliding under the ropes, coming around the other side of the post, Shawn ducking, then Boss Man getting the boot up and clotheslining him! Like, that was lightning speed! Boss Man beats the hell out of him, but climbs to the top and comes off at a weird angle, necking himself on the top rope when Shawn dodges- that puts Shawn on advantage, and he pounds away with strikes, only for Boss Man to slug him out of the Teardrop Suplex (that crotch-lift backdrop suplex he was using as a finisher at that time). Boss Man with a wind-up uppercut, then puts Shawn on the ropes for his running leap and sliding uppercut. Shawn should be SCREWED but manages to dodge a running splash and follows up with the thrust kick (pre-Superkick) to put Boss Man on the floor, and sure enough- OUT COMES NAILZ! This distracts Boss Man so he gets Counted Out at (6:29). Shawn chokes him out from behind to leave him open, but he boots Nailz in the gut and takes his nightstick- this sends Shawn running but Nailz only hesitantly backs up.
Man, they just GAVE IT in this match- no slacking off at all. Like they knew it was a hot time for both of them and despite the screwjob finish they wanted to impress people. Boss Man showed shocking speed and agility with his tearing around the ring, and the match was actually SHAWN brawling and BOSS MAN using his speed! So it's 6 1/2 minutes of pure action into that finish.
Rating: **1/2 (astonishingly good given the time and ending)
Is this the loseriest gimmick that remains the most popular with modern-day fans? I swear everyone I talk to LOVES the Repo Man. Never had a match over ** I think, but the dude just ruled.
VIRGIL vs. THE REPO MAN:
(WWF in Madison Square Garden, May 11th 1992)
* So the Repo Man debuted costing Virgil the Million Dollar Title to Ted DiBiase in late 1991, then beat Virgil on tons of house shows (getting a few DQ losses himself), as Virgil got threaded into the "Koko B. Ware" role. But now we're almost at the next summer and the feud is over (it never really made TV near as I can tell) and Repo's in the same role but as a heel (currently feuding with British Bulldog after choking him with his chain). So let's see where we are! Virgil's "X-Pac Face" coming out might be a sign- he's in the red & white striped tights and Repo's in the usual grey.
The bell rings with no Repo Man, so Barry Darsow, 6'3″ Master of Stealth, sneaks in and clocks Virgil from behind. Repo slowly pounds away, taking his time between moves and "sneaking" behind for more shots- Repo tosses him, but Virgil decides turnabout is fair play, and sneaks under the ring and jumps HIM from behind, scoring a schoolboy for two! Two atomic drops & a dropkick get two, and a clothesline does the same- the crowd is pretty dead here. An armbar spot doesn't help- Repo fights out but eats another, only to slug Virgil when he puts his head down and do more of a slow beating with a backdrop suplex & neck-twist- jesus. Then it's a bodyscissors as people are actively seen getting up to take a leak during this MOVEZ-fest.
Virgil gets dumped again, but managed to shove Repo into the post… only to have Repo just stop selling it and repay the move. Then he keeps Virgil from getting back in the ring with Baba Chops and stuff and even ignores some boxing jabs ("not a lot behind those blows" Monsoon notes), but stalls out after a reversal and Virgil gets a backdrop suplex & more jabs, some corner punches, then charges into the corner… and eats a back elbow for the pin (11:02). OMG WTF? Did he think this was Survivor Series or something? What the hell was THAT? They gave these fans eleven minutes of reastholds and slow brawling and ended with an ELBOW?
Good lord- who books Virgil/Repo to go 11 minutes? Obviously they were gonna pad the hell out of it, with Repo using his arsenal of restholds and "do a punch then walk around and build his SmackDown! meter" stuff. Virgil seemed disinterested and Darsow just doesn't have the moveset to go over 6 minutes in a solo match at the best of times, much less when he's being fed to the British Bulldog on the house show circuit.
Rating: 1/2* (Boring, plodding basics stretched out to 11 minutes)
This is kind of a "Remember When?" thing, as it's easy to forget that before "Too Cool", Brian & Scotty were a failed Cruiserweight heel and a jobber, paired up as dorky heels, shifted to a "they're actually gay lol" joke tag team, then to wannabe white-boy rappers, then got incredibly over and were huge for a while. Wrestling is weird.
TOO MUCH (Brian Christopher & Scott Taylor) vs. DEVON STORM & ACE DARLING:
(WWF Shotgun Saturday Night, April 18th 1998)
* Back to the "Shotgun as the D-show" era as Too Much makes their debut, pairing up failing heel "Too Sexy" with "Too Hot" Scott Taylor (a generic job guy rebranded as a mid-tier Light Heavyweight heel). Shockingly, this loser dork tag team actually became a very solid choice as "Secondary Champions" for a while. Brian's in yellow tights and Taylor's in bright blue and oh god Christopher's still doing the "TOO MUCH, baby! AH-HAHAHAHAHAH!" hyena laugh. WHY DID NO ONE IN THE BACK TELL HIM TO STOP DOING THAT?! The Extremists (indie dweebs jobbing on both WWF & WCW TV) are in matching reverse-color tights- the blond Storm is in black tights & neon green kickpads, and dark-haired Darling in green tights with black kickpads.
Two minutes go by with no meaningful contact as Taylor keeps celebrating minor moves, but hits a tilt-a-whirl slam for two. Team Indie double-backdrop him and he flees- Christopher wins an International and struts while cackling, but misses a dropkick and Storm hits a somersault legdrop. Too Much eats double-dropkicks and stereo somersault slingshots to the floor, but Christopher tosses in Taylor then sneaks in behind and knocks the Extremists' heads together. They do simple punching and throw weak double-teams on Storm and oh god now it's a chinlock. Against a JOBBER? Storm fights up to no heat at all but runs into Christopher's full nelson front slam and release wrist-clutch Northern Lights suplex. Taylor's in for a double-team but Storm reverses the whip and Taylor back elbows his own partner. Darling in with the heatless punches & hurricanranas, and the Extremists do the do-si-do but eat stereo clotheslines, Storm goes over the top on a corner whip, and an overhead pumphandle toss into the Tennessee Jam (flying legdrop) finishes at (9:13). HOLY GOD FINALLY.
OH GOD SO LONG. A pretty basic indie-style match, with a lot of time-killing and milking things as Too Much do taunts and gestures after every move, but it's really way too long given it's Squash-adjacent (just with flashier jobber comebacks). Weird bit as the flashy somersault dives happen but Too Much immediately take back over with double-teams that'd get laughed out of Michininoku Pro & Dragon Gate. Everything was just so slow-paced and dull instead of quick and tight, and the fact that the jobbers weren't over or credible made their mini-comebacks heatless.
Rating: 3/4* (it'd be around ** if it was half that length and had no stalling, but this was clearly drawn way out for TV time)
STING, MARCUS ALEXANDER BAGWELL & THE STEINER BROTHERS (Rick & Scott) vs. ARN ANDERSON, LARRY "THE CRUNCHER" ZBYSZKO, "BEAUTIFUL" BOBBY EATON & CACTUS JACK (w/ Paul E. Dangerously):
(WCW Pro, Feb. 22nd 1992)
* More of a random grab-bag of dudes in an 8-man tag, this one isn't gonna be that long, but it's pretty weird. You don't see a lot of Arn/Cactus team-ups, do you? It's three members of the Dangerous Alliance, but with Cactus. Arn's in white, Larry's in red, Bobby's in white & Cactus is in the usual black gear. Marcus (then a generic rookie up & comer) is in black, Sting's in red, Scottie's in yellow/black & Rick's in technicolor leaf-print. Bagwell is roided to shreds and puffy as hell, with a hilariously high-topped haircut.
Bagwell does well against Eaton, who sells confusion, then Rick comes in and Steinerlines Arn & Bobby, the tag champions set to face the Steiners, and Larry takes an overhead belly-to-belly as the heels bail and regroup before the Steiner Pose. Arn & Sting spit on each other as I think this match is 95% posturing- Sting with the press-slams to Arn & Bobby, who each take a beating from the babyface corner, then Sting eats some punches from Cactus but chases Heyman around, and then Scott tilt-a-whirls Bobby- Cactus yoinks him over the top rope and beats him down, leading to Arn's DDT, but Larry Z puts his head down and takes a Tiger Driver for two (!). Bagwell with a cross-body but everyone hits the ring- he hits a Perfect Plex on Bobby but Larry drops a knee on him and finishes with the Brainbuster at (8:00).
See, you can tell the difference between today's wrestling and 1992's when 8 guys, almost all good workers, hit the ring and it's 90% standing around and taunting, then a clusterfuck before the heels fight dirty to win. Like nowadays everyone would be showing off, angling for a push, and in AEW be pulling out all the stops and go for 14 minutes, but here it's just 7 minutes of taunting and then some good moves at the end for a quick pin (Bagwell is pinned after eating only two moves for the entire match). A "disappointment" to day but back then a TV match was never gonna be that long, and there was a big show coming up.
Rating: * (almost nothing to it, but the ending was fine- of all people LARRY Z shows some good stuff)
Proof I'm not making this up.
SGT. BUDDY LEE PARKER vs. "LIFEGUARD" STEVE COLLINS:
(WCW Prime, May 27th 1996)
* WHAT SORT OF LOVING GOD WOULD ALLOW THIS TO HAPPEN!?! Who's even the JOBBER here? I mean, Buddy Lee is a JTTS guy so I guess he's the top guy, but man they put stuff like THIS on television? Parker's a squat highway patrolman character in a navy blue singlet, while Collins is a job guy wearing short red shorts and carrying a floatation device, as well as a backwards-facing ballcap so we'll know he's cool and a bit rebellious. Otherwise he just looks like a standard-issue bulky wrestler, with a handlebar mustache and curly bleach-blond hair. I mean, David Chokachi he AIN'T. I mean, what? I don't know the names of the men on Baywatch. I only watched that for the babes! Not ridiculously chiseled beautiful male abs!
Dusty immediately rules on commentary by remarking on Steve's "Hooter drawers" ("That's where he got 'em!" cries the cohost whose name I always forget) as the two men engage in a catch-as-catch can classic, looking like a pair of walruses as they roll around reversing a front-facelock to a hammerlock, but when Collins hits a hiptoss into an armbar, Parker just stops selling shots to the arm and hits some, uh, snug forearms to the head in the corner. Collins gets some more Power Plant basics and like seriously THREE MORE hiptosses as if he's taking him to Hiptoss City, and hey! His tits are jiggling when he runs! He IS a Baywatch character! But he tries the hiptoss again and Buddy just kinda hits him and he drops. An elbow lands as Collins is trying to roll over as Buddy is just weirdly interrupting everything. Collins hits the floor and Buddy gets this weird intense look on his face and climbs to the middle of the top rope and leaps off for an axe-handle, and Collins has to kick out of three separate pins before Buddy keeps hitting chinlocks and talking trash. He keeps going for pins off the weakest stuff, but Collins counters a slam to the inside cradle FOR THE PIN at (4:48) haha what?
This was all kinds of a mess, with Collins trying to do the very basics, while Buddy seemed to just grumpily interrupt his moves and get his shit in, kinda being an ass about it. Like he was mad about doing the job or what? I mean it's LIFEGUARD STEVE COLLINS so I can see it, but still. Then he keeps going for the pin, typically an admirable move showing a guy trying to pull out all the stops and tire out his opponent, but he's doing it off of kneedrops and chinlocks and stuff. Then gets caught by a random reversal, too.
Rating: DUD (five solid minutes of the uttermost basics with only one decent move all match- the sorta-springboard)