Welcome back to more Dream Matches! This week, I take a look at another tape-trader dream, as it's the best of Michinoku Pro (minus Great Sasuke) in a big Sumo Hall 10-man that piles on the MOVEZ in a great comparison to the 2006 Dragon Gate match! It's the fully heel Kaientai DX up against Hamada, Delfin, Tiger Mask, Gran Naniwa & Masato Yakushiji!
Then it's a look at the bizarre debut of Tony "Ludvig Borga" Halme in New Japan, as he portrays a boxer up against a very green "Soultaker"- Charles "Papa Shango/Godfather" Wright! Then it's a request, as Sting & Lex Luger take on the Faces of Fear in 1996 WCW! Then I induce a lot more star power into this column, as MARTY JANNETTY takes on DUKE "THE DUMPSTER" DROESE, baby! Come see Duke almost tease a heel character before they gave up and were like "LOL no- he's just a jobber". And then a hilariously "1997 Indies" match on WWF RAW of all places, as Devon Storm fights Ace Darling! It's the most indieriffic indie match imaginable, but tragically the match is cut short for time.
GRAN HAMADA, SUPER DELFIN, TIGER MASK IV, GRAN NANIWA & MASATO YAKUSHIJI vs. KAIENTAI DX (Taka Michinoku, Shoichi Funaki, Men's Teioh, Dick Togo & Shiryu):
(Michinoku Pro, Oct. 10th 1996)
* Said to be the "MOVEZ~ Match du jour" of the late '90s, I dunno. Holy god it's long, though! MPro seems to be a never-ending succession of complex spots and multi-man matches, to the point where I wonder what all the solo bouts looked like (to be fair, Sasuke/Taka is good in both matches seen in North America). Delfin is a dolphin-themed comedy wrestler, Naniwa is a crab-man in blue, Tiger Mask is the fourth incarnation and the only one not cool enough to drop the gimmick and make his way on his own, and Yakushiji is… some guy I've never heard of. Looks like some generic dude in bad Red Ranger cosplay, and was a minor star from the looks of things, winning only some CMLL belts. Hamada, the stable leader, is the most "1980s puro guy" you've ever seen, with a curly mullet, plain black trunks and a dad bod. Kaientai were briefly a thing in the WWF, though Funaki stuck around for ages as a comedy jobber- here he's thinner and in black & white pinstriped singlet. Taka's the star of the team and looks like a 12-year old in blue shorts- he'd be the centerpiece of WWF's failed Light Heavyweight division. Shiryu, in a blue Spider-Man-ish mask, is WCW jobber Kaz Hayashi. Men's Teioh (no I have no idea what that means) looks kinda generic and has blond hair and trunks. Togo is the portly guy in blue tights.
They spend five minutes doing simple quick sequences to "Pause for Applause" moments, and Hamada embarrasses Taka & Funaki when they cheat. Taka & Naniwa do a good sequence, Taka taking a big backdrop to the floor. I'm digging Teioh's more "basic" style and Western-style taunting- skinny Yakushiji sons him with speed. Hamada & Togo do a Midget Hoss-Off until Hamada hits a good frankensteiner for two. Tiger Mask & Taka keep doing sequences- they have identical sizes & physiques and TM keeps winning, then Yakushiji gets showy bits embarrassing Taka & Shiryu. Naniwa keeps doing comedy posing as 10 minutes have gone by with nothing substantial but it all being good basics. Teioh does a DDT but gets spinkicked to the floor by Tiger Mask, then Yakushiji does more flipz to the hapless Funaki and Taka gets worked over- Deflin hits a super-delayed brainbuster for two. 14 minutes in and FINALLY Kaientai starts cheating, running in with dropkicks while guys are in submission holds from their partners- 5 running elbows in a row, 5 flying stomps in a row and they do a big Team Pose on him! AT LAST a story has developed!
Funaki & Taka hit twin running attacks, then Funaki's suplex threads into Taka's springboard knee and that was SLICK, but sadly Naniwa just casually tags out. Yakukshiji tries more speed but Shiryu blasts him with a fisherman's buster- KDX double-team TM and then spike piledriver Hamada for two. Teioh with a delayed suplex but Naniwa works Funaki's testicles, and Delfin is taken down by Togo- Tiger Mask saves but gets ganked in the corner. They mess with his mask and quintuple-team him, but Naniwa clobbers Taka, only to be dropkicked to the floor out of his "Crab Walk" on the second rope. Taka does a no-hands leap to the top and backflips off, but gets bowled over by Yakushiji, who's especially mad about it, but he ends up gangbeat, too- Teioh hits a full nelson slam & snap suplex into Shiryu's flying splash for two, and a backdrop suplex, only for him to throw spinkicks to take out Taka/Funaki. Delfin runs wild & Hamada hits a powerbomb on Taka for two- Funaki saves. Lucha sequence as Togo/Teioh get run into each other and their legs split while Delfin ranas Shiryu between their legs for two, but KDX come back with triple Ranas & dives! Funaki quickly follows with a quick springboard leap while Taka blows minds with a HUGE springboard moonsault to the floor into the pile!
Shiryu & Tiger Mask hit the the ring- Shiryu lands on his feet from a German & hits a tombstone/Moonsault for two- Yakushiji saves, and gets tossed into a powerbomb from Teioh! Hamada stops Togo's flying move and planchas him- Yakushiji nails Teioh & Shiryu off the top, then he & TM follow with stereo dives around the post to the floor! Taka & Funaki fail springboard dropkicks and eat stereo DDTs from the comedy guys for two, then planchas. This leaves Togo/Hamada- Togo hits a powerslam for two, but Hamada leaps out of the corner with a big spinning DDT for two! Super Hurricanrana- Shiryu saves! Naniwa hits a tornado DDT on him for two, but gets rana'd off the second rope, but reverses for two. Doctor Bomb hits- Teioh saves, then hits a snap powerslam on Yakushiji for two. Teioh brawls and hits a chokeslam into a pin for two- Tiger Mask saves, but takes Funaki's fisherman's buster for two. Tombstone gets reversed and a Flying Headbutt gets two- Taka missile kicks in to stop a Tiger Suplex, but gets caught in Delfin's Macho Man Elbow for two. Two tornado DDTs set up the Delfin Clutch (tie up all 4 limbs for a pin), but Togo saves, only to eat a German for two- Teioh saves but gets dumped and cannonballed by Hamada, but Togo Flair-punts Delfin to stop a Tiger Suplex, and hits a powerbomb into a FAT-ASS FLYING SENTON for the three (32:07)! Kaientai DX wins!
Wow, this was an interesting modification of the MPro style- it starts and ends the same sort of way but is drawn out a lot longer- I've never seen the "everyone pairs off and does basics into posing" sequence extended for 15-ass minutes before, but there you have it. That was EPIC time-killing because absolutely none of it mattered beyond "yay we're charismatic and flippy!" character stuff but it was fine, except it was way too long and no story developed until KDX started cheating. It was in many ways less choreographed and more chaotic than today's spotfests (owing to less convoluted moves), though had just as many of the "stand there awkwardly and wait for a dive" at moments. But the match definitely built- all the big high-flying moves were put in the last 10 minutes, allowing for big trade-offs, then guys being left alone in the ring for the false-finishes, leading to the ACTUAL three-count once the wrong guy got caught with no one left to save him.
Assessing the guys individually, Naniwa & Delfin are weird- mediocre wrestlers who do a sequence at half the speed of the others then go "YAY I HAVE A FUNNY POSE!". Tiger Mask is just the most antiseptic wrestler I've ever seen- like Ultimo but 100 times worse. He just blankly hits everything with this neutral expression. And despite the match being THIRTY MINUTES, I barely saw enough of Hamada, Delfin, Funaki, Teioh and Togo to really assess them. This came off like a big showcase for Taka, with Funaki mostly in as his double-team partner.
Rating: ***3/4 (a great flippy-flop match- 15 minutes of stalling sets up a great KDX heel sequence with slick timing and double-teams, then it's the "ALL THE FLIPZ!" lucha dive sequence, then it's like 8 straight minutes of false-finishes from guys doing their best stuff in the center of the ring, broken up by partners until there's no one left)
I'm about to submit you to a bit of a "Tony Halme" surge in this column. You have been warned.
BOXING vs. WRESTLING:
TONY HALME vs. SOULTAKER:
(New Japan, 1990)
* This is a "Wrestling vs. Boxer" match, featuring the future Ludvig Borga up against the future Papa Shango/Godfather, Charles Wright! Oh god just SMELL THE WORKRATE as these two have only recently been trained, and are so green they're actually worse than when they were stinking up the card a few years later. Halme has boxing gloves on and boxing shorts, while Soultaker's in a black singlet.
They throw strikes to start, Soultaker throwing some long-legged kicks with some really poor defense of his upper body- he kicks Halme in the leg and ass until he falls, then scores headbutts. Bodyslam & elbows follow-up as this immediately ceases to be a martial arts contest. Soultaker trip-kicks him again and cranks on the knee, then trips him down again and does the "leg-bend" resthold- Halme keeps getting up but is battered repeatedly and round one ends (3:00) with him getting absolutely no offense at all. Soultaker does more knee stuff in the next round, Halme shouting "you son of a bitch!" to try and get over as a potty-mouth, then finally catches Soultaker's leg and starts throwing body blows, then upgrades to combos to the face as Soultaker flails around on the sell-job. It's funny how this is billed because you can see the punches whiff and obviously Soultaker's taking too many headshots if this were real- he bails, but comes back and eats an obviously choreographed three-move combo for the knockdown- Soultaker's up at "8" but is immediately hit with a killshot for the TKO at (2:07).
A funny little match- totally one-sided for the Soultaker as he throws kicks and then basic wrestling weardown stuff, and then round two happens and Halme is suddenly able to easily come back. He clearly watched "Rocky" at some point because he's doing that same "zero defense; throw tons of body blows and then impressive knockout punches" stuff in a very cinematic manner.
Rating: 1/4* (decidedly un-good)
WCW WORLD TAG TEAM TITLES:
STING & LEX LUGER vs. THE FACES OF FEAR (Meng & The Barbarian):
(WCW Nitro, May 20th 1996)
* A request from 1996 Nitro, featuring the FoF against Sting & Luger, who were apparently the Tag Team Champions at this point! Both are in black, seemingly competing to flex for the cameras. Ric Flair is on commentary.
Meng trips up Luger and throws shots, but eats a powerslam for two, then hits a backdrop suplex as Flair goes on about his tag match against Kevin Green, stating that he tamed Wahoo McDaniel and retired Ernie Ladd, so NFL players mean squat to him. Back from break with Sting clotheslining both Faces to come back, but he misses a dropkick and takes a beating, his makeup already wiped off. Luger keeps getting lured in while the Faces do false tags and beat up Sting. Inverted atomic drop/big boot gets two, and then Barbarian hits one MOTHER of a Belly-To-Belly Superduperplex, sending Sting FLYING onto his hip for two. Odd to see the crowd barely react to that, but the FoF were never over. Stereo Flying Headbutts! Luger distracts the ref so Sting can kick out thanks to a lax cover- Meng cuts off a hot tag by grabbing Sting in mid-air (Heenan accuses Luger of deliberately not reaching for the tag). Barbarian gets a backbreaker, but goes to the well one too many times and eats mat on another Flying Headbutt- hot tag Luger in a repeat spot, and he runs wild. Steel Forearm Smash gets two- Meng saves, and everyone's in the ring- Barbarian tries the super belly-to-belly again, but Luger holds his leg and Sting shoves him off, ending with a Flying Splash that nets Luger the pin at (7:50).
Tag Wrestling 101 with some decent psychology- the Faces of Fear are tough but dumb, and try the same spots in a row once they fail to score the pin, so Sting reverses one and Luger helps reverse the other. Luger & Sting barely did anything that we could see, but the FoF's moves were eye-popping- it's too bad that "Hoss Style" just wasn't that popular back then (they weren't respected online until a bit later) and the FoF weren't really credible Champions, so the fans didn't react. Like an AEW or modern WWE crowd would freak at 550 lbs. of dude climbing to the very top turnbuckle and launching one off.
Rating: **1/2 (solid TV tag match, though we only saw Sting sell and Luger hit a couple moves)
Duke Droese- He's gotta be one of the bigger guys who never get a sniff at the level higher than JTTS.
MARTY JANNETTY vs. DUKE "THE DUMPSTER" DROESE:
(WWF Action Zone, Oct 15th 1995)
* Man, how'd WWF lose so much money in 1995 with bangers like this on free TV every week? Marty's newly returned at this point, wearing a black undershirt with neon-striped pants, while Duke's in the lighter variant of his gear (I wonder who had to order different colors of "fake garbageman uniforms" and stuff like that?). It's babyface vs. babyface.
Marty headscissors out of some headlocks and trips him up, but eats a cheap shot out of the corner- suplex, slam & kneedrop get two-counts, and Marty does his 360 sell off a back elbow. Running legdrop gets two as Duke seems to reconsider being a heel as the fans are booing him, especially after he punches out of a sunset flip and scowls. Marty fights out of a chinlock and hits a spinning headscissors as Jim Ross suggests Duke's just a young man "in desperate need of a victory" and letting that get to him, and a back elbow & back body drop have him reeling. Marty seems to aim for a monkey flip (Duke's knees are bent and Marty stands on the thighs), but instead does the corner punches- Duke grabs him and slaps him after putting him on the top rope, but he argues with the ref and eats a 2nd rope dropkick, and the Flying Fistdrop wins at (2:55). Wow, wasn't expecting such a clean victory here, but Jannetty was being set up as Goldust's first opponent on PPV, so they're technically sacrificing two guys to get the new act over.
The match was fine, if pretty basic- Duke was not a great worker, but could adequately do normal moves and not screw them up. For such a big guy, he was neither a good power wrestler nor a great seller, but he was a fine undercard dude and if it wasn't for the dumb gimmick, beating him could make guys look good. Here was your basic "guy controls with heel stuff, but loses after getting reversed" match, though Duke looked like an idiot for turning to argue with the ref and immediately being hit by a finisher. Duke teased going heel here, but they reversed course pretty quick… though his career peak was basically being set up to put Hunter Hearst-Helsmley over on PPV in 1996, and he was gone that summer, never to return.
Rating: *1/4 (I dunno, it's three minutes of basic stuff then ends clean)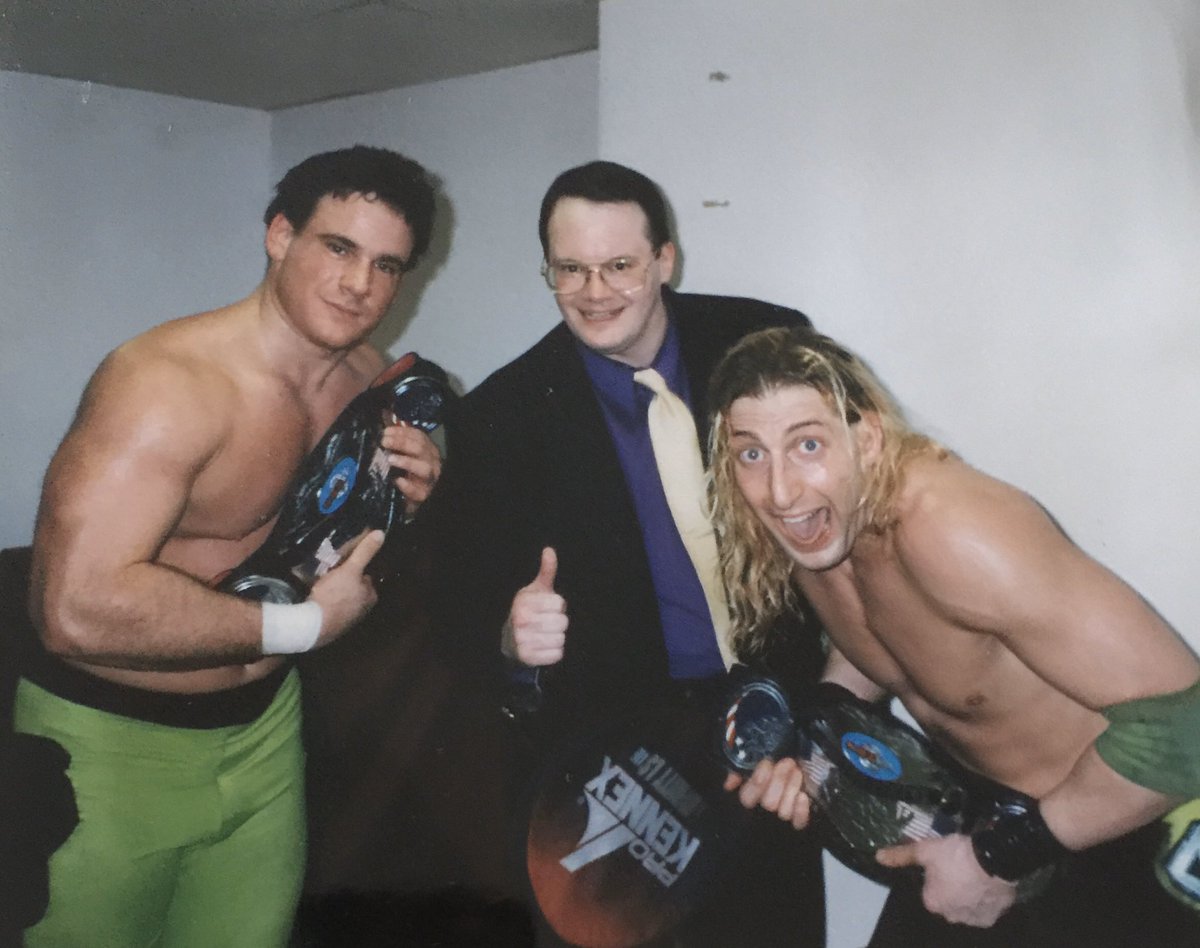 Banana-beaked Devon Storm ended up having a semi-serviceable non-WWE career, but Darling probably peaked in the indies.
DEVON STORM vs. ACE DARLING:
(WWF RAW, 7/28/97)
* OH MY GOD YES!!! DEVON STORM vs. ACE DARLING and it makes WWF RAW! All to pretend the Light Heayvweight division has more than a couple of guys in it! 1997 wrestling, everybody! This is epic if you follow the Apter Mags of the time, because these two dorks were in every damn issue as they were all over the East Coast indie scene with their generic-ass names and skinny white-boy physiques. For those of you too young to remember, the US indies used to not be short guys with trunks & kickpads doing New Japan & Dragon Gate spots, but skinny guys in long tights with goofy names with a lot of "Ace" and "Steel" in them who wrestled like heavyweights but with like, maybe a moonsault added in. Like they were more Rockers-inspired. Storm actually did well in WCW as "Crowbar" but never got above the "Impact" level. Darling has dark hair and black & silver tights, and Storm has bleach blond hair and neon green tights.
We're off to "Indie Dork 101" immediately as Storm hits European uppercuts and 1-2-3 Kid kicks in the corner, but Darling lands on his feet from a monkey flip and cross-bodies him out of the corner. He gets a rollup for two but puts his head down- he ranas Devon out of a powerbomb attempt but Devon rolls through for THE PIN at (0:50). Ahahahahah- what the hell was that? FIFTY SECONDS? They hadn't even gotten started! Someone in the YouTube comments said this was cut short because Bret Hart's famous "enema" promo from earlier went long. Well I declare that to be true, because that's an all-timer promo and it makes this much funnier.
Rating: DUD (not even a match- just a bit of counter-wrestling and a pin!)