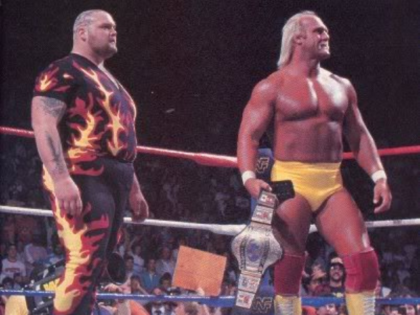 Bam Bam Bigelow had a LOT of potentially huge runs in him, but something about him rubbed a ton of high-level people in wrestling the wrong way.
Welcome back to more Dream Matches! This week I've found two bouts from a Madison Square Garden card before the Hogan/Andre match for the Title, as Hogan teams up with his newest buddy, Bam Bam Bigelow, against Ted DiBiase and VIRGIL in a rare in-ring appearance for the Million Dollar Man's bodyguard! Come watch a tour de force of heel selling by DiBiase, and just how jacked Virgil was in 1988. Following that it's "The Rock"… Don Muraco vs. The One Man Gang in a match that looks more like the Gang was angling for another push.
Then it's a bizarre request, as it's the Battle of the Forgotten 1992 JTTS Gimmicks, as "Terrific" Terry Taylor and Lance Cassidy (Steve Armstrong in a cowboy gimmick) battle it out and kill time in epic fashion! Then it's more of the Best of Well Dunn, as they actually make the spring of 1995, taking on the brand-new Blu Twins, Jacob & Eli!
HULK HOGAN & BAM BAM BIGELOW (w/ Oliver Humperdink) vs. "THE MILLION DOLLAR MAN" TED DIBIASE & VIRGIL (w/ Andre the Giant):
(WWF in MSG, Jan. 1988)
* The Million Dollar Corporation EXPLODES as DiBiase & Bam Bam face each other… four years before BBB became part of one of the worst stables of all time. Here, Bigelow is still a top-ranked "Hogan Buddy" before his own attitude and politics would jettison the thousands of $$$ he'd have made betraying his pal later in the year, and Hogan is still World Champion. At this point, Virgil was only barely trained and only occasionally wrestled on TV- here he's in long red tights and HOLY SHIT was he jacked in 1988. Like he maybe has the best physique in the company.
DiBiase & Virgil immediately start raining boots down on the faces as they hit the ring, but Hogan & Bam Bam fight back to a huge reaction and double-Big Boot DiBiase so Hogan can tear his shirt over Ted's beaten body with picture-perfect timing. DiBiase immediately begs off like a good heel, but gets bashed into three turnbuckles and then Bammer's head, faceplanting on the bump and getting his face rubbed in the mat. Ted bumps like crazy for Bam Bam's strikes, flipping backwards onto his belly- AX BOMBER from Hogan! Fistdrop sets up ANOTHER ass-kicking for Ted, who then eats a backdrop suplex & elbowdrops while Hogan punches Virgil and taunts Andre- sure enough, Hogan hits a Popeye-style wind-up punch but gets tripped up by Andre and Ted leaps onto him despite taking four minutes of punishment.
DiBiase & Virgil trade off, beating Hogan down while Andre adds headbutts and choking from the floor, Virgil keeping his offense simple with clubbing blows. The heels stay on Hogan for ages, with his trademark great selling of death and Ted dropping those beautiful fistdrops for two. Then it's the 1-minute chinlock into a fight-up and double-clothesline- hot tag! People on the hard cam leap to their feet as Bam Bam easily destroys Virgil and hits a press-slam, then dodges Ted's elbow so Virgil takes it! Immediately Hogan cheats with a Running Legdrop and then aids Bam Bam's splash for the three, scoring the win at (11:05)! Andre immediately bolts into the ring and destroys the babyfaces with headbutts- Hogan takes a beating on the floor, but it distracts Andre- Bigelow with a dropkick to Andre's back as the crowd ROARS. The heels are fought off and Hogan tosses chairs into the ring, leading the faces to sit tauntingly while Andre has to be held back by Ted & Virgil. Tremendous ending!
The match itself was fine- the same old tag formula always seen, right to the chinlock/fight-up/double-clothesline/hot-tag, but Hulk & DiBiase were tremendous in their roles- Ted bumped so much it's no wonder his neck was destroyed only four years later. The heels did some good cheating (every Andre shot is like 10 of any other man's, so he's a great "floor cheater") and even the limited Virgil was kept doing things he could do, and he bumped great for Bigelow's offense, splatting on the mat and shooting his arms out in shock. Still slow in parts (the long heel beat-down and the chinlock) but it had a real finish! Smart fans often bash Hogan's cheating but I'd imagine as a fan you'd LOVE to see the heels get their comeuppance with dirty stuff like this, especially as most babyfaces fell for that schtick by contrast.
Rating: **1/2 (classic formula bout with a great heel bumper)
THE ONE MAN GANG (w/ The Doctor of Style- Slick) vs. "THE ROCK" DON MURACO (w/ "Superstar" Billy Graham):
* A fascinating one here, with Muraco in the dying days of his WWF run, wearing blue trunks and wrestling as a BABYFACE (a role he hated), with a washed-up, cane-toting Billy Graham in a tie-dye shirt backing him up. Heenan completely craps all over Graham, suggesting that other managers worked HARD for their manager's license, while this guy "with a busted hip, who should be sitting in a convalescent home eating dinner through a star" comes in and begs as a "charity case". Oh Bobby, how right you'd end up being…
They start hot, with Muraco easily countering Gang and bouncing him around with punches as OMG is definitely angling for a push here. Ya don't see a lot of 400-pounders doing backward rolls off of basic moves against rapidly-fading midcarders, y'know? Muraco works the leg for AGES, which Gang sells well but it goes way long- after literally FIVE MINUTES of this, Gang finally scores a punch out of the corner and beats up Don, making sure to hold himself up on the ropes because of that leg. Muraco fires back after a bit of that and Gang takes a front bump into the corner and Muraco holds a sleeper that Bobby rightly calls a choke- Slick hits the apron to protest and Graham takes him down, but this leads to a huge distraction for Butch Reed to come in and wipe Don out with Slick's cane. Gang simply falls back, barely conscious, for the pin at (8:28). Reed continues the assault, beating Graham's ass and Gang hits the 747 Splash on that P.O.S. for good measure. Muraco trips up Gang and lays out Reed with the cane to get revenge as MSG goes nuts, still technically giving them a positive here.
Actually a bit of a showcase for Gang's selling abilities, as he not only wails in 5 minutes of leg stuff (even collapsing under his own weight when he stands), but maintains that even while on offense, but the match itself was just basic holds and punching. Good old-fashioned heel cheating carries the day in the end, though this doesn't exactly make Gang look strong. He'd be repackaged in short order.
Rating: *3/4 (good selling by the Gang, but a terribly simple match)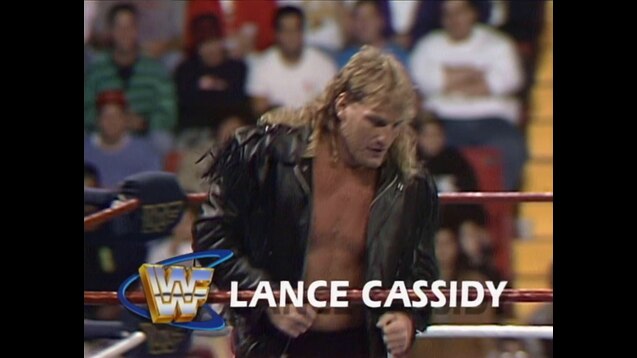 I watched all the wrestling I could find in 1992 and I'm always like "wut?" when I read about this guy.
LANCE CASSIDY vs. "TERRIFIC" TERRY TAYLOR:
(WWF Prime Time, Nov. 19th 1992)
* Okay now this is a bizarre one. I watched every bit of WWF I could get my hands on in 1992-95, remembering even guys like Phantasio, but I have ZERO recollection of Lance Cassidy ever being a thing. He's WCW's Steve Armstrong with a long feathery blond mullet acting like a cowboy-ish dude with a leather fringed jacket. And there's Terry Taylor! Him I vaguely remember- red trunks and a bad attitude, but no actual push and he didn't last long. Lance has absolutely zero upper body definition- even in the post-roids era, that'll kill him.
They do some very simple armdrags and elbows out of wristlocks as this is ridiculously basic, to the point where Terry whines about the elbows and gets caught in more armdrags & armlocks- and you quickly get the purpose of the match, as Monsoon & Lord Alfred do nothing but talk about the current angles of the day as this goes LONG and the crowd is utterly dead for the entirety of it. Lance bridges out of a hammerlock takedown and works the arm, hanging on after a slam attempt, but he ends up going into the post as something FINALLY happens, but Terry just holds a Fujiwara-esque armbar and dumps Lance when he fights back as a fan yawns on the hard cam. Lance sunset flips in, but takes a clothesline for two and Terry GOES BACK TO THE ARM OH MY GOD.
Lance does a leap into a sex pin for two, but Terry stays on the arm as the crowd starts getting noticeably annoyed at this. Lance scores some flash-pins and forearms as Monsoon talks about him being a second-generation wrestler but obviously can't mention "Bullet" Bob because of the name difference. Lance with an atomic drop & shoulderblock with a lax cover Monsoon & Hayes are all in on mocking, and a flying cross-body is rolled through then re-rolled for two- Terry's foot's on the ropes. They do a criss-cross and Lance puts his head down and gets caught in the Gutwrench Ligerbomb (Terry's finisher)… but time expires at (9:28)! Oh my god they ran THAT FINISH? And left poor Lance looking like a goober about to be pinned? Just terrible. Terry celebrates, but gets dropkicked to the floor.
Yeah, this was awful… I'd love to diss on these two medium-talents who never made it, but they were probably told to dog it for commentary reasons, and that finish does very few wrestlers any favors, but these guys were doing noticeable bullshit and killing time for ages. Endless armwork was lazy and crowd-killing- they'd have been much better off starting it with a brawl, then maybe bailing to the floor instead of doing WCW Power Plant garbage for 9 minutes until the end. Even some of the moves were poorly done- like the awkward roll-through on the cross-body.
Rating: 1/2* (adequately-wrestled scientific stuff at points but dreadfully dull)
The Harris Twins: Possibly the worst wrestlers with the longest run.
THE BLU TWINS (Eli & Jacob Blu, w/ Uncle Zebekiah) vs. WELL DUNN (Timothy Well & Steven Dunn, w/ Harvey Wippleman)
(March 18th 1995)
* Man, what fresh hell is THIS? Bottom-tier jobber duo Well Dunn and the BLU TWINS? So few heel vs. heel matchups in WWF history and one of them is THIS? And… wait, Well Dunn lasted a year and a half? From late 1993 to early 1995? That seems wrong somehow. They're in matching black singlets with blue, plus yellow thongs over them. The Blus are in light brown and are new to the company. The fans are absolutely SILENT for this one, totally disrespecting the raw talent and credible acts put in front of them this night.
Well takes a boot from a Blu, but dropkicks him into Dunn's arms and hits a running leg lariat in the corner (!), but the Blu simply ignores selling and comes back on Dunn until Dunn tries a flash-pin (slickly going from a crucifix to sunset flip when he can't hook the other arm) but just gets punched. Dunn dodges an elbowdrop and comes back, but the other twin attacks him and he gets clobbered from behind going after him. Double big boot puts him down and then a Blu just casually pounds away after that big move (part of why they sucked), but Dunn arbitrarily starts punching his way out of it until he gets nailed by the other twin from behind again. The crowd could absolutely not care any less as generic slugging away takes place while Vince announces that the Blus are being fed to the Allied Powers at WrestleMania, and Dunn finally catches a twin with his head down to make an ice-cold tag to Dunn, who just walks in and gets his move ducked immediately- a spinebuster into a jumping kneedrop finishes him at (3:47). My friend at the time thought one of these guys was the Berzerker, and that Brody-esque finishing move could almost keep that illusion going.
Dreadful match with no heat, as the Blus had no real rhythm to them- they'd hit a big move (the double-boot) and then just throw random punches and boots, wandering around and wrecking the heat from that move. Well Dunn had no babyface energy (I mean, their manager is HARVEY WIPPLEMAN) so all their comebacks were just punches and no gesturing to the crowd or anything, so it'd just look like one guy randomly quit selling and fought back. Then Well comes in off a tag and immediately eats the finisher.
Rating: 1/2* (hot take: The Harris Twins suuuuuuuuuuuuuucked)