What '80s jobbers see every time they close their eyes.
Hey look! I'm back with more horrific squashes! I was intending last week's thing to be a one-off as I couldn't otherwise think of what to do with those bouts (they're hardly Dream Matches), but people noted a whole ton more! So here we are with Volume 2!
This week: The Legion of Doom rapidly tire of a fat jobber's inability to take a clothesline right! Rick Rude in a famous bout where he works REALLY tight with poor Mark Starr! The Moondogs have way too much fun abusing the job guys of Memphis, Tennessee! Oh, and the time the Beverly Brothers absolutely murdered a poor bastard with the Shaker Heights Spike. We end with Paul Orndorff absolutely slaughtering a jobber in a way that looks more vicious than it actually was, then hits one of the greatest delusional heel promos in history immediately following it!
THE ROAD WARRIORS (Hawk & Animal, w/ "Precious" Paul Ellering) vs. RON ROSSI & GEORGE SOUTH:
(NWA World Wide Wrestling, June 22nd 1985)
* From way, way back, comes the early days of the Road Warriors, when they were in plain black tights and had more colorful facepaint. Hawk says "we don't got nothin' but rippling muscle, with which we are going to tear the Russians apart" which is a tremendous combination of "English Major" and "uneducated moron" grammar. Animal just screams "WE HATE RUSSIANS!". They're actually mentioned as being the AWA Tag Champs despite this being an NWA show. And now it's time to destroy some jobbers. Both have amazing jobber looks- South's pasty and hairy with a curly 1985 mullet and 'stache, while Rossi's just a big chubby guy. Both are in black trunks.
The LOD charge the ring immediately and toss the jobbers, then drag South in for a beating- press slam & legdrop from Hawk, double-shoulderblock, then a powerslam from Animal hits, then Hawk adds a vertical suplex and tosses him over to South. South tries a slam and gets hammered, but utterly screws up running into Animal for a clothesline, instead just falling back and flopping like a fish. Animal tries it again and now Rossi ROLLS under him and against the ropes… so Animal just walks up to him and punches him straight in the face. Rossi seems to comprehend the intention and Animal hauls him down, Hawk gets tagged in… and just walks over and drops the fist for the pin (2:24).
Rating: 1/4* (even by squash standards, it's bad- South can take a beating, but Rossi takes one bad bump, then one REALLY bad one that nearly exposes the business, then just gets shoot-punched and a basic fistdrop ends it)
"RAVISHING" RICK RUDE vs. MARK STARR:
(WCW Saturday Night, 1991?)
* "Short-haired WCW Rude" is maybe my biggest blind spot as a fan of US wrestling because I ain't seen shit. Starr is in pretty good shape for a jobber, but is way too small. He's in yellow trunks and has one of the '90s permed mullets, while Rude's jacked to shreds and in bright-ass tights.
Rude gets his foot caught, but blocks Starr's punch and beats him down. Short-arm clotheslines buffet him, but Rude lets Starr throw punches (clearly open-hand slaps), which are no-sold and a single one cracks him down again. Oh man, Rude just tears into him with overhands and loud "slapping" punches, looking absolutely vicious as he does so, calling out Vader the whole time. A STIFF boot to the chest finds its mark, too. Piledriver, boxing jabs, belly-to-belly, bearhug and the Rude Awakening (drop neckbreaker) finishes at (3:48). The "crotch over the face" pin makes Thirsty Gay YouTube super-excited in the comments of this video, you betcha. This one's tough to assess, as if Rude was hitting him with full power and closed fists, Starr would be in MUCH worse shape, but some of those shots were stiff as hell, especially that kick. Rude was clearly just using the flat of his hand, but he was plenty strong enough to make that hurt. This is probably just to make him look awesome and tough in the wake of a future Vader match, not him giving a "receipt" for those slaps like some suggest, especially as he lightens up as the match goes, hitting normal-looking moves later.
Rating: 1/2* (just extermination with some vicious brawling, making Rude look like a shitkicker)
THE MOONDOGS (Moondog Spot & Rex, w/ Richard Lee) vs. RICKY HUTCHINS & DAZZLER HAYES:
(USWA)
* The Moondogs are another team I missed out on entirely, but are guys doing mountain-man hillbilly gimmicks, complete with blue jeans, pot-bellies, and gigantic beards and hair. It's a good, classic indie gimmick, though they hit the WWF for a while. Hayes is in trunks and Hutchins is in long tights, looking all of 16 years old.
The Moondogs dive in on the jobbers immediately, beating their asses with overhand shots. Hayes hits the floor, leading to Hutchins eating Demolition Decapitation (a punch off Bret's Rope to the guy in a backbreaker position) at (0:41). The Moondogs continue the assault on the floor, dumping the jobbers, slamming both on a nearby table, and waffling Hutchins with chairshots. Hayes gets the table lightly tipped on him, but eats a chair to the back- well, at least the Moondogs are hitting them in safe spots (oop- there goes one to Dazzler's head). Just a good old-fashioned ass-kicking, which is pretty great because the Moondogs won in seconds but continued the assault above and beyond the call of duty because there was just too much fun in kicking ass.
Rating: DUD (it wasn't even a match- just a beating and a finisher- but it'd be higher for the post-match stuff)
THE MOONDOGS (Moondog Spot & Rex, w/ Richard Lee) vs. CHRIS FRASIER & BRIAN COLLINS:
(USWA)
* Another one! Frasier is in pretty good shape but is way too small (red tights, mustache) and Collins has pretty big arms but no definition (yellow undies over white tights).
And the jobbers just get beaten up and Decapitation finishes Collins at (0:24). The Moondogs then pull the LONG table into the ring like crazy people. Collins is slammed on it and chairshots abound, then guys are squished under the table and the commentators and officials just look SO aggrieved and disappointment in this, lol. Hey, if God loved those guys he wouldn't have made them jobbers.
A slow-mo look from another angle pic.twitter.com/RXQ2BngDqt

— Meng's Mullet (@MengsMullet) February 17, 2021
THE BEVERLY BROTHERS (Beau & Blake, w/ The Genius) vs. PETE CHRISTIE & BOB EAST:
(WWF Superstars, 05/01/1993)
* I can only get the last 19 seconds of this one, but all we miss is a minute of action. Christie's a generic-looking jobber in a Steiner-esque singlet, appropriately enough as the Beverlies are set to face the Steiners at the Rumble.
Christie gets launched onto the top rope by Blake, who tags in Beau and they ANNIHILATE Christie with the Shaker Heights Spike (assisted mat slam). Christie goes down vertically, landing on the back of his neck while his head crunches into his chest, folding forwards as the entire crowd goes "OH!!!" and Vince & Savage grimace on commentary (Vince probably having Chuck Austin flashbacks). That's an easy pin at (0:19 of 1:16 I can see). Beau doesn't seem to say anything, just rolling Christie onto his back, stuffing his hand over Christie's face and twisting it to the side (something not known to be of assistance in major neck injuries) on the pin. Some vicious middle-aged lady is seen clapping on the hard cam over this, lol.
Okay, so an autopsy of a man's death: Blake tossed him WAY too high in the air- the guy was sailing three feet over the heads of either guy, meaning when Beau had to "catch" him (ie. grab him by the head) there was so way to go but vertically down, as he was way too high up and the momentum was too far- if Beau hadn't have grabbed him, he'd have propelled to the ropes. Looking at it, the guy doesn't really jump all that much (his arms are bent when he places them on Blake's shoulders to better "base" for the toss, and don't straighten) so Blake just tossed him to high. Beau certainly didn't need to grab him THAT hard but in the heat of the moment, I can get it. But it's just not a very safe move in general- there's a reason guys don't use that any more. The Genius says in his podcast that they hurt a ton of jobbers with it and "it pissed me off" and that he wouldn't have taken it ("that's not a move- it's a disaster waiting to happen"), cuz they only did it to job guys and not big stars because they didn't want to hurt THOSE dudes and… okay it sounds like he's just putting himself and his own morality over, but that's wrestling for you.
The jobber himself doesn't appear on Cagematch for another several years, but has this 1999-2008 run of a few matches a year that's weird- it's possible they got the wrong guy or he just returned to the business or they're just missing matches or whatever. He'd wrestled Razor Ramon on this same taping, meaning he took the Razor's Edge AND the Shaker Heights Spike in one day, too. Jeez.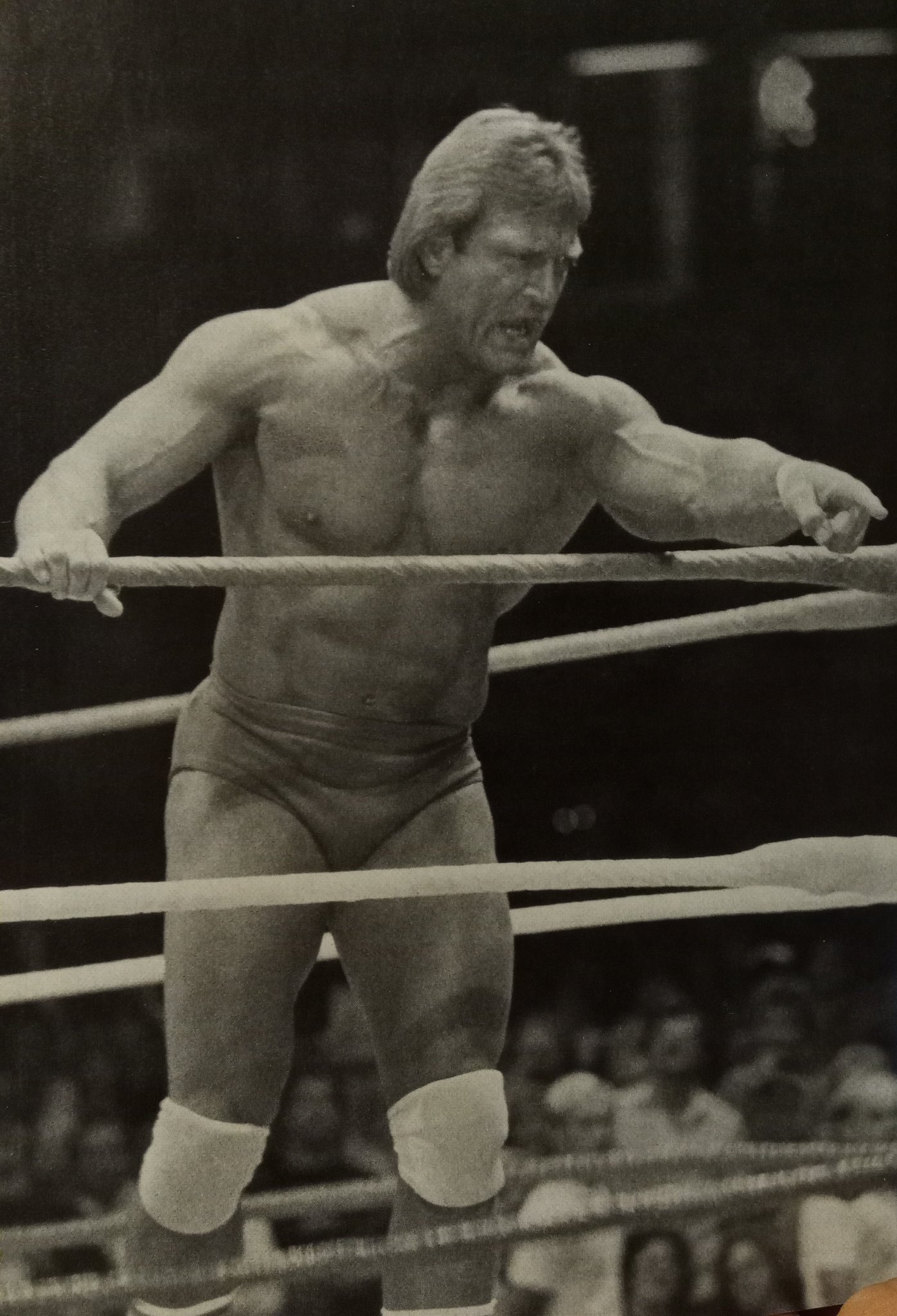 Orndorff reacting to "Paula" chants.
PAUL ORNDORFF vs. RUDY DIAMOND:
(WWF TV, May 1984)
* Oh man I've been wanting to review this one for ages but it wasn't a "Dream Match", haha. It also isn't really a guy being stiff- Paul was apparently FAMOUSLY safe, because he was so damn strong and equally skilled there was no chance he was gonna screw up and kill you. Paul comes down to the ring yelling at fans for calling him "Paula"- he attempts to laugh it off ("Do I look like a Paula?") but starts getting agitated once he hits the ring, DEMANDING the referee do something about it, and this of course cues the fans into a massive "Paula!" chant because the guy's a pro. Rudy Diamond, a barefoot black dude with a good physique in blue trunks, claps along and seems to be enjoying himself.
They're in the ring and Paul attempts to recover and laugh it off again, but he gets himself worked up and snaps, letting them know he REALLY hates it, stomping and fussing. This sends Rudy to the back, where he returns with a "PAULA" t-shirt on! Orndorff completely loses it, DEMANDING the ref get him to take it off, as Rudy heads to the floor and Paul just spazzes out. Everyone's having a good time, but with a "You think that's funny, huh?", Paul whips off his rope, hauls ass to the floor, and grabs Rudy's foot as he tries to get in the ring. This shifts gears into Rudy realizing just how much danger he's actually in, as he desperately tries to run but Paul's all over him. He hits the floor but gets rolled back in and Paul throws some shots and adds a backdrop suplex, rips his head off with a clothesline, and hits the mother of all Piledrivers, each move leavy Rudy twitching his ass and legs off the mat repeatedly. "You think that's funny, huh?" Paul threatens the crowd, then he rips the shirt off Rudy's convulsing dead body. Then he picks him up and DOES IT AGAIN, pinning him at (1:23) of an absolute slaughter.
Rating: 1/2* (spectacular squash- only a few moves but Rudy Diamond looks DEAD)
Then we get the master-stroke, as Mean Gene interviews him, refusing to be cowed into submission: "I have never seen anybody treat a man the way you did!". But Paul is apoplectic, eyes bulging out of his head while he brandishes the shredded t-shirt. "I HATE THIS! This is an insult! People callin' me PAULA! Two hundred and sixty-two pounds, and they wanna call me that?! People are gonna PAY! Just like he did!". He actually starts swearing, the video bleeping out "damn" and "ass kicked" while Gene tells him to watch his language ("I'll say anything I want to" "You will NOT!"), then adds "I hope I broke his neck! I MEANT to break his neck!" like an absolute maniac. "Where do you get off- consecutively piledriving a man two times? That is inhumane!" "Well where did he get off- wearin' something like this? Embarrass me in front of my people!". Now completely delusional, he says "that's why I had to hurt 'im! I hope he's HURT! I hope he NEVER steps into the ring again!".
This leaves the fans with a few important notions:
1) That calling Paul Orndorff "Paula" is hilarious because it provokes him into a giant reaction, so you should buy tickets RIGHT NOW to your local shows so you can call him "Paula!" in person because it bothers him so much.
2) That Paul Orndorff is delusional and crazy. He legitimately thinks that people love him.
3) That Paul Orndorff is a complete psychopath and is a tremendous danger to all your favorite babyfaces, because he's a complete sadist who can and will cause lethal damage with that Piledriver of his.