Bret Hart vs. The Berzerker (and other Dream Matches!)
By Jabroniville on 28th December 2022
Welcome back to more Dream Matches! This time I have a bunch off stuff, led off by Bret Hart vs. The Berzerker for the WWF Title! After that, it's a request for the Motor City Machine Guns (Sabin & Shelley) vs. Finn Balor & Ryusuke Taguchi for the IWGP Jr. Tag Titles in New Japan! I also check the Funk/Hansen feud again, as it's Terry & Dory Funk vs. Stan Hansen & Bruiser Brody! And the best of Well Dunn continues, as they get a shot at the WWF Tag Team Titles, as they face Fatu & Samu- the Headshrinkers!
WWF WORLD HEAVYWEIGHT TITLE:
BRET "HITMAN" HART vs. THE BERZERKER (w/ Mr. Fuji):
(WWF Wrestling Challenge, Nov. 1992)
* Bret Hart defends his newly-won WWF Title against the Berzerker in Regina, Saskatchewan, proving himself to be the "Fightingest Champion in WWF History", as his M.O. at the time was to build credibility and respect by a constant stream of TV wins over the entire lower and midcard. As he had recently been just an IC-tier guy, it was pretty brilliant, especially as a key component of his act was being a more "human" guy in a world of cartoons, and his best aspect was his in-ring skill vs. his promos- this could then be shown off more often.
The Berzerker keeps using the hair to haul Bret down as Monsoon puts over his unorthodox style and Mr. Fuji's cheating ways, and Bret goes to the arm… but then grabs a handful of hair himself and whips Berzerker backwards over the ropes! Haha, I love how Bret would fight dirty when fighting heels. Berzerker freaks out, throwing phantom punches, but manages a few shots here and there catching the Hitman, and hits a very delayed piledriver, but he takes way too long on a big kneedrop and misses! Bret immediately pounces into the Moves of Doom- inverted atomic drop, clothesline & Russian legsweep get two, and he hits the backbreaker & Sharpshooter for the win (4:31). Bret makes VERY short work of his giant opponent.
Very much the "Bret Template", but a very short match that's more or less Bret succeeding, then taking a couple moves, then launching into his finish- like 1/4 of the match was spent with one guy on the floor (Bret giving away the sunglasses, and Berzerker punching away at nothing). But this was the way you built up a champion, even if it looks kinda weird seeing Bret hitting a backbreaker (usually a power move) on such a huge guy, and easily putting him away with the Sharpshooter.
Rating: ** (ultra-short template match, but Bret's stuff always looks good)
I feel like the Headshrinkers are one of those teams that benefit greatly from hindsight- I remember thinking they sucked, and remember that being a common opinion. But "Brutal, fast hoss wrestling" has aged VERY well compared to most 1990s styles.
WWF TAG TEAM TITLES:
THE HEADSHRINKERS (Fatu & Samu, w/ Captain Louis Albano & Afa) vs. WELL DUNN (Timothy Well & Steven Dunn, w/ Harvey Wippleman):
(WWF Wrestling Challenge, July 17th 1994)
* Yes, WELL DUNN have earned themselves a Tag Title shot! They're in black whole singlets with purple thongs, while the Headshrinkers are going through their babyface phase, before Samu was phased out for Sionne.
Well Dunn attack the champs from behind to start, but get whipped into each other and bowled down- Fatu no-sells a DDT from Dunn and sends him into the corner, where Well hesitates to tag in. He manages his cheapshot (throwing a punch over the ref breaking in the corner), but runs into a clothesline, gutwrench suplex & headbutt for two. Well Dunn get their corner double-team (hairpull into Well's roundhouse kick over the top) on Fatu, and Well hits his flying back elbow for two. Fatu scores a double-clothesline after a duck-under and Samu cleans house- he smashes Well Dunn's heads together & Fatu sends Well over the top with a crescent kick, then it's the double-front Russian legsweep into Fatu's Flying Splash for the win at (5:10).
A pretty handy win for the Headshrinkers- Fatu gets to sell a bit but it's from good stuff, Well Dunn cramming all their offense in on him and keeping him guessing so it's not like he's being jobbed out. But it's a very easy quick tag and from there they make short work of the JTTS duo, hitting their two big moves to win.
Rating: ** (your everyday inoffensive tag bout)
REAL WORLD TAG LEAGUE:
TERRY FUNK & DORY FUNK JR. vs. STAN HANSEN & BRUISER BRODY:
(All Japan, April 20th 1983)
* The bloodbath for poor Terry from a bit before this is payed off with a tag match, Funk bringing his brother (who defended poor Terry against Stan's post-match assault) and the insane Bruiser Brody- the crowd is way into shouting "Huss! Huss!" along with him. This is part of their Tag League round robin.
Terry gets absolutely ganked by Stan before the match starts and elbowdropped, leading right to Brody's running legdrop. Stan comes in with the angriest look on his face and just brawls away, but the Funks clock him. Stan's bewildered "ah, what the hell?!" selling is so great- ironically, it's so important for monster heels to sell well. It gives credence to their entire act. Dory throws European uppercuts until Stan punches back from his knees and takes the lead again- bearhugs, Stan's backdrop suplex & Brody's backbreaker wear Dory down, and Stan hits an abdominal stretch of all things. Brody comes off with a flying axehandle and they slowly work him over. Dory manages a backdrop of his own, but gets cut off & Brody hits a running boot and dropkick, but Dory kicks out and immediately tags Terry, who comes in full of heat and throws his jabs at the big guys and works Brody's leg. Dory tears off Brody's BOOT and Terry goes mad with it, smashing Brody's leg and knocking Stan into next week and smashing him into the chairs on the floor.
But Terry spends too much time taunting Stan and eats Brody's knee to the spine aaaaaaaaaaaand now a furious Stan Hansen is in the ring after him. Terry gets the shit beat out of him (Stan punching him in the gut every time he covers up his forehead to open the guard). The brutes lay on the punishment while Terry does this great stiff-bodied stumble around, as if he's girding himself for a comeback, but Stan finally ends another flurry with a spike piledriver! Dory's finally had enough and just tosses the ref out of his way and throws Eurocutts to everyone, but again Stan re-enters the ring and flattens him- Brody adds a kneedrop off the second rope and Stan gears up the Lariat, but Terry hauls him to the ground as the crowd FREAKS. They fight to the floor and get covered in streamers and the ref calls it a Count-Out or DQ at (13:54). Yup, another bad finish. Too bad- the match was seriously gearing up there. Terry is infuriated at being unable to kick Stan's ass anymore and has to be calmed down.
Really took a while to get going, as they were just leisurely going through everything and doing basics for about ten minutes. It really got good by the end, though, about as soon as Dory ripped off Brody's boot and Terry started flinging it around like a man with murder on his mind. But then he still gets decked, and we get more of Terry's great wobbly selling and punch flurries making you want to see him score the comeback, but big mean Stan just running in and halting his progression. But sadly it was only the last few minutes that were excellent- it was gearing up to a **** match until Terry stopped the Lariat and the non-finish happened- another couple minutes of false finishes and they'd have had it.
Rating: ***1/2 (these matches are frustrating because they're going for "drive the fans into a frenzy then do a non-finish" over "Let's get a great star rating", haha)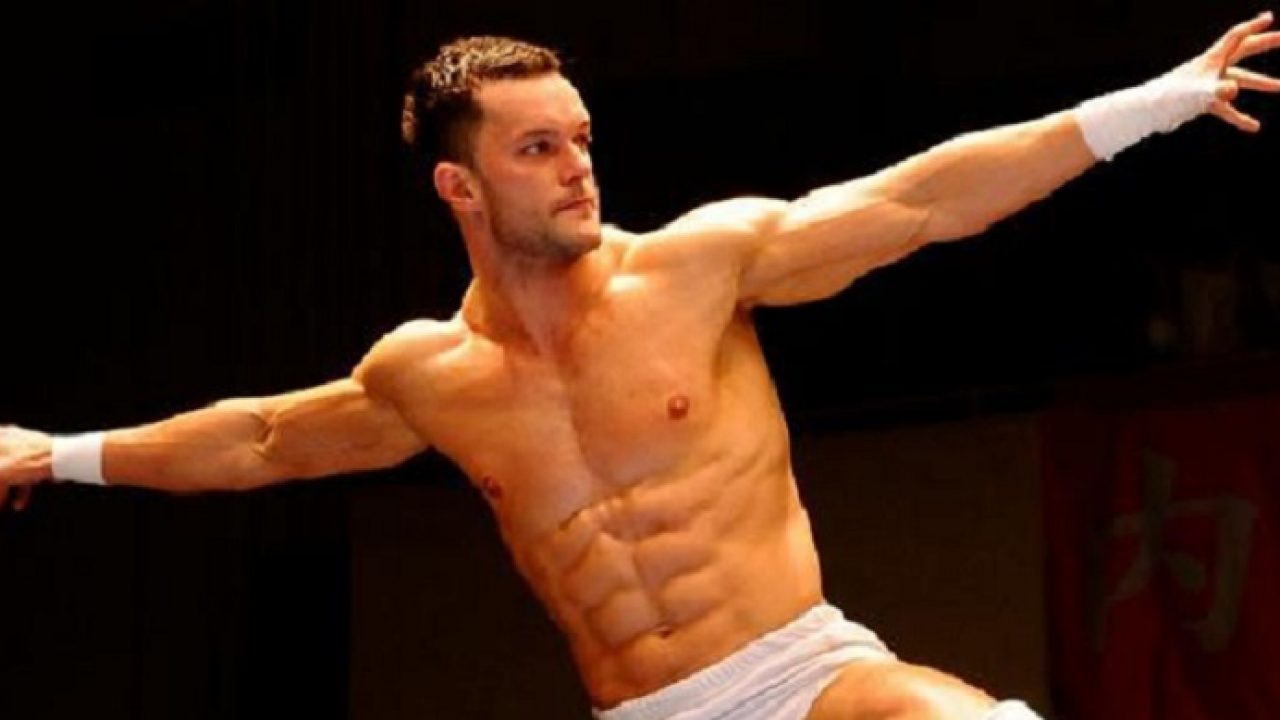 … His stomach makes me feel funny.
IWGP JUNIOR HEAVYWEIGHT TAG TITLES:
APOLLO 55 (Prince Devitt & Ryusuke Taguchi) vs. THE MOTOR CITY MACHINE GUNS (Alex Shelley & Chris Sabin)
(New Japan Circuit 2009, Feb. 14th 2009)
* Here's a request, which took me a bit to find (I had no idea who the MCMGs were offhand so I was confused why only this was popping up in my YouTube search). It's a New Japan match between the Jr. Tag champs and a team that's mostly known for their TNA work. I've never seen Shelley or Taguchi before, and haven't seen Sabin since the early days of TNA on Spike, and this'll be my second Devitt match (he's Finn Balor now). … what? I WAS OUT OF WRESTLING FOR YEARS, YOU DINKS! I missed a ton of stuff!
Everyone's in black with neon green in this, which is super-annoying on my YouTube viewscreen and makes it look like a D-X reunion special. Shelley has the shorter hair, and Sabin the soccer mom/Karen swooping bang- both are in long shorts. Devitt is in trunks and absolutely does not threaten my heterosexuality in any way, and abs that I totally don't want to massage with oil, and Taguchi stands out the most, being Japanese and having big curly hair and long pants. Oh man those belts are so itty-bitty, lol.
They trade off and do some solid bits, then Devitt dumps Sabin and surprises him with a great Tope Con Hilo. He then puts Shelley on his shoulders out there and Taguchi runs in for a slingshot crossbody to the floor! They slow it down on Shelley and hit double-teams, but intersperse each cool move with a LOT of resting. Sabin runs in and thrust kicks Taguchi so Shelley can DDT him and Flatline Devitt at the same time (after somehow "catching" him flying off the top) while Sabin enzuigiris Devitt. Taguchi gets double-teamed in very slow manner (though there's a great rolling neckbreaker/dropkick to the face)- his selling sucks, though- Ricky Morton he ain't; he's just lying there. They work more heel schtick but he finally escapes- Devitt hits flashy kicks and finds two inventive ways of slamming one onto the other (like his "Prince's Throne" double-knee gutbuster while landing on the other guy) for two on Sabin, but gets caught and is double-teamed.
Taguchi then reflects Devitt's "dump a guy then dive onto him" spot, but they put him on a table, but Devitt FLIES onto both of them, knocking them all off! Holy CRAP that looked dangerous! Devitt beaned his head RIGHT into a chair's edge on the landing, too. Everyone chats to ensure they're not dead (Devitt covers his mouth and their heads are all bobbing around right next to each other), and back in, Devitt gets a flying stomp but the MCMGs double-team both guys- brainbuster into an inverted fireman's DDT gets two on Devitt. Taguchi does multiple flash-pins for two-counts, and he keeps reversing Shelley's to the "Dodon" (chickenwing wheelbarrow slam) and other stuff. He hits a DDT/inverted DDT combo on the heels- sit-out front suplex gets two- Sabin saves and pescados Taguchi, so Shelley can reverse a thing for a crossface, but it's sold so half-heartedly it means nothing. but Devitt comes in and they make him deathlock Taguchi's legs and double-superkick him into slamming backwards on them. They're stuck like that, but sadly Sabin's springboard legdrop to both is really shitty.
Shelley hits a cool cross-legged Falcon Arrow for the only big near-fall so far. The MCMGs catch Devitt on a comeback, smoke both guys in the corner, then throw Devitt into an overhead belly-to-belly ONTO Taguchi, then do a Ligerbomb/Super Backflip Inverted DDT… for two, haha. That is so ROH. Sabin hits Devitt with the Cradle Shock (fireman's to sit-out bodyslam) assisted by a stomp as they're just playing grab-ass with all the complicated MOVEZ now. Especially since they were doing the "OMG he just kicked out WE DED" flopping around a second ago. They do a big pose and try the Ligerbomb/Shiranui thing to DEVITT this time, but Taguchi hits the Dodon on Sabin, and Devitt catches Shelley up top and does a stomp onto him while he's trying to lift himself out of the tree of woe. Double-team Dodon/Prince's Throne (their finisher) to Sabin, and a regular Dodon finishes at (23:21). Serves them right for leaving Taguchi alone for so long!
Some very cool inventive stuff in this match, though I got the sense that they pre-planned complex spots ahead of time and then went "ah, we'll do restholds and posing in between" as they kept slowing it down after a cool move for the first half. Taguchi was obviously the odd man out- the white guys probably planned the whole match together, and just went "okay so you get to be Ricky Morton" and he couldn't do as much. He got to do the cool trip/dropkick thing, for example, then some basic springboard dives, but Devitt handled most of the movement shifts. Selling was in short supply, as the major table spot hits and a couple minutes later the MCMGs are just hitting elaborate, agile double-team spots. Taguchi isn't much of a seller and Devitt mostly came off as "okay"- Shelley & Sabin were the impressive ones, doing elaborate double-teams and doing less "oh crap, time to get in position" stalling that typifies spotfest matches. Their heeling attempts in the early going eventually just led to "robo-spots" and going from ornate move to ornate move by the end, though.
It's especially funny because they TRY to sell and do the "We can't possibly go on!" thing but then it's an effortless complex tie-up into a fireman's carry, the other guy flies off with a perfect stomp to the head and lands well, then the other guy spins him around for a Michinoku driver, like… weren't they JUST SELLING? The MCMGs have some of the wildest double-teams imaginable and look impressive even now as they swing guys around, but spamming them all out like that (especially in a row) wasn't the best, as it just left guys lying around for too long. At least it bit them in the ass in the end, as they put all this focus into doing MOVEZ to Devitt and left Taguchi there to hit his things- the only extended selling this match got. Though credit where credit is due- this 2009 match looks exactly like how wrestling looks in 2022- I'm both damning and giving credit, here.
Rating: ***1/2 (a lot of impressive stuff, and the core of a ****+ match in there- I can only imagine what Meltzer gave it- but it was so stop & start at first, then just MOVEZ by the end)