Hokuto with her weird "Gas Mask/Michael Jackson" gear, fronted by Sonny Onoo, Eric Bischoff's friend and manager to all Japanese heels in WCW.
JOSHI IN WCW (1997):
* And we're back with more of WCW's Women's Division! So in early 1997, they try to make a "go" of the division, largely by having Akira Hokuto and Madusa feud, occasionally with Hokuto's ally (enemy in GAEA) KAORU getting involved, and GAEA Japan's Meiko Satomura & Sonoko Kato brought in a jobbers to the heels, and Malia Hosaka (of Japanese descent, but a Hawaiian trained in the U.S.) as a general jobber. But we also bring in Toshie Uematsu, and she gets the one WCW Title NOBODY ever remembers (as a 30-something, I learned of its existence and went "whhaaaaat?")!
Ironically WCW attempts their Women's Division around the same time joshi in Japan is about to go through INCREDIBLE disarray, but we're not quite at AJW's bankruptcy just yet. It's mostly "Madusa & Hosaka with GAEA Japan", and never improves with any homegrown talent.
Akira Hokuto has oddly become the first Champion- given how Madusa (always in her two-piece American flat outfit to show off her figure) was carried as the division's "Ace" this feels peculiar, but is likely part of why GAEA agreed to it, and it at least gives Madusa someone to chase and a credible enemy instead of Madusa winning the tournament and the fans thus not buying ANYONE against her. And the division is gone before the summer ends- shockingly, it's belts become defended in Japan!
AKIRA HOKUTO (w/ Sonny Onoo) vs. MADUSA:
(WCW Worldwide, Jan. 12th 1997)
* A Starrcade rematch on the D-show (thus, it's non-title)- Akira's in green & Madusa's in the usual.
Standard "Heel Control" to start, then Madusa bridges out and hits the hair slams for two- Madusa gets a Flair Flip into a sunset flip for two, but gets superplexed for the same. Madusa dropkicks her off the top (in an unusually safe bump for the psychotic Hokuto) and they fight to a count-out thanks to Onoo's distraction- he eats an elbow for it (2:48). Good on Onoo for being such a dweeb that he's KO'd and has to be carried away by a woman after she beats up Madusa.
Rating: 3/4* (standard nothing match with Madusa trying her best to look athletic- no finish and they don't even get a hot streak going)
KAORU, whom Tony Schiavone only begrudgingly admits could be seen as attractive.
MADUSA & MEIKO SATOMURA vs. AKIRA HOKUTO & KAORU (w/ Sonny Onoo):
(WCW Worldwide, Feb. 9th 1997)
* It's the rookie spitfire of GAEA teaming up with Madusa against GAEA's top two non-Chigusa stars. Funnily enough, Akira & KAORU goddamn HATE each other in the current GAEA angles running at this time. Hokuto is appearing in her white outfit (with green gear underneath it) and a gas mask, alongside Sonny Onoo and a mini-Hokuto mimicking her makeup. KAORU is a scowling woman in a kimono this time, with her silver outfit- Bobby Heenan immediately points out her looks, to which Tony begrudging admits she's beautiful "in her own way" (… you mean EVERY way?). Heenan also suggests Madusa (in a two-piece American flag outfit) has eyes for him. Meiko's in her usual red singlet.
The heels jump the faces immediately, and Heenan marks out for Meiko's powerful legs while Hokuto freely cheats, grabbing the hair. KAORU boots Hokuto by mistake, but immediately takes over again after kicking out of a rollup. She taunts Madusa by holding Meiko's arm out, but gets cross-bodied, only to sit on Madusa's powerbomb attempt. Madusa hits a double-clothesline and she & Meiko CLUBBER KAORU ("that's clubberin' isn't it?"- Heenan), but Sonny trips them both (missed by the camera). Madusa chases after him and leaves Meiko to get killed- KAORU's Whoopie Cushion leads to Hokuto's missile dropkick & Northern Lights suplex for the easy win (2:32). There wasn't even a bell- could Worldwide not afford it? Oddly, Madusa slides out of the ring, then does nothing when KAORU puts the boots to Meiko.
Rating: 1/2* (just a teeny abridged match with only a few moves)
Malia Hosaka's been wrestling a LONG DAMN TIME (since the 1980s!), but her only brush with stardom was as a JTTS in WCW.
MALIA HOSAKA (w/ Sonny Onoo) vs. MEIKO SATOMURA:
(WCW Worldwide, Feb. 16th 1997)
* Malia gets a solo match this time, with baby Meiko as her opponent. Malia's in a red top & black shorts (actually this just looks like a swimsuit), and is billed from Tokyo, with Onoo in tow.
Hosaka, put over as a veteran, jumps Meiko and they do a very joshi-style beginning, with a hairwhip & running hairgrab from Hosaka, but Meiko crossbodies her and hits a running knee that collapses them onto each other. A dropkick hits, but she tries her Windmill Charge and Hosaka gets a GREAT spinkick to her face. But Meiko reverses a whip and hits the windmill, screeching all the while, and hits a Frog Splash… for the win (1:13)! Big surprise from Meiko, unfortunately making Hosaka look to be a jobber pinned by a couple things.
Rating: 1/2* (fast and frenetic but almost nothing to it)
AKIRA HOKUTO & KAORU (w/ Sonny Onoo) vs. MEIKO SATOMURA & SONOKO KATO:
(WCW Worldwide, Feb. 23rd 1997)
* Hokuto & KAORU now get to take on the teenagers of GAEA. KAORU's in silver gear with a logo and Hokuto & Meiko are in their gear from last time. Kato's got the blue gear on, as usual.
The heels jump the teenagers immediately and do the joshi standards (double-teaming, Las Cachorras poses, etc.) as Heenan is impressed- "They just MAUL each other, don't they?". KAORU hits a butterfly suplex on Kato but Akira flies into her- the kids get a double dropkick but fall into the old "lure them into a flying move" as Hokuto dropkicks both to Heenan's amusement, then KAORU easily finishes with a big vertical suplex (almost a brainbuster) into the Moonsault on Meiko at (2:35). Man these are some REALLY short matches.
Rating: 1/2* (another "just a few decent moves and we go home" match)
This is the most "1980s" thing ever shown on WCW, a company OBSESSED with recapturing 1980s WWF.
WCW WOMEN'S TITLE:
AKIRA HOKUTO (w/ Sonny Onoo) vs. DEBBIE COMBS:
(WCW Nitro, March 31st 1997)
* … who the ass is Debbie Combs? She's a blonde in a full gold bodysuit that is NOT doing her any favors. She's not bad looking, but NOBODY could look good in that atrocity, much less with '80s hair. She's about 36 here and… holy cow, she dated RANDY SAVAGE for five years! She was actually scheduled to face Alundra Blayze at WrestleMania X before being replaced by Leilani Kai. Hokuto's now dressed as a geisha, waving a little fan around.
Hokuto seems to know her opponent sucks, so she just grabs a giant handful of that '80s perm and drags Debbie around by it in a manner that seems quite painful, and more or less parades around, repeatedly clapping in her usual way. Sonny even adds cheating via necking Debbie on the top rope, which Tony points out is unnecessary. Debbie ends up catching her with a pretty bad gutwrench suplex (Hokuto totally sandbags her and ends up on top on the landing), then has a chat with Hokuto and whips her around a bunch, hitting a crossbody while Mike Tenay talks about the "Mandatory Retirement Age" in Joshi (AJW, really) and how it's no longer a thing, while Heenan suggests that no Japanese woman is over 40 anyways (because they're all so hot, see). Akira finally just kicks her in the breast and hits a NASTY Bridging German for the pin at (2:32), Debbie struggling and kicking out at 3.2, then getting up at the same time Hokuto does, just selling the back like "hey ow".
Then, in a pretty awesome bit, Madusa cuts this "rocker chick" promo with Mean Gene, and Akira just divebombs her and they do a massive pullapart brawl with the GAEA girls & Debbie getting involved, and Sonny gets dragged around by the hair and has to hide behind a wildcat mascot before fleeing.
Such a miscommunicated mess, here. Hokuto dominates to start but Debbie can only barely go with her, then Debbie does a weird, awkward comeback where Hokuto looks like she's barely aware of what move she's trying so Debbie has to shoot lift her and they land funny. Then the comeback is awkward and Debbie barely sells the finish.
Rating: 1/4* (would have been better if Hokuto just flattened her with all her shit)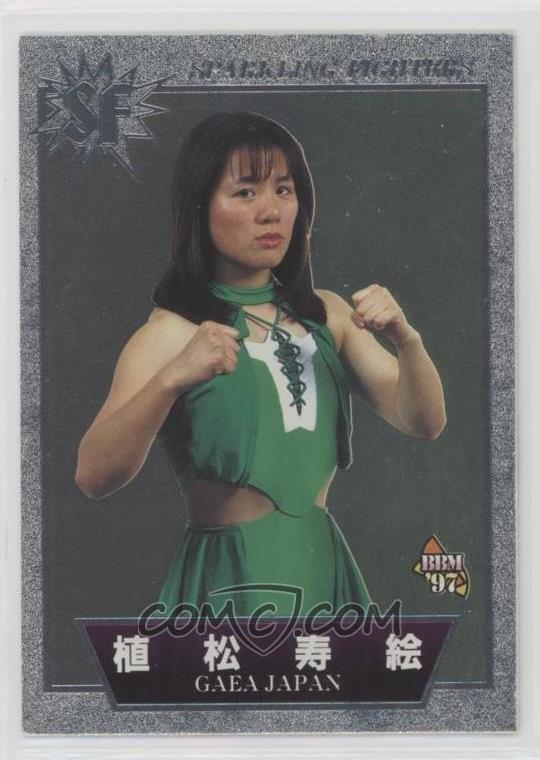 Tiny, undersized Toshie Uematsu was GAEA's most acrobatic rookie, and did great backflips off her opponents, moonsaults, etc. This made her pretty ideal for a "Cruiserweight" push in the US, which was only just starting to focus on that style.
WCW WOMEN'S CRUISERWEIGHT TITLE:
TOSHIE UEMATSU vs. MALIA HOSAKA:
(WCW Main Event via Nitro, April 19th 1997)
* Yes, WCW had a WOMEN'S CRUISERWEIGHT TITLE. And they crown it on the MAIN EVENT. Toshie at this point was in her second year and the most "Cruiserweight"-y of the rookies in GAEA, so I can see why she got this push. She's got a huge kneebrace on, and looks like a small child here. Malia defeated Sonoko Kato on her way here. Malia is now a peppy babyface, slapping hands with the fans. She's back in the sports bikini this time.
Toshie attacks to start and adds a running elbow before they just start swatting at each other. All of 112 lbs., Toshie actually has some good heel energy, driving in with elbows and snarling while she hits a bodyslam. Malia gets a sunset flip but misses a cross-body and Toshie puts the boots to her in the ropes. Toshie misses a move off Bret's rope after another scrap, and Malia gets a pretty kickass kneeling lariat for two. She tries to follow with a second-rope move of her own but ALSO misses, and Toshie points to her head to indicate intelligence, yet DOESN'T pay for it, as she finishes Malia with a Missile Dropkick at (2:57). Wild! But Toshie barely reacts to her very first Title belt, just kinda doing the "double-guns" arms-up pose until the ref makes her take the belt and she's like "Oh yeah I won this".
This one actually got a bit of energy to it, even as it looked like neither was on the same page- it helps when you do that "flaily sorta scrappy pulling & swatting" thing because that's kinda how it might look in real life. I mean, the match wasn't excellent or anything, but at least it didn't copy the cadence of every single other match in this list. They shook it up just a tad and had the tiny one play scrappy heel while Malia threw a bomb or two, and the midcommunication stuff actually enhanced it a bit.
Rating: ** (not bad for 3 minutes!)
The adorably teeny WCW Women's Cruiserweight Title.
WCW WOMEN'S TITLE:
AKIRA HOKUTO (w/ Sonny Onoo) vs. MALIA HOSAKA:
(WCW Nitro, June 9th 1997)
* Akira gets one of her final title defenses in the US, taking on Hosaka the jobber. They talk about the upcoming Title vs. Career Match against Madusa… and that one runs contrary to what a lot of fans would have guessed. Malia gets some funnily dramatic music while she excitedly slaps hands with the fans on one side of the aisle. She's in purple & black, while Akira's now in a really shiny silver/black outfit.
Akira gets the mandatory early lead, but Malia awkwardly gets a whip into a roundhouse kick & a running shove. A flying cross-body puts Akira down in a heap, but Onoo hits the apron and Malia goes after him, getting kicked in the butt and drilled with the Northern Lights Bomb at (1:42). Yeah, THEY're not getting paid by the hour! Awkward match, though, with all Malia's stuff coming off like miscommunication was going on and Akira didn't know what she was about to do… but OH GOD, she just hauls up Malia and destroys her with vertical NL Bomb, wowing the crowd! Madusa comes out for the save, hitting three German Suplexes in a row (hilariously holding the pin each time because that's the only way she knows how to do the move)!
Rating: 1/2* (even shorter than the usual bouts, but at least Akira used her real finisher)
-Dave Meltzer suggested that the cost killed the division- they kept having to fly women in from Japan to make opponents for their Champ (who was… also from Japan). Eric Bischoff mostly corroborates this- it was just too difficult to constantly fly people in from Japan, then shoot a bunch of stuff and call it a real division. So Madusa's entry into WCW comes off as total nothing- a big disappointment from her dumping the WWF Women's Belt in the trash (Bischoff has denied bringing in Madusa JUST to do that, but you know how he is).