Yes, current legend Meiko Satomura actually has WCW Nitro appearances. Wrestling is weird.
JOSHI IN WCW (1996):
* And now I take a look at a pretty weird time for WCW- that early 1997 period where they actually try to have a WOMEN'S DIVISION! This actually slips between the WWF's two big '90s attempts at it, as the "Alundra Blayze and one heel" era and "Sable and one heel, then pra & panties matches"- this is the time when Madusa showed up in WCW, dumping the WWF Women's Title in the trashcan, and then acting as a central star in the WCW women's division… in which she never wins the belt. Yeah, instead AKIRA HOKUTO is the champion, which creates a pretty strange situation.
Unfortunately since these matches are all WWE property now, I can't post them here, but YouTube has them all! Alas, I'm missing the big PPV matches (all two or three of them, I guess?) so this and next week's column will both be a tad incomplete.
The Women's Division:
-So the women's division was pretty much just the GAEA Japan promotion in WCW, mixed with Madusa and Japanese-American wrestler Malia Hosaka, plus Luna Vachon sometimes. Chigusa's young charges Meiko Satomura (who is a WWE employee today, oddly enough), Sonoko Kato and Toshie Uematsu in fact made up the backbone of the division, alongside KAORU. However, nearly every TV match is under four minutes long, and the vast majority of them appear on the D-shows like Worldwide. I was watching the HELL out of WCW at the time and I only barely remember Hokuto and Zero (just wait), much less all these subordinates.
The style used in these matches was far less risky and crazy in the US as well- they seemingly knew to take it easy on American cards, because even Hokuto is ending matches with a basic bridging suplex in nearly every match- hardly one of her more elite finishers. That Madusa is a pretty horrible worker by joshi standards (she's sometimes okay but mostly below-average, being clumsy, slow, hesitant and a bit flaily).
Watching joshi hit WCW around this time is very strange, as you can see the modifications they make to the style. They seem to be able to only start matches the AJW & GAEA standard match openings- scrappy fighting, the "backwards toss off the ropes", hairpulling and yelling… and then they go right to the finish. They cut out the intermediate periods, the restholds, the rapidly-changing momentum shifts, and the escalating finishers and instead just do a random move that gets the win, when it would be a near-fall in Japan- when's the last time you saw a GERMAN end a mid-tier match in GAEA or AJW?
The matches also start to hit a "template"- early match heeling, babyface comeback, then they miss a flying move and the heel pins them. It's really noticeable when you watch them all back to back.
Eric Bischoff's friend Sonny Onoo played a scheming, sniveling heel managing every Japanese heel.
MADUSA vs. BULL NAKANO:
(WCW Pro, June 8th 1996)
* Shockingly, I think this is one of the final matches ever of Bull Nakano, who calls it quits after a brutal, long career… on a random WCW Clash of the Champions. In late-1996. I mean it's an easier style with less bumping, but wow. Bull actually fought Madusa here and then three more times and then calls it quits- getting her bike destroyed on PPV (Hog Wild) and the Clash being her last bouts until briefly doing a couple matches in Japan in the 2000s. Bull's in a black & white bodysuit (with much shorter hair than usual), while Madusa's in the US flag two-piece- she'll wear that in every single match following.
The ring is in a haze as we start, Bull beating on Madusa and using the hair. Madusa does the "Flair Flip" over the ropes and comes back from the apron, but Bull no-sells her shots and CLOBBERS her with one of those Bull-style lariats that has Larry Z marking out on commentary. A chinlock leads to Bull's Angelito, and Bull sits on her from a sunset flip and bends the leg in scary fashion. Bull bites away as Dusty Rhodes theorizes what would happen if you introduced "Bull Nakana" as your date to your parents- "Lemme tell you my daddeh woulda beat me to death". Madusa bites her in return and comes back with some kicks and a lame roundhouse, then running hair slams- Bull climbs but Madusa does her hand stand headscissors in the corner and ducks a lariat, hitting her German Suplex for the win (5:16).
A good look at what the "WCW Joshi Style" would be like- Bull starts a lot of matches that way, and there's even a comeback from Madusa, but this would just be the START of most AJW/GAEA matches, going another 5-10 minutes, and certainly wouldn't end on a ducked lariat & German pinning one of the best of all time.
Rating: *3/4 (fine enough little TV bout)

Hosaka starts the division as a generic heel, but soon ends up the "Jobber Babyface" of the division.
MADUSA vs. MALIA HOSAKA (w/ Sonny Onoo):
(WCW Nitro, Aug. 5th 1996)
* This is a warm-up for Madusa before her upcoming Hog Wild match with Bull Nakano, where the winner destroys the loser's motorcycle. And Malia Hosaka makes her "Joshi Spotlight" debut! She's of Japanese descent, but actually born in Hawaii and trained by Killer Kowalski in the US, where she largely just filled out rosters over the years going back to 1987! I remember seeing her a LOT on WCW television, usually as a jobber for Mona (Molly Holly), Hokuto, and others. She actually hit RAW once or twice, as someone trying to fight Ivory, but she was recognized from WCW (… really?) and it never panned out into a real angle. Malia's with Sonny Onoo to establish her heelishness, and is dressed like Takako Inoue and other "Pretty Idol, But Still a Heel" wrestlers, via the black boa and black leather, but her ring gear is a maroon sports bra & black bottoms.
Hosaka & Madusa square off in their stances, Madusa hitting the Mortal Kombat legsweep, but Hosaka does an okay takeover and they do some sorta awkward bits where Madusa has to use her "athleticism" to haul herself around. Hosaka catches her with some weak kicks and does standard heeling like the slingshot into the bottom rope and foot-rakes. Madusa gets a spinkick but is taken down into a REALLY bad figure-four (Hosaka even gives up trying it), and more legwork has her in the ropes. Madusa fights from her knees and hits what maybe woulda been a piledriver but she falls all the way back and they do a butt-bump for Hosaka off of it. Hosaka gets caught and put up top, and they do a superplex with her legs inside the ropes the whole time (an odd way to do it), then Madusa dropkicks Onoo off the apron… but Hosaka just climbs on top of her and they do the "Heenan/Rude Finish" with Onoo holding Madusa's leg for the three (4:39). Okay, THAT'S a weird finish, and Hosaka going over is especially strange given how she's the division's resident jobber eventually.
Pretty poor match, though adequately-wrestled. Madusa by this point was NOT a good worker, and was trying to be acrobatic and athletic while being very stiff and clumsy, so there's a lot of moments where both are clearly trying to measure distance and get into position right, because they didn't want to screw up. Most of the offense was weak (Hosaka must never have figure-foured someone over 5'6″ before) and a wimpy Superplex was the key spot of the bout.
Rating: * (just a pretty boring, poorly-wrestled match)
THE WOMEN'S TITLE TOURNAMENT:
* So the WCW Women's Title was founded in a tournament in late 1996, and I can't find many matches featuring it. It does, however, feature strangeness like Chigusa Nagayo showing up on American TV again (not seen since the Crush Gals hit the WWF in the mid-1980s). And in a heel persona called "Zero" that she's still workshopping. Akira Hokuto also appears twice, as her "Reina Jabuki" lucha persona is in the tourney and loses a match- this actually costs her the CMLL World Women's Title, as she'd held that as Jabuki and this was seen as shameful to be seen jobbing on American television I guess.
FIRST ROUND:
MADUSA vs. REINA JUBUKI:
(WCW Nitro, Nov. 4th 1996)
* So yes, this is the match starring Akira Hokuto in her luchadora identity… while also entering the tournament as herself. Japanese fans would no double find this violation of kayfabe hilarious, but could be passed off as Hokuto just being a smartass and taking advantage of "they all look alike" from the gaijins, I dunno. "Jubuki" comes down with a completely blank expression and no mannerisms at all, making it pretty clear she's gonna lose to the obvious favorite, the aggressive Madusa, though Jubuki's outfit is one of the wildest ever seen in America- a rainbow tasseled outfit with a giant feathered headdress.
Mike Tenay puts over Jubuki's abilities while she jumps Madusa and goes through "Joshi Heel 101" with the "shove off the ropes" the "stand on them while talking smack" and constant verbal barrages thrown in. Jubuki bites the fingers and rages over a "USA!" chant, and then BITES THE FOOT (a first in the US) while Zero lumbers out to watch, and is named by Tenay as Chigusa Nagayo, "one of the most famous women wrestlers in the world". Sonny Onoo talks smack on Madusa being a "chemical dumping ground- all peroxide and plastic. She reminds me of an American car ha ha ha!". Madusa scores a handstand headscissors off the top but misses a missile kick and takes a Northern Lights suplex, kicking out at one. Missile kick from Jubuki earns the "Fuck YOU!" joshi bridge (a rarity in the US), and Madusa goes behind her on a Northern Lights Bomb attempt and hits a German Suplex for the pin at (3:14), drawing a pretty big pop from the crowd.
A pretty basic match, with Hokuto doing the "First 3 Minutes" joshi standards and then they pop right to the ending, as Madusa all but does the "Randy Savage Template" of taking a huge beating but getting a miracle pin. This match humorously got Hokuto stripped of the CMLL World Women's Title, as she was the champion in her Jubuki identity and they were apparently not impressed by her 3-minute job here.
Rating: *1/2 (super basic but not actively bad)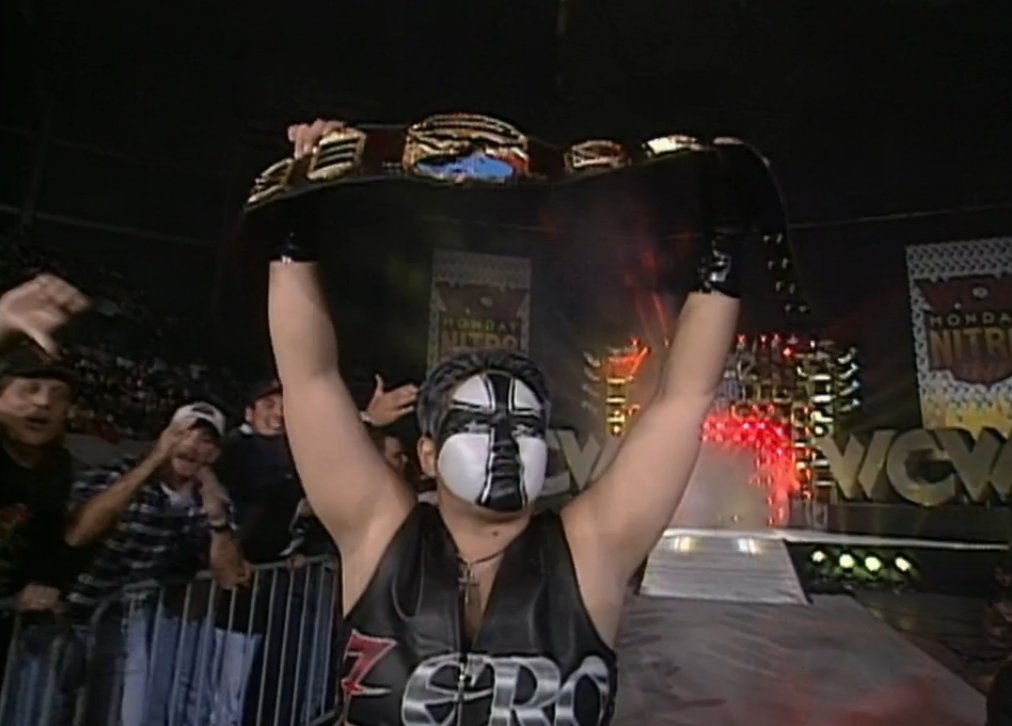 The biggest women's wrestling star in history, carrying the top title of her promotion, and she's in two 3-minute Nitro matches that nobody remembers. Wrestling is so awesomely weird.
MALIA HOSAKA vs. ZERO (w/ Sonny Onoo):
(WCW Nitro, Nov. 11th 1996)
* So yes, CHIGUSA NAGAYO has a Nitro appearance. Wrestling is so weird. Here, she's workshopping her "Zero" character- a heel in silver & black facepaint and leather badass gear with like… grease on her arms. Really, it seems like a variant on Dump Matsumoto's '80s stuff, or "Super Heel" Devil Masami. Tony actually gives her backstory as Chigusa, and explains that she's carrying GAEA's World Title (the AAAW belt). Hosaka just has an annoyed snarl on her face, at one point shouting "shut up!" to a fan as she just walks to the ring, not really acting out at all. She's in a red leotard for her first match.
The crowd is utterly silent as Zero completely no-sells everything Hosaka does, sitting on a sunset flip attempt and doing a throat-thrust. Ripcord lariat- she pulls Hosaka up, then finishes with a Razor's Edge at (1:41). Just a total squash, selling nothing. New finisher for her, though.
Rating: DUD (just squashed her like a bug out there)
KAORU was GAEA Japan's secondary star in its first couple of years- she enters WCW as a secondary heel/jobber to Madusa, and partner to Hokuto.
KAORU vs. SONOKO KATO:
(WCW Saturday Night, Nov. 30th 1996)
* 17-year old Kato in blue & white goes up against a serious-faced KAORU, in her silver jumpsuit. KAORU doesn't seem to know how to act in North America, just kinda frowning.
KAORU dominates to start, but Kato hits her twin bulldogs- KAORU does a corner rollup and her high Thesz press, but misses a second and is kicked around. But Kato misses an Aichi Prefecture Jam and KAORU just wrecks her with a brainbuster into the Springboard Moonsault at (2:36). The latter was an OUTSTANDING move for 1996 U.S. wrestling, but KAORU's really just here as a JTTS.
Rating: *1/2 (a very basic rookie/veteran match)
AKIRA HOKUTO (w/ Sonny Onoo) vs. MEIKO SATOMURA:
(WCW Pro, Dec. 8th 1996)
* Dusty explains that "Meeko is sweet on me" because they were talking in the back before the match, but Larry Z suggests it's because they love fat guys in Japan, owing to how sumos are treated like gods. Meiko is of course a huge legend today, but back then was merely an 18-year old squealy rookie who gave all-out efforts in every match.
Akira totally mauls Meiko to start, hitting a running big boot & a hangman's choke, but the squealing Meiko hits a running cross-body and dropkick off the second rope to send Akira into Sonny's arms, then baseball slides them down into a pile. Meiko keeps screeching and hits windmill elbows, but misses the frog splash and Akira hits a missile dropkick & Northern Lights Suplex for the win (3:07). Larry Z then details how "the Japanese know how to handle their women- they walk ten feet behind them, they do their dishes, they fold their clothes…" sounding like the most old-fashioned pig ever. Very basic, simple match (identical in construction to the prior one), with Hokuto dominating, a peppy babyface comeback, and the heel wins with a couple moves. Barely above a jobber template match but Akira's last two moves were TIGHT.
Rating: *1/2 (Meiko is almost an ideal jobber at this point- all energy but too young)
SECOND ROUND:
MADUSA vs. ZERO:
(WCW Nitro, Dec. 14th 1996)
* This is a clip from The Main Event, which I am to understand was a Nitro clip show by this point, cuz this is clearly the Nitro set.
Zero attacks Madusa during her pre-match posing for the fans and backdrop suplexes her off the second rope while "Women's Wrestling Expert" Lee Marshall says this is the most important match of Chigusa Nagayo's entire career. You know, the woman who filled STADIUMS in Japan and was the WWWA Champion in the '80s peak, lol. Zero hits a wheel kick but gets headscissored off the top and a 2nd-rope dropkick to the back- Zero easily trips her up from the floor and just pounds away- Madusa scores the JB Angels bridge-out & running hair slams, but Zero just chokes her from beneath (that's a weird transition) and… gets mad at Sonny Onoo for jumping on the apron. Then she GOES TO FIGHT HIM after a powerbomb, and Madusa rolls her up at (2:35) to win!
That is super-weird. Was that done just to let Zero save face? Why go after her own manager? She hits a pair of double-arm chokeslams on him while the fans ream him out, and Madusa takes her leave.
Rating: *3/4 (very short, simple match, but Chigusa is good enough that she's easily able to use heelish mannerisms and get a bit of heat even in a nothing match like this)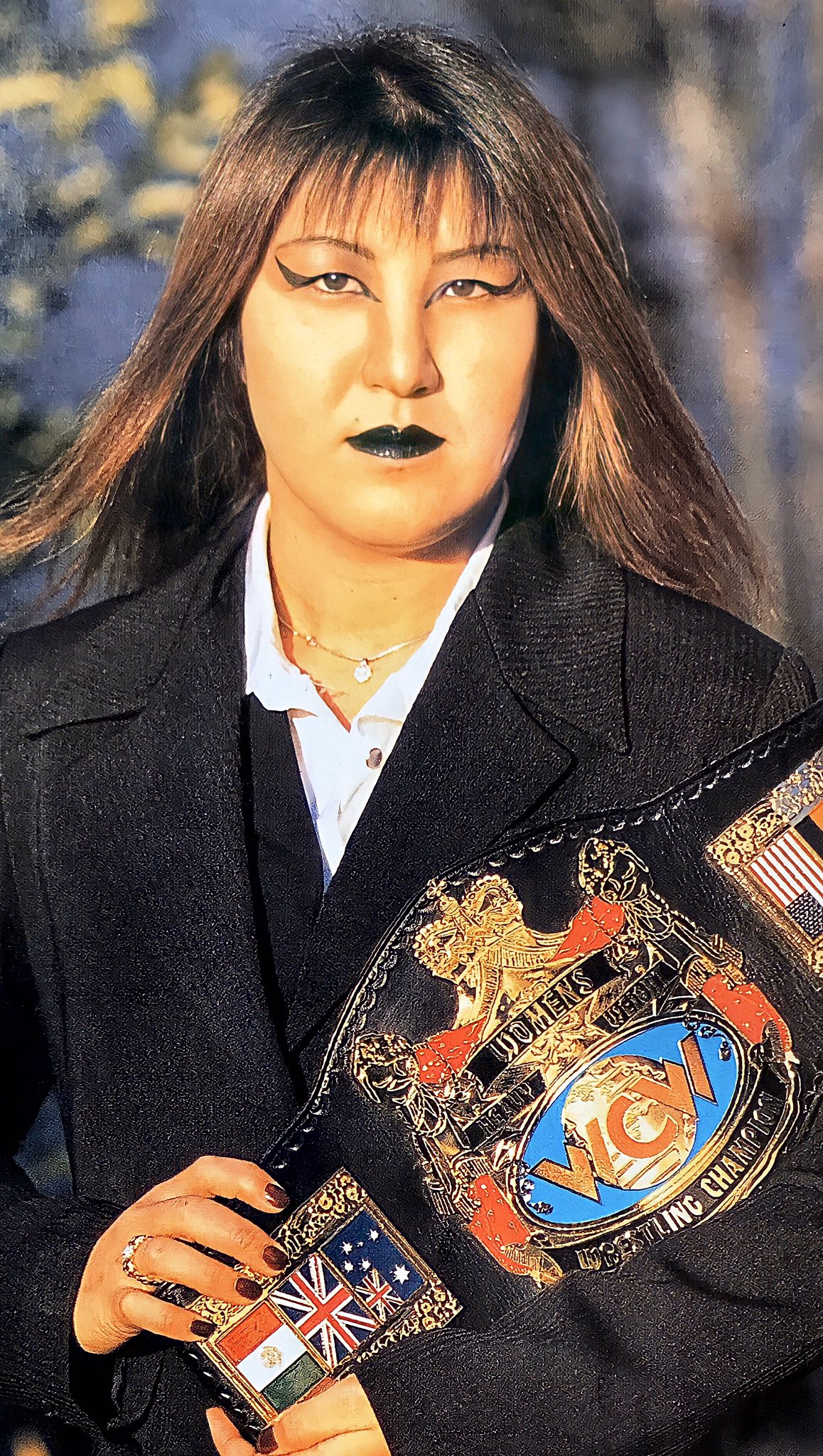 When you're one of the best of all time, but some American guy with Ken Doll hair wants to pay you to do 3-minute matches for a year.
-Akira Hokuto would also defeat KAORU in a (3:17) match I can't find on YouTube, though you'll find two rematches below. The final match was actually at Starrcade, with Akira surprisingly defeating Madusa in (7:06) when Sonny Onoo used a flagpole on her. But sure enough, Akira won the WCW Women's Title and became the top star of the division, even as Madusa acted as top babyface. Hokuto was thus the division's Champion, with Onoo as her sneaky heel manager (as Eric Bischoff's real life friend & business partner, he was usually paired up with all evil Japanese wrestlers). I can only imagine that GAEA offered up its wrestlers but insisted on one of theirs hold the Title.
AKIRA HOKUTO (w/ Sonny Onoo) vs. KAORU:
(WCW Main Event, Dec. 21st 1996)
* A Hokuto/KAORU rematch, shortly before their feud in GAEA.
Akira attacks to start, heeling it up and doing a Moolah Whip and digging into KAORU's face. After minutes of that, KAORU fires back with high Thesz presses, but gets dragged off the top, then kicked in the back trying a cartwheel elbow. KAORU manages to duck the roundhouse kick and score a Hurricanrana for two, then scores a backdrop suplex into a Moonsault- two! Women's Wrestling Expert Lee Marshall calls this a "reverse half-gainer" while KAORU argues that was three in the joshi way, but she misses a punch and gets German'd for two- huh, that's usually it. Missile Dropkick with a foot on the chest pins at (3:37). Another very basic one, with extended heeling into the comeback, but in both cases they used way more stuff than these matches normally do- often adding 2-3 more moves to each segment.
Rating: *3/4 (another short one)
AKIRA HOKUTO (w/ Sonny Onoo) vs. KAORU:
(WCW Worldwide, Dec. 29th 1996)
* A Hokuto/KAORU rematch, only a week after the last one. KAORU is now wearing a grey version of her usually shiny gear. Heenan is quite taken with Hokuto, calling her "pretty" repeatedly ("in a Shiavonian way" but eventually just admitting it outright).
Akira attacks to start and heels it up while Tony & Bobby discuss how they could beat up most men (Tony: "They could beat you up" Bobby: "I'd let 'em" "heh heh" "you wanna touch this one?" "NOPE hahahah"). KAORU scores two high Thesz presses and actually gets the fans into it, but she misses a flying version and gets kicked in the butt. Same roundhouse-to-rana sequence as last match, but Akira dodges a Moonsault and finishers her with a Powerbomb at (2:38). Pretty much the same cadence as the squashes of Meiko & Kato- heeling, comeback, missed flying move, win.
Rating: *1/2 (they're good wrestlers, and KAORU's flashy stuff is ideal for short bouts, but this is no time at all)