The British Bulldogs vs. The Rock 'n' Roll Express (and other Dream Matches!)
By Jabroniville on 23rd November 2022
https://www.youtube.com/watch?v=ScrEGO51RJg&t=193s&ab_channel=NLWrestlingArchive
Welcome back to more Dream Matches! This week, I have a huge "Wait, THAT happened?" match, as the BRITISH BULLDOGS face the ROCK 'N' ROLL EXPRESS! In the AWA. And it goes… well, let's see why this isn't a tape trading legend, why don't we?
Next up, I continue my look at Manabu Nakanishi in WCW, as "Kurasawa" takes his martial arts to the "Macho Man" Randy Savage in a pair of matches set six months apart- the latter of which when Kurasawa had definitely entered the job squad!
And finally, remember last week when I subjected y'all to Sgt. Craig Pittman vs. The Cobra? Well now they're TAG PARTNERS, and their opponents are the freakin' Faces of Fear! This one actually ends up great… if you want to see how the mechanics of wrestling work, because Pittman here is SO BAD that he actually throws off all three other wrestlers, none of whom seem to know what to do with him flailing around all weird. It's one of the greatest examples of a wrestler being such a stiff that nobody can do anything with him.
THE BRITISH BULLDOGS (Davey-Boy Smith & Dynamite Kid) vs. THE ROCK 'N' ROLL EXPRESS (Ricky Morton & Robert Gibson):
(AWA When Worlds Collide, 1989)
* This is a completely wild Dream Match I had no idea existed, as the Bulldogs typically existed in the WWF & Japan while the Express were mostly in the Southern companies/NWA. The Bulldogs are shredded to the gills here, just on ALL the steroids (especially Smith), while the Express are the same doughy guys they always were, absolutely dwarfed by their opponents (neither of whom were that big in the WWF). Makes you realize why they never did a run in the WWF around this time, ya know? The Express are in black & blue tights, and the Bulldogs are in their white & blue ones with the Union Jacks on the asses. Luscious Johnny Valiant is doing commentary, putting over the Bulldogs but mentioning that the Express match their experience. Legend Pat O'Connor is the ref here.
The Express do basic "International" stuff with Smith, but Dynamite knocks down Gibson & snap suplexes him (Gibson's a bit slow on the bump), but Gibson picks his leg and the Express work that. Dyno grapples back and Smith hits a chinlock, but he & Morton both put their heads down and Morton kinda improvises a suplex and a bad cross-body for two, and is tossed to the floor on the kickout. Dyno beats the hell out of Ricky with great stuff, but Ricky escapes Davey and Gibson hits the Owenzuigiri. Dyno immediately grabs a headscissors & chinlock, acting heelish but not actually cheating (which really comes naturally to him). Restholds & headbutts abound, and Gibson flies into the post shoulder-first on a comeback attempt. Another long beating sees him finally score a kneelift to escape and Morton goes nuts, hitting a DDT & tossing Davey into the guardrail & ringpost. I gotta say these commentators SUCK- Johnny V keeps getting names wrong ("Dynamite Smith" & "English Bulldogs") and bellowing in this weird "know-nothing" braying jackass voice, and the other guy sounds like Rob Paulsen's PJ voice from Goof Troop, repeatedly going "oh my GAWD" in a half-yell.
Morton works Davey's wrist, but hits the floor & Dyno slams & headbutts him out there, leading to more resting- Morton escapes and Gibson sleepers Dyno, leading to the EXPRESS cheating by distracting the ref and smashing Dynamite's leg into the post! They follow with weak legholds as this is just resthold city so far, even when Davey gets the tag and works holds on MORTON'S leg. Press slam onto the top rope has Morton gagging, and the Bulldogs strangle him using the undone turnbuckle. He's tossed and Davey-Boy press slams him over the top back into the ring, and Dyno clotheslines the hell out of him and NOW WE'RE GETTING SOMEWHEno, another resthold. Ricky even goes to the balls to break, but Davey hauls him down again. They do a blind tag spot and the ref is distracted, but Davey does a flying knee and misses- Dyno still stops a tag, but Ricky ducks under him to get it and Gibson lights up both Bulldogs with '80s offense as the crowd finally wakes up. Both him & Dyno sell a suplex, then they run into each other- Ricky comes in and hits a piledriver on Davey-Boy, who gets his foot in the ropes. The Express hit their Double-Dropkick finisher, but Pat takes 97 minutes to get down and it only gets two. Morton gets a cradle, then Gibson a backslide, then both guys try dropkicks- Dynamite comes in to finish, but he & Gibson just reverse inside cradles until time expires at (30:00)- Time Over!
Oh man, this was SO drawn out. This is an all-time Dream Match among workrate snobs, so of course it has to be 30 minutes in front of a small crowd before tape-trading was a huge thing, and so everyone was trying to pad out for time, lol. Annoyingly, guys would hit this HUGE dramatic move and have their opponent done for… but then go right into a lightly-sold resting move so they could maintain their cardio or spare them some work. It led to a lot of SPOT-rest-rest-rest-COMEBACK-rest stuff and that's not what you'd except from two of the best babyface double-team squads out there. We just had something like 15 minutes of Ricky in restholds, which ain't the best use of the guy, never mind using the Bulldogs as generic heels. This had smatterings of good stuff, but was otherwise just death.
Rating: ** (hard to see two teams as good as these get stuck in the "Spread your shit out for 30 minutes" match- it plays to the strengths of neither)
Manabu Nakanishi is… not a guy I'm overly familiar with, but New Japan fans thought he was cool! I think!
"MACHO MAN" RANDY SAVAGE vs. KURASAWA (w/ Col. Rob Parker):
(WCW Nitro, Oct. 25th 1995)
* The first of two Savage/Kurasawa matches. This is the longest one, when they were still using the latter as a semi-strong act. Savage here looks EXACTLY like his WWF self, with the multicolored cowboy outfit and neon patchwork tights. Except he's shirtless again because he's back on the roids and has tons of ripped mass. Oh man, the neon green tassels on his boots are BEAUTIFUL- just 5 times too large and blowing out the low-rez YouTube video, lol. Col. Parker gets in his face before the match and gets shoved over, as I realize Parker is WAY taller than Savage.
Kurasawa divebombs Savage immediately after Parker goes down, throwing "back leg round kicks" (god I hate you, commentator Bischoff), stomps & overhead chops- Savage dumps him to recover, but Kurasawa just mountain bombs him in the ring for two. Kurasawa works the injured arm (they repeatedly note he broke Hawk's arm with the same snapping move), just kicking Savage's ass tonight- Randy can only do the occasional eye-rake or boot before eating more chops. He bails and dodges a baseball slide, then leans against the post… and dodges Kurasawa's high-kick! Oh shit, haha- tricked him into smashing his own leg. Kurasawa tries to recover with a Kurasawa Crush (fujiwara armbar) attempt, but Savage just shoves him into the rope throat-first (not his usual leaping variant), clotheslines him down, and Kurasawa weirdly gets into position yet Savage still has to throw a hella-awkward Flying Elbow to finish at (6:04).
Solid work from Kurasawa, but sadly the "Savage Template" is nowhere near Randy's peak output- it's generous and he just sells and sells and sells, but back in the '80s he'd throw in the comebacks every 30 seconds or so to keep the fans excited or build anticipation. Here he just gets a beating and then scores the short comeback for the win. The finish looked particularly weird, like Savage normally leaps over the ropes but this time had to awkwardly pound Kurasawa down, and then Kurasawa rolled over with his feet facing the corner, so Savage came down straight onto him.
Rating: **1/4 (decent Savage Template match with Kurasawa's beatdown looking good, if repetitive)
"MACHO MAN" RANDY SAVAGE vs. KURASAWA (w/ Col. Rob Parker):
(WCW Pro, March 25th 1996)
* Wow, Macho Man did WCW Pro? I had no idea the top guys did that. Savage is in green/magenta tights with a neon green "Macho Man" shirt, and Kurasawa is manager-less now. But HULK HOGAN comes out and distracts Kurasawa with a chair, allowing Savage to jump him from behind.
Savage beats up Kurasawa with heelish tactics, dumping him and gouging the eyes, but Kurasawa comes back with chops and does the same. Larry Z is apoplectic over Hogan being there, while Dusty mistakes Savage's bandana flying off for "He knocked his head off!". Kurasawa goes to the arm-snap (Savage's arm is STILL hurt, six months later?!?), Savage reversing another but ending up in the Kurasawa Crush, making the ropes. Kurasawa tries a flying elbow like a doofus, missing and eating the flying axehandle, clothesline and Flying Elbow for the pin (2:47). Much quicker match this time around, though oddly more impactful for Savage, who got more offense here.
Rating: *1/4 (the length of most squashes, though actually not a squash- Savage's flurry led to Kurasawa's short comeback and quick attempts at a finish before he was demolished)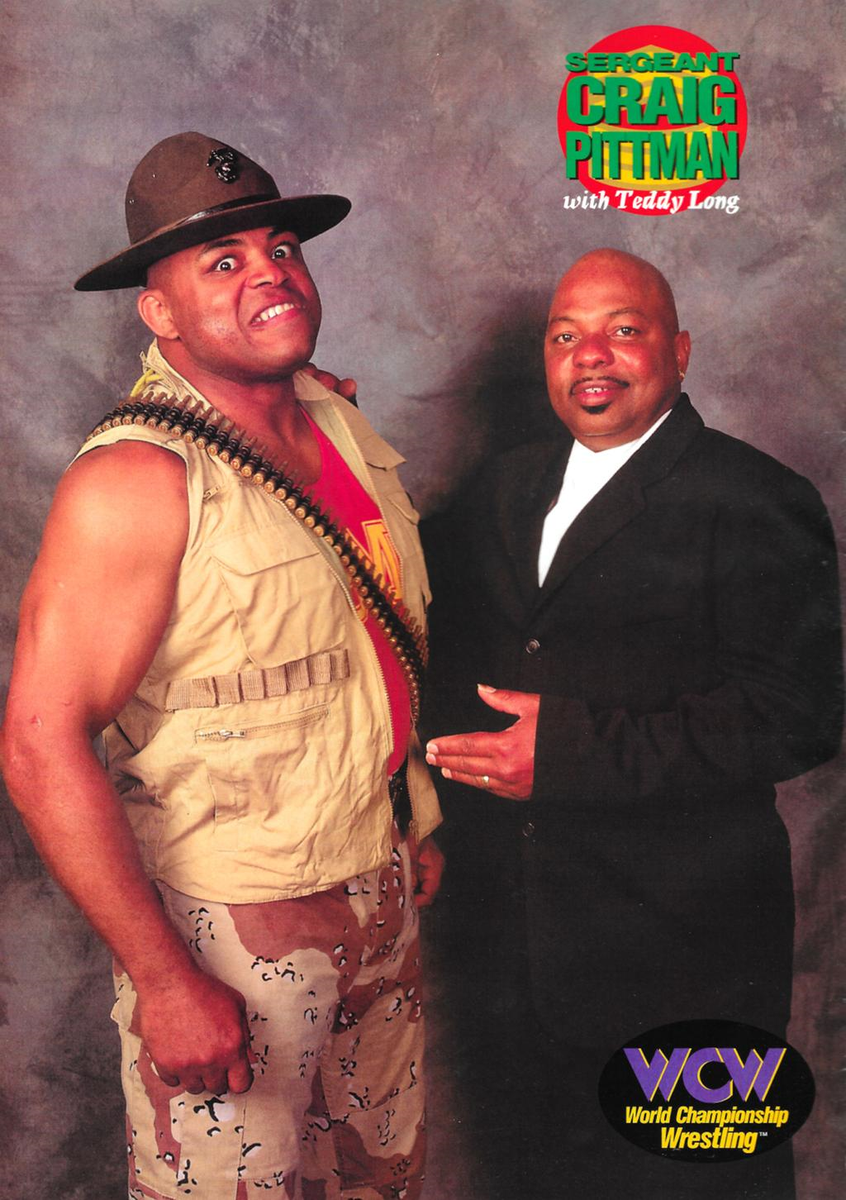 Pittman, the headliner of Teddy Long's "Stable of Jobbers"… come see why ne never got a push!
THE FACES OF FEAR (Meng & Barbarian, w/ Jimmy Hart) vs. COBRA & SGT. CRAIG PITTMAN (w/ Teddy Long):
(WCW Saturday Night, Aug. 31st 1996)
* What the FUUUUUUUU–? Yes, despite fighting like seven times in 1995, suddenly Cobra & Pittman are a JTTS team on Saturday Night! Cobra's still in the green neon tights (and is about to show up as nWo Sting in a while), while Pittman has Teddy Long as his manager and is in a black t-shirt & khakis. The Faces are as bored-looking as usual, wearing black tights.
Long's guys attack before the bell to start, teeing off on Meng as Jimmy Hart correctly complains "this isn't a handicap match!", but Meng does the "Norton Sell" of "simply decide to quit selling and then make a comeback" after some awkward double-teaming (Pittman is so poorly-trained he's often out of position or does a flourish without a gameplan for his next move). Cobra actually ignores Meng's kick so they can do the next spot, drop-toeholding Barbarian, who resists until Pittman hits a shoulderblock to the back to put him down. Meng just comes into the ring while Pittman's doing some dumb amateur-style stuff, and the Faces do a bizarre double-team where Barbarian just hauls Pittman out of Meng's arms and brings them both over the ropes. Meng actually starts amateur-wrestling too as this is getting weird, then segues to biting and clawing. Double Flying Headbutt hits- Cobra saves. Barbarian DESPERATELY seems to be giving Pittman instructions and kicks him down for two, but misses a legdrop and takes a bad atomic drop (HOW DO YOU DO A BAD ATOMIC DROP!? PITTMAN DOES A CROTCH-LIFT FROM THE SIDE SO HE DROPS BARBARIAN ONTO HIS OWN HAND ONTO HIS KNEE!). Poor Barbarian just tags out so Cobra can come in and take everyone down with dropkicks, but hilariously Meng just slugs Pittman down and superkicks Cobra for the pin at (4:37), ending this mess.
Holllllllllllly god Pittman is awful. Completely strange match, largely thanks to Pittman, who is so bad he seems to make everyone else awkward by proximity. Like he's always in the wrong spot or doing something in a weird way that seems to halt a trained worker in their tracks as they're like "…" and don't know where to be when he starts flailing around before moves are applied, because they're afraid he's going to fly into them or start a move they're not ready for. Meng starting to use amateur tactics of his own is pretty funny, though, but then Barbarian utterly fails to lead Pittman through anything and Pittman does a torture-rack lift into an atomic drop like he forgot what he was gonna do and finally Meng just beats everyone up for the pin.
Rating: 1/2* (just terrible)