SWS Osaka Fighting Party Begins 12/07/90
By Maffew Gregg on 20th November 2022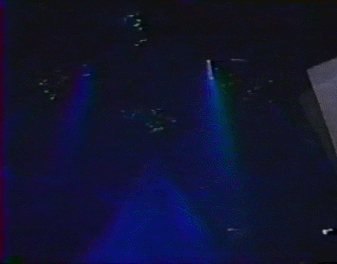 Osaka Prefectural Gymnasium
Attendance: 6,390 (under 3,000 paid)
(Note: If you read this can you let me know in the comments if the formatting is OK? It's all over the place when I'm looking at this in Chrome.)
This is the second show of a weekender of events with SWS, marking the first time WWF talent would be used. Meltzer claimed that WWF had control of the booking of all their wrestlers, which I can't imagine getting in the way of things later on.
This is a handheld fan cam of a house show so like Bret Hart I'll not be putting in maximum effort.
Masao Orihara vs. Akira Katayama
We get some lovely shots of the crowd sitting down, very good camerawork by the DOP. Orihara's wearing baby blue here so I'm not getting too attached so I hope for his sake none of the WWF agents were watching this. Leglocks are exchanged and it's all standard stuff…and then Orihara shrugs off a German Suplex to dive off the top rope to the outside, and then follows that with an Asai Moonsault. Had Ultimo Dragon invented that yet or do we call it a Orihara Moonsault? Oh wait that's something else. Anyway, it wins the match.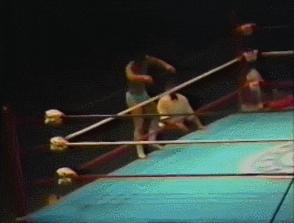 Don Arakawa vs. Kenichi Oya
Don had retired the year before this, which is becoming a recurring theme for the SWS roster which is beginning to resemble Dad's Army. The crowd loves Don and his comedy, which involves a lot of yelling so it's lost on me. Large "Don!" chants as he tries to take out Oya with a Popeye style spinning punch. Oya sticks to mat wrestling and stomps because he knows he's playing the straight man here and plays his role well. Don wins after Oya charges right into an armbar. Don did very little here and had the crowd eating out of his hand, even laughing when he wasn't doing anything comedic. Oh just you wait until the main event.
Goro Tsurumi & Shinichi Nakano vs. Apollo Sugawara & Fumihiro Niikura
Apollo's an ex-AJPW wrestler who is here as Kitao's personal coach. Both men are going to find themselves in matches that turn into shoots so Apollo was clearly the influence Kitao needed. Niikura was one half of Stampede Wrestling's Viet Cong Express. And by that I mean his name was "Viet Cong Express 2." Very decent match with plenty of suplexes and dropkicks thrown around. Goro's punches are over and are used in the finish with Goro punching Niikuara into a sunset flip by Nakano.
The Bushwhackers vs. The Fabulous Rougeaus
Oh I'm excited for this. Crowd loves The Bushwhackers and their little walk but The Rougeau's get nothing. Even on a 1990 fan cam from the cheap seats the Rougeau's bald spots are visible. Raymond does a kip up to prove he's an actual wrestler unlike The Bushwhackers and it gets actual applause. It's all dumb comedy and the crowd eat it all up like Butch nibbles on Rougeaus' arses. Butch gets isolated and it turns into a typical WWF style building-to-the-hot-tag match with the ref falling for their chicanery every time. Raymond accidentally hits Jacques with a high knee, setting him up for the Battering Ram to get the popular victory. Fascinating watching this and seeing how well the comedy worked in Japan, though I'm sure it would have been a different story had they ended up in NJPW and done this routine for an audience expecting The Sheepherders.
Naoki Sano vs. Beef Wellington
Naoki Sano's fresh off the sweet Liger feud NJPW and given the senior citizens with a lack of options hanging around SWS, it's bit curious as to why he'd jump. There's about a half dozen Beef Wellingtons in wrestling so to clarify: this isn't the one that spent most of his career in M-Pro or the Ass Puncher, it's Benoit's mate who then oddly enough died the same weekend as Benoit. He's got that Stampede intensity going for him as both wrestlers are mad to start and begin by one-upping each other by countering arm-bars with kip-ups. Beef follows up that by simply picking up and launching Sano out the ring which Sano doesn't appreciate so he takes out Beef with a wild dive over the top rope.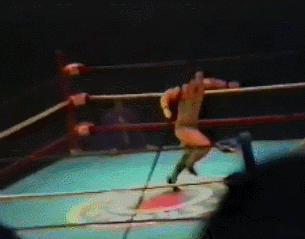 Beef gets such a kicking in the ring that Mullet The Ref has to stop and ask him if he can continue. Beef makes a meaty comeback with a mighty Superplex complete with the trademark Benoit snaps. Sano recovers with his trademark backflip-out-the-corner-then-kick-the-dude-in-the-face before an audience member stands up and blocks the next few minutes. Quick Sano, kick him too! Finally the fan moves just in time for Sano to Dragon Suplex Beef for the pin. This was a beautifully intense little match that made me want to go find more Beef.
The Great Kabuki & Samson Fuyuki & Takashi Ishikawa vs. The Brooklyn Brawler & Road Block & Kenny the Striker
Yes, it's the WCW jobber who Lex Luger couldn't lift teaming up with Steve Lombardi and some guy called Kenny The Striker who sometimes went by the name "Vito Mussolini" aka Benito's son. Fuyuki starts off and gets booed as was the style at the time. Kenny looks ok and his mullet could feed a family of four. Brawler tags in and I'm certain the crowd doesn't even know he's a WWF wrestler. He'd make more appearances over the years for SWS but he wasn't a road agent yet so I don't know why he's here. He gets no pop for his work, unlike Road Block who gets a wonderfully amusing "hahahaha oh man look at THIS one!" reaction. Roadie's strikes look like Freddie Flintoff boxing but the crowd are forgiving until he misses a rolling swanton on a stationary opponent.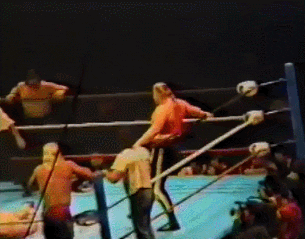 Kabuki gets his great strikes in before pasting Lombardi into the ring post and ripping his shirt. Fuyuki gets worked over for a bit, with Kenny attempting a cheap shot on Ishikawa who smacks him daft in response. Roadblock sticks to simple stuff and gets surprisingly good reactions because of his size. Japanese crowds really do enjoy their big foreign doylums. Roadblock gets sent outside so Ishikawa puts Kenny away with a quick Sharpshooter. "Styles clash" is putting it mildly but I get a kick out of weird match-ups like this.
SWS vs. WWF Tournament Semi Final Match: Koji Kitao vs. Greg Valentine
This is one of Greg's first WWF matches back after that weird situation where he assumed he was released and started taking bookings elsewhere before WWF chased him back like Alpha Flight going after Wolverine. Greg receives polite applause whereas Kitao gets a snarky OH HERE COMES TROUBLE pop. Greg sells every bit of contact from Kitao to make him seem strong but the crowd isn't buying it. Kitao taunts with sumo stomps but all it does is generate more jeers. Greg decides to give Kitao some actual offence with some snug shots before attempting to throw Kitao out of the ring which Koji fails at and blunders face-first into the ropes to the pop of the night. I've never seen a Japanese wrestler receive such a response before, it's fascinating. Osaka by way of Philadelphia. Valentine does a little dance to mock Kitao's stomps and the crowd loves it. They also love Greg's respected elbows and are disappointed when Kitao kicks out. Of a falling elbow! Greg reminds he was still a force to be reckoned with and takes Kitao apart like the Colonel at the end of Day Of The Dead. Kitao makes a comeback by simply kicking Greg right in the bastard head before managing a suplex for the pin…with Greg popping up at 3.1 and staring at Kitao as the arena is filled with boos. With Greg on offence this was fine but if this was the best Kitao could manage with an unselfish super-worker like Greg then he's deader in the water than Robert Maxwell.
SWS vs. WWF Tournament Semi Final Match: Genichiro Tenryu vs. Ted DiBiase
Ted's wearing his jacket and Million Dollar Title Belt so he's already providing more effort than Kitao. Both men go hell for leather to start off with to the crowd's appreciation. Ted blocks a hiptoss with an abdominal stretch but Tenryu hip-tosses him anyway. Ted's been brawling with Tenryu since 82 so he's making him work for those chops. After battering Tenryu in the corner with multiple punches and chops, Ted beckons him to come get him, to which Tenryu does so Ted heads outside for a breather instead haha. Crowd appreciates a good strategy and chants "Ted-dy" because he's a bit of a bear. Ted refuses to stop kicking Tenryu in the corner and has to be pulled away by the ref. Ted continues going after Tenryu as the photographers get their shots in as Ted struts around. DiBiase takes too long posing on the middle rope and misses his Backwards Elbow. Tenryu is fired up and hits his Backwards Elbow for two before missing a second attempt. It's hard to tell when he does hit it to be fair. Tenryu lands an enziguri, Ted throws off a powerbomb attempt as the crowd is losing it. A DDT can't pin Tenryu so Ted tries a suplex (THE MOVE THAT ENDED GREG VALENTINE) but Tenryu kicks out. Ted continues to block and counter every move Tenryu attempts before getting a sneaky small package out of a suplex to finally put Ted away. Fun scrappy match between two old bastards.
Kendo Nagasaki & Yoshiaki Yatsu vs. George Takano & Shunji Takano
I get to again mention the amazing purple velvet drapes and Roman helmet combo for George Takano. Interesting how George put effort into looking good wardrobe-wise while his brother instead appears to be thinking about where's he's going to sleep tonight. Nagasaki helps Yatsu get the advantage but it doesn't last long as the Takanos double dropkick Yatsuo . Kendo gets a disgusting-looking ankle lock before getting bored and deciding to brawl with Shunji in the crowd because that's where his strength lies. George tags in after five minutes of nothing abuse on Shunji to actually bother doing something with Yatsu seeing this and going "oh yeah?" and landing a sweet bear-hug into a belly-to-belly. After another series of Shunji laying on his back taking leg-locks, George tags in to throw some kicks before deciding that's enough and the other lads double suplex Shujni. And then this drags on and on and then some more with George unable to assist his loser brother after taking a German Suplex. Nothing particularly wrong here but nothing particularly great either.
SWS vs. WWF Tournament Final: Genichiro Tenryu vs. Koji Kitao
Yellow and Black Attacks! The beauty of this being a fan cam is being able to hear individual fans making jokes and laughing at Kitao. And boy do they have a lot of them as Tenryu is forced to sell for Kitao's awful strikes. Even a vaguely solid delayed northern lights is greeted with howls of laughter. Tenryu rolls around like an adult letting his toddler prod at him and the audience reacts like Norm Macdonald is performing next door. This is amazing. Kitao Irish whips Tenryu into the ropes and the crowd mockingly yell "ooooOOOO" as he runs the ropes and "sssssssh" when he connects with a clothesline. Kitao avalanches Tenryu into the corner and they gave his charge the same reaction. A slam out the corner, the same reaction. The ref counts for the pin, the same reaction. Kitao clotheslines Tenryu near the ropes and somehow manages to send his clown shoe-wearing backside over the top rope and to the outside and the crowd just dies. Kitao crawls back in and can barely stand AFTER SENDING HIMSELF OUTSIDE so Tenryu gives him a suplex for the first bit of respectful crowd response this whole match. Tenryu kicks Kitao a few times so he decides to simply lie on the mat without moving for more laughter. The referee decides to give him a standing 10 count but the timekeeper misunderstands the instruction and rings the bell, causing the crowd to react like Austin's return in January 1999. The ref furiously corrects the timekeeper as the crowd aren't happy about the match continuing and Kitao's attempt at a comeback. Tenryu finally puts this match out it's misery by countering a slam into a small package (with the crowd laughing again, assuming Kitao fell over). I watched Kitao's match with Bigelow and assumed Kitao was nowhere near as bad as people said he was in singles matches. I was wrong. 5 Stars, haven't enjoyed a bad match this much in years.
Overall: The good, the bad and the Kitao. SWS is getting more of an identity, right now they're the company with more variety than a bag of Revels. Fan cams are a weird thing to watch but I thoroughly recommend the main event for Dave Newman's Nightmare Matches column.