"Macho Man" Randy Savage vs. Fit Finlay (and other Dream Matches!)
By Jabroniville on 16th November 2022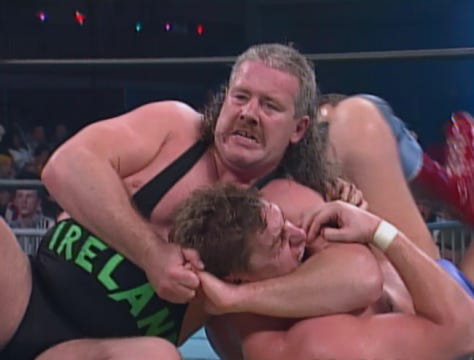 The "Two-Colored Mullet" look is really, uh, something.
Welcome back to more Dream Matches! And this time, I get to torture you all with the illustrious Cobra/Sgt. Craig Pittman feud! But first! A very odd one-off (considering they shared a company for years), as it's "Macho Man" Randy Savage vs. the future Fit Finlay- back when he was the mullet-wearing Belfast Bruiser! This was back when Macho Man was still a regular wrestler on Monday Nitro and not just doing promos and beatdowns.
Also a co-headliner of sorts as the Road Warriors take on the Powers of Pain in 1988, shortly before the Warriors' non-union Mexican equivalents bail for the WWF! And then it's the WWF Jobber hell-zone that is Skinner vs. "Pump It Up!" Jim Powers in 1992!
But yeah, this is also the time I take a look at Sgt. Craig Pittman, who interested me a bit from the Kurasawa match I reviewed weeks ago. And turns out he sucked! Really bad! Come see HOW bad as he gets to fill tons of TV time on the D-shows with the "CIA Agent" Cobra, aka Jeff "nWo Sting" Farmer!
"THE MACHO MAN" RANDY SAVAGE vs. THE BELFAST BRUISER:
(WCW Nitro, March 25th 1996)
* Yes, it's MACHO MAN vs. FIT FINLAY! But it's jobber-ish Bruiser with a brown mullet/buzzcut combo and a hideous mustache in addition to his goofy Mad Max one-shoulderpad leather jacket. They put over him using European uppercuts & smashing up Steven Regal's face and OH MY GOD Heenan namedrops that it made Steven Regal's face "look worse than Princess Di's car that she smashed up" which is a reference that now reads COMPLETELY different (it was some other car accident, don't worry!). Bruiser's in a black singlet with "Ireland" across the front. Macho Man's in white tights and is on the roids big-time.
The Bruiser wrestles his trademark grappling style, just grabbing onto Savage and rarely letting go, doing chinlocks and nerveholds, then lashing out with shots every opening he gets- Savage gets him in the corner and tackles him on the break, too, so he means business. That European uppercut blasts him into the WCW/nWo Revenge dizzied animation, but Savage comes back and kicks his ass, bouncing him all over the place. He gets the knee to the floor, but the Bruiser DESTROYS him by whipping him into the post. Man, Savage's selling here is epic- just eyes lolling into his head as it bobbles around on every impact. The commentators suspect he might be spent from the "Megapowers Cage Match" last night on PPV, but Heenan points out how deadly Savage is ("if he can smell fumes of any kind, he is dangerous" he can fight you, and "it's very hard to pin the man"). Despite having to be helped over the barricade by the ref, Savage latches onto Bruiser's leg like a lamprey, but eats a short-arm clothesline for two. He manages to fight up from his feet, though, and dodges a shoulder-charge- Bruiser hits the post and Savage goes up, and that's the Flying Elbow for the pin (5:26)- Bruiser loses the standard "Savage Template".
Yeah, it's the old "Two-Move Comeback" Savage match plan that he always did, but at least he put more effort into it, to the point of making it look like Bruiser was going to completely walk away from this one and that Savage was wrestling matches too close together. But still, having Finlay hit the post like that and then sell and sell while Savage climbed to the top, then waved to the fans for like five seconds, was just making the dude look weaksauce. He'd eventually leave for about a year before returning as "Fit Finlay" and get a bigger midcard push.
Rating: **1/4 (one of the more idealized versions of the "Savage Template" with a lot of great selling by Savage, but it's the standard two-move comeback in a 6-minute TV match)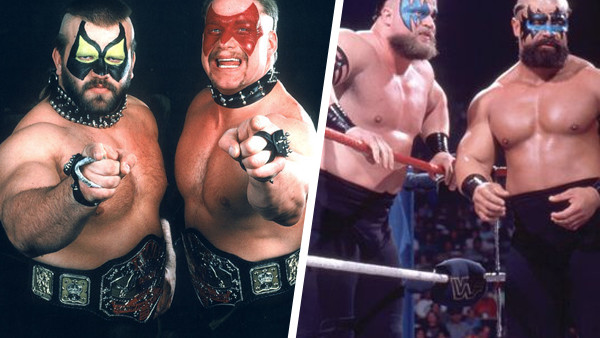 Ripping off a popular gimmick may have never been as blatant as when the Road Warriors took the business by storm. Suddenly every promotion was throwing green behemoths in facepaint and giving them heavy metal themes.
THE ROAD WARRIORS (Hawk & Animal, w/ Paul Ellering) vs. THE POWERS OF PAIN (Barbarian & Warlord, w/ Ivan Koloff):
(NWA Main Event, May 1988)
* This is from right before the Powers of Pain jumped to the WWF as babyfaces- here they're a heel knock-off group of the Road Warriors, dressed almost exactly the same. Enough so that this terrible video transfer will be tricky to watch. The Warriors start off charging the ring and swinging chairs, sending the Powers running.
Hawk/Barbarian start, Hawk scoring a dropkick but missing an elbow, so Barbarian hits a powerslam and scores his own elbow, but puts his head down and eats a Rude Awakening-style neckbreaker. They do a grapple/chat and the Powers both get clotheslined and bail, then Barbarian sits in Animal's armlock for a while- the Warriors trade off on him and we're back from break with Warlord & Animal smashing into each other ("it's like women drivers on the stunt-driving course!"), but Animal staggers him with another charge and hits the jumping clothesline to drive the fans crazy. Barbarian comes in and scores some big kicks to launch Animal out of the ring- Koloff adds a shot and Barbarian hits a powerslam in the ring, and Warlord adds a belly-to-belly for two. Barbarian misses an elbow off Bret's rope and Hawk hits a powerslam, fistdrop & jumping shoulderblock as we're already repeating offense, but Tully Blanchard & Arn Anderson hit ringside to assault Animal and the match is thrown out at (5:19)- the Road Warriors win by DQ.
A hard-hitting match which alternated Big Hosses Slapping Meat and guys standing around and milking everything. You could tell that Animal & Barbarian were the workhorses of each team, as they were in the most and took most of the offense (Warlord was in maybe 30 seconds of the whole thing, and was nearly immobile when he was there). The armlock and the bailing were kinda lazy, but it's hard to hate giant roid-monsters through clotheslines until the other guy falls.
Rating: ** (perfectly fine TV match, but no finish)
One of the weirder revelations I ever got in the business was that SKINNER used to be in a "Pretty Boy" tag team.
SKINNER vs. JIM POWERS:
(WWF Prime Time, Dec. 7th 1992)
* Hell yeah- the time when Jim Powers still had theme music, and he's up against "That filthy PIG!", Skinner, according to Monsoon, who then delivers the whopper "Listen to that ovation for the youngster, Jimmy Powers!". Okay, you can see 7-8 people on camera cheering at once, I guess. Despite Monsoon & Lord Alfred extolling the virtues of Jimmy's ICO-PRO routine, this seems to be a post-steroids Powers, as he's getting softer.
They do a trio of headlock-to-headscissors reversals, then Powers adds additional headlocks (man, this guy's Fire Pro moveset would be something) and they each do leapfrogs as they chain-wrestle. Powers nearly goes MOVEZ-crazy with some hiptosses but Skinner elbows him in the jaw to stop one, and goes to his biting & choking-based moveset. He gets a swinging neckbreaker, but charges into the post and Powers starts throwing a bunch of punches, including the ten in the corner, and clotheslines him down. Gut-punch, kneelift and dropkick has Skinner in trouble, but he gets a foot on the ropes and lures Powers into the corner, yanking him into it using the tights. Powers reverses a whip but charges into the post himself and it's the Alligator Neckbreaker (inverted ddt) for the pin at (5:14). … oh, so THAT'S how he wins matches!
A sad indictment of Skinner's place on the card, as the dude is trading amateur stuff with Powers and going out of his way to make the kid look good and get a five-minute TV match, which like… Young Jab always thought Powers was one win away from a big push, but Adult Jab thinks this just makes the heels look like wimps because they can't handle his Jobber-Fu. Skinner had decent stuff (I kinda like his precision brawling style and how his stuff is so "grab and throttle"-themed, since it fits his "swamp-dwelling alligator wrestler" character) and could thread a match together with anyone, but Powers is never the kind of guy to draw excitement, as all his comebacks are just dropkicks & shit, punctuated by him pumping his arms and going "Yeah!" to the fans like a total dweeb.
Rating: *3/4 (fine enough TV bout for Skinner to try and get something out of Powers)
"THE PITBULL" SGT. CRAIT PITTMAN vs. COBRA:
(WCW Main Event, Sept. 24th 1995)
* I think this was an ongoing feud at the time- Pittman is a generic scowling dude at this point, in a red USMC shirt. Cobra is supposedly a "Special Ops CIA Agent". But he looks like some generic muscular white guy with yellow tights, a leather vest and a beret (you know, like CIA agents wear!). And I guess he's a babyface because he gives a fan his dog tags (But what if he dies?). Oh right- this is Jeff Farmer, whose most famous role is as "nWo Sting". They establish that Pittman rappelled down to the arena before their Fall Brawl match, scoring an unfair victory with this surprise attack, but the Cobra went all "black ops" and snuck behind Pittman before a match last week to do the same (beating Pittman down and winning in seconds), so now I guess this is to settle it all.
Cobra goes to the arm and drops punches, but Pittman escapes another armlock and headbutts Cobra down after landing on his feet from a backdrop (I mean it was ugly but he did it). Neckvice/forearm rakes work Cobra over, and Pittman does a hilarious "belly-crawl" to climb onto Cobra's back, which Dusty says he did in Vietnam (… when he was ten?), doing a lot of rear "chokes" and arm work, plus some cartoonish punches. An actor, Pittman ain't. He misses two corner charges to set up the comeback, and Cobra's powerslam gets two- he gets a back elbow and goes up, but Pittman rolls through on his cross-body for the three at (6:40).
Not the most spirited match- it was just Pittman doing a lot of "grab the limb and act like he's stretching it out" in simple moves, barely holding onto a limb and then "wrenching" it by moving his arms along the limb while making a goofy face. That plus his cartoonish mannerisms weren't gonna set the world on fire, but at least it had psychology. Not that he actually got to use his Code Red armbreaker- he just got the "Tito Santana Lazy Nite Out" finish. Cobra is a very "1980s"-style wrestler- all muscle and basic stuff, but nothing interesting.
Rating: 3/4* (inoffensive but pretty dull)
"THE PITBULL" SGT. CRAIT PITTMAN vs. COBRA:
(WCW Saturday Night, Sept. 30th 1995)
* This is a rematch set only a week later.
They trade basic arm stuff until Pittman knocks Cobra down off the ropes, and Pittman keeps "sneaking around", eventually doing his ludicrous "belly-crawl" to get onto Farmer's back while he's on the mat. He grabs away at his face and neck, sorta doing a bulldog choke but then misses an elbow. Cobra throws shots, but climbs up for the ten punches in the corner and Pittman just spinebusters him off and holds him down… for the pin (2:43)! Hahaha, what a jobber! Pinned in 3 minutes to a generic reversal! That's two losses in a row for Cobra.
Rating: 1/2* (barely even a match, to be honest- the same as the previous match minus about 4 minutes of arm work)
"THE PITBULL" SGT. CRAIT PITTMAN vs. COBRA:
(WCW Saturday Night, Dec. 23rd 1995)
* The final bout in the feud as far as I can tell, airing right near Christmas. Pittman has previously asked Bobby Heenan to be his manager, and now asks Col. Robert Parker in the back with Mean Gene, but Parker turns him down, as he's about to marry Sherri. Pittman's now in a black t-shirt & khakis, while Cobra's in neon green tights.
Interesting start, as Pittman demands Cobra join him on the floor, and they brawl like crazy out there, then go back and forth in the ring throwing shots and trying the barest of grappling. Cobra reverses a whip but charges into the corner and Pittman works on the arm- Cobra keeps fighting out but Pittman smashes him or goes to the eyes to keep back on until Cobra finally fights up and throws a ton of strikes and leans on him. Back and forth they go, Cobra getting the powerslam again for two, but again they do the corner reversal and Cobra goes into it and is (badly) taken down into the Code Red (cross-armbreaker) for the submission (7:32). Pittman ends up winning the feud, I guess! Despite this, he never got any more of a push, and was gone from WCW by mid-1997 after doing nothing but jobbing after this point.
Another pretty long one, but avoids a lot of Pittman's bad submission work. Instead, it's just "you hit me; I hit you" all the way through, guys eventually fighting back with returning strikes. Then it's just a basic reversal to the finish- it's kind of weird seeing something as wimpy as a blind charge leading right to the finale in 1995.
Rating: *1/2 (ehhhhnnn… still not any good, but not the WORST or anything)