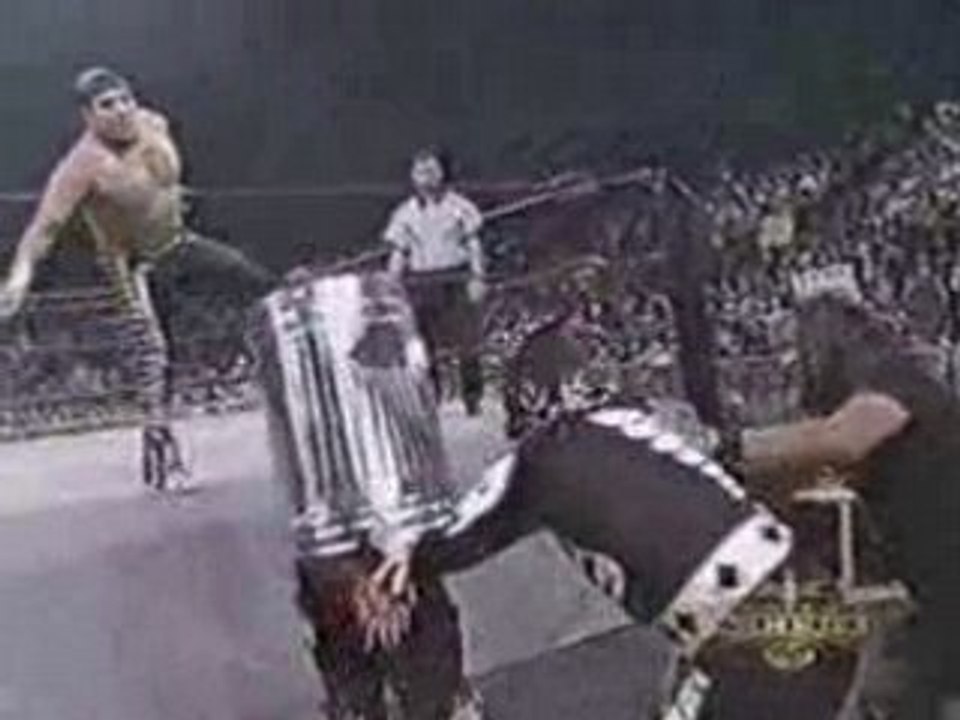 I've a special "Dream Matches" column this week, as I did one on Sunday for horror movie-themed guys, but wanted to get back to the regular Wednesday schedule with a smaller column. And as someone brought up this infamous bit from Nitro history, I figured I'd make it the focus, as it's as well-known for the reactions of the commentators (who laughed throughout most of it) as it is for being surprisingly good. And I'll throw in a random other Lucha match after it, because otherwise this is less than 1000 words!
FALLS COUNT ANYWHERE MEXICAN HARDCORE MATCH:
LA PARKA & SILVER KING vs. CICLOPE & DAMIAN:
(WCW Nitro, July 7th 1999)
* So this is a VERY infamous match from the latter era of WCW, when the WWF was destroying them in the war. They do the usual "WCW" thing of trotting out four random guys, mostly nobodies, to fill space on their massive show, only this time it's a Hardcore match because WWF was doing stuff like that, too. La Parka was pretty over but still a TV jobber, while the other three may as well have been Barry Horowitz- they NEVER won and were total jobber nothings, especially Ciclope. They move a bunch of plunder to the ring as Tony & Bobby on commentary laugh at the notion of a "Falls Count Anywhere MEXICAN Hardcore Match!", repeatedly referencing the full name of the match while laughing… get used to that.
La Parka, the Chairman of WCW, naturally starts with his trademark weapon and beans Ciclope, but Damian takes it and nails him, and Silver King Van Daminators Damian. Yeah, we're just skipping the weardown stuff tonight. Ciclope nails King with a trash can and Damian uses an Arabian facecrusher with the chair onto him, and the can gets used repeatedly on King & Parka to Bobby's amusement, as he chortles with every impact ("This is great!"). A fresh can goes over La Parka and they hit the Hardyz' assisted leg lariat on him, toss him, then Ciclope baseball slides a chair into his head, only to follow up and get ANNIHILATED by a chairshot to the face trying a tope suicida! La Parka does his chair dance in celebration on the floor but Damian dropkicks him off it from inside the ring, but Silver King charges in and dropkicks the chair into his face, putting him on the floor- King follows with a run-up plancha but Damian just CHUCKS the chair into his face in mid-air!
Damian gets back in the ring, but is oddly met by a soccer punt by La Parka, who sits him on a chair on the floor, then dives out onto it! Ciclope then dives onto La Parka and they openly communicate to set up Silver King dumping a can over Ciclope and Asai Moonsaulting the entire group! Damian tries to run a chair into Parka but eats it himself, then gets set up top and is ultimately just dragged into the chair off there when La Parka gets tripped up (was that improv from miscommunication?). And only NOW does someone try a pin! Parka tries a super rana but Ciclope smashes a trash can lid into his ass, sending him backwards. Ciclope & Silver King fight on the apron over a table, ultimately leading to a King tornado DDT through it! Damian sets up another in the ring, but gets Superbombed through it by La Parka! For TWO! Despite that insane spot, they can one-up it, as La Parka powerbombs him onto TWO open chairs, which don't give even the slightest, and this kills Damian enough to get the pin (7:15).
A completely wild spotfest of a match- they didn't even bother with weardown holds- they just started swinging with chairs and didn't let up for seven minutes. Some insane stunts, too- even Darby Allin would shrink back at doing a dive straight into a chairshot to the face or having one flung at him while he's coming off the top rope. And yet the match is mostly infamous for the laughter on commentary (Tony repeatedly dropping the match's full title while Heenan laughs at the huge bumps and trash can shots). Though to be fair, both put over the toughness and insanity of the competitors, especially by the ending ("HE KICKED OUT OF BEING POWERBOMBED THROUGH A TABLE!" "WHY?? WHY? Get it over with- go home! I couldn't take this kind of a beating- what they're going through!" "Super! Super-human effort!").
Rating: ***1/4 (super-short and no psychology at all- just an epic spotfest with insane bumps)
And in the end, this match could be a microcosm of why WCW lost the war to the WWF: If this match had taken place on Monday Night RAW, it would have resulted in a great reaction, impressed bookers, and possibly a bit of focus for all four guys- if not a real elevation up the card but at least a PPV match. The Hardy Boyz around the same time put in a lot of work and took crazy bumps and got elevated again and again (even if some of it was "Cool Dad" Michael Hayes managing them) until they were the Tag Team Champions, elevated alongside E&C and the Dudleys. But on Monday Nitro? NAHHHHHHHHH f*ck it- just drop everyone back down to jobbing to Erik Watts on WCW Pro– who cares? Ciclope & Silver King damn near killed themselves out there and were even lower on the card than La Parka, who was over and entertaining and was still jobbing to dudes in four minutes.
I mean, I'm not naïve- the WWF had Kaientai, who were even BETTER workers, and never used them much either- they weren't even given opportunities like this. But anyone showing this much effort on WWF TV at this point would have likely been given SOMETHING. Meanwhile, these four guys don't really have any legacy in WCW at all.
So this great TV match ends up being a sign of everything wrong with WCW- Wrestle a great match on TV? Great, good- now f*ck off and get out of the way of the REAL stars like the nWo. Nobody cares, and enjoy jobbing.
JUVENTUD GUERRERA, HECTOR GARZA & CICLOPE vs. LA PARKA, SILVER KING & EL DANDY:
(WCW Pro, Dec. 28th 1997)
* Yep, it's classic WCW- throw six random luchadores out there to fill time on the show NOBODY is watching! It's largely Juvie & La Parka leading two job squads, so either could really win. Silver King is in white trunks & Dandy in purple tights, so they're not in "tag mode" here. Juvie's in black & purple here, leading Garza (black trunks) & Ciclope (black with orange and a big eye decal on the mask)- Ciclope was one of the lowest-tier luchadores, almost never winning.
La Parka/Ciclope start with chops as Scott Hudson declares he's getting "chillbumps" thinking about Hogan/Sting coming in less than an hour (yes, this is the even of Starrcade '97)- they do "Fat Guy Acrobatics" via armdrags and Ciclope doing the world's slowest "roll up their chest while they're standing and do a rana" ever. Garza/Dandy go, with Dandy countering Garza's spirited leaps and athletics with simple punches and kicks like a good veteran. Garza backflips out of the corner and Juvie flies in with a springboard missile kick as I mull over Dandy, who can't really do much of anything move-wise, but sells well and has great timing so he's a great "tackling dummy" for luchadores. Silver King comes in and Juvie lands on his feet from a monkey flip, gets necked on the top rope, but leaps onto King's shoulders and spins into a rana. King/Dandy beat up Ciclope and King backdrops Dandy onto him on the floor, but Juvie gets whipped to the ropes and just flies over with a headbutt to Dandy's gut (uhh… was that supposed to be a tope con hilo?). King adds a pescado to Juvie and then La Parka scores a Fatass Asai Moonsault to the pile, allowing Hector to do his beloved corkscrew plancha (which is really just a plancha with one turn- hardly that nifty). Then Parka pounces, shoving Ciclope into the ring and hitting an ugly corkscrew moonsault (hitting him with his calf) for the win (3:33). The funniest part was Ciclope was hit by NONE of those big group moves, just standing out of the way each time.
A very "by the numbers", short lucha bout, with each guy taking turns, then upgrading to cooler stuff. Juvie's stuff looked great while everyone else looked a bit dumpy and slow, but Dandy had good timing. The mandatory "Lucha Pileup" keeps the fans happy, but the finish was out of nowhere, at least making La Parka look opportunistic.
Rating: *3/4 (basic quick lucha bout)