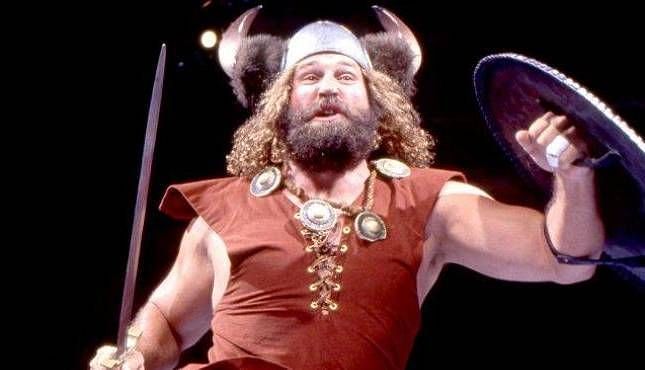 The Man, The Myth, The Legend- The Berzerker returns to my column! In a match that doesn't suck!
Welcome back to more Dream Matches! This week, we have some surprisingly hard-fought, bludgeoning midcard matches to start us off, as the Big Boss Man faces The Berzerker on WWF Prime Time, and Sgt. Craig Pittman faces Kurasawa (Manabu Nakanishi) on WCWNitro!
Also, I have Fire & Ice vs. The State Patrol, as the undersized veterans oddly control most of the match against their huge opponents Scott Norton & Ice Train. Then it's more of Mortis & Wrath on the WCW midcard, as they take on Harlem Heat on Saturday Night, back when Jacequelyn was their manager! Then I watch Salvatore Sincere fall into the bottom-tier heel dead zone of "teaming up with a jobber" as he ends up wrestling the now-serious Godwinns on Shotgun… and we cap things off with one of Nitro's most infamously bad matches, as Juventud Guerrera has to face the huge, way too green JOE GOMEZ!
THE BIG BOSS MAN vs. THE BERZERKER (w/ Mr. Fuji):
(WWF Prime Time Feb 17th, 1992)
* The greatest of all un-over failed midcard heel gimmicks, The Berzerker, actually gets another featured match in mid-1992 against the Boss Man! I don't recall too many competitive Berzerker matches during this early part of my fandom, so this is fun.
They actually start out with straight right hands, not even making attempts to defend themselves, then run into each other HOSS-STYLE, but Berzerker actually surprises Boss Man with a big boot when he charges in again. Who gets outsmarted by THE BERZERKER? He leapfrogs Boss Man, but eats an uppercut and sit-out spinebuster- Berzerker kicks out at one, then dodges an avalanche to go back on offense, just beating the hell out of him. Jumping shoulderblock gets two and he chokes away, Mr. Fuji adding a cheap cane shot, and a jumping knee & the World's Strongest Slam puts Boss Man down. Berzerker takes too long with a knee off the second rope, eating mat, and Boss Man just CHARGES him, flipping them both over the ropes with a clothesline! They brawl like crazy on the floor, Boss Man resisting a post shot and elbowing Berzerker in the head, and we get the "babyface slides in before the 10-count" Count-Out victory at (3:38)- Boss Man beats Berzerker! Berzerker yanks him out after that and tries pulling up the mats while Boss Man's still on them, resulting in an awkward mess, but slams him on the concrete. Berzerker goes nuts in the ring, slamming himself onto the mat and going "Huss! Huss!", but when he follows up for more punishment, Boss Man recovers and whips him into the steps.
This was AWESOME. Less than four minutes long but they just beat the hell out of each other, wasting no time and throwing bombs the entire match until the semi-cheap finish. Great bumping by both guys, with Berzerker actually hefting a dude Boss Man's size up easily. Unfortunately this led to nothing and Berzerker mostly farted around until a brief thing with the Undertaker.
Rating: ** (I mean it was super-short but the effort was there and they just threw bombs the entire time)
I wasn't watching WCW at this time, but damn- that's some great hair.
SGT. CRAIT PITTMAN vs. KURASAWA (w/ Col. Tom Parker):
(WCW Nitro, Sept. 25th 1995)
* Okay, I have no idea who Kurasawa is, so I had to take a look at this one… oh snap, it's Manabu Nakanishi, a squat, strong-looking New Japan star in an American excursion! He stuck around for a while getting a token push until he was jobbed out. Pittman, an eternal midcarder, did not last that long into the Monday Night Wars as I recall, while Bischoff notes that Kurasawa broke Road Warrior Hawk's arm. Kurasawa's got black trunks and a GLORIOUS '80s-style mullet, while Pittman's in fatigue khakis and a red t-shirt, which is a weird look.
Pittman does two big leaping headbutts to the chest with some flourish, but Kurasawa comes back with shots and a "back leg round kick" sends Pittman over the top. A baseball slide sends him into a weird bump and Kurasawa pulls up the mats and hits a friggin' MOUNTAIN BOMB on the concrete. Kurasawa shreds the arm with submissions, but takes a big bump to the floor off a charge. Pittman follows up headbutting him off the apron and tears into HIS arm, hitting an overhead belly-to-belly suplex and slapping on Code Red (cross-armbreaker), sending Kurasawa into the ropes. Pittman throws elbows while Col. Parker has a heart attack outside, but Kurasawa blocks him, only to take an inverted gutwrench suplex. Pittman tries a German, but Kurasawa blocks him again, goes behind, and hits his OWN Bridging German, and that gets the struggling three count at (4:27)! Wow, big surprise there.
I WAS NOT EXPECTING THIS TO KICK ASS!!! I mean, it was very short and ended suddenly, but this was two stocky brawlers just beating the sh*t out of each other and wrenching the arm half to death. Kurasawa showed great fire with kicks and a mountain bomb onto concrete, and Pittman wasn't lazy at all, tossing him around in suplexes and the like. It was just two guys throwing bombs until one of them got pinned.
Rating: **1/2 (very good for a short match)
It's easy to rag on WWF's stupid tag teams, but WCW really took the cake in the mid-90s with these "D-Show" doofuses.
FIRE & ICE (Scott Norton & Ice Train) vs. THE STATE PATROL (Sgt. Buddy Lee Parker & Lt. James Earl):
(WCW Pro, April 13th, 1996)
* So it's the rising Fire & Ice up against one of the JTTS tag teams. Chris Cruise HILARIOUSLY claims that Buddy Lee Parker is six feet tall, which is worse than Adam Cole's stated dimensions. Fire & Ice are in red & black singlets, while the State Patrol are in all blue.
Ice Train keeps doing his funny "waving with his arms out" stance as he powers down Buddy Lee, but misses an avalanche and Parker lights him up. Train actually uses a leapfrog of all things and backdrops him, then gets a clothesline and Norton bowls over both Patrolmen and presses Parker, but Earl trips him up and that gets two. State Patrol gets a double suplex and Norton keeps trying to no-sell but their persistence and double-teaming pays off as he gets staggered by another clip to the knee. Parker hefts up Norton but just drops him across his own face (that didn't seem planned) but they stay on him regardless, but try another double suplex and Norton actually lifts BOTH guys in a reversal (and they are NOT helping much). Ice Train gets the tag and clotheslines everyone, then Norton hits the Running Shoulderbreaker into the Train Wreck (leaping splash) at (3:29).
Weird little match, as the State Patrol just gobble up SCOTT NORTON of all people, hammering away at him so even he can't no-sell because they're coming from all sides and are relentless. Like he keeps trying to quit selling and make his own comeback but he always has to sell an immediate punch so they prevent him from doing so. Then he gets a one-move power comeback and they hit their finisher and win.
Rating: ** (solid quick match, dominated by the little guys thanks to sneaky moves and double-teaming)
HARLEM HEAT (Booker T & Stevie Ray, w/ Jacquelyn) vs. MORTIS & WRATH (w/ James Vandenberg):
(WCW Saturday Night, Sept 27th 1997)
* More Mortis/Wrath goodness, as they're fed to Harlem Heat on the C-show! I actually forgot about Jackie being the Heat's manager- she wasn't in WCW for that long. WWF snapped her up as a token rival for Sable in a hurry. The Heat are in red gear this time around, Mortis & Wrath are in the usual.
Mortis takes over on Stevie Ray with his rib kicks to start, but soon takes the double-team Ax Kick from Booker, but Wrath boots him from the apron and Mortis hits the Flatliner (before it was a finisher- here, it's a transition move). Wrath uses sorta-martial arts but Booker gets a one-handed sunset flip for two- Wrath clotheslines him as Dusty, master technician, calls out "no one ever got a pin from a one-armed rollup". Booker ducks Mortis and gets a forearm, and Stevie hits a falling spinebuster on the hot tag. He clotheslines both guys, takes Wrath out of the ring, and the lift-up into Booker's side kick scores the pin on Mortis at (3:07). Wow, THAT was easy.
Rating: *3/4 (Shockingly short match, as it's largely a heat segment on Booker T into a hot tag into the easy win off a basic double-team move. Really makes Mortis & Wrath look like jobbers- not actively bad but super-brief)
THE GODWINNS (Phineas & Henry Godwinn) vs. SALVATORE SINCERE & ED RAMOS:
(WWF Shotgun, June 21st, 1997)
* Yes, Sal Sincere has finally downgraded to the lowest ebb on the "named guy" pecking order: The Guy Who Teams With Jobbers. And it's the shirtless, overall-wearing Godwinns, arguably their lowest ebb. Brian Pillman immediately trashes Ramos on commentary ("He better get his PAISANS to get him a new partner, because Ed Ramos SUCKS!"). Sincere's in shape and has his usual white & pink gear on, while Ramos is a tall, pudgy jobber in a black singlet. HOG & PIG still come down to "Country Boy" despite these serious, ass-kicking expressions- it's shown that last week Phineas locked lips with Chyna and immediately turned around and got Pedigreed by Triple-H to lose a singles match and Henry had words with him. Pillman theorizes that "after kissing sheep all day, Chyna's a step up!".
Sal stalls a lot, then starts with a slap and some boots, but Phineas backdrops and clotheslines him- HOG adds a shot and Ramos is in. He gets thrown back to the mat and PIG is slammed on him, then Phineas hits a clothesline as they slowly work the jobber over. They double-team him and Henry whips him to the ropes, boots him, and hits the Slop Drop (inverted ddt) with a miserable look on his face for the pin (3:24). Lol, nice work Sal- way to be helpful. He gets into the ring but quickly backs off. Shockingly, "serious, frowning hillbillies who don't emote" failed to get over.
Rating: 1/2* (basic squash- mostly stalling and then simple brawling by the Godwinns)
"Okay, so we got this 6'4″ super-sh*tty kid who seems barely trained, and a 5'7″ luchadore we really want to push quickly to give him some credibility, in a match that uses all of his complex, high-flying lucha maneuvers. What could go wrong?"
JUVENTUD GUERRERA vs. JOE GOMEZ:
(WCW Nitro, 09.09.1996)
* An infamous botchfest, this one has far more notoriety than the usual throwaway Nitro squash, of which there were many (especially as the show constantly filled time). Juvie is still new to the company and comes down to what sounds like Eddie Guerrero's old theme, in red & white tights with a black singlet top and white mask. Juvie is now set to face Konnan for the "Mexican Championship" at Fall Brawl after Psychosis was injured by a now-heelish Konnan. Gomez is MUCH taller and in long black tights, one of WCW's many "a jobber but maybe they'll push him some day?" hopefuls.
They do the International, Gomez bumping Juvie with a shoulderblock, but Juvie nailing a dropkick and springboard somersault dropkick, kipping up to show off. He dropkicks Gomez through the ropes as well, but then has the awful idea of trying a springboard rana into the ring while Joe's on the apron. This leads to one of those hilarious "delayed sells" as Juvie harmlessly slips off, Joe pauses for just long enough to reveal that he wasn't touched, then flips himself over, landing on Juvie as he bumps. The crowd immediately boos how fake that looked, and Gomez hits an elbow and GOES UP- Larry Z calls this out as stupid and Juvie catches him, but backflips off (probably realizing he doesn't want to try a Super Frankensteiner on a clumsy, green kid)- he's just like "f*ck this" and dropkicks Gomez coming off the top and puts the match out of its misery with a springboard… corkscrew splash (2:50).
Ugly, ugly bout- the botch is one thing, but randomly choosing a different move halfway at the top just looked even weirder, like they improvised a finish. I wonder if Joe just said "no" to the bump on the top (you could hear SOMEONE shout) and they had to improvise it. Bischoff points out in his podcast that the rana bump was as much on Juventud as Joe, given how big Gomez was, which is kinda true (ESPECIALLY given how bad Joe was).
Rating: DUD (one of those ugly bouts that kinda goes off the rails in the middle and then has a bad ending, too)