Minot, North Dakota, USA
All Seasons Arena
Commentary by Carlo Gianelli & John Tolos

When we last checked up on UWF it didn't have the strength to blow it's own nose. Herb's only TV had been Prime Network out of Los Angeles and by 1993 that was long-gone along with interest in the company. Meltzer only cared enough to report UWF news twice across two years:
December 28nd 1992
Herb Abrams is planning on re-staring his UWF on 1/17 with a taping at Beverly Hills High School. He wants to re-unite Bruno Sammartino and Lou Albano as one pair of hosts although I don't believe he has a deal with either. His idea for the hosts of his other show are John Tolos & Tiny Tim. (note: didn't happen.)
August 9th 1993
Herb Abrams is planning on doing a UWF television taping in New York in November using Terry Gordy & Steve Williams as the top stars. (note: didn't happen.)
In fact the last bit of UWF news was Steve Ray and Sunny Beach wrestling for GWF's large tag-team tournament. Sunny revealed in Jonathan Plombon's book that the promoter only paid him half of what he was promised after they had wrestled over two days, so Sunny rang Herb and ask he send a threatening fax to Global insisting that UWF owned the copyright to Sunny Beach and that his name couldn't be used…which meant GWF had to remove all their matches and re-do them with different tag teams to have the brackets make sense. All this despite Herb not owning the copyright or even having Beach under contract. Steve Ray also claims Stevie Ray (of Harlem Heat) was given his name in Global because of this incident which uhhh I'll think about.
So after a few cancelled shows and more bounced cheques, Herb started a friendship with a man as colourful and as annoying as himself, Zoogz Rift to assist with having this wonderful event at Minot. Because the shows were reported as a "disaster" they never aired anywhere but the recordings were sold online by Zoogz so we can enjoy them in their wonderful infamy.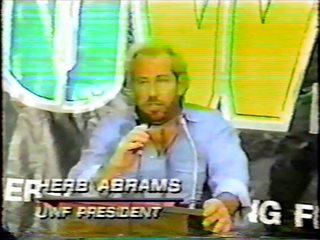 The tape starts with a news report of the press conference for the event, with Herb promising to "bring respectability back to wrestling" and we might as well close the gates and leave as it's not getting better than that. Herb hypes The Undefeated For Seven Years Mr. Outrageous taking on Paul Orndorff. Mr. Outrageous was Al Burke who I don't think had seven victories over seven years. Zoogz pushes a table over after being insulted by Steve Ray and walks dramatically out of the conference, before we cut back to the news presenters struggling not to laugh at this D-Level crap.
We then cut to the broadcast team of Carlo Gianelli & John Tolos and you know this isn't edited because Tolos is telling the cameraman that there's "a lot of lesbians in the town, I checked them out last night. I nearly picked one up!" before staring blankly as Carlo starts running down the card. It's going to be a long one.
In fairness the crowd doesn't look or sound worse than any of the other shows Herb released to an unsuspecting universe and at least you can see the crowd unlike certain large american companies in 2022.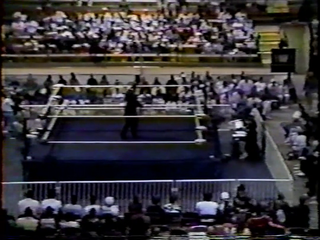 Mr. Outrageous vs. Randy Gusto
Al Burke is done up like Sunny Beach because Herb had to have a surfer/skater gimmick. His mullet is absolutely insane even by wrestling standards, it's built like Judge Dredd's shoulder pad.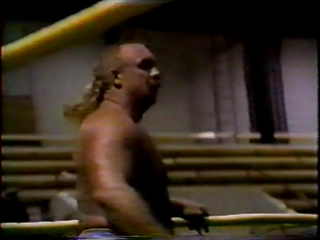 Randy is fresh from a run in the incredibly ill-fated Network Of Japan company. I don't know how they barely survived two years when they were flying wrestlers like Minnesota Guy Who Loses Every Match over. Burke stalls and gets a healthy reaction from the crowd who don't like him or his Davey Crockett mullet. They exchange some decent but average holds and exchanges until the crowd stop reacting. Referee gets bumped in the opening match so Mr. Outrageous can twat him with his skateboard to get the win. Tolos defends his actions by yelling "the woods are filled with the bodies of nice guys!" Match was in first gear.
Gusto explained years later that Herb's cheque bounced so Gusto decided to leave a nice message on his answer machine rather than threaten Herb and surprisingly, Herb rang him back to apologise and sent out a cheque that cleared.
Herb made up for this by owing large sums of money to Holiday Inn, Meyers Broadcasting and Kruses Luxury Limousine.
Commentators try to get a replay of the finish but the guys in the truck (which probably looks like a Cozy Coupe) can't get it working so Mr. Outrageous insults the crowd instead. Sadly he's next to Herb who yells YOU'RE HIDING BEHIND THOSE SHADES, WE WANT TO KNOW WHAT YOU LOOK LIKE even though he just wrestled without them on. Absolutely no-one reacts to Herb or even the threat of Herb getting a kicking. They called him Mr. Electricity despite the Amish having more of it.
We're then treated to several minutes of repeated takes of Killer Bee promos. No wonder this sucker is two hours long. Anyway buzz buzz lose lose "just say no to drugs."
We get more footage from the press conference, with some guy called Commissioner Gianelli who is built like Tony Mamaluke with a tape-worm, promising to take over the UWF. I love Herb's constant need for A) surfboarder/skateboarder gimmicks and B) non-wrestlers like Mr. Red trying to pry control of the company with the worst reputation in all of wrestling.
Also here's what Zoogz looks like in case you were wondering what the kind of person who would willingly hang out with Herb in 1993 looks like: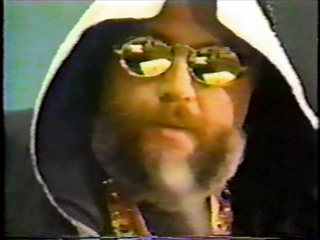 He calls The Warlord "The Wardlord" several times and then the camera misses him tipping the table over.
Steve Ray is hanging out at the fair trying to get fans to come to the event, while whispering that it's going to be tough as they're "inbreeders." After asking a few fans if they're coming to the show and getting told "naaah", he mocks them by saying "aaah we don't watch that kind of entertainment, we're going to watch pigs and cows!" Ray is concerned that the crowd is kind of conservative so he's going to leave now "in case he gets lynched." He pervs on some women then gives up. One of the reasons to watch this mess.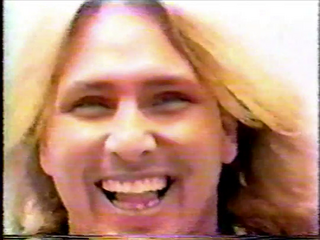 Zoogz Rift gets promo time to do a bad impression of Kevin Sullivan.
Todd Becker has a few attempts at cutting a promo and he's got the strongest Minneapolis accent I've ever heard on a wrestler. "Oh you betcha, yeeh" etc.
Steve Ray talks about…nothing, really until he talks about Dr. Death Steve Williams and that one match they had in New York that one time. That match wouldn't happen so Ray rambles about Mr. Outrageous for a bit as I fast-forward.
Jim Brunzell talks and he's like 70% Fargo too now that I'm noticing these accents because there's nothing else to talk about. Bob Orton isn't scared of The Warlord and you know he's a pro because he can say his name correctly.
The New Mysterious Blackhearts vs. The Killer Bees (B. Brian Blair & Jim Brunzell)
I thought "well the line-up is dead but at least we'll get a Blackhearts match" but even that low expectation hasn't been hit as these guys don't even bother to dress like The Blackhearts: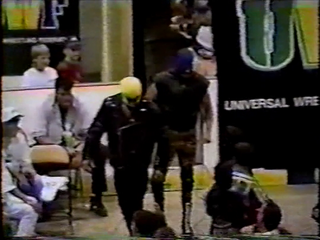 CageMatch lists their names as ???? and ???? which makes me wonder how effective joining a low-level wrestling company would be for witness protection. If you can't even give tickets away for an event then it sounds like a safe place for an informer. ???? Number 1 takes his top off to reveal that he's in worse shape than me so I'm not looking forward to this. The Killer Bees keep the double-teams coming to keep the crowd buzzing but it's like every frigging post-WWF Bees match: technically well put together but hard to care about. The Blehhearts do a good job of working over Brunzell and annoying the crowd behind the ref's back but it's not enough to overcome an atomic drop/dropkick combo.
Herb talks about the "championship level teams" we have here in UWF, the company without tag team championships. The Bees name-drop The Steiners who they claim are free-agents. They were currently the WWF Tag Team Champions.
Bob Orton Jr. talks about "exotic Asians" so let's move onto The Warlord laughing and sneering with Zoogz. Warlord also brings up Steve Williams which I can only assume was for a show that (pauses so audience can say it at the same time) didn't happen.
Steve Ray takes on an anti-gravity machine in an attempt to get him to shut up.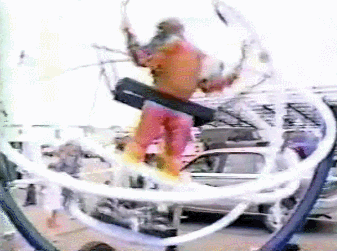 It doesn't work.
Steve Ray vs. Mr. Outrageous
Oh boy two Mr. Outrageous matches. Ray oozes energy and charisma so all the kids are cheering their awful haircuts out at him. Steve fannies about with his skateboard to annoy him and the kids go nuts for his antics. Al Burke the worst skater since Officer Dick continues to smash the board over Ray at ringside as the ref does nothing. Ray ignores it and locks in a Figure Four which only Tolos knows the name of. Ray misses a top rope headbutt before both men blow a sunset flip/backdrop. Some more stuff happens and then Burke gets too distracted by the kids (which happens a lot to indie wrestlers) and Ray gets an awful roll-up to end it. Ray at least had enthusiasm.
Zoogz eats a cowboy hat while Wardlord promises to beat Bob.
UWF Intercontinental Heavyweight Title Match
Bob Orton (c) vs. The Warlord (w/Zoogz Rift)
Nice to see Warlord still wearing his WWF gear (minus the mask) and even bringing the stick with him.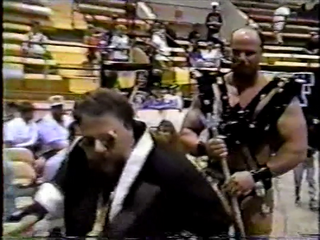 The kids that haven't left already love The Warlord because unlike the house "he's full, brother." Orton bounces off Lordy's lats and the crowd laughs at The Cowboy. Warlord locks in a bear-hug and the kids even cheer THAT. This is why guys like Sid were (and are) over as hell because normal people can't believe human beings can look like that. Orton's a pro and turns heel mid-match by rubbing Warlord's eyes into the ropes. Tolos refers to Orton as the Southern Champion which he isn't as he lost that to Orndorff a year ago. Oh and speaking of that title belt, it's hard to tell because of the low quality of everything but the belt Orton wears to the ring is actually a replica WWF Intercontinental Title.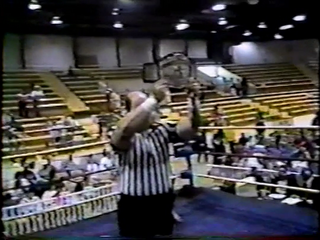 Orton gets thrown into the ring post and bleeds, which is crazy to me. And it's a gusher too, with Warlord accidentally hitting the ref and locking in a Full Nelson to KO Orton as the secondary ref rings the bell to declare Warlord as the new champ KIDS GO WILD…ah no, because the ref got hit that means Orton is still the champ KIDS ARE PISSED. How dare they do a screwjob finish for the WWF Replica IC Title. This was a nothing match but I appreciate the hell out of Orton not only bleeding lots for a show like this but also knowing when to change his style to match the mood of the crowd.
Overall: One for the UWF die-hards only and there can't be many of them left in the world (hi Rock Star Gary) as the wrestling media had got sick of listening to the one-joke that was Herb.
But even after all that, Abrams would have time for one last laugh a year later…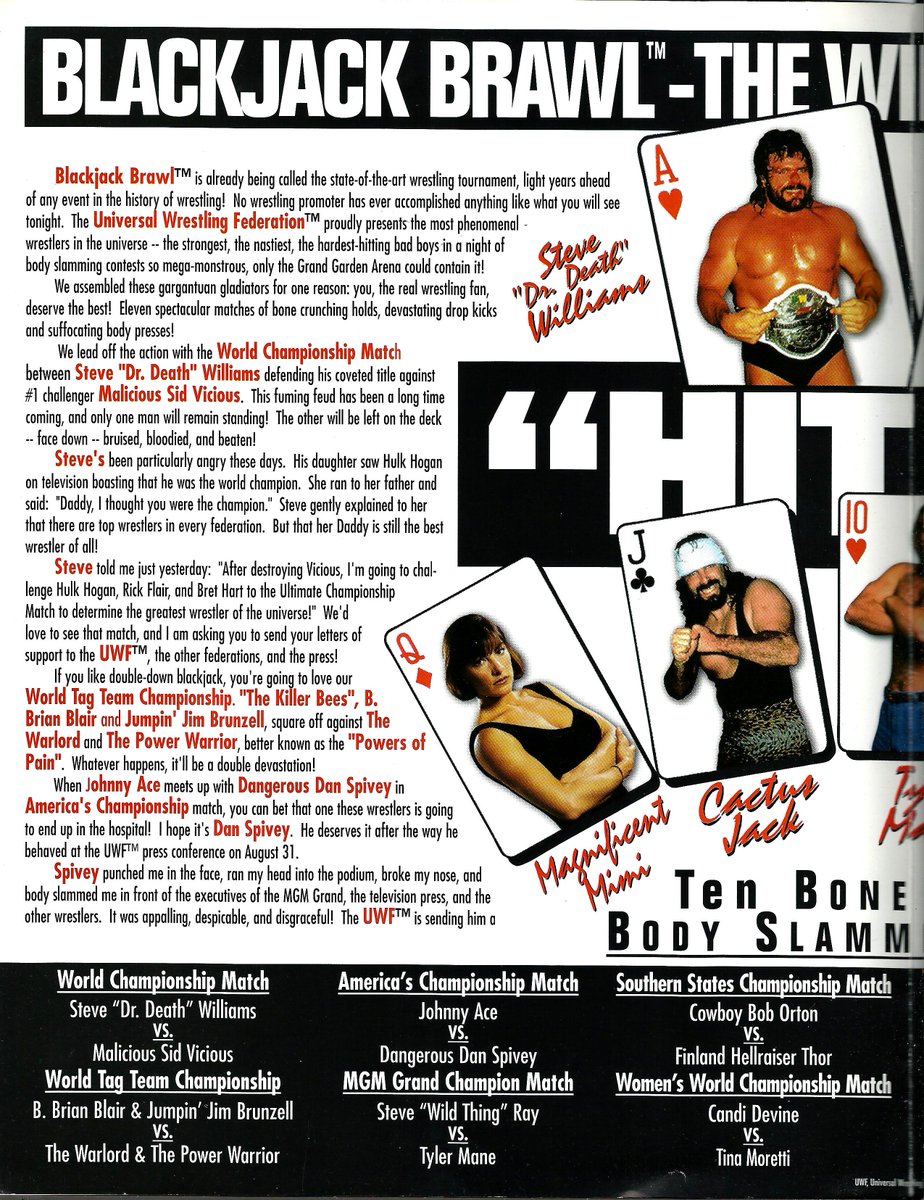 I've been Maffew (reluctantly)