September 16th, 1991
Taped July 20th, 1991
War Memorial Auditorium
Ft. Lauderdale, Florida
Commentators: Bill Cardille & Bruno Sammartino
And so it comes to this: With SportsChannel not renewing their contract and Herb already having squeezed every last match and interview he's already recorded, Herb has to resort to Plan B…airing a Wild Women Of Wrestling show instead.

Funnily enough on my copy of the show, the show starts with Herb hyping up the Steve Williams vs. Bam Bam Bigelow feud again so either the person who recorded all these for the purposes of trading with someone dumb enough simply wanted to save VHS space and recorded over the previous clip show Herb together months ago… or SportsChannel saw what he was doing and asked him if he was out of his mind, before answering their own question and running this instead:
Sheila Fox vs. Cadillac Pink
Bruno's commentating with Bill Cardile, a wrestling commentator who had minor roles in Night Of The Living Dead and Dawn Of The Dead which probably explains his lack of surprise to suddenly commentating for a dead company. Bill talks about last week's WWOW episode as opposed to anything UWF related and I'm waiting for Bruno to say "wow I just woke up, I had this dream I worked for this crazy guy in crocodile shoes…wait my useless son was there, it was a nightmare!"
Pink's about 6'5" and Sheila is at least a foot shorter so this match is like watching a kid try to climb a jungle gym. WWOW has mid-match chyron for the wrestlers which makes the company look instantly more professional than Herb's Troma-level attempt. The crowd is still lit darker than Albano's liver but still. Fox bounces off Pink a few times and threatens to jump off the top rope but Pink simply walks out the way of the dive a la Samoa Joe. A Torture Rack (with Sheila explaining how to execute the move to her opponent every step of the way) ends a giant showcase for Cadillac Green Pink.
Post-match, Fox applies a sleeper hold to take down the giant opponent before Tina Moretti (aka Ivory) runs her off. Crowd are indifferent.
Tina Moretti vs. Diane Von Hoffman
Diane Von Hoffman is billed as hailing from Germany and has 1940s marching music because I guess that's all people know about that part of the world in 1991 because The Hoff hadn't taken over yet.
Tina from Los Angeles uses her speed to annoy Diane until she's having a huff(man). Ivory's skills are obvious compared to many of the wrestlers on this show, no wonder WWF gave her a call. Diane's a bit of a turnpike, thudding and shoving her way through offence but at least it makes for a decent story. Diane takes forever stomping and yelling allowing Tina to counter a run into the ropes with a crossbody to get the pin. And the crowd cheer the hell out of her afterwards. I'll give this company credit, the matches are easy enough to understand if you don't know who anybody is, which is a relief because they're all virtual unknowns at this point.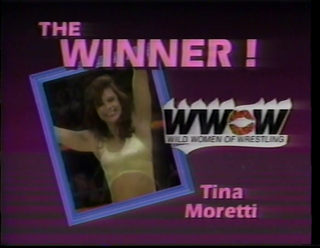 By the way, there's an advert for the Wild Women Of Wrestling and Ladies Major League Wrestling, so was WWOW the company and LMLW the show?
The Power Team (Taylor Made & Heidi Lee Morgan) vs. Babyface Nellie & Rusty "The Fox" Thomas
Taylor Made is the future Tori aka the woman who broke Kane's heart and his brain apparently. "Babyface Nellie" is a bit on the nose in terms of names but then again they're dressed in work-out gear and coming out to Pump Up The Jam so it's all very Wacky Races.
Morgan attempts a crucifix as Bruno tries to talk about the positives of tights in wrestling. Morgan sends Nellie off the top with an inverted atomic drop/spinebuster as Bruno gets the names of the people in the ring wrong. It sounds like he's trying not to laugh as he's watching some of these rough exchanges. Fox decides to pop up in the ring without actually tagging in and gets a weird looking roll-up for two. Taylor pins Nellie but she forgets to kick out or move but Taylor still jumps out of the pin like she's wrestling Andre. Bruno is speechless but that's his default state of mind. Nellie lands a running bulldog so rough Bruno mutters "ooof" before a running crossbody ends it. I've seen better fights in phone boxes.
We get a commercial for the next UWF TV Taping from Mount Vernon High School which…did happen! Bloody hell. The main event was reported by Meltzer as being advertised as Tony Atlas vs. Paul Orndorff. That didn't happen, meaning it was definitely an official UWF show.
Bambi talks about being awarded Rookie Of The Year while at the horse-track and runs down her issues with the evil Abdullah Farouk. The presentation is cheesy and low budget but it completely blows away everything we've been watching for the past year so well done.
Malia Hosaka vs. Ariel Dee
Ariel Dee's gimmick is she's a former Air Force Pilot who hails from "Upper Stratosphere" and this show rules when the wrestling isn't happening. Malia still wrestles on local indies to this day and was a part of the short-lived WCW World Women's Cruiserweight Championship tournament on Nitro in 1997. She's Japanese and I guess you can't tell by looking at her so she also has the flag around her mid-section with other smaller flags hanging off that followed by other flags hanging out her knee-pads. She's more bunting than wrestler.
Malia gets a weak double chop followed by an X-Pac kick and the crowd goes "woahhh!!" at both. They're starving for good action after that previous match. Ariel is cack so all Bill can think to say is compliment Malia's nice blue singlet. Handspring elbow in the corner (mostly missed by the camera) impresses the crowd before a giant catapult sends Dee half-way across the ring because she's good at flying. Hosaka gets tossed outside but re-enters with a Sunset Flip for the victory as the crowd loses their minds like the dudes in the commercial for Palm Beach Plates: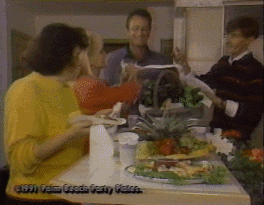 Hooray, Luna Vachon is still on TV but she's interviewing Sheila Fox instead of calling God an alien. Fox tells us there's nothing to worry about when her opponents are nothing. "Moretti, forget it kangaroo breath!!" Luna fills in the gaps between their feud and then asks Sheila if she's worried about Moretti. "Uhhh no. Don't bother brushing your hair because I'm going to be ripping it out of your head." THIS SHOW RULES.
Wendy Richter vs. Leilani Kai (w/ Abdullah Farouk & Judy Martin)
Leilani Kai of the sweet tag team The Glamour Girls who totally got screwed by The Fabulous Moolah vs. Wendy Richter who also got totally screwed by The Fabulous Moolah. Richter's still using Girls Just Wanna Have Fun as her theme which feels like Marty Jannetty still wearing Rockers gear in 1995.
Richter dominates to begin with and the crowd are dulled. Multiple slingshots send Kai around the ring but a standing splash meets nothing but knees. Kai takes over and the offence instantly improves with a lovely hand-cuff Northern Lights Suplex. Richter stops a pin attempt by simply turning on her side which is an under-rated technique. Wendy locks in a Boston Crab with even less bend than Jericho's Walls as the crowd talk amongst themselves. Even Judy Martin choking Wendy can't get them into this. However the Ol' Ten Punch never fails to inspire people to Count To Ten and after more distraction from Farouk, Judy and Kai land a Double Suplex to end it to boos. Eh.
Overall: The production and promos were easily the highlight, feeling like 90s fighting game cut-scenes come to life. Wrestling was mostly rubbish but you could at least see the potential of wrestlers like Ivory. I wouldn't go out of my way to watch any other shows but it was a breath of fresh air after Herb.
Aaaaand that's it for Herb's TV contract with SportsChannel America. I believe the American Wrestling Federation took over the time-slot which was the Pepsi to Herb's Coke. Abrams was still trying to sell his interpretation of a wrestling show to various cable companies but surprisingly no-one was chomping at the bit for a non-budget non-star TV show.
Here's a run-down of the remaining WON UWF news bits from 1991, presented in as humorous a manner as possible to help steady the flow of tears:
SEPT. 23, 1991
Herb Abrams' UWF has a television taping on 10/1 at City Limits in Ft. Lauderdale, FL with Paul Orndorff, Junkyard Dog, The Black Hearts, Brian Blair and Danny Spivey all scheduled.
OCT. 14, 1991
Herb Abrams' UWF on 10/1 in Ft. Lauderdale at City Limits drew 52 paid for a show which included The Black Hearts, Brian Blair, Death Row 3260, Bobby Rogers and Dynamite Dave Perry. No shows included Paul Orndorff and Danny Spivey.

Buddy Rogers will be appearing on Herb Abrams' UWF television shows doing "Rogers Corner" segments.
OCT. 21, 1991
To correct an earlier report, Buddy Rogers is vehemently denying that he's going to work for Herb Abrams.

Speaking of Abrams, he's been going around offering $100,000 to anyone who can beat Steve Williams. Anyway, former wrestler David Shultz has been trying to get word out that he'd accept the challenge provided that it was a shoot.
NOV. 4, 1991
Bob Orton wants the word out that despite what Herb Abrams is claiming, he's not under an exclusive contract to Abrams.
NOV. 11, 1991
Herb Abrams is threatening to sue half the world over things written in various newsletters, apparently including this one. He also called the Pittsburgh Post-Gazette demanded that they fire Mark Madden over an article he wrote on Bruno Sammartino (which was in the Pro Wrestling Torch newsletter). Of course, nothing came of it. For the record, Sammartino didn't even know Abrams was making the threats and wants it to be known he had nothing to do with it nor wants anything to do with it.
DEC. 2, 1991
Latest on Gordon Scozzari's AWF shows on 12/14 in Asbury Park, NJ and 12/15 at Rutgers University-Newark, NJ campus is that Steve Williams and Danny Spivey have pulled out of the show because of pressure from Herb Abrams, who is claiming to have both under contract.
DEC. 16, 1991
The world's most well-liked man, Herb Abrams, in his latest escapades has sent a threatening legal letter to the father of a 15-year-old newsletter writer who criticized him, claimed to have trademarked the name American Wrestling Federation and threatened legal action against Gordon Scozzari if he uses the AWF name for his shows this coming week and has claimed to have signed Jimmy Snuka and Hercules to one-year contracts. No word on what Titan thinks about that, but clearly Hercules is still working for Titan right now although Snuka's name seems to have disappeared.
DEC. 23, 1991
Jimmy Snuka is no longer with the WWF so whatever Herb Abrams has said about signing him to a contract could very well be true. I believe Snuka asked to be released and they let him out of his contract. Stories about Abrams having Hercules are obviously not the case.
And finally here's Herb's trophies from the Observer Awards 1991:
MOST OBNOXIOUS
HERB ABRAMS (83)735
Jim Herd (78)699
Vince McMahon (69)683
Hulk Hogan (75)569
Dusty Rhodes (45)470
EVAN SCHLESINGER: Being obnoxious is one of Herb Abrams' best points.
WORST TELEVISION ANNOUNCER
GORILLA MONSOON (255) 1,526
Herb Abrams (99) 843
Lord Alfred Hayes (29) 402
Vince McMahon (28) 401
Eric Bischoff (30) 362
WORST PROMOTION
HERB ABRAMS' UWF 227
World Championship Wrestling162
United States Wrestling Association62
World Wrestling Federation45
IWCCW24
So now SportsChannel America is done with Herb (and so is Prime Ticket because I reviewed these out of order, cough cough) and the wrestlers are leaving his "contracts" to join AWF, surely this must be the end of the man with more ambition than sense?
Uhhh not quite.
Next week:
I've been Maffew (reluctantly)