Nightmare Matches – Back from the Dead!
By Dave Newman on 8th October 2022
Well, I can't let a mention in the Wrestling Observer Flashback post go without a response, so for one night only it's the return of Nightmare Matches!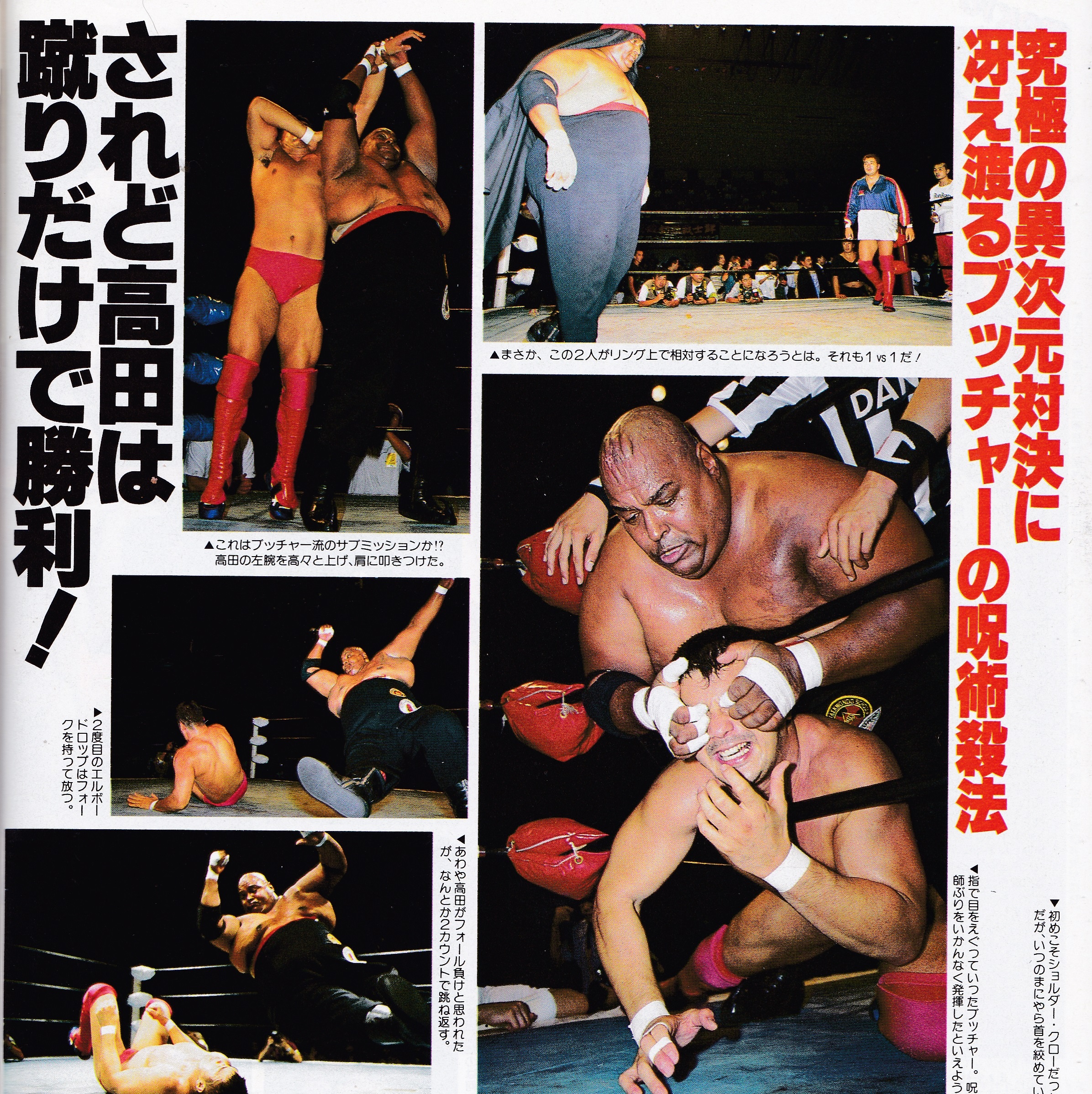 Nobuhiko Takada vs. Abdullah the Butcher
From Japanese indie promotion Tokyo Pro in 1996. Takada was the shoot king and Abby was the king of bloodbaths, so this is quite a style clash. Despite otherwise looking like an absolute god, Takada has a really cheap and nasty windbreaker top that he slings off as soon as the match starts. Abby is 55 but looks older. Very tentative start with about two minutes burned off with initial lockups and breaks until Butch gets a cheap shot in and headbutts the ribs, then holds the arm and shoulders for a nerve grip. Takada sells it with mild discomfort. Butcher goes to a dragon sleeper of all things for a moment before pinching the jowls. Side headlock, as this is the antithesis of the normal walking, talking, bleeding, gouging match that Abdullah would normally have. That lasts a while as it's obviously not going to be a bloodbath and it's not going to really lend itself to a shoot either. Choke in the corner for a bit follows. Something that is good is how you can see how they're positioning themselves for photos like the ones above. Abdullah gets the elbowdrop for two only. And now the fork comes out of the boot as he misses another elbow. Takada kicks away at the legs and front and almost gets two when he goes down. Then he just keeps repeating that until he can get a three. Not actively bad, just boring and disappointing. They must've paid well for Abby to stay down for almost three without kicking out.
Nailz vs. Primo Carnera III
I was looking for Sting vs. Nailz, which Sting won and stropped his way out of with it being such a bad match. This is from an Australian promotion in 1999, with former star Mark Lewin commentating and probably booking. The pre-match promo with "Niles" as the Australian interviewers pronounces it has him in a cage with chains up. They don't bother doing any voice distortion, so he just sounds like a higher-pitched Barry Darsow. There's inconsistency between whether it's a world championship or hardcore championship. Nailz comes out to the always cool but overused Clubbed To Death, which is probably the most up to date thing on this show. Primo is Big Guido from ECW, who was pretty much a giant jobber, with his one moment of glory being the last man thrown out in a WWE ECW battle royal. There's actually a bit of an ECW influence on this show as the Pitbulls are seen at the start of the video. Lewin talks like a guy who feels the need to talk all the time but doesn't know what to say. Nailz attacks from behind. Lewin actually has a bit of a Casey Kasem voice, which occurs to me when he keeps on saying "Methodical, man". Bite to the ear from Nailz. Mark says he can't say what landed Nailz in prison, but we all know he was going to get his mom flowers for Mother's Day and he double-parked and the ticket blew off in the wind and they got him on that, come on! A chant of "BORING!" erupts that is far louder than the sleepy announcers. Five minutes in, Primo gets clotheslined out and then pulls Nailz out to get his first shots in, but gets tossed into the front row as Lewin starts going into overdrive. Commercial break to old time music reveals they also have other stars on the cards such as the Head Hunters, DOA, Mike Lozansky and the High Risk Warrior. Sign me up! Back from the break and they're in the crowd, with Nailz using a bin on Carnera. Then a chair, which probably hit someone in the crowd with the legs. Eventually it heads out of the hall, off camera, and the referee counts them out after being out for three minutes. Primo makes his comeback way too late as Lewin alternates between using the house mic and his headset mic. Two guys who had a cup of coffee in the spotlight doing an eighties match at the turn of the century. Awful.
Johnny "Muscles" England vs. Casanova
Getting international again, this is from the AWA (American Wrestling Association), but not the original one headed by Verne Gagne, instead it's a UK group out of Leicester, headed by World of Sport veteran Johnny England and featuring a bunch of his mates from the gym, so almost everyone in the promotion, terrible gimmicks aside, looks awesome but can't really wrestle for toffee. Johnny England (real name John Holt) is actually based out of the same town I am and has an interesting but bizarre YouTube channel where he's basically a bodybuilding grandad who's still on stuff in his seventies and the results are… interesting. He's gone at this point from his seventies/eighties curls and definition to a more rounded look with a Dino Bravo haircut. His manager, Rocky Stone, is, as I've said before, a mix between Jimmy Hart, Johnny Rotten and Phil Cornwell. Really cool entrance song for England, Licence To Kill by Gladys Knight. The announcers age him at 52 and make jokes about him being a fashion designer and ballet dancer. Casanova is just a hairy jobber who looks like a biker with a mullet.
Casanova takes a wristlock to start, but Johnny kips up out of it and reverses to his own. Reversal off that and Johnny bails. Back in, England gets a backdrop, then there's a cut as he goes for a pin and the referee is incredibly slow, with what's clearly three taking forever to get to two. Casanova backdrops England in return and follows him outside of the ring, which is massive. Johnny gets a low shot and rolls back in. Another slow count from the ref on a rolling cradle back in. Suplex again. I also note that Johnny has had a long pair of tights but instead of full wrestling trunks over them he has just a pair of blue swimming trunks that don't cover up to the waistband. Irish whip, with England taking a terrific flip into the corner, but then going low again. Slam, and Johnny goes up for a move off the top and perches there, but the referee decides to count Casanova out for the count, so Johnny dismounts. Totally bizarre match, as Johnny was capable, Casanova had nothing, and the referee was doing whatever the fuck he wanted.
Power Uti vs. Drew Tossel
We've had Japan, Australia, England, so here's a bit of Africa. The African star Power Uti, a villain in Mick Foley's book, comes to the Pro Wrestling USA group. His opponent, AWA jobber Drew Tossel, who shaved the rest of his balding head and bought a suit and wore an earring to be LPWA heel manager Jonathan Blue. Uti blows his nose on the mat while being announced. Some terrible punches both sides to start and then a weird clothesline where both men go down, but Tossel falls the opposite way. Trying to work out who the announcers are, one sounds like Rod Trongard but isn't and it seems like the other is Nick Bockwinkel. Uti is built but is tiny. They do the impressive Jimmy Snuka front and back leapfrogs before Tossel runs into a chop and falls like a Weeble. Backbreaker, as Uti doesn't go down to one knee and instead drops him on both, but then loses his balance and because of his barefeet starts doing the splits and falls down too. The crowd start shitting on the match. Clothesline from Uti, to massive boos, finishes. I put my hand to my face several times watching this.
Cactus Jack vs. Mil Mascaras
Let's tie together a bad backbreaker, not wanting to sell, and villains of Foley's book with this infamous one. Cactus was a goofy heel at this point rather than the sinister hitman he transitioned into by the end of '91, and with the Clash being at a border town they wanted to get a local hero in, so someone called Mil "No Yob" Mascaras, who Jim Cornette delighted over seeing without his mask and said he looked like a little Mexican businessman who resembled Assassin Tom Renesto. Jack gets the "In the ring…" entrance while Mil gets an attempt at a legend's entrance, with JR talking him up. Mascaras runs through his usual stuff to start, like the surfboard, Indian deathlock and headscissors. It's not really Jack's match but he goes with it. Flying double chop off the ropes and dropkick to the outside, which leads Jack to doing a bit where he runs off GMC and then falls backwards over his chair. Back in to a full nelson. Jack gets his one shot in before Mil gets his piston punches in. Boston crab attempt, held like the Walls of Jericho, so one guy shouts "Boring!". Jack tosses Mil and gets a backbreaker that Mil makes no attempt to sell. He scoots back in while Jack mounts the apron for the elbow, causing Jack to turn around into a dropkick and taking the Nestea Plunge for the first time. I don't rate Jim Cornette as a commentator, but the "Cactus Jack is dead!" soundbite has become a classic. Mil suplexes him back in (not taking the falling bump himself with it) and wins it the flying cross bodyblock. Match of no consequence for Mil, just making a cameo, but it's given Jack some mileage for stories and introduced some of his greatest bits to a wider audience.
The meltdown: Everything from inoffensive to embarrassing, with every match being one that someone wishes they could take back.