Work and Shoot – Big Sexy
By Dave Newman on 21st September 2022
Kevin Nash and your boy Sean Oliver are top of the charts when it comes to wrestling podcasts right now, so it's time to dip in to some of the choice nuggets of gold he's dropping while also looking at his matches, taking in a few of his different personas.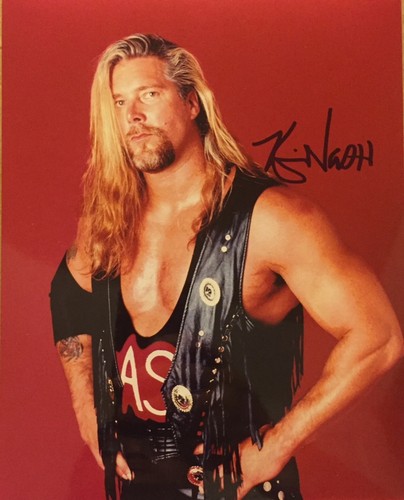 Master Blasters promo
A short promo, with the first problem being that one's massive and one's tiny, then the fact that they've been covered in gravy brownings to make them look like they've been out in the scrapyard all day, then Nash having to do ALL the talking because the bald guy is basically tweaking and just randomly repeating anything he says.
Master Blasters vs. Tim Parker and Scott Allen
Parker was around the scene for quite a while despite never grasping stardom and was quite an accomplished bodybuilder until his early death. Iron, the little guy, has already been replaced by Blade (Big Al Greene) after Iron apparently went nuts one night and realised he was out of his depth before hitting the road home. Blade and Parker match power a little, with Parker initially getting the advantage, but getting spun around on a clothesline and press slammed. Steel (Nash) is brought in and it looks ridiculous with them doubling up for a double elbow. Slam towards Allen, who comes in to some clumsy shots and a terrible powerslam while Jim Ross stealth apologises for him on commentary. Chokeslam is a little better. Double shoulderblocks, an awful finisher, is enough to take care of the doughy Allen. Nash was trying but terrible, the epitome of a guy who had been shown a limited number of things and didn't know how to do them properly but was working his way through them.
Oz vs. Johnny Rich
So, Blade gets fired over making a face about doing a job to the Steiners, and Steel is kept around and told to grow his hair out and wrestles as the Master Blaster and Dr. X under a mask, then Dusty Rhodes adds some Hollywood touches to him as Oz, with manager the Wizard (Kevin Sullivan under a rubber mask and robe, but still wearing his cowboy boots and jeans), not understanding that it's the Wizard of Oz, not Oz and his Wizard. Cool music, nonetheless, which was semifamously used in the 1992 Atmosfear bumpers for Survivor Series 1992. Oz takes off "the dunce cap" and waits for GMC to belatedly announce capable veteran Rich as his prey. Again, it's knee, hip toss, clubbing forearm and shoulderblock, before rolling Rich over with a clothesline. Big boot, then the side suplex and whirlybird finisher with one foot and flex pose. Zero presence at this point other than a few prompted snarls and sneers.
Vinnie Vegas vs. Robbie V
RVD in his first major TV role of note, not that it lasted long. Really rosey cheeks on him at this point and working without boots. Cut to him getting a roll and a superkick up under the chin of Vegas, with Nash now showing a lot more of his natural swagger and charisma as a debt collector of sorts, even though he was bumping far too much for a man of his size. Cut to Vegas being daft enough to try a flying elbow off the second and missing, so Robbie gets his chops and kicks in, but an Irish whip is reversed into a clumsy avalanche. V gets a mule kick out of a charge and mounted kicks in the corner, then a reversal and some aimless stuff until there's a missed moonsault, so it's Snake Eyes to finish. The match was cut up, but of what was shown it was kinda clunky and they'd have a far better match in them if it was years later with their timing and movesets a bit tighter.
Diesel vs. Ralph Mosca
Shawn Michaels needs a bodyguard and calls are made, so Nash works Barry Windham into thinking his wife is going to divorce him if he doesn't go back to the strip clubs as a bouncer instead of travelling all over, leading Ole Anderson to release him from his contract without question to free him up for the job of a lifetime. Shawn gets popped for alleged professional misdemeanours and Diesel takes over the feud with Mr. Perfect. This is his in-ring debut, with JR making King Kong Mosca references. I'm not sure if this is from Wrestling Challenge or All American, but there's a Superstars banner up, so I imagine it's a redub for AA. Gutwrench suplex to start and he's already better and trying more complex stuff with greater efficacy. Side suplex, a constant. Backbreaker, transitioned into a submission move, with Gorilla getting onto Danny Davis for looking back at the camera. Big boot sets up the short-lived finisher, the knockout punch with the glove. Far better squash already, although he needed something like the jackknife to be the cherry on top.
https://www.youtube.com/watch?v=zll8QbPIF-0
Kevin Nash vs. Rey Mysterio
Zip ahead to the late nineties, the night after Superbrawl, where Nash, through nefarious purposes had forced Rey to unmask after his defeat. What's chopped off this clip is Nash sarcastically offering to give Rey his mask back to wear "because it doesn't fit me and Elizabeth won't wear it!". First appearance of Mysterio in camo gear rather than regular wrestling gear. Nash puts his hand up to offer a test of strength sneeringly, so when Rey declines he just stiffly kneelifts him. Rey goes to the knee and uses a carpet muncher and bronco buster on Nash, but gets caught in Snake Eyes. Lex Luger and Elizabeth call for the jackknife, with the cigarette stub on the back, but Rey punches out on top and sits out on top of him for the upset pin. This was a pretty hot moment from later era Nitro during a growingly colder show.
Now, Kliq This!
Harley Race
Sean Oliver recalls a story of working with Race on a project one time and playfully pinching his nuts. Sean jokes that he didn't think THAT was the wrestler's handshake. He was also strong enough to fold a beer bottle cap between his smallest fingers. I guess it's a good job he didn't use that strength on the bollocks!
Nash was managed by him early on in the Vinnie Vegas run as a tag team with Mr. Hughes. They got lost on the way out of DC with Harley at the wheel, going a hundred the wrong way up a oneway street. He got stopped by armed guards at Bethesda Hospital, pulling down the window and bitching about being lost. They gave him the directions he needed, to thanks, without any question, probably because despite having the guns they were scared to death of him.
Rick Rude
Rude was Nash's first mentor. He saw him light up Sting with some stiff shots early on, which he took as a statement to get over as quickly as possible. While Race would drink and drive, Rude loved his weed, so Nash would roll the joints for the first part of the journey in the car until Rude's pills kicked in and then take over. Nash tried to keep his wife away from the naughty side of the business, but they and Rude and his wife would go out for meals and Rude would be out on his feet just at the bar ordering food. That was a shocker to her. Nash would replicate that a few years later at a baseball game, with it all being over and the janitor asking her to "wake the big man up so I can sweep around him".
THAT picture with Amber Heard
They worked together on the second Magic Mike movie and everyone was up until the morning partying. Nash was also photographed with Jada Pinkett-Smith, but that's not out there. Nothing happened and he's never spoken to Johnny Depp and not heard of Amber since then. Nash's son Tristen DID have a slow dance with her, which leads to this awesome bit:
Sean: "How did she smell?"
Nash (repeating it back): "'Probably as you'd imagined.' Then he said, under his breath, 'Like a baby's casket!'. What the fuck is that?!"
Sean: "Was she a ballet dancer?"
Nash: "BELLY dancer!"
Bam Bam Bigelow
Bam Bam asked Hall and Nash for a ride one time in the WWF because they were all at the same baggage carousel and Bigelow didn't have a credit card. They didn't like him, but he was one of the boys, so they let him join them. On the trip to the hotel in Sacramento, they stopped at a supermarket to get some beers and met some Latino gang members in there that Hall and Nash made nice with.
One then went to ask Bam Bam if the tattoo on his head hurt and he got smart and said "Not if you're not a fucking pussy!". That threw the gang member, so he tried to be nice again and asked him if he was a wrestler, so Bigelow turned it up again like an arsehole and said he was a serial killer who killed "Sp*cs". That was it, and they were waiting for him outside, with no malice toward Hall and Nash because it wasn't them who said anything. One of them pulled a pistol out on Bigelow, planted right in the middle of his forehead. Nash tried to beg them off with some money, so Bigelow got pistol-whipped. They got in the car and put it pedal to the metal. Bigelow said to slow down, because they'd get pulled over by police, which Nash said was EXACTLY what they wanted, because that was their only protection from being peppered with lead. Finally, they got far enough away and safe for Hall to cut the promo of a lifetime on him about him bragging about what a tough guy he was and that he was "a fat motherfucker with tattoos", not some streetwise bruiser from Asbury Park.
This leads to another story of Nash and Luger being in Chicago's tough area and Luger looking like the epitome of a male model and being worried they'd be in trouble, but Nash realising that as long as you're respectful you have no problems with anyone on the whole.
Will Osprey
TLDR, someone talked about how many 5-star matches Osprey has had. Nash asked how his merch sales were. Sean thinks the Tweet was begging to be challenged, which Nash agrees with. He then kinda switches the heat to the company that put the Tweet out, not Will. Nash has never seen him wrestle in his life, so has no view on him. This leads to a discussion of what's more important, money made or quality of matches? Sean thinks it's silly how much is put on match quality.
Nash goes into a story of wrestling Hulk and locking up with him tightly, bringing forth an "Easy, big man, we've already got their money!". Nash realised from that point it was just walk and talk and that stuff that looks contrived isn't going to change that. Sean flashes back to watching the Spoiler walk the ropes as a kid and questioning why the guy in the wristlock under him didn't just pull him off. Nash replies that Undertaker and Kama did make that spot in their matches.
Kenny Omega jumped in on the conversation, knocking Omega. Nash said nothing, but smiled, knowing they didn't like one another.
The meltdown: Nash is just a cool, funny guy, so most of the time fun to listen to, even if he's very self-serving. Will probably dip back in another time to share some of his thoughts.