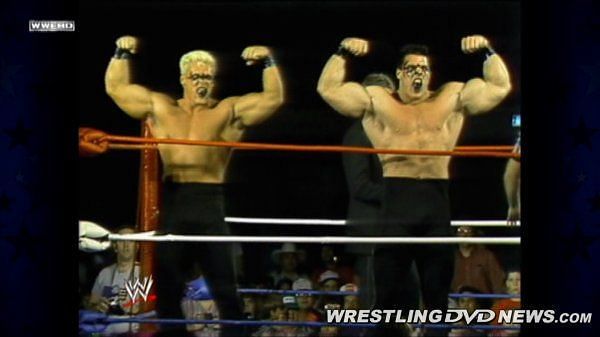 Ever see an Ultimate Warrior match and wondered what it would be like if he was even WORSE? Have I got the match for you today!
Welcome back to another Dream Matches column! This week I have a column of sheer insanity for you, as we start off with the infamous Blade Runners (Sting & the Ultimate Warrior as paralyzingly-bad bodybuilders in their rookie year) taking on Tracy Smothers and Ricky Gibson, the chubby brother of Robert! Some see the most horrible double-team move in the entire history of wrestling! I dare you!
More weird tag team action, as the random duo of useless failed gimmicks "Double J" Jesse James & Rockabilly are thrown together and sent against "the other two Los Boriquas"- you know, not the hairy one or Savio. Yeah, THIS is the formation of the New Age Outlaws, more or less. Then it's over to WCW as the Japanese Invasion continues, with Masahiro Chono & Kensuke Sasaki take on the NASTY BOYS of all people, while of course a better worker than all four sits in the crowd watching her husband work.
And finally, on recommendation I check out Don Leo Jonathan, a 6'6″ worker DECADES ahead of his time, taking on Strong Kobayashi in the best match I've ever seen from the 1970s!
THE BLADE RUNNERS (Rock & Sting) vs. TRACY SMOTHERS & RICKY GIBSON:
(Mid-South, NE State University, Tahlequah- March 3rd 1986)
* Oh yeah, it's BLADE RUNNERS time! This is of course Sting & the Ultimate Warrior as ultra-roided (like, even more than they were later!), green-as-grass rookies wearing lipstick and dark eyeshadow in some kind of KISS/New Wave style (I was expecting more of a "Road Warriors" thing). And their opponents are also wild- future legendary Southern also-ran Tracy Smothers teaming with Robert Gibson…'s brother, Ricky. Ricky could not possibly look more jobbery in his red singlet & dad-bod (he even stands all weird, with his arms held out awkwardly at his side), while Tracy is way more ripped than I've ever seen him before, wearing white trunks.
Tracy plays evasive with Sting to start- Rock comes in, already doing some "Warrior" mannerisms (like the "open-mouthed growl while circling his arms"), and easily shoves Ricky around using raw strength. Like he touches Ricky and Ricky flies off to sell it, making it clear this guy has nothing in the ring. Sting can kinda do clotheslines so he tries some with Tracy, knocking him down a few times. Rock uses a terrible press slam, Tracy having to duck REALLY fast to not die, and Rock throws basic overhand forearms and shoulder-rams. He practically slips on an elbowdrop, so Sting shames him by doing a better one. Tracy falls over doing a superkick/dropkick to Rock, but dodges an elbow and tags in Ricky, who has these giants doing twirling sells and the "Dizzy" animation off of wimpy-looking forearms and dropkicks- Tracy actually dumps Sting, but hits the apron and Rock scores the worst double-team move ever, clumsily pressing Ricky onto Sting's knee (knocking Sting over in the process), Rock pinning him with his tongue wagging out at (8:29).
Guys, this was SO BAD. Neither Blade Runner had any business being in the ring, and Ricky Gibson was a jobbery guy, too. Sting could throw clotheslines and elbowdrops almost like an athlete so he stood out more than Rock, who was clumsy as hell and either hit things poorly or way too softly. Tracy was the only guy in the ring with any skill, so of course he does the vast majority of the match, bouncing around for these guys and doing spirited punches and stuff. But he can't work miracles, and the horribly botched finish was the worst.
Rating: DUD (Tracy Smothers has to work for three other guys- a jobber as his partner and the Warrior as one of the worst workers ever at this stage in his career)
"DOUBLE J" JESSE JAMES & ROCKABILLY (w/ The Honky Tonk Man) vs. LOS BORIQUAS (Jesus Castillo & Jose Estrada):
(WWF, Sept 20th 1997)
* Oh yes, it's the formation of the NEW AGE OUTLAWS! Who would have guessed that a C-show random throwaway featuring two failed JTTS losers would change the business and become one of the most over tag teams in history? One of those "only in wrestling" stories, really. They're still well into their gimmicks, with Rockabilly in dark denim and accompanied by Honky Tonk, and James is in his black pants and black & white shirt. And here's they're facing the bottom half of Los Boriquas- Not Savio and Not The Hairy One, both of whom are like 5'6″ squat dorks. This stems from a match on RAW earlier in the week when they were teamed up against DOA and fought each other in the end.
The future Outlaws jump the Boriquas to start, dumping Jose and Rockabilly does the kick & punch to Jesus, only to get armdragged out of a tilt-a-whirl. Jesus charges right into a clothesline and Jesse comes in while Jim Cornette on commentary actually suggests their team has similar builds (!!). The NAO work Jesus over (JJ hitting an odd "wide gait jogging elbow" that he'd replace with his dancing kneedrop), but Rockabilly just FLIES into the corner on a Stinger Splash and is dead. Jose comes in and gets punches & dropkicks (showing the problem with the Boriquas' offense- everyone was just a bunch of punchers), Billy leapfrogs JJ on a double-whip but they both get clobbered and Jesus flips Billy over the top on a cross-body. But then Honky Tonk threatens a shot and Jesus chases after him, distracting the ref so Rockabilly can nuke Jose with the chair from the floor, blowing it up over his head- Double-J covers for the 1-2-3 at (2:43) as the New Age Outlaws form… by cheating to beat JESUS AND JOSE. And then Miguel & Savio run down to beat the hell out of them and leave them laying. So nobody gets over!
A very "RAW Style Match", as it's mostly punches and kicks, everyone's tearing around at full-speed, and more, with a short heat sequence and the heels eating offense for only 20 seconds before cheating to win. Mostly I'm getting the impression Billy was REALLY out to impress, as he realized he was in a garbage gimmick and wanted to show off his bumping and athleticism even in such a nothing match. And hey- it seemed to pan out.
Rating: * (quick nothing "Run & Gun" Attitude match)
When the best worker in the match is the lady watching her husband's match.
THE NASTY BOYS (Brian Knobs & Jerry Sags) vs. MASAHIRO CHONO & KENSUKE SASAKI (w/ Sonny Onoo):
(WCW Worldwide, June 1st 1996)
* More "NJPW in WCW" nonsense with Chono and Sasaki, New Japan megastars, jerking around with guys like Knobs & Sags on a D-show. Humorously, among the fans cheering for Sasaki is his wife Akira Hokuto (a better worker than all four here put together), which goes unremarked on by Tony & Bobby on commentary. It's pretty wild to see Sasaki, billed as a powerhouse in Japan, be absolutely dwarfed by both Knobs & Sags.
Sags & Kensuke just take turns ignoring each other's clotheslines and the Nasties bowl Sasaki over. Tony & Bobby go all-in on putting the Japanese guys over, Bobby going on about the training and Tony calls Chono one of the greatest of all time- Bobby adds that Chono spent six months learning chiropractics and now knows "every nerve in the human body", making him extra-lethal. Knobs resists a slam but gets dumped, only to come back and just punch Chono right in the head- Bobby emphasizes how the Japanese aren't trained to take on streetfighters like this ("it's a long way from New York to Tokyo"). Chono throws a knee from the apron so Kensuke can lariat Knobs. They work him over (Kensuke has to be strong legit cuz Knobs is MAJORLY sandbagging him on this sh*t- look at that powerslam). A double-team sees Chono hit the Yakuza Kick to Sasaki by mistake and Sags comes in with shots for everyone, then a HUGE kneeling powerbomb on Chono. Onoo jumps on the apron to distract him and it's everyone fighting right to a Double Count-Out at (5:24). Aw, too bad.
Pretty hellacious slugfest here, with the Nasty Boys only barely selling and probably making it extra hard for their opponents to do anything to them (I mean if there's anyone crazy enough to force Kensuke Sasaki to shoot on them, it's Knobs & Sags), but it actually was kinda fun for that. I mean, no resting from the Nasty Boys and they didn't do any moves they couldn't hit right (that powerbomb was mean as hell, too).
Rating: ** (way better than you'd think given nobody was giving a "Main Event Effort" and it had no finish)
DON LEO JONATHAN vs. STRONG KOBAYASHI:
(IWE, 5/2/1972)
* Here's a pretty random one- I'm unfamiliar with either guy, only knowing the names for the most part. Don Leo is said to be YEARS ahead of his time, and a true giant worker at 6'6″. Don Leo has a dad-bod and Harley Race sideburns (or does Race have "Don Leo sideburns"?), while Kobayashi has a muscular dad-build and sideburns of his own, with an attempt at Inoki hair. Don Leo is about 41 here, sporting blue trunks against Kobayashi's red. Huh- he's only a bit shorter than Leo. Here's a history of the IWE, as I'd never heard of it before: https://forums.prowrestlingonly.com/topic/54551-a-history-of-the-international-wrestling-enterprise-part-one-1966-1968/
They do almost nothing for the first few minutes, but do it really well, Don Leo making sure to raise his arms as high as possible to get into grapples and resisting Kobayashi's shoulderblocks with a contemptuous sneer. Don Leo can actually backflip using the ropes to escape an armbar. He also backrolls out of a test of strength and backdrops Kobayashi out of it. Everything is really methodical, treated like it's a HUGE fight to oppose each other's basic stuff- like the raw power is in question here, not technique. In fact, Don keeps having to use technique to escape, putting over his rival's strength. They work a crucifix pin, Don Leo bridging out, and work simple holds like kneelocks & headlocks. Don Leo manages a rope-assisted headlock takeover but immediately gets headscissored, and Kobayashi lands it after every Don reversal! Don Leo hits a dropkick to throw Kobayashi off his game, but ends up in a Boston crab, having to spin out of it.
Don Leo has to use strikes to escape a painful bearhug, then lands on his feet off a sunset flip (WHAT?!) and dropkicks Kobayashi to the floor, smashing his face into a wooden bench! But when he takes advantage, Kobayashi backdrops him over the top and beats his ass outside, repaying him! Leo's quick back in, but just circles until HOWLING as he's judo-flipped. Backdrop, bodyslam & suplex get two! Man, it's the 1972 version of "MOVEZ!" up in here! Kobayashi beats him up with strikes while Don Leo just looks more and more tired, but he manages an elbow and is back at square one. But then things shift when he backflips out of a hammerlock and dropkicks the spine, stomping the hell out of it and adding forearms, a spinning back-stretcher and a Flying Kneedrop! Planting Kobayashi with several more knees, he hits the pin for… Time Over at (20:00)! He celebrates, but is informed of the result, and they go again.
Kobayashi, literally saved by the bell, has renewed strength but gets hung in the tree of woe and has his ass absolutely KICKED with repeated strikes- Don stops his comeback by headscissoring him to the floor and slams him into the bench repeatedly, but now Strong does it to him after getting fired up! Don actually comes back using a SODA CAN and throws on that spinning backbreaker hold again, but goes up- FLAIR TOSS! And Strong Kobayashi covers him for the win (3:42), Don kicking out at 3.1! Don contests the count and gives the ref crap, then dropkicks Kobayashi in the back, but gets his butt kicked and takes a huge bump to the floor over the ropes, putting over the Japanese guy in the strongest way possible.
Okay, Don Leo is a seriously fascinating guy to watch. Playing this up as a wily, grizzled veteran, he's going all-out in showing Kobayashi's strength, constantly having to fight dirty or use clever tricks like backrolls to escape moves rather than powering out. He howls LOUDLY as he's backdropped or flipped, almost in disbelief, then makes sure to let the kid repeatedly stymie his own comebacks. And then he finally hits the advantage as he elbows the kid in the stomach and just pounds the hell out of his spine, fighting dirty. He hits a Flying Knee of all things (in 1972!), but adds some more and loses out on the pin by the bell, leaving things up in arms if he'd have won or not. And then Kobayashi beats him with a lucky reversal in the overtime round. 1970s wrestling is a bit too old-timey for me, but this was a ton of fun and Don Leo played a character as well as anyone I've seen from this era, not only acting like a rude, boorish gaijin heel and a dirty-fighter, but an easily-frustrated veteran, sore loser and more- PLUS he had all these great flips, rolling reversals and huge bumps for the time!
Rating: **** (the best 1970s match I've yet seen!)