Truly the most shameful waste of a main event gimmick ever.
Welcome back to more Dream Matches! I have some truly bizarre stuff for you today, starting off with the most amazing jobber match ever- the One Man Gang fighting a repackaged Ron Reis… as the SUPER GIANT NINJA! Then come see just how bad the WWF's "Cookie Cutter Style" of the Johnny Ace Era just destroyed guys, as Roddy Piper's lackey Sean O'Haire, once the hottest rookie in the biz, takes on Chris Benoit on SmackDown!
Then it's one of those "WTF? That happened?" classics you get from WCW's "New Japan Invasion", where main eventer Masa Chono and Mr. Fuji's former tag team partner from the '80s slum it on the D-show against Harlem Heat. And then we have "The Narcissist" Lex Luger near the end of his WWF heel run as he faces "The Rocket" Owen Hart in a midcard quickie with a rare "he has to wear a forearm guard" gimmick, and finally… a JTTS DREAM MATCH, as Virgil takes on Paul Roma in the prelude to SummerSlam '91!
WCW UNITED STATES TITLE:
THE ONE MAN GANG vs. THE SUPER GIANT NINJA:
(WCW Saturday Night, Jan. 20th 1996)
* Oh my god YESSSSSSSSSS!! I've only barely heard of the Super Giant Ninja, and I've never seen him before. So he's Ron Reis in Mortal Kombat cosplay, having been already repackaged after fans sh*t all over The Yeti (probably due to him & Loch Ness DP-ing Hulk Hogan in the goofiest costumes ever). He apparently appeared as "The Yetti" once in this look, but has now changed his name again. He's in black gear with a yellow/red Scorpion/Sub-Zero chestpiece, and a mask that covers his entire face, not even leaving his eyes. Oh, and a three-foot "ponytail" coming out of the top. The Gang is actually U.S. Champion for his weird forgotten run.
Oh god this is so bad- they brawl until the Super Giant Ninja pushes the Gang into the corner and throws "karate chops" punctuated by yelling. But then a whip is reversed and he eats the avalanche, a slam, and the 747 Splash and THAT'S IT- the Gang pins him at (1:18)! They had a friggin' 7'2″ rookie and they only used him for squashes like this! WHO JOBS OUT SEVEN-FOOTERS LIKE THAT!??! Reis was so damn green at this point, though- he's even doing rookie sh*t like having his gut poke out of his shirt and trying to pull it back over while he's lying down waiting for the opponent to splash him.
Rating: DUD (as bad as it was, it was too short to even rate had it been excellent!)
CHRIS BENOIT vs. SEAN O'HAIRE (w/ "Rowdy" Roddy Piper):
(WWE SmackDown, May 29th 2003)
* And now the weird failed run of Sean O'Haire in WWE, as he shows up on SmackDown as Piper's protégé, thus completely ruining his "Devil's Advocate" gimmick (which kind of needed to be a solo manipulator). Allegedly he just stank at live promos. He's still monstrously roided, which was mandatory at this point in the company, and in black trunks vs. Benoit, in blue tights. In WCW O'Haire was an exciting, giant spotmonkey, so we'll see what he's like with all the "WCW" trained out of him by Ohio Valley Wrestling.
O'Haire grapples Benoit immediately and lays into him with punches and kicks. Oh yeah, he was trained WWE-style now, alright. Benoit gets a dragon screw & chops, but O'Haire does a Muay Thai kick to the chest for two. Mounted punches, chinlock to fight-up, then a back elbow and running kick halts the comrback- yup, every match from this era. O'Haire throws occasional shots and stalls, tossing Benoit with a slam, chinlocks AGAIN, and finally misses a spinkick and gets DDT'd for the "RAW Sell", lying dead after almost nothing's been done. Double-down for thirty seconds and Benoit scores chops, a release German for two & a swinging neckbreaker, but Piper grabs his leg and gets chased into the ring. Benoit takes him down with the Crippler Crossface like a moron, so naturally O'Haire just hits a running punt to the head and grabs the tights for the win at (5:48).
This is the most generic WWE Cookie-Cutter match ever- O'Haire was green but had unique, crazy stuff for the time in WCW, so it's sad to see a couple years later him being ground down into the generic "WWE Style" of 2003. Like, what idiot looked at a dude like him and was like "drop the cool Seanton Bomb and crazy leaps- just do punches & kicks and chinlocks for five minutes". He's wrestling CHRIS BENOIT and it's just a small handful of moves amidst stalling, then a few moves for a comeback, then the finish. And if you notice, it's the same relative match they did in the Attitude Era, except instead of the "GO GO GO!" style for two minutes into the screwjob finish, it's extended 2-3 times the length and has no running (replaced by standing and taunting), so instead it's plodding and dull in addition to being meaningless.
Rating: *1/2 (about my least-favorite style of wrestling, even if most of the moves looked good)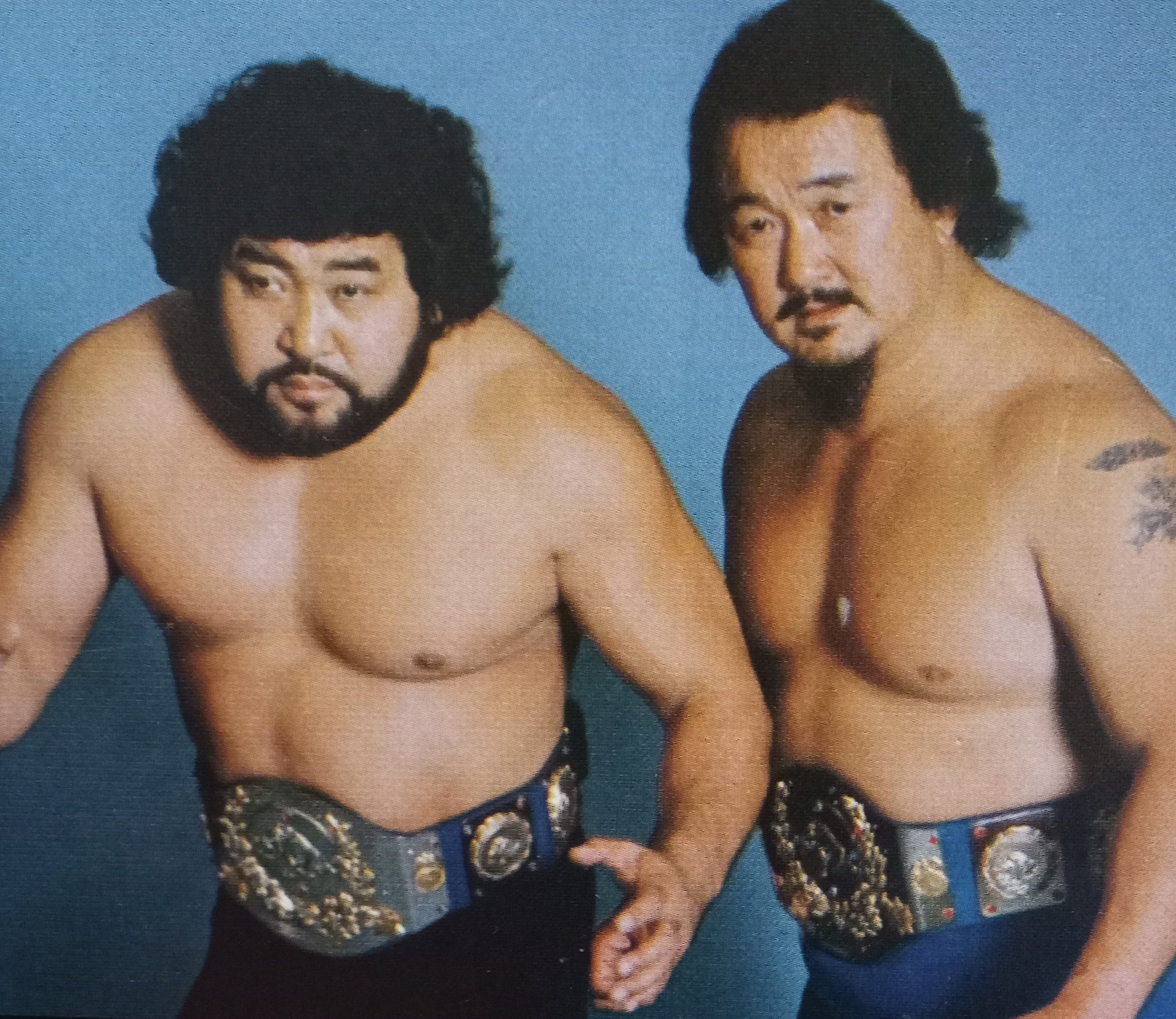 WCW's tendency to hire WWF cast-offs is one thing… but Mr. Saito?!?
HARLEM HEAT (Stevie Ray & Booker T) vs. MASAHIRO CHONO & MASA SAITO (w/ Sonny Onoo):
(WCW Pro, May 18th 1996)
* Hahah, putting these weirdo matches on the D-shows- excellent. Chono is a huge star in Japan, but in WCW they just dumped him into filler nonsense like this cuz it's not like he was gonna stick around. Compare this to how AEW uses the top-tier New Japan guys today. Chono's in his black tights and badass jacket, while Saito's in his third trimester and has wild hair on a positively GIGANTIC head. I don't think I've ever seen him before but I know the name… oh wait, he's "Mr. Saito", Fuji's old partner from WAY back. Nice tiger-print zubaz, though. Harlem Heat are in their badass red gear.
Team Japan attacks before the bell, Saito lumbering in- Chono holds Stevie for Onoo's kicks, but he no-sells both of them and slugs away. Stevie hits a kneeling clothesline and Booker totally wipes him out with the Harlem Side Kick (looked like it caught him flush). Chono bails and whines about the kick, but Saito comes in with a backdrop suplex and gets punched a lot, then stalls Booker by posing and goes to the eyes. Chono pounds away but Booker shoves him into the corner after the Yakuza Kick and Stevie beats on him. Chono quickly ducks a charge and Stevie's double-teamed, but makes a double-clothesline. Booker gets the hot tag with twin Side Kicks & dropkicks… but then the Heat get distracted by Onoo for no reason at all, chasing him around and get attacked. Everyone hits the ring and brawls, so the ref calls it a Double DQ at (5:43). Well so much for that.
A pretty simple "Well it's WCW Pro, so let's just trade punches" match. Nobody showed much variety in offense, as it was mostly brawling. The match flow was fine, though odd in that they worked over Booker lightly, then Stevie's suddenly in trouble and has to get the REAL hot tag.
Rating: * (just a bunch of punches and kicks except for Booker's Side Kick stuff)
The "Narcissist" gimmick was a perfectly good "Arrogant Heel" one, but would of course get dropped for "Hulk Hogan 2.0"- one of Vince's first cracks at it.
"THE NARCISSIST" LEX LUGER vs. "THE ROCKET" OWEN HART:
(WWF TV, June 26th 1993)
* Lex & Owen in their old gimmicks in a pairing I don't remember. Monsoon & JR discuss the legalities of Lex's steel forearm, and in an angle I also don't remember, the ref actually forces him to wear a pad over it! Lex is more annoyed that his posing was interrupted to lecture him about wearing it, but soon loses it ("WHAT AUTHORITY?!?"). Owen is shockingly NOT wearing the parachute pants at this time, instead wearing a powder blue singlet more like his "Blue Blazer" gear.
Owen annoys Lex immediately by shoving him on a break, responding to a counter-shove with a slap and a drop toehold- Owen controls the arm (Monsoon congratulates him for it, but points out it's not the correct, injured forearm- "But when you're one of thirteen, that'll happen"). Owen keeps using speed like a cross-body even while Monsoon writes off his chances against a guy of Luger's caliber. Lex: "That's a million-dollar shoulder he's pushing OAHHHHH!". Owen gets a sleeper and Luger puts him into the buckles, but he charges into a boot on the other side and a bulldog gets two! Owen gets the roundhouse kick and goes up for a cross-body for two, then punches away and keeps countering Lex, but when the ref pulls him off, Lex sneaks off the pad and BAM! Forearm Shot puts Owen down at (4:39). "Give me a BREAK!" cries Monsoon as Lex steals one.
Not a bad one-sided match, as it's all Owen and he keeps Lex off his feet and counters everything like a smart babyface should, then Luger pulls off the brace to make his unfair advantage even more clear. That thing with the brace is actually quite brilliant, as it gives him even MORE heat for the steel plate. At least, he would until his babyface turn in a couple of weeks, which immediately shifts the story to "HELL YEAH he's gonna hit the heels with that steel plate!" and it's ignored for good.
Rating: ** (pretty okay short TV match)
VIRIGL vs. PAUL ROMA (w/ The Doctor of Style- Slick):
(WWF Prime Time Wrestling, July 22nd 1991)
* WOO it's the singles push of Virgil again! And he's up against Paul Roma in the dying days of Power & Glory- glorious matches like this are the very reason this column was created! Virgil's in red shorts this time, while Roma's still ripped as hell, but in long black tights, which I don't recall as a look for him (Logan Sisco's reviews are right at the point it debuted, however).
Virgil tries some boxing jabs, but turns his back when Roma ducks away and gets clobbered for it. Roma avoids a reversal but points to his head to indicate intelligence and eats the aforementioned jabs, ducking out during Virgil's long wind-up of a big one. The heels whine about the closed fists and Roma keeps bailing and hiding from the punches while Mooney & Lord Alfred discuss what Virgil might do if he becomes Million Dollar Champion against DiBiase- Mooney suggests he might give the diamonds away or trade the belt for cash, which is actually what I suggested a while back, as opposed to what they DID do, which was crush Virgil shortly afterwards and hand the belt back to DiBiase before he dropped it. Virgil reacts with disgust when Roma ducks him a THIRD time, but appears to lure him into attacking when he drops his hands, then catches him with a right! Roma eventually catches the leg to come back and does the Garvin Stomp and mocks Virgil's "boxing dance" stance before dropping him.
Roma hits his patented dropkick and does a HUGE celebration, called out as a mistake on commentary, but humorously I think Slick was supposed to attack Virgil here but he was too far away, because the ref is distracted and Slick was reaching in before giving up and just looking annoyed at the camera. Roma instead just casually picks up Virgil and does his great deadlifting repeated side-breaker, picking Virgil up each time for it. Slack cover gets two. NICE powerslam, but Roma doesn't go for the cover, and instead poses and takes forever to go up for a flying splash… and misses! Virgil counters his punches with jabs and hits a POPEYE PUNCH~~! Roma suckers him in with a kick, but puts his head down and gets it smashed into the ring, and Virgil slaps on his Million Dollar Dream, Roma slowly sinking to the mat and getting his hand dropped three times for the Virgil win (8:13). One of Virgil's first wins over a "name" guy.
Okay, I was super-worried when Roma stalled for literally 3-4 minutes to start, but they had a good match planned after that, though Roma's "I'm so cocky I take an eternity between moves to pose" character is a curious one. On one hand it can "excuse" some losses because it's like he COULDA won if he'd just done proper pins, but on the other it makes him look like a moron who just sucks because he's making all these dumb mistakes.
Rating: **1/4 (good character work between the ridiculous amounts of stalling, and Roma has some great-looking offense)