Ric Flair vs. Jumbo Tsuruta (and other Dream Matches!)
By Jabroniville on 24th August 2022
It's a very special Dream Matches column for you tonight, as I review a great 30-minute NWA Title defense by Ric Flair against Jumbo Tsuruta from 1982! Jumbo's one of Japan's biggest legends and was put over hugely by various NWA Champions during their title defenses, so it's time to see what Flair can get out of him!
Since that's such a long match, I'll add a few interesting shorter ones- chief among them is the debut of Mark Jindrak & Sean O'Haire on WCW TV, as they take on Rey Mysterio & Juventud Guerrera- the Filthy Animals! And then we finally get another FAT MAN STAND-OFF in this column, as Vader comes to WWF Shotgun Saturday Night to face The Sultan! And a super-quick TV job featuring Jushin Liger hitting WCW to wrestle Eddie Guerrero! And finally, it's one of only two TV matches for Abe "Knuckleball" Schwartz, as he faces jobber Ron Cumberledge!
NWA WORLD HEAVYWEIGHT TITLE:
RIC FLAIR vs. JUMBO TSURUTA:
(All Japan Pro Wrestling, June 8th 1982)
* I've heard these matches are all FANTASTIC, so I'll grab the World Title match, which is quite highly rated. These two fought a bunch, as the NWA worked with AJPW at this time, leading to Flair as travelling champion taking on the Ace. Both guys come out to what sounds like anime music, though Flair has his '80s mane and a powder blue robe, with trunks to match. Jumbo is apparently debuting his black trunks & boots look, meant to evoke Lou Thesz, which sends the signal to the fans that this is the future "Ace". Flair's a bit doughy at this point, but has a really broad chest compared to later on (he was a bodybuilder in the '70s, surprisingly)- Jumbo's a bit taller but not extremely so. Man, the NWA Title was TINY at this point.
They do simple holds to start, Jumbo actually lifting Flair into a fireman's carry to escape an armbar then plopping him on the top rope, then the standard "Flair Sequence" of running stuff. Flair keeps getting caught with stuff and has to make the ropes- Jumbo stays on the arm, Ric making a big show of reversing until Jumbo rolls him right back into it to a crowd pop. Ric finally gets him in close and hits an elbow to the ribs, but Jumbo drops behind him on a suplex attempt and sleepers him- the crowd chants "Tsu-ru-ta!" as he cranks it again and again, Ric barely grabbing the ropes. They get into a strike war, Jumbo stunning him and flat-backing him off a jumping knee. Flair finally gets some stuff going with strikes, but Jumbo keeps tossing him down or dodging him. Jumbo gets a sunset flip & backslide, and Ric is now looking at him very seriously- Flair tries chops and overhand elbows, but Jumbo slaps his chest a ton and Flair Flips him in the corner. Butterfly suplex gets two and he hits the Boston crab. Flair manages more shots but AGAIN Jumbo beats him, catching him with a Monsoon-worthy abdominal stretch! Flair hiptosses him… but misses a falling headbutt!
Flair eats a cross-body right to the face and bails, but comes back with elbows, a backbreaker and abdominal stretch of his own. Jumbo hiptosses out and lands a missile dropkick, then reverses a suplex and small packages Flair out of the Figure-Four, but he gets too aggressive and Flair catches him with the kneecrusher and NOW Flair smashes up the knee and goes to the Figure-Four Leglock, Jumbo writhing in agony and pumping himself up at the same time- like defiantly trying to get out but can't. After a lot of teases, he finally turns Flair over, leading to both guys shaking their heads like crazy in a great visual, Flair finally rolling over into the ropes to escape. Flair catches Jumbo with a backdrop suplex for two but gets Flair Tossed! Even in 1982! Flying Cross-Body- two! Figure-Four! Ric struggles and finally grabs the ropes, then cranks him in the eyes a few times and peppers him with fists. Flair thumbs his eyes & suplexes him back in, but Jumbo they trade shots, Ric doing the Flair Flop off a corner whip.
Piledriver- Flair's foot's in the ropes. Leaping knee smash sends Flair all the way over the top with minutes remaining- an enzuigiri blasts him off the apron and Jumbo gets hung up on the ropes, then piledrivers Ric on the floor, only to get shoved into the post cuz piledrivers ain't sh*t in Japan. Back in, Jumbo gets a weird German with Flair trying to push off the ropes (Jumbo thus taking the bump and Ric just kinda falling back), and it's a double-pin… with Flair getting his shoulder up before the three (29:11)! Ah, that old finish. Saving face and an unfair loss to the challenger- Jumbo pounds the mat in frustration, finally shaking hands with Flair, who is just glaring at him the whole time before he takes his leave.
The "NWA Style" is an interesting one- all based around fighting for even the smallest move. Nowadays you see guys just hit abdominal stretches or armbars like magic, but back in the '80s NWA they still had to play resistance so it felt more real. The construction of the match was odd- Ric eats offense for the first ten or so minutes, only getting reversals by quick shots- headbutts to the gut while on his knees, short elbows, etc. This continues for the whole match, as Flair just throws a shot any time he can find an opening, but Jumbo gets all the big stuff. Jumbo is younger, faster and more capable at first, and every time the pace quickens he eats Flair's lunch. Ric finally gets some stuff going later, but Jumbo still owns him until it's about 20 minutes in and Jumbo finally gets too careless and Flair catches him. This is actually the first extended selling Jumbo does all match, so it's kinda funny that he's so good at it- teeth-gritting, head-shaking so his hair flies around, etc. The last ten was pretty awesome, with two exhausted fighters just doing every counter they can think of, Flair doing increasing shortcuts even as he's dying on his feet from Jumbo's reversals. It was gearing way up to **** by the finish, which is kind of a notorious one to NWA fans (WWF was mostly immune to it when I started watching so I associate it with them)- the NWA style isn't really my favorite but this was a great example of it.
Rating: ***3/4 (really good counter-wrestling, cardio and selling- Flair just got his ASS KICKED for like 20 minutes until he finally started getting some, and just barely pulled it out, though the finish was kinda weak)
Manjiimortal commented thusly on the Blog regarding this match: That was quite a notorious match for Jumbo's career, as it was there that he debuted the Black Trunks and Black Boots look he'd use for the rest of his career, as well as adopting the Backdrop Suplex as his big time finisher. All those were invoking Lou Thesz's famous look, which was meant to signal that Jumbo was about to become The Ace of the promotion.
The structure of the match was also meant to show Jumbo's new status, as well as to take advantage from the then current changes of NWA's management, as Sam Muchnick a few months earlier, and Bob Geigel wasn't nearly as protective of the NWA Champion the way Muchnick was, because no NWA Champion had previously had his ass kicked in a match the way Flair did here, and even the finish (a double pinfall) wasn't something Muchnick would have let Baba get away with. Previously the NWA Champion would win the match, go to the time-draw, go to a double count-out, and Race lost by DQ on the third fall a couple of times, but they had never done a match where the challenger pinned the Champion, but accidentally also pinned himself.
This would get even worse the following year, where Tsuruta would make Flair look like even more like the lesser out of every NWA World Champion that had ever toured Japan.
WCW's giant rookies get another shot as I keep finding assorted forgotten stuff on YouTube.
THE FILTHY ANIMALS (Rey Mysterio & Juventud Guerrera, w/ Konnan, Disco Inferno & Tygress) vs. MARK JINDRAK & SEAN O'HAIRE:
(WCW Nitro, June 6th 2000)
* A weirdo match from WCW's final days, as the Filthy Animals combined the Latino wrestlers with, like, the Nitro Girl I forgot about till just now, and apparently Disco trying to be cool. He starts mimicking Konnan's "Woop-Dee Woop Jigga WHHAAAAAAT?", now co-opting Latino rap culture instead of disco. Rey is roided as hell but still looks like a 12-year old since he has no mask, and Juvie's in huge baggy red pants. Jindrak & O'Haire were at this point total nobodies just out of the Power Plant (commentary mentions they only did six months before graduating), in matching shiny shorts- red (Jindrak) & blue (O'Haire).
The rookies immediately slug Juvie down when he charges like an idiot, then grab Rey by the jeans and whip him into his partner, as I guess the Animals are heels cuz these are comedy bumps. Juvie throws punches at the gigantic O'Haire and gets press-slammed for it, then he ducks Jindrak's clothesline only to eat O'Haire's kneeling version. Jindrak misses an Asai Moonsault (Tony completely ignoring this 6'4″ dude doing that move) and gets caught in a double-team sunset flip. Juvie gets a missile dropkick for two, then a Whassup Drop with Rey's double-guillotine legdrop, but Rey takes the Bret Bump in the corner- the Animals double-team Jindrak, but end up literally scissoring each other in mid-air when he ducks them! Well that's different.
O'Haire comes off the top with a double-clothesline and Rey hops up on Juvie's shoulders to stop the assault, but Jindrak grabs him from that position and it's double delayed suplexes! Rey eats the floor and Juvie tries a Rock Bottom (he was aping The Rock at this point), but Jindrak tilt-a-whirl slams him and it's the Seanton Bomb (swanton)… for the win (4:48)! The rookies beat the Filthy Animals! Big pop for that shocker win, especially as it was clean. Konnan & Disco dive into the ring and immediately kill the moment by beating on the rookies, but in comes Lance Storm through the crowd, hitting a springboard missile dropkick to Disco and seeing off Konnan ("He doesn't even work here!" cries Mark Madden). Big win for the newbies that seems to cement them as guys to watch right away.
Pretty solid borderline squash, as the Animals somehow manage to act as heels who carry the match despite giving up around a foot and 100 lbs. to each guy. Like it's not easy to be a tiny high-flier and draw cheers for the huge guys' offense but they pulled it off. Double-scissoring off a failed tandem move was uniquely humiliating and even the "chicken" move was interesting. I can't imagine how Dave or the fans online at the time felt seeing the ****+ workers job to Power Plant rookies, though.
Rating: **1/2 (about ideal for a squash- some inventive moves and then a "Wow, what was THAT?" ending where not only do the Power Plant guys win, but they use a crazy move a 6'4″ guy shouldn't be able to hit to do it)
Finally! More of THE SULTAN!
VADER vs. THE SULTAN (w/ The Iron Sheik):
(WWF Shotgun Saturday Night, Sept. 20th 1997)
* Hell yes, it's the best possible kind of match: A FAT MAN STAND-OFF!! It's been ages since I've found one of these. The Sultan is of course Fatu/Rikishi in a "masked Arab" gimmick, but is so far gone here (we're well into the early Attitude Era, more or less) that he's in the ring already.
Vader clobbers the Sultan with bear paws and the Vader Attack to start, then hits a clothesline off the second rope. Oddly, he just uses another one, getting two- I don't often see guys repeat moves like that. Sultan ducks a punch and hits a superkick, then works Vader over, clotheslining him over the top- Vader lands on his feet but gets beaten on some more, going into the steps. But back in the ring, Vader just casually reverses a whip and 360s him off a clothesline, and Sultan helpfully rolls all the way into the corner so the Vader Bomb can hit for the win (3:22). Yeah, you can tell the Sultan was done when he's jobbing in 3 minutes like that.
Fine enough hoss brawl between two big guys- sadly, no Fat Guy No-Sold Shoulderblocks and other obesity-related moves, but they just smashed each other until one guy stayed down, Sultan just being crushed in the end.
Rating: ** (I feel this is a standard rating for "pretty good but super short" matches)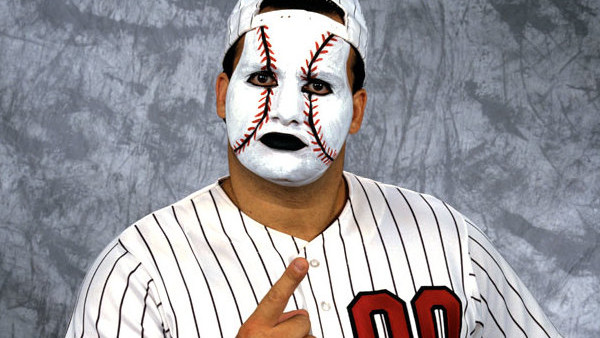 What does it say when one of Lombardi's gimmicks actually stands out as the WORST?
ABE "KNUCKLEBALL" SCHWARTZ vs. RON CUMBERLEDGE:
(WWF Superstars, Oct. 1st 1994)
* Here is apparently the one of two solo TV matches featuring Abe "Knuckleball" Schwartz! So this gimmick was set up initially as "MVP", who was on strike from the Major Leagues (a timely angle riffing on the baseball strike), but it mostly extended to Steve Lombardi (the Brooklyn Brawler) sitting in the stands with a sign saying "On Strike" which Vince probably thought was HILARIOUS. He's wearing a baseball uniform and has his face entirely painted like a baseball. You know, like baseball players do. I do love the old-timey baseball player name, though. Cumberledge is a REALLY ripped jobber in purple trunks- way too short to get a push, however.
Vince immediately jokes that "I can't remember if he's a PITCHER… or a CATCHER" re: Abe, who manages to slide under Ron, even doing it sideways with one foot out, then goes "Safe!" and oh god now I find this as amusing as Vince does. He plays evasive and scores a slam and some cheapshots, then slides out to the floor and slams Ron out there. Then he starts doing baseball signals and hits, of course, a BASEBALL SLIDE. Ron eats a slam & suplex back in the ring, then Abe starts "kicking sand" at the referee, who has the worst mullet I've ever seen- slicked back on top and curly on the bottom. But Abe manages a wind up, and there's the… well, a punch. He points to "right field", then puts Ron up top, and the Superplex finishes at (3:05).
Okay, so the gimmick is amusing, but I think they literally ran all the jokes they could in this three-minute squash, with poor Cumberledge having to sell for all of it. Abe would only do another squash an the IC Title Battle Royal, aside from house shows beating Jim Powers, PJ Walker & Louie Spiccoli. Too bad, though- I'd have loved to see Abe doing jobs to Razor, the Headshinkers and others.
Rating: 1/2* (only for the horrifying dad jokes)
JUSHIN "THUNDER" LIGER vs. EDDIE GUERRERO:
(WCW Pro, June 16th 1996)
* Yes, this is the stuff WCW did that looks totally inexplicable today- bringing in one of the best workers in the world to fight in their company, putting him against another god of workrate… and giving them 4 minutes on a D-show. Like, it makes no sense aside from making WCW look fast-paced and more interesting in that random foreign guys will often show up. Eddie's in his dorky white singlet at this point, still a happy fun babyface. Liger's in his black & white gear.
The two do the quick Cruiser-style reversal sequences while Eddie is QUITE over with this crowd (I've heard tell he was unexpectedly popular very quickly given he was kind of "just another guy" at first in WCW), doing a springboard backflip which I don't think I've seen before from him, but he leapfrogs Jushin and eats the rolling wheel kick to the head. Liger with a great rolling senton and a lousy cartwheel elbow, then a superplex for two. Eddie fires back with a clothesline after taking some palm thrusts, but runs into a tilt-a-whirl backbreaker. Kneeling powerbomb gets two and he puts Eddie up, but gets shoved off- Frog Splash!! Eddie gets the three at (3:42)! Haha, see? Like a 4 minute match!
Literally non-stop action with both guys doing match-ending moves within minutes, which is what got the Cruiserweight division so over so quickly. Though it's hilarious to see a guy rated as highly as JUSHIN LIGER doing a quick job in less than four minutes on such a low-end show. Could you imagine that happening today?
Rating: **1/4 (about as high as you're likely to get with such a short match- just some cool flashy stuff and then a quick mistake leads to a win)