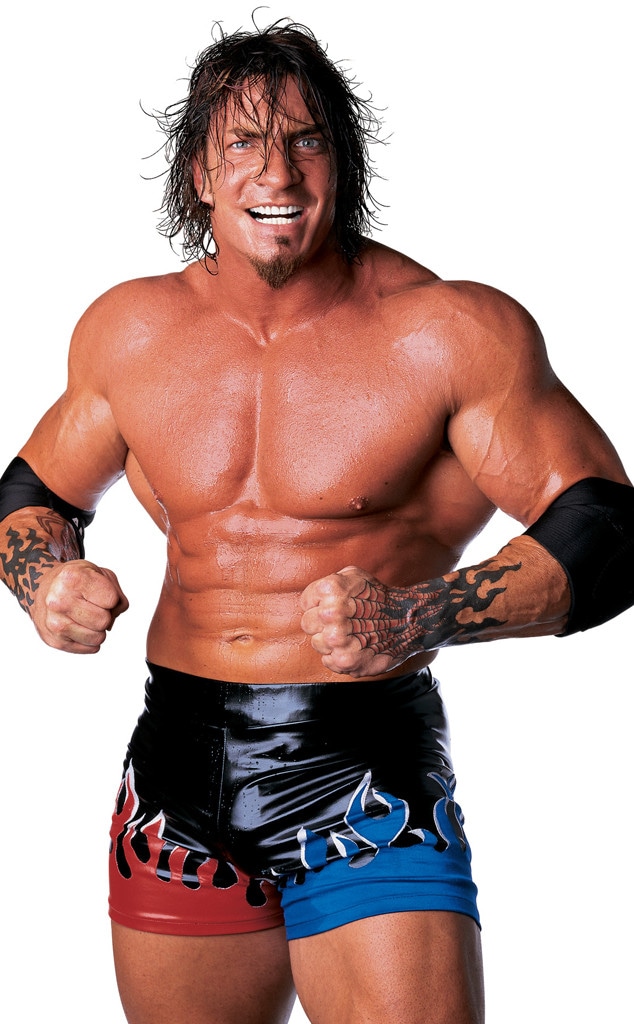 There's something to be said when a guy is still talked about as a great "Shoulda-Been" almost 20 years after he stopped wrestling.
Welcome back to more Dream Matches! Today, I have a very "2001 WCW" pairing, as a washed-up, immobile Lex Luger has to lead hot rookie Sean O'Haire through a match! Then I check out some Rockers/Orient Express stuff… but 3-4 years before their WWF feuds, as it's Badd Company vs. The Midnight Rockers in the AWA! Come see the double-teams and a very young Shawn & Marty, as well as their "infuriated Southern babyface" energy! Then it's not one, but TWO matches of High Energy versus the Beverly Brothers! I can barely contain my excitement!
LEX LUGER vs. SEAN O'HAIRE:
(WCW Nitro, 3/5/2001)
* I decided to try and find more old Sean O'Haire stuff to see if the wild potential we'd all guessed for him was actually there in the first place. So naturally the first thing I found is a 2001 Lex Luger match, lol. At this point, O'Haire was getting a lot of hype online- with a FANTASTIC look (check that 2001-era spiky hair and chin beard!) and Jeff Hardy's Swanton, he seemed supernatural and like a "sure thing". Here he's in shiny black shorts with blue fire on them, while Lex is in the same-old black trunks. The two are about the same size, which is part of why O'Haire seemed so awesome- if he was in AEW today, he'd be near Lance Archer's height and would be flipping and flying around.
Lex immediately takes over with brawling, but wow he is moving REALLY stiffly here- coming off the ropes gingerly and hitting an awful inverted atomic drop & jawjacker, getting up super-deliberately like an old man. O'Haire catches him with a release fireman's carry slam but Lex comes back and clotheslines him. Lex drops a few shots but misses the elbow that never hits and O'Haire lights him up with short lariats and MMA punches, throwing his whole body into things, as Schiavone points out. Lex gets his boot up in the corner and hits his Steel Forearm Shot (apparently no longer a finisher as it's basically a reversal and he flexes right after, then tries the pin). O'Haire's kickouts are humorously casual, calling attention to Luger's poor covers- thank god Monsoon isn't commentating this.
Luger throws slow boots, but tosses him to the corner and Sean RUNS UP, backflipping off! But lands badly and sells the knee, which Luger targets- Chuck Palumbo comes out to save his partner O'Haire, actually brawling with Lex on the floor (how is that not a DQ?), which covers Lex's partner Buff Bagwell coming in and nailing Sean's knee with a chair and beating him down with it. The ref then SEES THIS, but just admonishes Buff and gets him out of the ring, and counts Sean's surprise inside cradle for two. The ref is distracted by Palumbo again, allowing Lex to hold O'Haire for the Buff Bockbuster (somersault flying neckbreaker)… but Sean moves and LUGER takes it! Okay that's a bit funny given how the move involves grappling the guy and isn't a strike- how do you miss like THAT? And Chuck pulls Buff out so Sean can hit the Seanton Bomb (flying somersault senton), barely tagging Luger with it, but getting the pin (6:08)! Sean actually beats Luger! Not clean, but still! O'Haire celebrates, but comically won't turn around as Buff slowly hoists himself up to the top rope and hits a Buff Blockbuster on him when he finally turns around.
Okay, pretty horrible performance by a nearly immobile Luger, who can't get anything going. He still leads the match and sets up all of O'Haire's comebacks (whispering obviously in his ear before every move), and Sean moves well and really puts his all into every move. Sean was actually smart enough to sell the leg even on the top rope and limp into getting into the pin, too- it wasn't the "Test Sell". The no-DQ stuff was ridiculous with open fighting on the floor and Buff actually being IN THE RING, with a CHAIR around O'Haire's leg, still not being called out, but this sets up the finish with Buff nailing Lex by accident.
Rating: * (just kind of a mess- Luger was immobile and Sean hit some good stuff, but then random interference hits)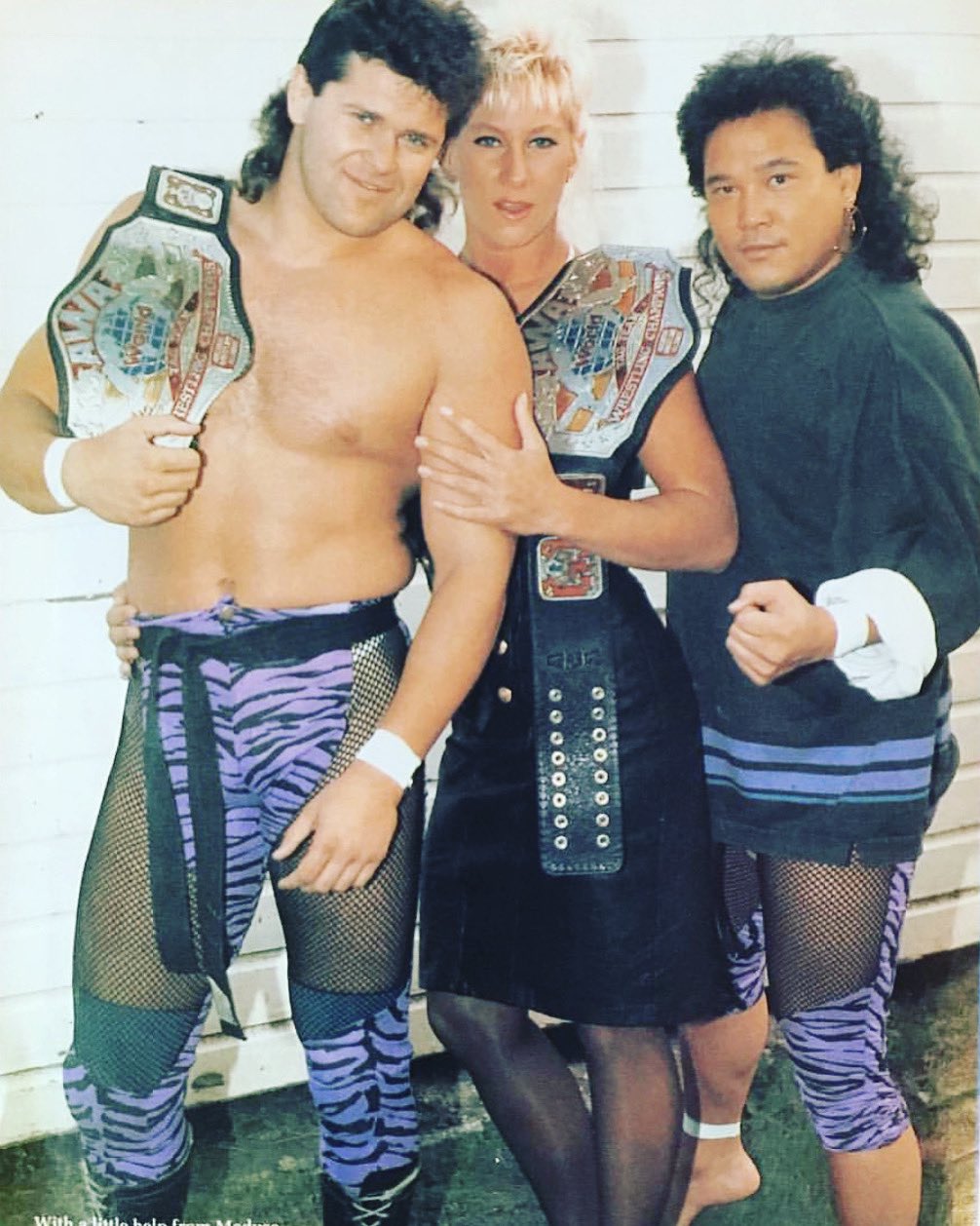 Badd Company, their hilarious tights, and Madusa Micelli.
BADD COMPANY (Paul Diamond & Pat Tanaka) vs. THE MIDNIGHT ROCKERS (Shawn Michaels & Marty Jannetty):
(AWA, Feb. 19th 1988)
* Shortly before the Rockers went full-time to the WWF, here they are against the future Orient Express (second incarnation)- Badd Company! These matches were recommended to me a while back I think, but I never got around to them. The Midnight Rockers, in red tights here, were obviously a Rock 'n' Roll Express-type "blowjob" team, but were better at being pretty boys (since they were actually attractive to people other than drunk Southern ring rats), and had a proto-Cruiserweight style going. Badd Company are in matching blue tiger-striped tights. This is a non-title match- the Rockers are the AWA Tag Team Champions.
Shawn & Diamond do some sloppy early-match stuff, but the Rockers handily control Diamond with their tight chain-wrestling thereafter with state of the art stuff like their "put the leg on their neck and get backflipped onto their feet" and "leaping over the guy and armdragging him on the follow-through" spots. Diamond pulls some hair to let Tanaka come in, and he lands a reverse crescent kick on Marty, but misses a falling headbutt. Marty controls with slow basics and Shawn slugs away on both BC guys, bringing all four into the ring for a do-si-do from the Rockers into landing on their feet from stereo atomic drops and shoving the heels into each other and scoring twin dropkicks- "Rockers 101". Lee Marshall & Ron Trognard go on about how Badd Company use a slingshot into a DDT as a finisher, but that they've never hit the "varsity" level guys like Shawn & Marty yet so haven't been tested. Tanaka distracts the ref and then trips Shawn, finally putting Badd Company in charge- gutwrench suplex & a side suplex/elbowdrop get two-counts. Tanaka forearms Shawn out of a comeback, but Diamond crotches himself in the corner and Marty gets the hot tag- the heels are thrown into each other, but the ref is bumped by Shawn's rollup attempt and Tanaka hits a karate thrust (possibly aided by a weapon- as Marty asserts later) to the throat and that gives Diamond the pin at (10:16)- the heels win! Presumably this could set up a title shot. The replay shows just how amazing Shawn's sell of that thrust was- dude just FLIES backwards with his head swinging back.
Not a bad match- rather slow to start and the heat sequence was pretty short and basic interspersed by periods of restholds, but you could see the rookie teams sorta figuring out where their pre-planned double-teams should go. Experience would help out both of them- they'd hit **** at a future Royal Rumble.
Rating: **1/4 (perfectly fine TV match, especially for the era)
AWA WORLD TAG TEAM TITLES:
BADD COMPANY (Paul Diamond & Pat Tanaka) vs. THE MIDNIGHT ROCKERS (Shawn Michaels & Marty Jannetty):
(AWA, March 19th 1988)
* Ah well, here ya go- the rematch, and for the Gold! Badd Company had to cheat to get the last win, so Marty promised his team would fight the same way. The Rockers are now in navy blue tights.
Shawn slams both guys right away, and both take double-dropkicks- Shawn then leapfrogs Diamond, who runs into Tanaka. The heels stall until Tanaka does a wristlock, but Marty clotheslines him from the apron- hey! They ARE fighting dirty! Tanaka ducks another, but turns around and gets MURDALYZED by Shawn's charging lariat, doing a "Family Guy Sell" off of it. He does another full flip off a clothesline, eats a double-fist, and then charges into Diamond as Badd Company are getting their ASSES kicked tonight. Lee & Ron bring up how bad they're doing while the Rockers tee off on Diamond and Shawn hits a back elbow for two. The heels come back hilariously easily (Diamond just gets headlocked and walks Shawn to their corner), with Tanaka hitting his reverse crescent kick to send Shawn into spasms. Chops & a clothesline work him over, but Shawn flies back with a double-clothesline and Marty beats their asses again- they get tossed into each other for two. But Diamond tosses Marty and Badd Company smash him into the post while the ref is dealing with Shawn, busting him open, and that gets the pin at (8:06), Shawn trying to get back in. New Tag Champions! The fans scream "Bullsh*t!" as Ron loses it on commentary about that being an automatic disqualification.
Actually a bit better than the last one, even though it was shorter and almost ALL for the babyfaces- it kept a faster pace and had great selling throughout (Shawn overselling even back then). Good offense by the Midnight Rockers, even though their double-teams weren't really in effect. Though it's kinda funny Badd Company took 90% of the beating and STILL won. I guess it puts over how unfair it was. But the Rockers were soon gone to the WWF anyhow.
Rating: **1/2 (another good, short TV match)
That's right- it's more of the "Re-assess Enos & Bloom" trend in my column!
HIGH ENERGY (Owen Hart & Koko B. Ware, w/ Frankie) vs. THE BEVERLY BROTHERS (Beau & Blake, w/ The Genius):
(WWF Prime Time Wrestling, Oct. 19th 1992)
* Oh hell yeah- the second bottom-ranked babyfaces against the bottom-ranked heels! Somebody's GOTTA lose! Owen's in purple pants & Koko's in neon yellow.
Blake & Owen start off, Owen using a hiptoss & enzuigiri (pre-credibility- Shawn hadn't passed out from it yet), then High Energy use armbars on both Bros. Koko headlocks one and headscissors the other in a rare bit for WWF TV, then Beau gets dropkicked out & Owen slingshots Blake in, but quickly gets kneed from the apron and eats the Beverlies' "leapfrog to a draped opponent" and gets his back worked. He manages some small packages on Beau, but gets bearhugged & headbutted in the back as this goes on a while- finally, a double-DDT nails both Beverlies and Koko comes in for the hot tag but… it's a Time Over at (7:16). Yeah, okay. They said "ten minutes" at the start! The Beverlies do some disingenuous handshake attempts but attack and get dumped to send the fans home happy. Match started okay, but became a resthold-fest.
Rating: *3/4 (okay enough, but very slow after the hot start)
HIGH ENERGY (Owen Hart & Koko B. Ware, w/ Frankie) vs. THE BEVERLY BROTHERS (Beau & Blake, w/ The Genius):
(WWF Prime Time Wrestling, Nov. 16th 1992)
* A rematch from the month before, though the prior bout isn't mentioned. The Genius, with Dickensian flare, recites "High Energy wears baggy pants, and tucks them into their shoes/but the Brothers Beverly will teach them how to lose!". Same gear as last show!
Beau & Owen start off, killing time with taunting, the huge Beau actually flopping off of Owen's slap, and Owen uses armwork and evasion to control. TONS of stalling leads to Blake luring Koko in and the Beverlies double-team Owen off that. Owen springboards out of an armbar but still gets clobbered, and he has to do the moonsault dodge to finally escape- Koko yanks up the pants to nipple-high, which has gotta be the weirdest way to build your SmackDown! meter I've ever seen, and he works over Blake with a headbutt & stuff, but Beau tags him from the apron and they work over his back. The ref misses his crossbody comeback and the Beverlies take over again, and this match is clearly being used to talk about the current angles for Survivor Series (Savage recruiting Mr. Perfect, Bossman/Nailz, the tag Survivor match). Two bearhug spots lead to a double-down and Owen comes in off the hot tag with dropkicks and a rollup, but gets clocked by the Genius's scroll and the ref calls for the Disqualification at (8:39). Eesh- not even a clean finish. The Beverlies continue beating on Koko in the ring until Owen drags Blake out and High Energy chases them off.
Man, this was like 50% stalling- a full minute to contact, repeating instances of bailing, and more. The restholds and a huge bearhug sequence make this your "talk about the current angles" thing so they guys were probably actually TOLD to just kill time and don't get too dramatic. Screwjob ending, too- a couple weeks later this leads to High Energy & Max Moon vs. the Beverlies & Genius, which I already reviewed– it ends up a hell of a match- ***!
Rating: * (boring resting & stalling all the way, but probably because they were agented that way)