Not the most notable match involving Nash & Wrath, but good enough!
Welcome back to more Dream Matches! This time the headliner is yet another in my "Best of Mortis" run, but features him & Wrath following up their big PPV win over the Faces of Fear against the WCW Tag Team Champions themselves, Scott Hall & Kevin Nash! Come see the Outsiders at their snarkiest and most immature while still trying to put over their opponents just a tad.

Also, remember "Can't Miss" prospect Sean O'Haire? Well come see me check out just how much potential he really had as he takes on former partner Mark Jindrak on WCW Thunder in 2001! Then it's a pair of squash matches featuring "Macho Man" Randy Savage vs. jobber Paul Roma, but separated by four years- in 1985 at the beginning of Savage's run and 1989 when he's the "Macho King"! Then finally I have one last 3-Count match, as they defend the WCW Hardcore Title (yes, all three of them) against Silver King, El Dandy and Jeremy Lopez (… wait, who?)!
WCW WORLD TAG TEAM TITLES:
THE OUTSIDERS (Scott Hall & Kevin Nash, w/ Syxx) vs. WRATH & MORTIS (w/ James Vandenberg):
(WCW Nitro, Sept. 15th 1997)
* A very interesting one, as Nash is responsible for a particularly notable victory over Wrath to hamper his push in a year or so, but at this time it was more gonna be an easy win for the nWo. Nash is well into his "lol I'm just gonna make everything a big joke" face, making silly faces and doing funny dances on the way to the ring. This is the night after Fall Brawl, where Curt Hennig turned nWo and betrayed the Horsemen- the theory goes from the commentators that the Outsiders will be a little sore, but they don't play that up at all. Wrath & Mortis beat the Faces of Fear in a surprisingly good tag match on the same show, at least showing that one of those random feudless midcard bouts on PPV actually LEAD TO SOMETHING!
Hall & Nash completely bury Mortis to start, mocking his martial arts poses while Hall schools him with an armbar, then wins a slugfest- however, Mortis catches him with a Fameasser when Hall puts his head down. Zbyszko, feuding with Hall, goes all-in on calling Hall "Overrated!", blathering on about how easily he used to beat Hall and how he's just "a big slob more than anything", so everyone's in a burying mood tonight. Mortis slugs away but runs into the "sack of sh*t" slam, Hall doing a crotch-chop (DX had recently debuted in the WWF) and slugging Wrath, too. Mortis catches him with a roundhouse kick, but when Wrath tags in, he just taunts so Hall spits on him and tags out. Nash completely blows off Wrath (complete with another crotch-chop), going right into his trademark corner beatdown. Wrath actually reverses a corner whip and charges in with a bunch of shots until Nash knees him back, but Wrath scores a HUGE pump kick right to the face for two! Mortis in with a Russian legsweep & 2nd-rope legdrop for two, but Syxx distracts the ref so Hall nails Mortis from the apron and the Big Boot flattens him. Nash sets up the Powerbomb, but Wrath runs in so he has to release and boot HIM down, but Hall clotheslines Wrath to the floor, allowing the Powerbomb to finish at (6:00)- the Outsiders win.
See, this was a solid way to use a short TV match- the nWo trying to blow off their opponents but getting caught and earn a bit of a beating from midcard guys. It actually means their "burying" stuff fit the story as they were taking them too lightly and they needed to cheat to win. Of course they sailed right to victory immediately after and the match is like 6 minutes long, but that was TV matches in the late '90s for you- you NEVER went to commercial break. The crotch-chops were endless in this match- D-Generation-X had just formed the previous month and all the Clique members were seemingly getting in on it.
Rating: **1/4 (solid short TV match- Hall dominance, the comeback, then cheating leads to the win)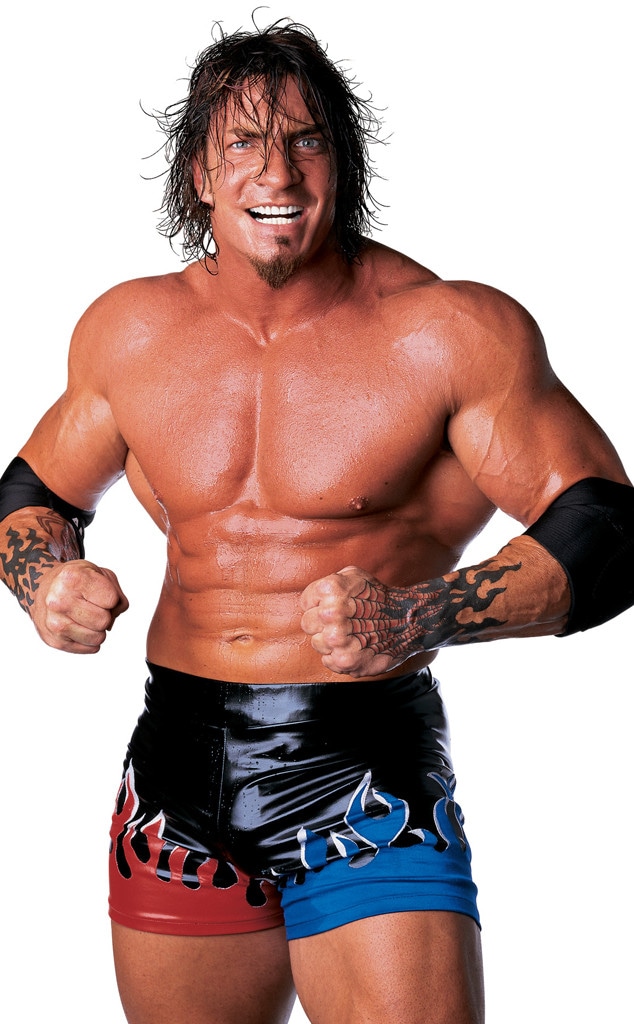 One of the best looks any wrestler ever had- even *I* wanna start a promotion and make him my champion now!
SEAN O'HAIRE vs. MARK JINDRAK:
(WCW Thunder, 2001)
* So I'd stopped paying attention to WCW by this point, but would check back in periodically. The rookie duo of Jindrak & O'Haire impressed me a lot, so I was kinda surprised to learn they split up quickly and O'Haire mostly teamed with Chuck Palumbo. O'Haire is death-glaring at his former partner the whole way down the ramp. Both guys look like a million bucks here, but are in same-y shiny black shorts in a tiny arena while the fans barely react- not a good sign.
O'Haire scores with a right hand and boots, but Jindrak hits a slingshot armdrag & dropkick, showing off his leaping ability. O'Haire comes back with a run-up moonsault dodge (!) into some strikes, then a vertical suplex where he releases him at the peak elevation and just stands there while Jindrak drops. Some methodical kicks (with the camera WAY too close, revealing he's missing) lead to fighting outside, but O'Haire runs into some boots and Jindrak leaps onto him using the steps. But O'Haire gets a Rainmaker and then mimics the same leap, but with his Seanton Bomb (flying somersault senton)! He tosses Jindrak into the ring, hopping over him and trying an aerial move, but gets crotched on the top rope and Jindrak does a running no-hands leap onto the top rope and Frankensteiners him off!
Sean's all the way across the ring and kicks out at two, so Jindrak goes right to a springboard clothesline all the way over there- they reverse whips and O'Haire clotheslines him. An awkward bit where O'Haire goes for a side-suplex and Jindrak slowwwwly flips over for an inverted DDT & O'Haire spins around for a Northern Lights suplex or something, but gets DDT'd pretty viciously- at least that part looked cool. Both guys are pretty tired (and the ref is ignoring a lost armband on the mat, which seems dangerous) as Sean Stasiak comes out to watch, and Jindrak hits a tilt-a-whirl slam but misses an Asai moonsault. Sean is SO blown up, but gets set on the top and badly shoves Jindrak off, forward-flipping off and landing on his ass, then hits a fireman's carry slam into the Seanton Bomb for the three at (7:19).
See, this was part of why fans were so excited for the potential of these two- this match was mostly trading stuff until one guy lost and had a lot of "kick, then pose" and people not selling much, but their moves looked great and both guys seemed like Vince wet dreams. Yet you see them robotically go through pre-planned stuff (there's almost no communication going on, indicating they laid it out beforehand), with Jindrak in particular not emoting at ALL and simply going through the motions- you can practically see the wheels turning in his head what he's supposed to do next. And then by the end you see that both guys are noticeably BAGGED, with O'Haire huffing and puffing and both awkwardly trying stuff they're now too tired to do (Sean falling on his butt trying a forward-flip dodge and the two awkwardly fumbling into position for stuff) and things fall apart.
Rating: ** (you can see real potential! But still too long for either guy to go by themselves, and Jindrak in particular is too mechanical and emotionless out there)
The impressively jacked Paul Roma was nonetheless a little small and always the "fourth-best arrogant pretty boy wrestler" in any given company, and as a result struggled to get out of the "Jobber" tier for like eight years.
"MACHO MAN" RANDY SAVAGE vs. PAUL ROMA:
(WWF TV, Aug. 3rd 1985)
* From back when Savage was still pretty new to the company, and he's taking on a maroon-clad Roma- a jobber but still reveling in the high-pitched squeals that accompany his announcement. Savage has the pink star trunks on and has no theme music- he's still a "free agent" at this point, and hilariously comes through a basic gym door.
Savage works a couple grapples, but gets sunset flipped for two while Bruno Sammartino discusses Savage's manager search, and how Arnold Skaaland (Bob Backlund's old manager) wouldn't work for a man who uses tactics like Savage's. Roma uses a slam and shoulderblock, but Savage catches him on a second one and launches him through the ropes, then hits the flying axehandle to the floor. A slam & the Flying Elbow makes it academic at (2:05). Barely broke a sweat, albeit giving up more than your typical jobber match (Roma probably got half the offense!). Savage was an eye-opener at this point, though- nobody moved like THAT at this point. Not a wasted movement and every move a work of art. Like he even leaped to the top rope better than anyone else in the business!
Rating: 1/2* (just a small handful of moves)
I always kinda forget that he was "The Macho King" for a fairly long period of time.
"MACHO KING" RANDY SAVAGE (w/ Queen Sherri) vs. PAUL ROMA:
(WWF Superstars, 1989)
* Another jobber squash featuring Roma, this time with Savage, now the "King" to give him a bit more fire after jobbing out in the Hogan feud. Savage is in white trunks, which I don't ever recall being a look for him, while Roma's in black.
Savage takes forever getting his gear off, and his smack-talk leads Roma to shove him during an inset promo, and when Savage pounces, Roma actually scoops him up into a powerslam and scores a missile dropkick! Vince & Jesse are impressed, but he goes for Sherri too many times and takes the Bret Bump into the corner and Savage clotheslines him for two, then dumps him for a Sherri kick. Savage gets the snapmare/kneedrop combo and slugs away, but Roma leapfrogs him and hits a dropkick! McMahon & Ventura celebrate Roma's athleticism, but when he climbs the corner, Sherri knocks him off- Savage nets an easy slam and Flying Elbow for the pin (3:11)- my god… he cheated to beat ROMA? What a heel!
Very succinct, tightly-paced match without a wasted moment. Still funny to see Savage having to cheat to beat guys this low on the totem pole, but the pairing with Sherri served a lot of purposes, and one was to establish that Sherri ALWAYS helped cheat, and another was to prevent Savage from getting cheered for being so awesome. Low-down stuff even to beat jobbers is a great way to do that.
Rating: *1/2 (basic short match, but with smooth offense by both guys)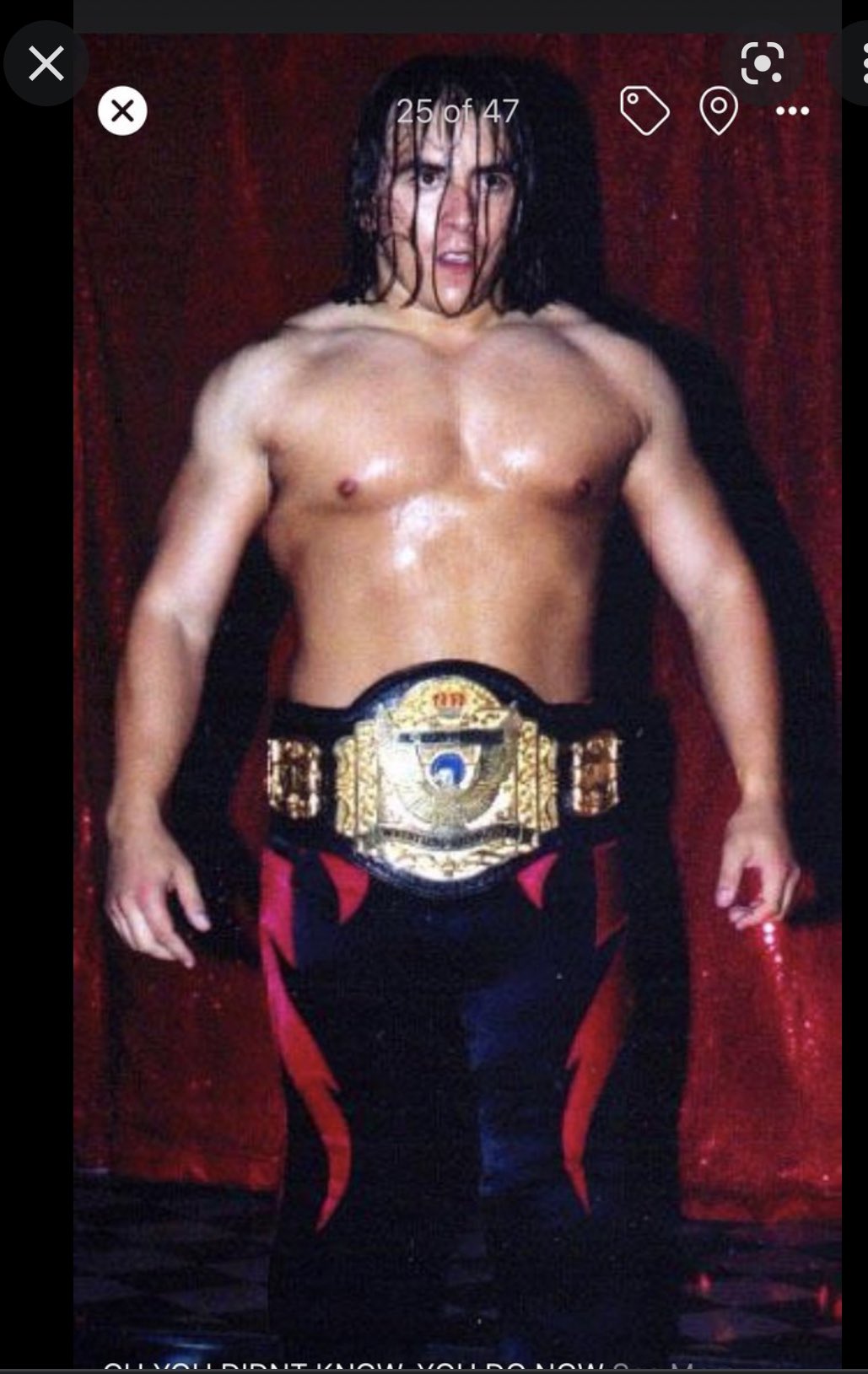 Jeremy Lopez, looking here like every guy you saw on an indie show between 1995 & 2003, wrestled briefly for WCW in 2000.
WCW HARDCORE TITLE:
3-COUNT ("Sugar" Shane Helms, Shannon Moore & Evan Karagias) vs. EL DANDY, SILVER KING & JEREMY LOPEZ:
(WCW Saturday Night, March 11th 2000)
* The combined Hardcore Champion take on a trio of jobbers- I've never even heard of Lopez. He's an IPW guy who just did eight squashes for WCW I guess. Retired in 2007. He's a generic-looking guy in red tights alongside the luchadores, who are in matching black tights with lightning bolts on them, having formed a tag team around this time.
El Dandy shockingly lays out all three guys, then Lopez pescados Helms and the luchadores throw clotheslines and double-team Karagias for two. Karagias actually does a wheelbarrow move and spins up into an X-Factor on Dandy, but Helms charges into a trip, only to gutwrench slam Lopez. Lopez does a lariat off a missed elbow, but takes a spinning neckbreaker for two- Silver King saves but eats an enzuigiri. He & Moore try something, SK improvising after a botched spinning rana move off Shannon's shoulders and they trade pinfall attempts. 3-Count get a double-elbow on Lopez and Karagias powerslams him. Moore's legdrop & Shane's flying sunset flip get two, but Lopez escapes and Dandy works over Shane- Silver King with a slingshot senton & suplex onto the top rope, but Helms dumps both luchadores and Moore FLIES out with a Tope Con Hilo! That leaves Lopez alone, and Evan hits another powerslam into Sugar Shane's Frog Splash for the win (5:14).
Not a bad little match- even Karagias did pretty well bouncing around for the lucha offense (a double-hiptoss into one guy hiptossing his partner onto him) and everyone was just blitzing around doing all sorts of stuff. Showing off and trying to make names for themselves, not that it worked. Nowadays it just looks crazy to be doing all this on the D-show. Humorously, it was said to be for the Hardcore Title, but nobody cheated or used any weapons- it was just a basic "getting tossed counts as a tag" lucha tag.
Rating: **1/4 (lots of flashy stuff, but no real psychology or working a guy over- just a bunch of flips)