Joshi Spotlight: Mayumi Ozaki
By Jabroniville on 8th August 2022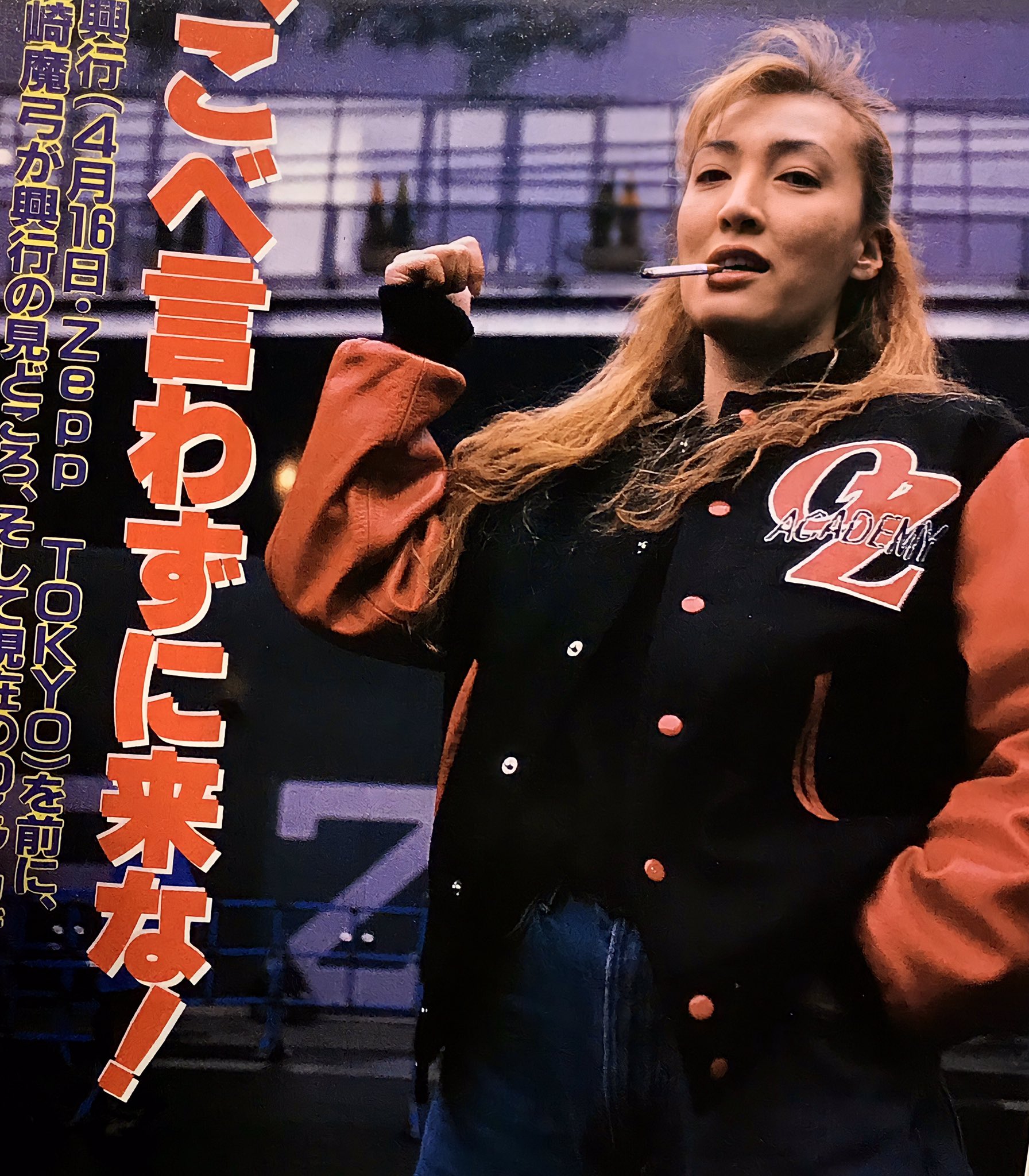 JOSHI SPOTLIGHT- MAYUMI OZAKI:
Billed Height & Weight: 5'2″ 125 lbs.
Career Length: 1986-today (still wrestles!)
-One of the great wrestlers I consider JUST outside the "Pillars" of joshi's all-timers is Mayumi Ozaki- some place her on that tier or near it, while she remains pretty obscure in the West despite STILL being around as an active wrestler (she runs her own micro-promotion, OZ Academy). Truth be told, she was one of the wrestlers who took the longest to really impress me, because she wasn't as flashy as many of her top-tier contemporaries… but the more I watched, the more I considered her one of the very best, and possibly the most versatile of the elite workers, able to easily do technical, high-spot, and hardcore stuff without missing a beat. Her bloody brawls are spectacular, as unlike most garbage wrestlers, Ozaki was well-trained and had a great, natural sense of timing- the first "Dress Up Wild Fight" against Dynamite Kansai is one of wrestling's all-time best Hardcore matches. She's equally gifted at "GO GO GO!" move-fests, hardcore brawls, nasty heel dominance or being a scrappy underdog.
One of the highest compliments I can pay her is that I still enjoy her completely nothing midcard bouts against losers and bad workers- she even did the near-impossible and had a decent 18-minute match… with NUMACCHI! Anyone who's seen the weak, clumsy offense of that comedy wrestler knows that should be impossible, yet Ozaki made the match work through selling, timing and building everything so that it wasn't utter garbage. Her snide glee in causing damage was amazing to watch- she was just like Las Cachorras Orientales, but in a more Satanic, "you need to suffer more" kind of way that delighted in people's pain (whereas LCO seemed more like they were just crazy unhinged lunatics)- she was called "Devilish" for a reason. Like, when people kicked out of Ozaki's big moves, you actually saw this SMILE come across her face, like "Oh yay- now I get to do more nasty stuff to them".
Like, some heels in joshi were unpleasant, but Ozaki treated opponents like they didn't invite her to their child's christening.
Ozaki's trademark "look of glee while tearing someone's face off" expression.
Oz had top-tier facial expressions: taking offense at someone clocking her, rubbing her head with a "why'd you do THAT?" expression. Her cruel sneer when she had a weaker wrestler where she wanted them. Her casual disrespect of equals and superiors. And when she met someone equally Satanic, like Takako Inoue, they'd step into the ring across from each other and you could hear lightning crash and horses whinny in the distance.
One of the more unique aspects of her style was that she was more reliant on flash-pins than most. But in a great way, even in the "MOVEZ!" style of early '90s joshi, that WORKED- let everyone else hit Super-MDKs and insane top rope moves onto the neck; Oz was good to just reverse your powerbomb to a flash-pin. Like "Hey, the rule says the ref slaps the mat three times. It doesn't say HOW". And it was nasty and effective- her famous ****3/4 bloodbath street fight with Dynamite Kansai ends with a goddamn ROLLUP. A fight onto the streets, tearing up the ring ropes, doing tons of moves onto a table until it finally breaks, and all the powerbombs they can toss… and Ozaki just wraps up Kansai trying another one and 1-2-3- we're done. And that made her a constant threat against every opponent because they booked it so you knew it worked.
Oz had extremely good timing and could play "underdog" extremely well- in most of the legendary ***** Match Triad she & Kansai had with Manami Toyota & Toshiyo Yamada, Ozaki tends to get the biggest reactions, taking a real drubbing and making people crave her comebacks. Less flashy than Toyota & with less huge bombing attacks as Kansai or Yamada, she took the longest to impress me, but the more I saw, the more I realized she was one of the best.
The amount of times I've seen her nearly hit ***** is pretty remarkable- though I don't have any solo matches of hers at the peak, she's DAMN close and it's almost nitpicky to not have her there- I've seen her hit around ****3/4 with Akira Hokuto, Manami Toyota, Dynamite Kansai and even Takako Inoue in a great scrappy hate-fest. Honestly it's Takako's best ever solo match and the others are very close to the peak of people generally considered among the greatest of all time.
I think the only drawback to her '90s stuff was she rarely wrestled like someone who was as small as she was. A 5'2″ wrestler hitting suplexes and giant powerbombs always seemed odd given how much size she was giving up to her opponents (never mind once she starts using a spinning backfist as an attack). Some of her best stuff ends up being underdog matches, but she was at least good enough to be a conniving heel at the same time. It says something when a 5-footer can be a hated heel against a much bigger, stronger opponent.
Ozaki's style shifted quite a bit as the '90s wore on, however- a suplex and powerbomb-heavy style altered as she did more and more "Dress Up Wild Fights" until she was basically a hardcore wrestler who used cheating for much of her offense. By the 2000s, pretty much ALL of her best matches are massive, violent brawls, as like most '90s wrestlers, her body couldn't maintain that old style endlessly. These are much sloppier and tend to just be garbagey weapon-fests, which I enjoy periodically (I give most of those ****-****1/2 when I find and review them)… but would probably like a lot less once they become ALL Ozaki does. In effect, her reputation seems diminished with people the more of that era they've seen, because she spent 7-ish years as a top-tier "GO GO GO!"-style flashy wrestler, then 20+ years as a weapons-using hardcore brawler. So a lot of people roll their eyes and go "UGH- OZAKI" the more they see. Thankfully I'm notably obsessed with only the 1990s so to me, Oz still rules.
The modern-day-ish "Trailer Park Ozaki" look.
CAREER TRAJECTORY:
* So one of the legends I've heard is that Mayumi Ozaki and the future Dynamite Kansai were both just barely rejected from AJW, and instead went to upstart Japan Women's Puroresu (the original JWP). Another is that she & Cutie Suzuki were childhood friends who got rejected from AJW (possibly for being too small), so made a pact to join the new "JWP" promotion, both being accepted and paired together for years. And so she joined Japan Woman's Pro-Wrestling (JWP), quickly becoming a big part of the undercard. Ozaki's tiny size could have held her back, but she quickly showed promise and by the early '90s was one of the best people in the company.
Ozaki won the JWP Tag Titles with Cutie in Sept. 1992, holding them for 224 days before the Ace duo of Kansai & Devil Masami beat them. Along the way, she & Kansai form a JWP superteam to take on the WWWA Tag Team Champions, Toyota & Yamada, but barely come up short in a ***** match at AJW Dream Rush. She & Cutie managed to win the JWP Tag Titles again in Feb. 1993… and then, one month later, Ozaki & Kansai get one more shot and shockingly DEFEAT Toyota & Yamada at Dream Slam II's main event for the WWWA Tag Team Titles! The duo heroically bring AJW's top tag belts home to JWP! They only face Takako Inoue & Yumiko Hotta in a one-hour draw as their sole defense. She holds the JWP Tag Titles for 115 days before AJW's vicious heels, Las Cachorras Orientales, defeated her & Cutie in a fantastic move-fest. LCO could match Ozaki's bad attitude, and catch Cutie coming off the top with a Death Valley Driver for the win. And so LCO went on a tear through JWP's wrestlers, beating every combination loyalist Hikari Fukuoka could form.
Ozaki & Cutie would be Tag Champs three times in JWP- Ozaki as the more "elite" leader of the two, contrasting Cutie's "idol" ways with nastiness.
Oz would spend much of 1993, the big year of the "Golden Era", doing the job to AJW stars in fantastic matches on big shows. It was very odd watching her be the "safe bet" loser in matches against Manami Toyota (****1/2) and Akira Hokuto (****3/4) because she was so good, but being so undersized and not being the champion, she was a better option than Kansai or Devil (who was more protected, losing mostly to Kyoko Inoue). She was in a ton of great tag team and trios matches as well. What caused my big turnaround on Ozaki's talent level was that while she never seemed like the most outstanding person in every match, move-wise, I relized that she was in the best matches on nearly every single interpromotional card in this era! Show after show of ****+ matches and all-out efforts and Ozaki would be in the best match almost every single night- I realized that she had the timing, match-structure and character beyond anyone else. She even had a ****-ish match with a recently un-retired Chigusa Nagayo, working as a nasty, conniving, weapon-using heel (a prelude to her later work).
Ozaki & Kansai would drop the WWWA Tag Titles back to Toyota & Yamada in the main event of St. Battle Final in a one-fall match which is ALSO *****, paying off all the spots and techniques used in prior matches in a slicker, more condensed 20+ minute affair. However, Hikari finally convinced Ozaki to team with her, and they defeated LCO to finally bring the JWP Tag Titles back to JWP for Ozaki's third and final run in Jan. 1995. This year also sees an all-time classic, as Oz's rivalry with Kansai leads to the first "Dress Up Wild Fight", a vicious hardcore match that sees the two fight in street clothes all over an arena, down the stairs into the street, back to the ring, then climaxing with a huge battle over a table to put each other through it… until Ozaki rolls up Kansai for the win, reversing the powerbomb Kansai went to one too many times. They'd have a sequel later in the year, but it was a bloated one with way too much padding to increase the match's length. But Oz had her new "thing".
Shockingly, however, Ozaki never gains singles gold in JWP- the title holders are Kansai & Devil until Hikari finally gets her push as the new ace in 1997. Ozaki instead manages to act as a nasty heel again, torturing a variety of people- she faces tons of legends in more "Dress Up Wild Fights", many being quite good (a Chigusa Nagayo bout is **** or so, the GAEA ace finishing Ozaki with a powerbomb off a table, KOing her for the ref's count when she collapses before "10"). In what is truly the next phase of her career, forms the stable "OZ Academy", gobbling up rookies left and right… including from GAEA Japan! She in fact invades the new promotion, convincing Chikayo Nagashima (the most well-rounded and move-happy of the rookies) and Sugar Sato (the worst one) to join her stable, which also included JWP's Reiko Amano.
Along the way, the worst happened when Ozaki hit her Ligerbomb on Plum Mariko in a tag team match- it's believed that prior injuries were responsible, but the move killed Plum via a head injury. Shortly after, in Plum's "retirement" match, three bawling JWP wrestlers give tribute to their fallen friend, Oz taking a vicious beating (possibly in penance) with Plum's gear standing in her place in the ring corner. Ozaki leaves JWP not too long after, becoming a GAEA wrestler full time. She joins a gang of main eventers to stand as rivals to Chigusa Nagayo and her trainees.
Ozaki wins the AAAW Tag Titles with Aja Kong in Aug. 1998, beating her subordinates Chikayo & Sugar. They hold the belts for nearly a year, losing after 329 days to the same duo! However, after a year and a half, she teams with Akira Hokuto to win the AAAW Tag Titles again in Dec. 2000, holding them for 126 days before the same team beats them! And she also wins her first major solo belt, becoming AAAW Champion in Jan. 2001, defeating Aja Kong and having a 207-day run before Kong beats her back. Then, after another year, she wins her third and final AAAW Tag Titles with KAORU as her partner in March 2002, now holding them for 196 days before losing to Ayako Hamada & Meiko Satomura. She & KAORU, now dressing as a pair of Asian Peg Bundys, form D-FIX with Ozaki's subordinate, a guy named Police who dresses like a cop. They were such effective heels I think I legit hate Police as a person because of his endless garbage interference, smashing young girls with weapons and knocking them out of pins so Oz can win.
Oz, like a lot of older joshi, switched to short hair at some point.
OZ Academy:
Finally, in the late 2000s, Ozaki leaves GAEA and forms her own promotion, calling it OZ Academy like her stable and acting as a dominant heel in the promotion, which featured both her subordinates (Chikayo, an OZ Academy originator, is a constant presence in the title scene) and various "Semi-Good Veterans", mostly from the GAEA Japan ranks like Sonoko Kato. She wins the OZ Academy Tag Titles a huge SIX TIMES, continuing to be the major presence- Tag Reign 1: Ozaki & KAORU beat Carlos Amano & Dynamite Kansai (Aug. 2008- 179 days), losing to Aja Kong & Hiroyo Matsumoto. Ozaki is also a three-time OZ Academy Openweight Champion, which is pretty unselfish given she runs the joint. The first champ was Reiko/Carlos Amano (a friend of hers from JWP). Ozaki beat Amano in Feb. 2009 to win the OZ Academy Openweight Title, but held it for only 42 days before losing to Kansai.
Tag Reign 2: Ozaki & KAORU beat Chikayo & Sonoko Kato (March 2009- 60 days), losing them back. After others won it a few times, she beat Kansai to win the OZ Academy Title again in Aug. 2011, holding it for 217 days before losing to Chikayo. Tag Reign 3: After a four-year absence, Ozaki & Yumi Ohka beat AKINO & Ayumi Kurihara (Feb. 2013- 28 days), losing them to Hiroyo & Tomoka Nakagawa. Tag Reign 4: Ozaki & Sakura Hirota win the vacant titles (Sept. 2014- 159 days), losing to Kagetsu & Kaho Kobayashi. Tag Reign 5: Ozaki & Mio Shirai beat those two (July 2015- 35 days), losing them back. Shockingly, Ozaki FINALLY won the JWP Openweight Title in Aug. 2015, beating Command Bolshoi (the current prez, running it as a "Vanity Promotion" by this point), holding it for 231 days before losing to Kyoko Kimura. Tag Reign 6: Ozaki & Maya Yuhiki form "Ozaki-Gun" and beat AKINO & Kaho (Oct. 2017- 323 days), losing to BORDERLESS. Then, finally, after not having the belt for eight years, Ozaki won the OZ Academy Openweight Title a third time, beating Hikaru Shida (yes, that one) in March 2019, this time holding it for a crazy 721 days (I assume COVID had something to do with that one) before losing it to Sonoko Kato. She also won the Blast Queen Title in something called Super Fireworks Pro Wrestling in March 2019, beating Hiroyo and holding it for 183 days before losing it back.
And there we sit- with Mayumi Ozaki running her own "Vanity Promotion" and swapping the top belts around with various GAEA graduates, her own trainees, and whomever else shows up in the modern splintered world of modern-day joshi. One of the few active wrestlers from the "Interpromotional Golden Era" still around.
MOVESET:
* Turning Splash, Cannonball (flying somersault senton to standing opponent), Cannonball off the Apron, Powerbomb, Folding Powerbomb, Uraken (spinning backfist- sloppy and usually misses), Police Running in and Being a Piece of Human Filth, Tequila Sunrise (underhook/half-nelson German suplex- Semi-Finisher), Ligerbomb (sit-out powerbomb- Finisher), Rollup Out of Anything (Finisher- seriously- she'll pin you)
THE MATCHES:
MANAMI TOYOTA (AJW) vs. MAYUMI OZAKI (JWP):
(Wrestlemarinepiad 1992)
* Oh, damn. They were across the ring from each other at Dream Slam II, and their tag feud is over, but now it's a SINGLES match! And it's especially interesting, because Ozaki's one of many wrestlers whose position in history is kind of overshadowed by Toyota being "The Best", because they had similar styles, and nobody was as good as Toyota at it. At least with Aja or Hokuto, there were different styles so you could find one better and it's just a matter of taste. Ozaki's in her usual "red unitard with cut-outs and tassles all over it" look, while Manami's in… a black leotard with white Hostess cupcake swirls all over them? Oh, Manami. Manami that does not look good. It's COVERED in them.
They start off tearing into each other with slaps and kicks before Ozaki slickly jumps up to avoid the running Front Dropkick and does mat stuff… and then BOOM, it's the No-Hands Springboard Crossbody. Manami takes over with a dropkick and proves that Ozaki's as bendy as SHE is with one of those "fold 'em in half" half-crabs and some other great bend-y stuff. Hah, so this is what it looks like when Toyota can overpower her opponent! Usually she's just TAKING this stuff! There's a long segment on stretching puncuated by a lot of yelling and slapping to ensure we get that there's real dislike here. Manami finally comes in with Dropkick Beamspam, but gets the worst of some other stuff and is dumped, but gets the better of Ozaki outside, but then does her "Missed Dropkick and Slides Outside" bump!
Ozaki Springboard Somersault Sentons her out there, then hits a German and a Spinning Splash (that move's popular tonight) for two each, Manami using the "Fuck YOU!" Bridge kickout and hitting a Rolling Cradle, circling the ring for literally 45 seconds. Oh yeah, there's some hate there. Manami fails to get onto her toes for the bridge of a German AND a Straightjacket Suplex, which indicates to me she's feeling weakened. Her Moonsault misses (that thing has a 30% success rate) and a Tiger Suplex gets two, but she knocks Ozaki off the top, GERMAN SUPLEXES her on the outside, and gets a Moonsault Suicida. NOW an in-ring Moonsault hits! Dragon Suplex gets two as the crowd chants for Ozaki to make a comeback. Manami appears offended by their turning on her, but when she hits the Electric Chair portion of the Japanese Ocean Cyclone Suplex… Ozaki hits a Victory Roll for a near-fall! Another try… and Ozaki slips back and hits the Tequila Sunrise (Half-Nelson/Hammerlock German Suplex)! That gets people WAY into it, but she makes the fatal mistake of Repeating A Previous Successful Move, and she takes a knee to the face when she attempts another Spinning Splash. A+ selling, making that look completely agonizing. And that enables Toyota to hit the Japanese Ocean Cyclone Suplex for real (making sure to let it sink in to Ozaki by literally carrying her across the ring and planting her in the middle), scoring the three (19:58).
Well that was an odd bout. Well that was an odd bout- I was actually disappointed by it on my first look, thinking it **** (which was Meltzer's rating, too). I mean, that's disappointing for THESE two- looking at the names and the event I was thinking "****3/4, easy", but instead it seemed too slow at first. But a re-watch showed a lot of the venom in the ten minute stretching portion made it a lot more fun than the often-perfunctory "stretching period" stuff. They kept that full of emotion and hate (all the hair-pulling and slapping), and moved from move to move quickly, so it wasn't boring. They hated each other in the submissions (Manami's Octopus Stretch featured extra tugging on the neck AND an elbow grinding into Ozaki's side), they slapped and kicked, they brawled outside, and there was even a ton of reversals and psychology (the Moonsault & J.O.S.C. both needing a couple of tries to hit; Ozaki's Spinning Splash being gone to one too many times).
Rating: ****1/2 (Great stuff! Tons of moves, plus psychology!)
PURE HEART MEETS THE DANGEROUS QUEEN- ONLY ONE TIME SINGLES MATCH:
MAYUMI OZAKI vs. AKIRA HOKUTO:
* A somewhat famous one, and the first meeting of two of the most venomous wrestlers and greatest sellers of the era. I've heard a ton about this from others on the Blog, and it's highly rated everywhere. Ozaki's in red as usual, while Akira's in yellow- she talks shit to JWP's President before the match, and he gets a rebuttal that actually draws a huge pop!
Ozaki stalks around a smirking Hokuto, and tries to slap her to attention, but Akira just blows her off- yeah, Oz don't like that, so Akira gets German Suplexed and we're off. Ozaki strikes away, but Akira just big-leagues her and knocks her around. Ozaki countering the roundhouse kick with a submission puts the fight into her, though. She talks more smack in the hold, so Ozaki boots her in the face over and over again, but Akira's hairpulling and slapping finally loosen the hold and a backdrop suplex gets two. She stretches the JWP star, but as soon as she lets go, Ozaki wraps her up again- countering Akira's reaching for the ropes by biting the hand is part of why Ozaki can't enter churches. Bow & arrow and falling Dominator get two, as does a backdrop hold and then we get the STUMP PULLER~~, leaning back and switching legs when Akira gets fight-y. LOL, now she's biting the shoe. Hokuto dodges a flying thing and NOW hits the roundhouse, drawing a big reaction for whatever she said. Damn I wish I understood Japanese.
Another kick gets two and Akira locks on that sick "casual sharpshooter that still looks agonizing". And adds a facelock to it because Ozaki's so bendy. Jesus Christ. Josh Irish Whip of Transitioning leads to a slingshot splash and a falling DDT from Ozaki, and a Springboard Cannonball to the outside! Powerbomb on the floor! Now Hokuto's in agony for a full minute and Oz is smacking her own back to deaden the pain, then does calisthenics. Akira finally gets on the apron… and is dragged up top for a Superduperplex for two. Well that's gonna help her spine for sure. She then hits THREE POWERBOMBS, Akira managing a weak rollup and getting her feet up for the Turning Splash to come back- both are selling, but Akira hits her own powerbomb and a missile kick for two! She then fireman's tosses her right over the top and follows with the Tope Con Hilo! And now in a great revenge spot, she DOES PUSHUPS, and now Oz takes a Northern Lights Superplex in another revenge spot! Oh shit snap leg submission from Ozaki! Powerbomb is countered, but she hits a Ligerbomb! Whip is countered to a Dangerous Queen Bomb countered to a Rana for two! Ozaki charges and hits a foot, so NOW it's the DQ Bomb for two! Ozaki is dead, and Akira readies the Northern Lights Bomb but OH SHIT TIGER SUPLEX FOR TWO! Huuuuuuuuuge reaction there. She climbs, but misses the Cannonball and that's that- Akira kills her with the sick "Henkei" Backdrop and the Northern Lights Bomb at (18:26).
Oh shit, this was INCREDIBLE. It was classic "Joshi Template", with 9 minutes of shit-talk and stretching, then 9 minutes of escalating craziness. I also like that instead of Toyota-style "BeamSpam" it's more Akira-style "sell for a full minute on the outside" to put over each other's offense, at least until they'd both hit a reversal and immediately land a finisher. Even when it was time to go back and get their own shit in, both women stumbled about, selling the beating like nuts and not just blowing off three powerbombs in a row like it was nothing. Ozaki herself would get up from the Tope Con Hilo, but only halfway and then stumble back into the railing- she looked HURT, you know? Unsurprisingly awesome given who was in it, but I was veering ****1/4-1/2 until the ending surge- it ends up being one of each's best solo matches. This ends a year for Ozaki where she jobs to Manami, Takako & Akira- quite the drubbing, but with a ****1/2 floor, she's made a name for herself.
Rating: ****3/4 (almost a perfect match time with minimal filler, great timing, good character and an awesome finish)
NEO STREET FIGHT:
DYNAMITE KANSAI vs. MAYUMI OZAKI:
* The main event of this show appears to be a no-rules Street Fight between Kansai and the #3 star in JWP, Ozaki. Ozaki is particularly gifted when it comes to any match where she's allowed to cheat and use weapons, so this appears to be a dream for her- a real way to close the gap between her & the Ace. And she attacks Kansai on her way to the ring to prove this- both women are in street clothes, really pulling off the "unsanctioned FIGHT" nature of this bout. Oz has some bandanas randomly tied to her jeans like Chachi in "Happy Days", Doc Marten shoes and a vest, while Kansai looks like she just came out of an army surplus store.
So Oz immediately goes for strangulation with a chain, but they get into a tug-of-war in the ring, Kansai finally hitting a backdrop and working Ozaki's neck with holds. They brawl outside, Ozaki winning by using the chain to hang Kansai off the apron, cranking the shit out of it in a variety of ways. Oh yeah, here comes the chain-wrapped fists. Ozaki's wild eyes and huge smirk, combined with Kansai flinging her head away on every shot, really sells the moment. Kansai gets her ass beat in and out of the ring until she finally catches Ozaki and dumps her over the top, then piledrives her on a chair! Then one of her seconds unthreads the friggin' TOP ROPE and Kansai drags it outside and starts to choke Ozaki with it! Well there's your signature spot, right there. They disappear into the crowd as the ring girls desperate try to keep the ropes from tangling and… oh geez they're fighting on the stairs leading up to the hall, haha. Then they take a safe tumble down those and end up OUTSIDE, Kansai clotheslining Ozaki into a support column. Kansai hammers her again then drags her up the stairs through the now-jampacked audience at the top of the steps in a great visual.
Finally back in the ring after 4-5 minutes, Kansai hits this glorious swinging backdrop suplex, flattening Ozaki for two. She signals Splash Mountain, but Ozaki spins out of it with an armdrag and hits a Tiger Suplex for two! Oh, there's that chain again- Ozaki ties Kansai's face to the post, leaving her completely helpless against a pair of chairshots and a shitload of running boots to the face. Oh that's just mean. Chain-wrapped chair and facecrusher off the guardrail keep up the torment, and NOW we finally have blood. Oh it's everywhere, too- full crimson mask as Kansai gets a dog collar placed around her neck and is dragged around, putting the blood on display for every paying fan- this is why Oz is God-Tier. Not only does she bite the cut, but she SPITS BLOOD at the ref for admonishing her- jesus christ that woman. Three DDTs in a row get two and the crowd roars, Ozaki looking up with blood trickling down her chin, all pissed off.
Kansai is just POURING blood still, looking like she's about to keel over from blood loss, and the kickout gets the fans into it, chanting "KAN-SAI!" while Ozaki runs around and throws shots, the chain clattering with every move so it sounds more devastating. And BOOM! Lariat reversal! Kansai staggers to her feet and hits more with a chain around her arm, and keeps building up more and more with each shot until Ozaki's flipping over on the sell-jobs. I love how Kansai's got her comeback going, but is still rubber-legged and hundred-yard staring the entire way, like her mind is controlling a dead body. She wraps the chain around her ankle to deliver some kicks that dump Ozaki and buy her some time. She throws a table into the ring and plans a big move, but Ozaki teases the crowd by fighting out of it, and they end up in a slugfest instead… then Ozaki goes for Tequila Sunrise (tiger/dragon suplex), Kansai fights out, but swings right into it again- Tequila Sunrise gets two! Release powerbomb on the flattened table- two! Ozaki tries a Manami Roll of all things, ending up RIGHT in Splash Mountain position, but slides out, but Kansai redmists her head with a kick to buy herself more recovery time and Ozaki gets an "8" count before she's up. Backdrop gets two and Kansai's had enough- she sets the table up again. HUGE piledriver through the table! But Ozaki STILL kicks out at two! SPLASH MOUNTA— oh fuck, the armdrag reversal again- Flash pin… and OZAKI WINS!!! (22:30). Holy fuck what the hell!?
This was bloody FANTASTIC. They took every garbage match known to man and added their A+ acting & wrestling skills to it, turning what could hav been a random bloodbath and made it incredible, swinging the monmentum all around and giving us some great vicious bits. The trick with matches like this is being memorable when the entire thing is violent, and "getting into a fight in the entrance to the arena" and "using the entire top rope as a strangulation device" are exactly how you do it- iconic spots that people will remember for years over "and then they punched each other fifty times and bled". And that BLOOD SPIT- it wasn't even this giant spot, it was just Oz being all "haha, fuck you" but it was SO nasty. And that ending completely floored me- they built it up PERFECTLY For Kansai to finally murder this evil hag once and for all, getting her sweet revenge by teasing that damn table spot a full four minutes once it's set up in the ring… but then Ozaki not only KICKS OUT, but reverses Kansai's finisher again, catching her because it's been a bloodbath and anything can win. I get that, but man I still would had the piledriver end it. But Ozaki's now put over incredibly strongly as Kansai takes another big loss.
Rating: ****3/4 (so, SO close to hitting the full monty- remember that I'm not a huge fan of brawls or weapon matches and I still went this high. This is easily the greatest Street Fight I've ever seen)