Nightmare Matches – Volume Ten! When Roderick Rambled!
By Dave Newman on 3rd August 2022
This week's set of matches is bookended by two matches featuring "Rowdy" Roddy Piper which were voted as the worst matches of 1986 and 1997 respectively by readers of the Wrestling Observer. I'm a big fan of the Hot Rod, but no doubt he went off the boil at a point despite his abundant charisma and ability. One's a clear stinker, the other I'm not so sure about, so we'll find out. Also some MMA, the ladies, plus more!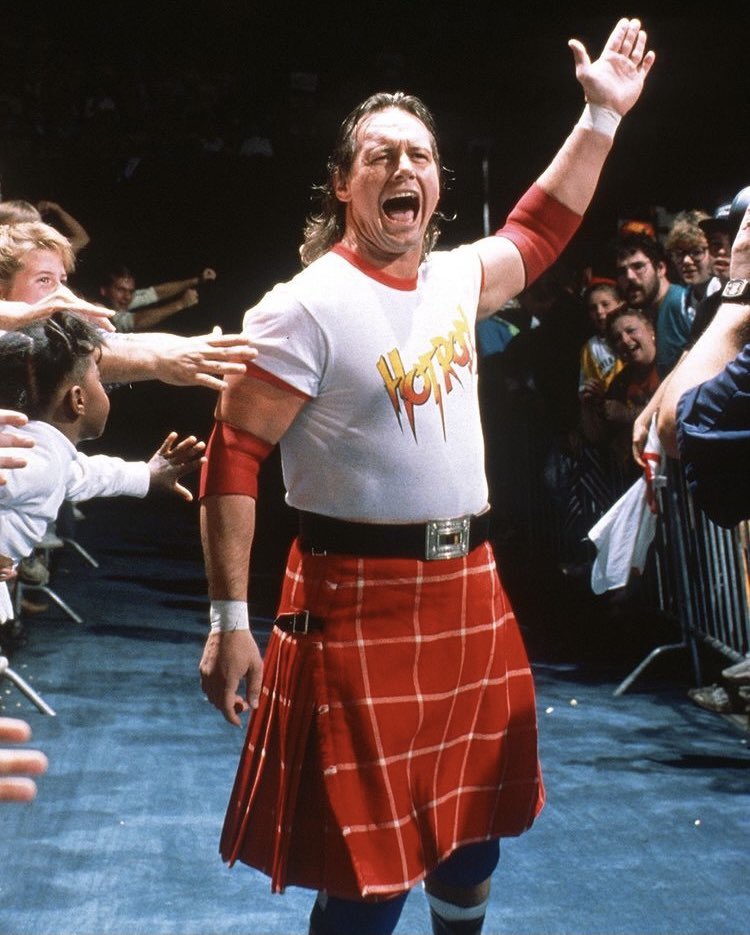 Roddy Piper vs. Mr. T
The boxing match from WrestleMania 2, at least the pre-match promos are good. Roddy promises to quit boxing, wrestling, tiddlywinks and dating girls if he gets knocked out, but then he also promises never to paint himself black and we know how that went. The celebrities involved in this were doubtless the first people to pick up the phone and not find a dental appointment to keep them busy, namely Joan Rivers, Darryl Dawkins, Cab Calloway, G. Gordon Liddy and Herb. Joan is fucking up most of the ring introductions, so Vince is correcting them as soon as they're out of her mouth.
Round one – some silly body shots from T, with Susan St. James sarcastically commenting on the ref. Piper's shots are a bit better, but it's two guys boxing like a boxing match has never been boxed before. Vince calls it a "brawling-type match-up" before the bell rings.
Round two – Roddy returns for round two with grease on his head. He gets some decent shots in, but ends up in the corner before dropping his arms. It's obviously all wrestling-style punches as opposed to boxing ones. Piper drops T with a roundhouse, but refuses to get in the corner and brushes him with his sole, allowing T time to get back up. He's no better as the bell rings, with the crowd chanting for Roddy on the premise of him being the only one showing them something good or bad, turning himself face. The seconds drag T back to the corner and Bob Orton pours water on him to wake him up.
Round three – a little more energy from T, with an early advantage. Piper gets back up, then does a wrestling bump off a left that doesn't connect and rolls outside. He returns before the end of the round, holding on before the end of the round. The crowd shows a rare bit of approval for the first appearance of a round girl.
Round four – Roddy is pissed off with the quality of the match, so throws the stool at T, catching him on the knee. They trade blows before Roddy knocks T's mouthpiece out. Roddy's goes next. "This is vicious!" says Susan. I would've gone for brutal, myself. Piper finally knocks down Jack Lotz and slams T for the DQ.
How bad was it? One of the biggest wastes of time in WrestleMania history, undoubtedly the most fast forwarded match of all time, with two "workers" trying to work a boxing match. At least it got Piper over enough to come back later in the year as a good guy.
Kaitlin vs. Maxine
I believe I may have actually still been watching NXT at this point. I believe the take was an all-ladies NXT audition show this time. Kaitlin was a fitness model type and Maxine was a budget Melina. Kaitlin's mentor Vickie Guerrero calls her out for how she dresses, despite it being perfectly fine, "gifting" her with a hoodie that she throws down. Maxine gets impatient and sticks up for Vickie, angering her own mentor Alicia Fox, who had the best match of all time one time. This sets up the match. The crowd are far more patient than I am for sticking with it and showing enthusiasm. Kaitlin indeed wears the hoodie while both mentors stand in opposing corners on mic. Waistlock and then Maxine shows she can't run the ropes or into the corner before getting a screaming clothesline. Michael Cole, who's much less grumpy this season than he was in the first, is already burying it. Reverse chinlock with Maxine obviously unaware that if you're in the ropes you have to break. Maxine pulls the hoodie up while Cole takes a call from his mom. Josh Matthews just titters to himself rather than trying to fill the gap. Tony Chimel gets the phone passed to him while the stuff outside the ring is far more entertaining. Kaitlin eventually comes out of it and gets a side suplex and a clumsy clothesline. Inverted atomic drop that is completed like a spinebuster while Maxine's head almost smacks off the bottom rope. Kaitlin tries a small package from a gutwrench suplex starting position for two. "Ref, count faster!" begs Josh. A fireman's carry gets turned into a clumsy sunset flip by Maxine, but Kaitlin rolls too far and ends up facing the mat before rolling forward for the three.
How bad was it? It was already outstaying its welcome when the announcers were losing patience, but when they got to the point where they could've legitimately hurt one another due to how clumsy and inexperienced they were it became really scary. I didn't watch much else in 2010, but can see how this would be a clear contender AND winner of the worst match of the year.
Sting vs. Tony Palmore
From New Japan in 1995, with wrestler Sting against kickboxer Tony Palmore. Sting has been a part of some of the best matches of all time with the likes of Ric Flair and Vader, but that was with the heels undoubtedly giving him a leg up. Sting wasn't 100% reliable for doing the same with lesser opponents but he was good enough. This is an opponent in his first wrestling match, so…
Palmore tries some strikes while Sting guards. Stinger was getting more experimental with the warpaint at this point and the yellow and black Skeletor Road Warrior look isn't flattering. Palmore looks like a guy who was on neither the middle or on an end in a group in the seventies that would sing "If You Don't Know Me By Now". Sting with a hip toss and rear chinlock, broken because it's in the ropes. Back up, Tony gets a roundhouse kick and scissor kick to take Sting down, plus a stiff shot to the back while he's grounded. Sting's up on seven. He avoids a kick and looks like he's going for a German suplex, but it just falls down from the rear waistlock takedown. Bless Sting, he's trying to work it with a guy who doesn't know how to work, whether that means making them look good when they're soft or not throwing them like you're doing the shot put. Sting catches a kick and takes him down as quickly as possible to apply the Scorpion Deathlock for the submission victory.
How bad was it? If I was Sting I'd be never coming back to Japan after being booked in this. A total nightmare that wasn't going to work in any way imaginable.
https://www.youtube.com/watch?v=uNL5DfASFKc
The Headbanger vs. Brian Costello
A very short run in the WWF, apparently ended by the Dynamite Kid getting him drunk on the job, for Jos LeDuc. The announcers can't get it straight whether he's the Butcher (based on his gear) or the Headbanger, given his penchant for headbutting. He attacks straight away and drops a young Costello on the ropes and turnbuckle. I believe he may have gotten this job off his appearance in No Holds Barred. He almost decapitates Costello on a wheelbarrow move that goes astray. He eventually just headbutts away in the corner until he's disqualified. You're not getting over when you lose to jobbers, no matter how.
How bad was it? Jos LeDuc was a fearsome worker, but that did zero for him. He showed up for King Haku's coronation and did a job in a pretty good match for Tito Santana, but Tom Billington and Jack Daniels saw him out.
Hollywood Hogan vs. Roddy Piper (Superbrawl 97)
This is the second of their big three WCW matches, and I might review the first and third depending on how this one goes. Piper had checked himself into Alcatraz to get ready for Hogan, or detox, I guess, although he's even more manic on the boat out before the opening. Hogan spits on the kilt and calls Piper a "chickenshit" before the match. This chapter of their feud followed an ill-conceived angle where Hogan and Bischoff beat up Piper in front of his son, which Eric thought was one of the best angles ever and Disco Inferno very much disagreed when they were going through their tense contract negotiations. Hogan tries to walk, probably because Piper looks like a bum, but Piper brings him back in and gouges the eyes. Low blow and choke with the t-shirt. Weak chairshot, which I'm kinda surprised Hogan didn't blade for, but he gets his own low blow (ignored) and bites the nose. Michael Wall Street and Vincent run interference, allowing Hogan to chop the throat, but Piper pokes the eyes and claps the ears to cut that off. Piper won't even sell shots to his bad hip. Hogan is just giving him all the free shots he wants and taking the cartoonish beating. Sting and the freshly returned Randy Savage (back after contract negotiations with the WWF in 1996 fell through) start to take a walk down, but Sting stays by the entrance. Hulk, his black beard washed off, takes advantage and goes to the eyes as Sting walks out. Hogan rams the back and leg into the post. Bearhug is transitioned from a submission move into a pinning move for a couple of twos before Mark Curtis checks the arms for consciousness and Piper claps the ears to escape. Choke in response. Hogan misses an elbow and Piper punches away on the mat. A low blow from Hulk finally seems to be effective, but Piper skips over a slam and gets a sleeper in front of Savage. Hogan appears to go out from it and Curtis declares Piper the winner, but Randy pulls Hulk's feet under the ropes, and even though Curtis had a clear view of it while checking the arms he reneges on the decision and lets it continue. Well, that's stupid. The commentators make no comment on it either, but Savage slips brass knuckles to Hogan, which he uses to knock out Piper for the pinfall victory. This signals the entrance of Macho Man into the nWo. WCW looks stupid as usual.
How bad was it? Not that bad, to be honest. Very much a Hogan/Piper match from past their prime in the late nineties. I've seen a lot worse, so I think next week will indeed verify whether Observer readers meant to vote for Age in the Cage as the worst match of the year.
The meltdown: Some pretty clear nightmare matches this week except for the last one, so we have to do it all over again next week with Age in the Cage. I can see the thing swinging loosely in my mind's eye right now!