Seriously though, this is an ALL-TIME wrestling look and it's a shame they wasted it on a "Midcard JTTS" act.
Welcome back to more Dream Matches! This week, I have a classic case of a WCW "throw together two good workers and give them time!" throwaway match, as Mortis (Chris Kanyon) faces Juventud Guerrera on WCW Saturday Night! Then it's the end of Rick "The Model" Martel's WWF run as he faces "The Rocket" Owen Hart in one of Owen's last babyface matches! The more WCW goodness as a rookie Tokyo Magnum on his learning excursion faces El Dandy!
Then we get another Steiner Brothers/Fire & Ice "just launch each other around the ring" match, and finally, an all-time dream bout of the Beverly Brothers facing the jobber Dream Team of Virgil and "El Matador" Tito Santana! Read on!
MORTIS (w/ James Vandenberg) vs. JUVENTUD GUERRERA:
(WCW Saturday Night, Jan. 3rd 1998)
* Hey, an interesting one, actually! Kanyon in his "Mortis" identity vs. Juvie! This is back when Juventud was still masked (here his mask is an odd dark salmon color) and was kinda/sorta a job guy but sometimes not really? WCW's midcard was strange because guys would alternate wins & losses randomly. Mortis looks AWESOME and holds up even more in retrospect- 99% of guys don't look half as cool. The size difference here is profound, too.
Mortis starts off with a high kick and punches (seriously, why is Juvie not able to use his speed first?), beating on Juvie slowly, who tries some ineffective shoulderblocks before a spinning headscissors brings Mortis down. Now Juvie uses his speed with a variety of shots and then a springboard roundhouse kick for two, as Tony & Dusty bring up Mortis trying to be "the best masked wrestler in WCW" and beat up all the luchadores. Did that end up going anywhere? Vandenberg pulls the ropes down so Juvie tumbles out trying a follow-up, then Mortis does a really cool thing- holding a pumphandle slam position, but climbing to Bret's rope and then backflipping Juvie over the ropes and behind him, flinging him neck-first on the ropes on the other corner! Tony & Dusty mark out as it gets two when Mortis is slow to recover, and he throws a few more punches before hitting an electric chair into a falling front slam (like the Glam Slam/Jaded), but slowly hits a nonchalant cover and only gets two.
Juvie makes him pay for that by spinning into a sleeper, but Mortis threads it into a backbreaker and goes for the Flatliner (Samoan drop off the second rope)… where Juventud sunset flips off and hits a Ligerbomb! Mimicking the Ultimo match from Nov. 1997! Mortis rolls over on impact so there's no cover, and ends up catching Juvie with a German, but Juventud lands on his feet! He slugs away and springboard moonsaults off… but Mortis just catches him, only to get pushed into the corner and hit with a missile dropkick for two. Juventud climbs to finish, but Mortis gets up before the 450, so Juvie flies in on a standing opponent, leading to the D.O.A. (giving yourself a Rock Bottom) for the pin at (5:58). That one would end up being called the "Flatliner" later on, I believe.
Wow, what a match! It was just Saturday Night but both guys worked their butts off and made a hell of a match given the time. Mortis dominated but played stupid and paid for it repeatedly, with Juvie showing his "Rey Energy" with all the comebacks and reversals. Mortis was such an interesting dude at this time- all these innovative, brilliant moves that you can't believe people haven't copied (check that pumphandle fallaway slam guillotine!), but all the rest of his offense is just plodding punches and "martial arts" kicks, because he's so green he can't thread his crap together yet. He's sometimes so underrated he's OVERRATED but it's a great midcard deal at this point, and Juvie is one of the best underdogs in wrestling with his lightning-speed offense.
Rating: *** (shockingly good, fun match in only six minutes- full of come-from-behind stuff and guys making tactical errors and paying for them)
RICK "THE MODEL" MARTEL vs. "THE ROCKET" OWEN HART:
(WWF Mania, Jan 15th 1994)
* Another interesting exclusive, as Martel wasn't long for the company by this point (okay he wrestles another six months but his last TV appearance is the Rumble, I believe), and Owen was a couple weeks from the turn that ignited his career. Monsoon & Jim Ross put over Martel's conditioning and Owen training in the dungeon, while JR mentions "I considered a modeling career myself at one point" ("Of WHAT?" Monsoon asks with shock, "Pictures saying 'don't let this happen to your boy- send him to camp!'").
Owen uses speed to catch Martel with a cross-body out of the corner and hits a kneecrusher into a spinning toehold, while JR questions why they call it that and Monsoon seems to miss the fact that the move doesn't involve the toes at all, suggesting it bends the toe back. Martel shoves Owen into the post to come back, still selling the leg while doing his damn jumping jacks taunt, which is amazing- he gets a back elbow but gets slugged coming off Bret's rope and Owen hits a dropkick & hiptoss for two-counts (Monsoon even criticizes Owen's pins even though he hooks the leg! "If he'd done a half-nelson in addition to hooking that leg he might've gotten a three!"- there's no pleasing this guy, lol). Martel sends Owen flying over the top off a rope-run, hurting the knee so Bret comes out for a pep-talk. Martel gets a backbreaker & gutwrench suplex for two-counts but takes a shot at Bret, so BRET CHEATS, tripping up Martel so Owen finishes him with a small package at (4:55)! Haha, you don't need to ask the HARTS to take shortcuts, even as babyfaces!
A very short match, but featured good move application by both guys, two of the smoothest of their time. Both sell the leg a bit, but Martel works the back until he makes a mistake getting into it with the Hitman, who even now is a natural dirty fighter if you cross him. And man, fans love it when babyfaces cheat when wrestling heels. Bret & Hogan knew that well.
Rating: ** (fine short TV match- never got going to the next level but everything looked good)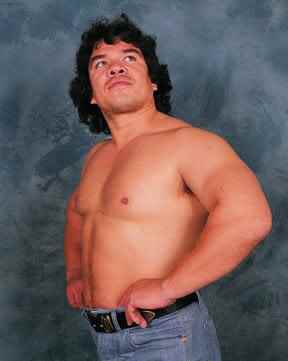 I do love that Bret legit respects El Dandy and gives credit to the luchadores for working all the house shows for peanuts while he made bank doing a few matches a month, haha.
EL DANDY vs. TOKYO MAGNUM:
(WCW Thunder, Oct. 8th 1998)
* OH YEAH I'M NOT DONE WITH EL DANDY YET! He's in blue tights, up against poor Magnum… who might actually win this one. Both guys could NOT have been on a lower tier at this point, which makes this being on the B-show even funnier.
Since Dandy is a good seller and a fast guy, Magnum is actually able to get some offense here, doing a victory roll & sunset flip for two-counts right away. Sadly, Tony Schiavone disses El Dandy making the Cruiserweight weight limit ("if DISCO isn't gonna make it, then…"), though to be fair, El Dandy looks to be in his second trimester here. They each do quick takedowns and stuff into stand-offs, but the crowd isn't biting- then OH MY GOD the "Chucky" laughs come up over the arena mic! Dandy does a Jalisco Jam, but Scott Norton of all people comes out and just brushes off their offense like it's nothing, killing both guys for the DQ at (2:39). The newly-crowned IWGP Champion (and great answer to puro snobs saying that "Japan is where the REAL workrate is"), he powerbombs both guys effortlessly. And then back from break, out comes Eddie and the Latino World Order, who blames Eric Bischoff and his anti-Latino policies for this, and brings El Dandy into the stable with Hector Garza & Damian.
Rating: 1/2* (some okay flippy stuff and gamesmanship, but then just turned into a backdrop for TWO angles, both of which made the guys look terrible)
THE STEINER BROTHERS (Rick & Scott Steiner) vs. FIRE & ICE (Scott Norton & Ice Train):
(WCW Nitro, July 15th 1996)
* Back to the Steiners/Fire & Ice feud, as they wrestled a LOT back in the day. This is in one of those "weird sets" WCW used to to that were pretty cool, though this is just a handful of stands in the entrance in front of what was then Disney/MGM Studios- you can see the Twilight Zone Tower of Terror off to the right, and Grauman's Chinese Theater down the front in wide shots.
The Scotts start us off, with Norton throwing his weight around and going to the eyes to keep Scottie down. Norton pounds away repeatedly, but finally runs into a boot and a lariat, and oh my god SCOTT NORTON ACTUALLY STARTS SELLING. Scottie hits him with an overhead belly-to-belly, sending him to the floor- back from break and it's Rick vs. Train, Ice Train hitting a powerslam as Teddy Long comes to ringside. Train runs into a boot and takes an UGLY bump landing on an overhead belly-to-belly, compressing his neck sideways, but Rick only gets a one-count. He kinda awkwardly grapples Train into position for stuff like an inverted DDT for two, but Train gets an elbow and tags out. Everyone takes turns no-selling each other and Scottie S. gets dumped. Norton hits him with a clothesline off the second rope, but takes too long on an elbow from there and eats a boot- Rick Steinerlines him and even catches him in mid-air for a powerslam. Ice Train makes the save and repeatedly interferes- a double-shoulderblock sets up his finisher, the Train Wreck (running splash), but Rick pulls out and Train splashes NORTON, and Rick pulls Ice Train into a German and awkwardly covers him (he's not the legal man) for the three at (7:27). Well I mean that's his own fault- being in there so long the ref think you're legal.
Rating: ** (okay but fairly short and basic. Mostly just two big suplexes by the Steiners and little else other than plodding stuff from Fire & Ice)
Oh god there's also a Virgil/Santana match somewhere. I have a new future "Dream Matches" marquee match to watch!
THE BEVERLY BROTHERS (Beau & Blake Beverly) vs. "EL MATADOR" TITO SANTANA & VIRGIL:
(WWF Mania, Feb. 20th 1993)
* Amaaaaaaaazzinnggggggggg- the two jobberiest babyfaces in the company next to Koko and they're taking on the lame-duck of the tag division- the Beverly Brothers! Yet everyone here was a good worker at this point so it might actually be decent! Heenan & Monsoon actually sing Tito's accolades, though Heenan suggests he also used to park cars at MSG ("He did NOT!" "musta been some other guy named Tito!")
Blake wins a couple wrestling segments with Virgil to start, taunting him but getting caught with a crucifix & dropkick into a hiptoss. Blake catches him with a backdrop suplex out of a headlock but Beau is caught with a cross-body for two- Tito stays on the arm, back to Virgil, and then Tito slugs Blake, but that lets Beau pull his hair. Beau misses a charge and it's back to the arm- he slams out but now Blake starts getting double-teamed as this is not the Beverlies' night. Beau finally nails Virgil off a whip and then axehandles him to put the Beverlies on offense- they work him over while Virgil does a really good job selling everything as devastating. He fights out of Blake's bearhug but eats a powerslam for two, then sunset flips Beau but takes a forearm. Beau lands on an outstretched foot, though, and it's hot tag Tito! He goes wild on Blake and clotheslines him to the floor, then dumps Beau- Virgil gets involved and Blake gets slingshotted back in for the Flying Forearm, but the ref is distracted and Beau runs in with a legdrop and acts like he's the legal man… but Tito hits an inside cradle for the win (8:42)! Holy sh*tblossoms, the jobbers win!! Heenan loses his mind ("he's not the legal one!") while Monsoon revels in his agony.
Okay this must have been near the end for the Beverly Brothers if this makeshift job squad can take them out. Looking at Cagematch, they spent a couple months jobbing to the Steiners & Bushwhackers on house shows before Blake became a solo act on the road, losing to Bob Backlund before actually beating Virgil (poor Virgil! Why would they job him out to BLAKE?) and Jim Powers (lol imagine going to a house show and seeing Blake/Powers), and on TV was a solo jobber to Razor Ramon & Bret Hart before being cut loose. The match, at least, was pretty good, with everyone selling well, Virgil working hard to get the Beverly offense over and writhing around in pain, and Tito getting a good fiery babyface comeback, then catching the heel after a switch-out.
Rating: **1/4 (all four guys were good workers and they actually got the time to make this work)