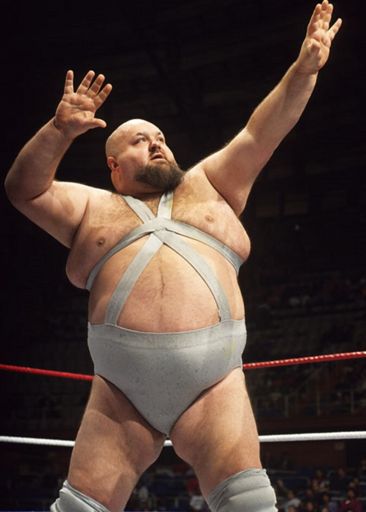 That's right- you know it's a good day when BASTIAN BOOGER is featured in the article!
Welcome back to more Dream Matches! This time I have another doozy from WWF Mania, as their featured match is Bastian Booger vs. KOKO B. WARE, at this point a member of High Energy in the world's most ridiculous pants. Then it's the No-Limit Soldiers/West Texas Rednecks feud continuing in WCW, as Redneck leader Curt Hennig takes on the Power Plant jobber Chase Tatum, now a white-boy rap fan. Then it's 3-Count vs. Disorderly Conduct, as the DC boys continue jobbing to every team coming down the pipeline!
And try to control your excitement as "Squire" Dave Taylor faces wunderkind rookie Prince Iaukea on a Spring Break Nitro while the cameras ignore them in favor of nWo stuff! Then back to the WWF as The Blue Blazer (Owen Hart as a JTTS) takes on The Warlord of the Powers of Pain- mini-star vs. tag guy! It's actually up in the air who might win! And finally, a double-whammy dream match as HUGH MORRUS faces RICK FULLER on two separate occasions!
KOKO B. WARE vs. BASTIAN BOOGER:
(WWF Mania, April 16th 1994)
* Man, what fresh hell is THIS? Booger vs. a tag wrestler? Apparently this is Booger's last televised match in the company, too- he even gets the "already in the ring" deal.
Koko plays evasive to start, repeatedly dodging Booger, sliding under his legs, etc., even cracking up Ted DiBiase on commentary, who credits him for baiting the big guy. The crowd can't be arsed about this, barely reacting at all. Booger finally catches him in the corner and hits a legdrop as I realize his legs are decidedly skinny for such a ball-shaped man, and we come back from break with him still in control, hitting an awful splash (more like a quick stumble) for two, then does choking and a weak clothesline into a nervehold as this just keeps going on. Koko finally fights out and ends up in the corner… where he dodges Booger's avalanche and hops up for a short-range Missile Dropkick… getting the three at (5:01)! Koko B. Ware WINS A MATCH ON TV!!! Booger's up in moments after a pretty fast-count, but a win's a win.
Just an awful performance, as Booger was clumsy and Koko just had to sell and sell after spending the first half dancing around the guy, but at least Koko won.
Rating: DUD (totally awful, and I LOVE "Big Fat Guy" matches!)
CURT HENNIG (w/ Bobby Duncum Jr., Barry & Kendall Windham) vs. CHASE TATUM (w/ Swoll & 4×4):
(WCW Thunder, July 22nd 1999)
* From the infamous West Texas Rednecks/No-Limit Soldiers feud comes the leader of the Rednecks up against a Power Plant jobber randomly tossed out as "card-filler" to represent Master-P's boys. Tatum's now dropped his black trunks for '90s rapper cargo pants, while Hennig's in a black & white singlet. This could be interesting given Hennig's abilities at leading a match via selling, combined with Chase being so green.
Sure enough, Curt does a go-behind, allowing Chase to pry his hands apart to break the hold, putting over the kid's strength, and then he faceplants off a shoulderblock. It takes Duncum distracting Chase to turn the tide, with Curt pounding away. Funny bit as he snapmares the kid, but is like "…" when Chase doesn't get in position for the usual necksnap follow-up, so Curt just chinlocks him while Swoll tries to drum up support. Then they brawl aimlessly, Curt kinda ignoring Chase's comeback punches and hitting a sleeper. Curt is clearly giving note after note to Chase, putting his head close constantly- a long sleeper leads to Larry Z actually going through an insightful bit about restholds, pointing out that young kids like Chase will panic when they're choked and use their raw power to get out, thus blowing energy; then Curt hits a weird leghold, assisted by Bobby on the outside. Chase hits a belly-to-back hold into a vicious powerslam for 2.8. But Curt soon pulls Chase out of the ring and the Rednecks attack! And the Soldiers jump in and soon EVERYONE is fighting as the frickin' ref completely ignores like four bodies in the ring behind him like a moron. Chase holds Hennig for Swoll, but eats Swoll's Heart Punch and does the weirdest, jerkiest "lean his head down" on the sell so that Duncum can shove Swoll out and Curt can hit the Perfect Plex for the win at (5:28).
This looked like Curt bumping to work a match with the big rookie, but ultimately got real clunky and REALLY, REALLY BAD, as Chase had to be led through everything to the point where the entire match was either awkward brawling or restholds. Sooooo much communication going on between them, and Curt just couldn't manage.
Rating: DUD (one nice powerslam-type move, but so SO bad otherwise)
3-Count- one of the few highlights of WCW's last couple years.
3-COUNT (Shannon Moore & "Sugar" Shane Helms, w/ Evan Karagias) vs. DISORDERLY CONDUCT (Mean Mike & Tough Tom):
(WCW Saturday Night, Feb 19th, 2000)
* Check out DC, living out the end of WCW fighting the "hot" new heel team. Larry Z on commentary calls himself the greatest technician and wrestler of all time, and thankfully Scott Hudson calls him out on talking himself up. 3-Count are in beige khakis, the universal gear of the bad-ass, while DC are in the usual.
Moore starts with Mean Mike, avoiding a charge and hitting a spinkick, then knocking Mike off the apron and hitting a HUGE Tope Con Hilo to both guys! Karagias clotheslines Tom on the floor while 3-Count sets up Mike- Mike catches Moore, but Helms flies off to dropkick them over, and Tom has to make the save. Helms hits a cross-body and cannonball off the top for two, then hits the superkick. Tom slugs him while he's posing and DC takes over, but almost immediately Mike crashes into Tom coming off the top, and 3-Count dropkicks Tom to the floor. But Mean Mike actually CATCHES Moore from a Springboard Moonsault Press attempt, and Helms has to slingshot into them to knock them over- Mike kicks out at 3.1 as 3-Count wins it at (4:02). Very unique ending, with a pretty good feat of strength from Mean Mike, who had to catch Moore about waist-high so he didn't end his career on the spot. There's probably a reason you don't see THAT finish a lot.
Pretty basic "Showcase Match", as 3-Count runs through a bunch of stuff on DC, who are actually quite good as tackling dummies- they're not so big or small that moves look dumb on them, and they can sell just fine.
Rating: *1/2 (one of the better quick squashes out there)
Prince Iaukea- not the worst in-ring guy ever, but maybe one of the blandest non-entities of the '90s.
PRINCE IAUKEA vs. SQUIRE DAVE TAYLOR:
(WCW Nitro, March 10th 1997)
* Sweet! It's a SPRING BREAK Nitro! These always had the greatest look ever. Taylor is here defending the honor of his stable leader, Steven Regal, against Iaukea, who had upset him for the TV Title a while before. In the inset promo, Taylor's accent is decidedly, um, ungentlemanly. He's in blue trunks, up against the purple-clad Prince.
Iaukea wins a criss-cross by launching Taylor with his feet, aaaaaaaaaaand we immediately ignore this match for the nWo arriving in a huge limo/hummer combination, en masse. But VK Wallstreet (usually unseen on Nitro, if I recall) has been wiped out by an unknown assailant! Well, at least it's not a Cruiserweight match they're ignoring this time. We're finally back to the match with Taylor hitting some tight European uppercuts, but gets sunset flipped out of the corner for two, reversing for two. Taylor picks him up for a slam, but just… leans… too… far… back, and suddenly Iaukea falls back on him for the three (2:42). Hahahaha, they ran THAT FINISH? Like, the "Hogan lifts a fat guy and they fall back on him" pin, but it works and is from a guy 30 lbs. lighter than his opponent. After ignoring the whole match anyways! Oh, Nitro.
Rating: DUD (we literally saw maybe 30 seconds of contact)
"Masked high flier we're gonna pretend is a real star but is just a higher-profile JTTS" is an oddly-recurring WWF role.
THE WARLORD (w/ Mr. Fuji) vs. THE BLUE BLAZER:
(WWF TV, 1989)
* This is just weirdness- the Warlord as a tag guy, with his Powers of Pain gear, taking on Owen Hart during his short WWF run, with Tony Schiavone & Lord Alfred Hayes on commentary.
For some reason, the Blazer decides to LOCK UP with this giant, and that goes about how you'd expect. Warlord easily pounds him into the mat, but runs into a boot and gets missile dropkicked for two- doing that as one's first move must have been the "MOVEZ!" equivalent of 1989. Warlord reverses a whip and clotheslines the Blazer down, then drops a fist and slowly hits overhand clubbing blows until Blazer catches him with his head down and hits a dropkick. Warlord wobbles a bit, but the Blazer comes off the top again and is caught with a big powerslam, the commentators actually congratulating his smarts in playing possum, and that finishes at (2:14). hahahahaha MAN- he just got squashed by a TAG GUY. Sure the Warlord's huge, but his push was a ways off, and even on commentary they say the Blazer is "lethargic" and put over the WARLORD's intelligence in letting Owen think he was hurt, luring him into the powerslam. Poor Owen was just donezo if that was how they were booking him.
Rating: 1/2* (barely above a squash- the Warlord couldn't do much other than slowly pound away, and we were left with only two mini Owen comebacks)
HUGH MORRUS vs. RICK FULLER:
(WCW Saturday Night, Aug. 23rd 1997)
* Hugh Morrus could politely be described as an enhanced version of the "Rick Fuller Division" guys, in that he would get the occasional win on Nitro, and not be used in simple jobber squashes the way the other guys were. A Pokémon evolution, perhaps. Fuller's in his black singlet with the three claw-marks across it, and Hugh's in purple & black, with the mandatory "WCW guy yelling up-close into the camer" (man, WWF NEVER did that and it's so noticeable in retrospect). Fuller's noticeably taller, but looks "softer".
Fuller wins a slugfest and chops away, but runs into a lariat, only to get his standing roundhouse kick to bring Morrus down. Hugh comes back with a JUMPING roundhouse, and legdrops the "lower abdomen" (as indicated by ref Mark Curtis miming his hands sliding down that way), then headbutts it, looking to the fans for approval each time like he's been watching his '80s tapes. He gets a slingshot clothesline out of the corner and gets a pretty impressive No Laughing Matter (moonsault) halfway across the ring for the three (3:20), never breaking a sweat.
Rating: * (Morrus isn't the worst, and at least acts like there's a crowd so he's not fighting in a vacuum like many guys, but he's very much a "Throws some punches and has one impressive move" sort of dude)
HUGH MORRUS vs. RICK FULLER:
(WCW Saturday Night, Feb. 14th 1998)
* Another one between these two. Fuller has now upgraded his gear to shiny materials and more detailed claw-marks, and Morrus is in mostly black, showing off entirely too much of his upper body. Like, why are there even straps there? Hugh's now a babyface I guess, as he's slapping hands with the fans on the way to the ring.
Fuller charges in with a big boot as soon as Morrus hits the ring and chokes him, but gets a lariat again. Fuller backdrops out of a chinlock and hits a series of plodding restholds so Hudson & Tenay can go on about the angles of the day (this is shortly before SuperBrawl VIII, but Louie Spicolli is still alive and set to fight Larry Zbyszko). Morrus gets a spinkick and his OWN chinlock- Morrus hits two lariats (humorously, they accidentally start the corner-whip one early and change gears halfway through), but runs into a boot on a third and is bulldogged. But he reverses another whip to the slingshot corner clothesline again, and No Laughing Matter finishes at (3:48). Pretty much just restholds and then a lot of Irish whips into lariats.
Rating: 1/4* (DEAR GOD IT WAS ALL RESTHOLDS! IT WAS 4 MINUTES AND STILL ALL THEY DID WAS REST!)