Nightmare Matches – Volume 1! The Chamber of Horrors!
By Dave Newman on 1st June 2022
Inspired by Jabroniville's "dream" matches that must come out of the dreams of Dr. Caligari and Cesare (not the one who did the giant swing), I'm going to look at some matches that are more infamous than famous.
First up, the Chamber of Horrors from Halloween Havoc 1991, followed up by the Bushwhackers against the Beverly Brothers from Royal Rumble 1992, then the Undertaker versus Giant Gonzales from WrestleMania IX, and finally the Clowns 'r' Us facing the Royal Family from Survivor Series 1994. "Special" bonus match of Tully Blanchard taking on Shane Douglas for the ECW heavyweight championship.
Let's get ready to fumble!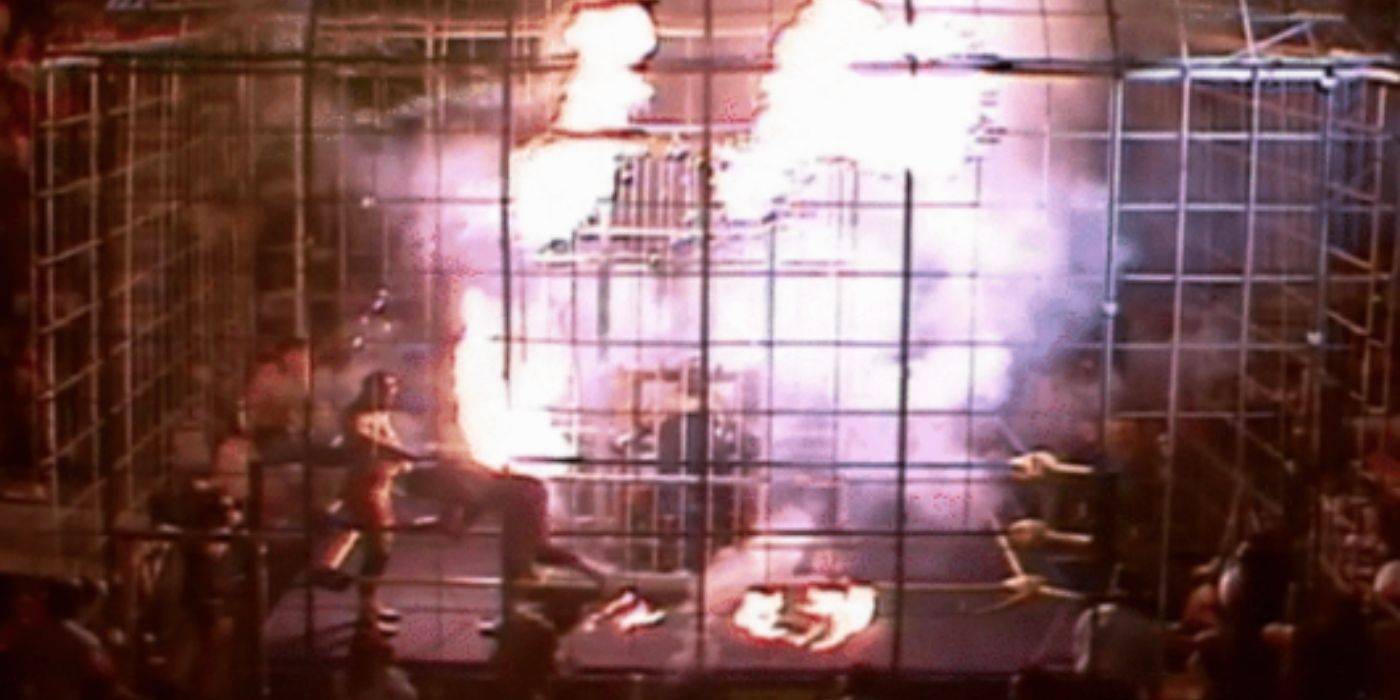 The Chamber of Horrors (Sting, the Steiner Brothers and El Gigante vs. Cactus Jack, Abdullah the Butcher, the Diamond Studd and Big Van Vader)
To say this didn't match the original lineup would be an understatement, as the opening features Oz and Barry Windham on the heel team (with Barry already turned face/vaguely tweenerish). Barry gets written out before the match with the Enforcers famously slamming his (already broken) wrist in his car door in a famous angle and Oz has to do the job for Bill Kazmeier later in the show. Gary Cappetta is on top of his game with the introductions ("Team number one!" and "Argentina! Seven feet, seven inches! 435 pounds! El HEE-Gan-tay!"), although he has to explain the rules of the match too to earn his pay for the night. Look out for the headstones on the stage and the in-jokes included (apparently Mike "lost it" on his bike).
So, this is being held inside a cage match that goes around ringside, not just the ring, and is fitted out with coffins and weapons. After a random amount of time, an electric chair is to be lowered into the ring and you have to get someone in it and flick the lever attached to the side of the cage to "fry them". Sting and Rick start on the outside with Cacti and Abby while Scott delivers a Tiger Driver of all things to the Studd on the inside. All eight in, Sting gets some good shots in with Abby's kendo stick. Nick Patrick gets the indignity of having to wear a camera on a helmet (the "refer-eye") that's much lower quality footage and makes him look like he's being protected in case of a seizure. Scott finds a masked jobber inside one of the coffins and beats him up. Sting gets a bit of an exchange in with Vader six months ahead of their famous feud. The Steiners get the Doomsday DDT on Cactus as the "Chair of Torture" is lowered, meaning Jack has to sell the awesome move, but then roll out of the way quickly to avoid getting squashed.
Chair down, and three quarters of the ring now obscured, with Vader (unmasked) trying to sit Rick down in it to no success. Everything spills out to ringside, with Sting tossing coffin lids around. Abdullah tries climbing the cage for no obvious reason. A "ghoul EMT" unit comes out to ringside with a stretcher, with the Nightstalker obviously much bigger than the other made-up jobbers in white smocks and powder. Jack does a pretty gory blade job and bumps for anything that he can. Scott catches Abby, who bleeds to try and catch up. It's broken down by now because it's so hard to keep up with, but they're trying. The famous shot of the "fatal lever" shows that it's already dropped down to the on position, with no juice flowing through the chair despite that. Klondike Bill is holding onto the cage at ringside like it's a pair of panties. One of the refs notices the lever is down and climbs up to flip it up, but it falls down again as Cactus climbs up into position.
As things fall apart more, with no obvious ebb or flow, Rick and Abby battle in front of the chair, with Abby poking Rick in the eye and sitting him down. Rick manages to belly-to-belly him in to switch it, as Cacti calls "Bang bang!" and flips the switch to make the Butcher go "Sizzle, sizzle!" as the fireworks show goes off. Abdullah is good enough to do some convulsions as the ring starts burning. The winners are Sting's team.
Studd and Vader hang around for a moment to observe the damage, then think better of it and saunter off. Jack tries to revive him by slapping him around. Jim Ross suggests that he tries some mouth-to-mouth. Abby wakes up and goes mad (madder), attacking Cacti first and then anyone at ringside, including stagehands and the men in white. The odd couple walk off together, but would engage in a feud for a few months before reuniting against Ron Simmons and JYD.
How bad was it? The first few minutes were pretty decent, then it devolved when they had no room to move around in and were making it up as they went along until they got to the finish. The crowd were hot at first, then cooled off when they couldn't keep track and lost interest.
Also worth noting that the original plan was for the One Man Gang to be on the heel side and be the one who got stuck in the electric chair, which would've seen him zapped into becoming deranged quasi-babyface Reverend Billy Bright, who would keep a pair of brass knuckles inside "the good book". I think that would've gotten over about as well as Friar Ferguson.
The Beverly Brothers vs. The Bushwhackers
This came out of Prime Time nerd Jamison appearing in the crowd at the TV tapings and the Beverlys picking on him until the Bushwhackers came out to stick up for him. Therefore, he's in their corner to counter the Genius, which is like having a peashooter to counter a shotgun. Gorilla on commentary gets amused by a sign that says on the eighth day God created Gorilla Monsoon, which Bobby obviously didn't spot because he won't play along with the gag. When it comes to the poem, he also gets a great crack at the Genius ("This guy needs psychiatric help!"). Gino suggests that Luke and Butch have unofficially adopted Jamison (Bobby: "What happened? Did their dog die?"). Bobby goes onto suggest that Jamison's parents never divorced because neither one wanted custody of him. He cycles through a few of his zingers to a "WILL YOU STOP?!" while Jamison confirms to a fan at ringside that the sock he's holding is to blow his nose on. Gorilla would have Bobby removed but won't this time because he knows he wants to find out what number Ric Flair got in the Rumble later.
A LOT of stalling early on from Luke and Butch, eventually broken up by Beau and Blake swatting their caps and running off. NOTHING happening of consequence, which gives Gorilla and Bobby chance to talk about ANYTHING else until Blake gets a soft blow in on Luke, allowing Beau to stomp him. Luke breaks that volley up by biting Beau's arse and the Bushwhackers double forearm the Beverly Brothers out to put the breaks on again. Blake tags in to serve his time with Butch, offering a false handshake. Jamison makes trouble for himself by throwing a half-eaten bun at the Genius while Bobby and Gorilla discuss the comparative merits of wiping your nose on your sock or sleeve.
The action is about on par with what these guys, particularly Luke and Butch, would probably do in their later years, with minimal bumping, alleged "selling" and stalling at a glacial pace. Bobby suggests that New York governor Mario Cuomo is the brother of Perry Como for dated laughs and then shows great indignation when Gorilla suggests his sniping at the Bushwhackers constantly is because he regrets he can't manage them now he's retired ("WHAT?!"). Beau and Blake get a broken arrow move over the ropes on Luke and work him over in light fashion. Bless Bloom and Enos especially, trying to have a match with opponents who truly aren't giving them much and are a complete styles clash. Bobby rants about having paid $200 in taxes the previous year to benefit bums like Jamison.
Blake gets a clothesline on Luke that Luke goes completely the wrong way on selling. Beau dumps him to get Butch away from the corner, allowing the Genius to sneak around and slap Jamison (the only bit of heat in the match so far). Jamison: "He hitted me!" Bobby: "He didn't hit you hard enough, you're still breathing!" Bobby recommends the Genius washes his hand as soon as possible. Gorilla has the cheek to suggest the match is proceeding at a "furious" pace… It's barely miffed! Luke catches Beau with a chance clothesline seven years later to allow Butch to tag in. Butch promptly leaves himself open for a double axehandle from Beau, allowing Blake to get the pin. Win for the heels, but the Bushwhackers dump them and trap the Genius, holding him for Jamison to get his shots in. He winds up for a punch… and kicks the shin.
How bad was it? This was a classic "watch it with your eyes closed and it's not that bad" match. Gorilla and Bobby were pretty hilarious on commentary throughout, whether talking about the match or just whatever came to mind, but the action was closer to inaction despite the efforts of Wayne Bloom and Mike Enos. I'm sure they would've preferred a good match with the defunct Rockers, but too little, too late.
Giant Gonzales vs. The Undertaker
Even though the legend is that 'Taker had a long series of shit WrestleMania matches, this was the first one (his third) and it was really a series of two (his second being two years later against King Kong Bundy). He gets a cool entrance, pulled to ringside on a chariot by two bodybuilders on more gas than Lex Luger was at this point. Gonzales has traded in the bodysuit with the fur patches stuck on for one where they're just airbrushed onto it. He actually looks like a tall, skinny version of Haystacks Calhoun with the beard to make him look more scary. He gets some initial blows in, but 'Taker chops back. It's a choke-off, so Gonzales goes pretty blatantly low when 'Taker has climbed the ropes for leverage. He quickly forgets that and does the rope walk, but walks into a boot and Gonzales gets a pretty decent clothesline with a big sell. Reverse chinlock as Jim Ross switches to talking about the weather and gets told off for it by Bobby. The crowd goes to sleep out of sympathy, but 'Taker won't even let the arm dropped once on the ref's check. Break, but tumble to the outside and a few runs into the steps. Jim wants to call them solid steel, but then realises they're pretty hollow, so stops himself before he gets into more trouble.
Back in, Gonzales gets some headbutts, no-sold by the Undertaker. Punches take Gonzales down to one knee, so Harvey throws in a handkerchief while Bobby pretends it smells of something and Randy Savage stumbles around for the word chloroform (Randy: "You can kill a guy with that!"). Fonzie calls for the bell and gives the Undertaker the victory via disqualification. Pat Patterson and Ray Stevens (who looks like Ken Patera by this point) come out as the lead agents, with poor Rene Goulet having to wear a toga while they're in their shirts and trousers. Tony Garea, tattoos on show, also has to go through the toga torture. Bill Alfonso takes an impressive chokeslam bump for the Giant while the agents and refs get the Undertaker on a stretcher and roll him out. The crowd chant for Hogan, the masochists, but the bell tolls and 'Taker makes his own comeback, clotheslining Gonzales out.
How bad was it? It wasn't good, but it was more house show poor than anything else, with low effort from both sides. The attempt at a heavy heat angle with the chloroform was more of a hindrance than a help, but I don't have any suggestions of what they could've done better.
The Royal Family vs. Clowns 'R' Us
So, Doink already had Dink and got into a feud with the King, who introduced Queasy (Little Louie) as his midget underling, then it escalated until we also had Wink and Pink and Cheesy and Sleazy to make it one man and three midgets on either side. Doink's reworked babyface music gets to a point where it sounds like there's a sheep bleating. Lawler and Doink start the match, with Doink pulling out an enziguiri of all things. As unfunny as Doink is, Vince of course finds him incredibly amusing. Jerry goes for his own enziguiri and misses. The little clowns trick the little kings into running over Lawler's belly when he's incapacitated on the mat, leading to him telling them off and building the storyline for the match that he doesn't actually like his partners. The crowd does actually react to some of the midget tossing and mishaps for the heels, although it's not exactly high level stuff.
Doink brings in Dink on his shoulders, so Lawler invites Sleazy in for the same, although he sits on Sleazy's shoulders instead and that of course collapses within seconds. Vince and Gorilla start losing interest about the same time the crowd and I do. Lawler sets up a spot to get run into his own men, which then leads to him reversing a bodypress off the second rope, eliminating Doink. The commentators and crowd pretty much realise the match is over because Lawler can't come in again now, so he can't be eliminated. Booked into a corner.
Queasy and Dink pick up, with biting both ways. Cheesy and Wink in next, with Wink grabbing him by the goatee and Dink hitting him with a shot that plucks a few hairs out. Wink comes back in for a monkey flip that Lawler helps block, with some awful shuffling into place on the mat, which sets him up to be eliminated with help from the King. Pink handsprings in, almost falling over. Sleazy tries the same and falls over, so Queasy comes in and corkscrews him into the mat. Lawler then drops Cheesy on top of Pink behind the ref's back, with Vince claiming he was dropped from "six feet" when Jerry barely lifted him above his own waist.
Dink comes in and gives it a good go against Sleazy and the other two midgets, including some great slams. He goes to the top for a flying bodypress to finish, but Queasy turns them over for the pinfall and to win the match. As soon as his team is announced as the winners, Jerry gets on the mic and calls his teammates morons and losers and takes all the credit for the win. He tells them off and then tries to boot them ("I hate short people!"), but they stick around a little too long and get chased off by him. Turns out that the little clowns have stuck around at ringside too, so he gets trapped by all six, then runs off to the curtain, then talks shit from a distance before turning around into a pie in the face from Doink.
How bad was it? The Doink/Lawler stuff was OK and the initial midget stuff was fine, but went on too long, then they booked it so that it dropped off the cliff and landed as flat as a pancake. Jerry was great holding it all together, but it was the epitome of a special attraction that was anything but.
Tully Blanchard vs. Shane Douglas
A bit of a cheat here, as this isn't the infamous one hour match that Tully himself described as "OK for the first thirty-five minutes, suspect for the next ten, and the last fifteen sucked!", but instead it's their follow-up from the later ECW arena match. Tully gets a quick start with a suplex and knees, even getting the slingshot suplex less than a minute in, but only for two. Tully was never exactly a stud to begin with, but he looked really old by this point. Stiff piledriver that Tully thinks he's won it with, but Shane gets his foot on the rope. Tully also talked about the problem of Shane being a better babyface and himself being a better heel, but forced into the opposite roles. Regardless, Tully is wrestling like the heel that he is here.
Shane lifts out of a reverse chinlock and stomps away in the corner and on the floor. Tully regains the advantage with something that was edited out and returns to the ring with a flying elbow. Shane was a comfortable heel, but his pounding away just doesn't look as natural. Cactus Jack clothesline to the outside for both from Douglas. Back in, an awkward reversal of a back suplex for two. Tully dumps him again and sends him to ringside, necking him on the railing. Tully, pretty firmly heeling, treads on his throat and then atomic drops him into the post. I'm pretty disgusted by all the dirt Shane is getting on his back and yellow trunks from rolling around on the floor. Tully finally tries to suplex Shane back in, but Shane shifts his weight and falls on the top for the pinfall victory.
How bad was it? Not bad, because it was the good one and not the bad one, although Tully was absolutely right about the miscasting.
Melting it down: I guess in some cases you can defend something better if you were there and it was from the time when you were most a fan, so that's why I'm probably kinder than most. I'll have to redress the balance by looking at some legendarily bad matches from after my fandom has waned. Two words to sum up one match that fits that description immediately: "MY VAG!"