New Japan Strong – May 1st, 2022 (+ Windy City Riot thoughts!)
By Rick Poehling on 6th May 2022
Howdy!
Hey y'all. Needed to take a bit of a break there, mostly due to going to Chicago and work taking away most of my other time. But I'll be back for the foreseeable future. I'll also be taking on a bit for the Best of the Super Juniors with some weekly recaps once we get going. Not going to do every show, since I need to maintain some semblance of sanity.
That having been said, let's get back to some NJPW Strong! I'll be writing up a bit about my trip to Chicago after, along with some pics taken by my incredibly talented wife. Up first, though, our main event this week features one Jay Lethal taking on Ren Narita!
Let's watch some wrestling, shall we?
The Strong Style Evolved tour concludes tonight! Your hosts are Ian Riccaboni & Matt Rehwoldt. In addition to our main event tonight, we've got TJP taking on Mascara Dorada! Oh joy, a TJP match! I may take a few more weeks off, actually.
But up first, tag partners collide as Kevin Knight faces off against the DKC!
The DKC vs Kevin Knight
Grappling to start as they work the mat. Crucifix by DKC gets two and they trade pinfall attempts after that and an awkward transition into a bridge that went to nowhere. Shoving match and they exchange shots. Knight with a suplex for two. This is a total Young Lions match, right down to the trunks and boots.
Knight goes to the chinlock to allow DKC to fight up from that. Knight tries a dropkick, but DKC avoids that and sweeps the leg into a bulldog. DKC with shots to the throat and a chop for two. DKC goes to a front chancery and a bodyscissors, but Knight escapes and hits a basement spear for two. Kevin goes for the Boston Crab, but DKC catches him in a triangle and Knight has to go to the ropes.
DKC off the ropes and Knight hits a gorgeous dropkick for two. DKC comes back with a side kick off the top rope, then hits a crucifix bomb before trapping him in a crucifix on the mat for a submission. (The DKC over Kevin Knight, submission, 7:46)
THOUGHTS: **. Rock solid from two guys here. Knight has a ton of upward potential and probably has the best chance of making it. This was a good professional wrestling match.
TJP vs Mascara Dorada
The long-awaited rematch from the Cruiserweight Classic Final is upon us! Also, TJP is a conspiracy-theory loving moron. Had to get that one in there.
You'd expect a bunch of Lucha to start here, and you'd be correct. Counters upon counters as they dance about the ring to start. TJP tries to slow it down with a headscissors on the mat, countered by Dorada. TJP turns that into a surfboard, Dorada escapes, and we're back to the flippy-flippy fun.
TJP ends up on the floor and Dorada follows with a fantastic moonsault, then a bodypress back in the ring. Dorada tries to come off the middle ropes, but TJP dropkicks him there to take over. Scorpion Deathlock by TJP into a Mutalock. From there, it's a hammerlock backbreaker as TJP can't seem to keep a hold on for more than 10 seconds here. TJP to the apron after hitting a facewash on Dorada in the corner, so Dorada runs across the ring and goes over the top rope to 'rana him to the floor.
Dorada walks the ropes and hits a flying elbow for two. Back and forth as TJP hits a tornado DDT to put everyone down. They slug it out and TJP gets a suplex to slow Mascara down. He goes up for the Mamba Splash, Dorada moves, TJP gets a crucifix driver for two. Fireman's carry, but Dorada escapes that with a DDT and a Dorada Screwdriver for the pin. (Mascara Dorada over TJP, pinfall, 10:50)
THOUGHTS: ***1/4. Really fun bit of business here if you look at it like a Lucha match and not much else. No one really sold much of anything beyond 30 seconds and TJP went through that gallery of submission moves in the middle there without bothering to keep the hold on, ostensibly to work the back or something, but they know this style and probably have done this thing a million times down in CMLL. Overall, not bad.
Post-match, TJP steals Dorada's mask to be a dick. Well, more of a dick, in that he was already TJP and therefore had established real life dickitude vibes.
Intermission! Buy some merch!
Tiger Hattori joins English commentary for the main event, and he's not bad! Narita is out first, and then Lethal, who is playing total babyface here, as this was likely taped before the turn.
Ren Narita vs Jay Lethal
Lethal gives us a strut to start to some 'woos' as Ren looks nonplussed. They trade off a bit as both guys keep going for the figure-four until we get a standoff as Lethal now looks a bit more serious, with Ren looking as though he impressed Jay just a bit there. Narita fires kicks at Jay as my heart explodes for the awesomeness that is the Shibata mini-me before my eyes.
Lethal back on offense with a back suplex and a slam for two. Chinlock from Jay and he tosses Ren to the apron, but Naita ducks the springboard dropkick and slaps on a sleeper from the apron, which Lethal counters by dragging him over the top into a cutter. Hail to the King elbow is caught by Ren into a cradle for two, then a suplex from Narita.
Narita on offense now, with a suplex for two, then a kick and a spinning toehold. Lethal tries to kick him away, but Ren does an awesome reversal into the Cloverleaf. Seriously, that was great. Lethal almost makes the ropes, so Narita drags him back to the middle and slaps on the figure-four. This match is really good, better than a lot of Lethal matches I've seen with more experienced opponents.
Narita with chops, then kicks and uppercuts as Ren is in control, until Jay hits the Lethal Combination to buy some time. Good one too, with a lot of snap on the moves. They battle for a suplex and I mean they BATTLE for it, until Lethal finally hits a brainbuster. And now the Hail to the King elbow hits for two, and Lethal puts on the figure-four.
Narita is bleeding from the mouth and nose, but he manages to make the ropes. Lethal sets up for the Lethal Injection (UGH), but Narita counters that into a sleeper and a stretch! Lethal teases the tap, but rolls him over for two instead, Lethal counters that into a rollup of his own. Narita kicks him off into the ropes, and if you've never seen a Jay Lethal match, it may surprise you that it sets him up perfectly for the Lethal Injection (UGH) to get the pin. As much as I hate that stupid move (IT'S JUST A FUCKING CUTTER!), that was one of the most organic ways I've seen to set it up in awhile. (Jay Lethal over Ren Narita, pinfall, 12:17)
THOUGHTS: ***3/4. I almost went 4 here. This was a killer performance from Ren Narita, as he was in there with a veteran and held his own in all the aspects of the match. Lethal is obviously an experienced guy who is a very serviceable worker, and Ren totally looked like he belonged in there with him. I know that the prevailing theory is that both Shota Umino and Yuya Uemura are likely going to be the big stars out of the last Dojo classes, and they're both great and likely will. But I think that there's a good chance that Ren ends up the best overall WORKER of those guys, as he's taken like a fish to water to Shibata and it shows.
His pacing here was awesome, but also his selling and facial expressions told a hell of a story. His offense looks crisp and he looks like a top wrestler in the reversal sequences and strike sequences. Overall, I think that we're going to be handing out **** or more to Ren matches in the future for a long time to come. He's just great.
Post-match, Lethal offers the handshake of respect, which Narita accepts with a bow. Lethal poses and we're done for the week.
FINAL THOUGHTS: The in-ring was actually pretty decent here, outside of a pedestrian first match this week. Narita is the prize, though – he's really just spectacular.
Alright, with that out of the way, let's go to Chicago for some notes!
Myself and Stephanie got to Chicago from Omaha relatively late, so we sleep in on Saturday. I've got Meet and Greet tickets with Jay White, but that's not until 5 PM. So we lounge a bit, make sure that the camera is ready to go, etc. I've only been to this arena once before, for an ROH/NJPW show years ago which was advertised as Kenny Omega's only appearance in North America for the year. It wasn't, but it was a good bargaining chip to get my wife to agree to go at the time.
Last time, the line to get in started forming hours in advance, so I do want to get over there a bit early. We wander over to the arena at about 3 PM, with the M&G supposed to be starting at 5:15. Very few folks have shown up yet, so we sit in the car where it's warm and watch Sports Night for a bit.
Finally, the line forms enough to where I want to get in there, so I head over and make sure I'm in the Meet and Greet line. There are two M&Gs, one with Jay and one with Will Ospreay. I didn't get the latter, which likely surprises none of you. We hang outside for a bit and talk to our fellow linemates. Very friendly folks all around, including the guy with the puppet.
M&G time, although I can't figure out how we're supposed to get back in line afterwards when they tell me that we aren't just going straight into the arena after. Turns out that the plan is that we're supposed to go do the Meet and Greet, and then go to the back of the line. Now, I don't know about you, but I would think that if I've been there the longest, I should get in before those that arrived later.
That having been said, my opinion on the subject wasn't requested.
So, we head in for the M&Gs. White is in front of a Bullet Club backdrop, while Will is across the way in front of his United Empire one. And there was, shall we say, a marked contrast between the two wrestlers. Will was in full character mode, basically cutting promos on people as they walked to his table. Jay, meanwhile, was very nice but very quiet by contrast.
Anyway, I did my op, said a few sentences to him, and he thanked me.
I also mentioned that I wrote for Scott Keith's website and that he didn't particularly care for Jay, and Jay responded "Who's Scott Keith?"
Nah, I didn't say that. I can sometimes get shy at these things. Anyway, here's me breathing with the Switchblade: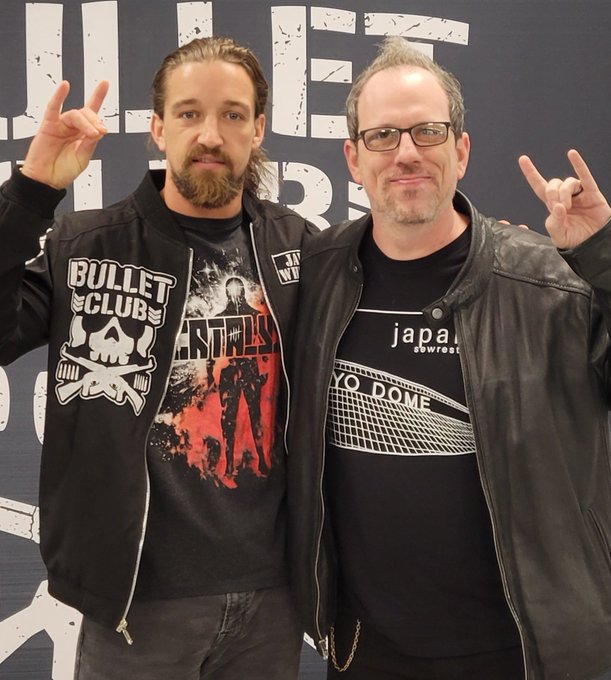 So, as they herd us out, one of the workers, an angel in mine eyes, innocently says "By the way, the merchandise stand is open for you guys if you need anything!"
I warn Stephanie to abandon ship now, she doesn't want to see this. She agrees and goes to the bathroom. I head over to the merch table, which has a ton of import items at hideously inflated prices, just what I wanted to see. Also, I'm shopping for more than a few people here. All this is an excuse to say that…..well, they had a deal where you got a free 'I (heart) New Japan' shirt for every $100 spent.
I ended up with 3 of them. JUDGE ME.
Anyway, we head back out to the car and we've now got an hour before the first match. I kind of owe my wife one, so I decide not to make her wait in another line – let's go get some coffee somewhere. We end up driving down the road to an open-air mall, then to a coffee house from there. I kind of mistimed things a bit here, but hey, we should be fine, they would have started letting people in after the Meet and Greets and that was 45 minutes before the dark match started.
We roll back up and park, and the line has GROWN, to the point where it appears that no one has gotten into the damn place. We end up near the end of the line winding through the parking lot as I am fretting a bit now. Time ticks away with the trickle of people into the arena crawling along. Finally, someone gets the bright idea to have the ticket takers come out to the line itself and starts scanning the tickets so people can start getting in at a faster rate. This works, but I miss the dark match and a bit of the opener.
But from there, it's good times! While I don't normally rate matches from events I watch live, mostly due to the fact that it's more difficult to be objective about the more personal stake I have in the matches, I can say a few things, to wit:
The Dojo/Filthy ten-man was really fun; I was surprised by the reaction to Josh Alexander, who I know is a thing, but this crowd was really into him.
Yuji got the first big NJPW pop of the night, at least in my section.
Lawlor/Nagata was a good performance by Lawlor especially, and Nagata ran through all the old tricks to get the crowd into it.
United Empire/Bullet Club was interesting. Crowd went strong for Cobb and O-Khan especially, but the Bullet Club were the clear faces. And speaking of faces, Scott Norton's was so red after 2 minutes in the match I thought he was going to drop dead in the ring any second.
Aussie Open got over big – they were my favorite part of the match.
Up next was the Street Fight, and while I heard some criticisms of it online, I will say that it played REALLY well in the arena. Crowd was very into it as an ECWesque brawl that went all over the arena. I was in the concession line for a bit while it was going on and they came right past me. I was THIS CLOSE to Bad Dude Tito, everyone!
This was the perfect crowd to bring Umino in for, as everyone knew who it was as soon as Mox said the word 'Shooter'.
I don't think it will shock anyone that Suzuki/Ishii was everything I ever wanted to see up close. They beat the shit out of each other and it was almost a religious experience.
As for the main event, yeah, I stayed. I wanted to see the end and I did enjoy flipping Ospreay the double bird whenever possible. Double juice and the crowd was MOLTEN for it, and the match seemed pretty good to me.
After the show was over, I made my way ringside as the announcers were leaving. There was a guy, bless his heart, who was trying to get one of the ring crew to steal him a turnbuckle. Seriously, he was offering them cash and they were looking at him like he was out of his mind. He got all the way up to $400 before he gave up and walked away, after saying that he had buckles from WWE, AEW, Impact, he just needed this one, etc.
But the guy next to him, he pointed at the table that Ospreay had put Mox through and asked if he could have it. I'm sure the ring crew was probably like "You want to clean up the trash? Go ahead, dude.", and I kind of inserted myself and asked the dude if I could have half of it. He said sure, so we each took half a table home as a one of a kind souvenir. If Mox ever does a signing near me, I'm going to show up and ask him to sign it.
Overall, a tremendous show and one I was really happy I went to. We head back to the hotel to catch some z's, as tomorrow is Stephanie's day. She's chosen a Botanical Garden that's actually open on Easter, so we end up going there and taking pictures for hours. One of the things I truly love is that my wife goes all in on these trips with me – I married pretty well, guys. Gotta return the favor.
Monday, we head home. A nice 9 hour drive with some stopovers here and there. Way too much money on gas. The usual.
I promise that we're probably done with wrestling trips for the year until All Out in September, if we end up going to that.
Then, they announced Forbidden Door. For Chicago.
Yeah, so…..well, my wife is very understanding.
We've got two tickets.
I'm a lucky, lucky man.
As always, thanks for reading this thing I wrote,
Rick Poehling
@MrSoze on Twitter
[email protected]