KING OF THE RING 2002:
-So we're in the 2002 era now- the InVasion was a crushing disappointment, the nWo is here, and most of the big stars have slowed down and Triple-H rules much of the company. The product was ICE FREAKING COLD at this point, with the fans acting like their souls had been cut out. This is also famously the reason Steve Austin bailed on the company for a year or so, as he was booked to job in a short, unhyped match with Brock Lesnar in a Qualifier. Disgusted with the company (and acting COMPLETELY paranoid about his position on the card- he'd been embarrassing all three nWo guys in angles a few months beforehand), Austin went home without notice.
X-PAC vs. GOLDUST:
(WWF RAW, June 3rd)
* X-Pac is in the nWo here, but comes down solo (wearing a Kane mask, because they have an issue AGAIN?), while Goldust has a fake X-Pac goatee stuck onto his face and isn't over in the slightest, despite being paired up with Booker T, who was an nWo member disliked by the others at this point.
X-Pac quickly smacks Goldust for trying to do the "Too Sweet" symbol, but eats an inverted atomic drop and gets whipped around- Goldust drops him neck-first on the top rope, rakes the eyes and uses the butt-butt, but takes the big spinkick. Snap legdrop hits & X-Pac tears off the goatee and does his kick series in the corner, but the Bronco Buster sees him go balls-first into the buckles, and Goldust… does his own! Complete with some extra gyrations because he's REALLY into it! The crowd likes that, but Goldust charges in AGAIN like a moron and goes balls-first on X-Pac's foot, and he charges in for the X-Factor at (3:27)- X-Pac wins the first Qualifier.
Rating: *1/2 (Pretty quick match using the standard RAW formula, but both guys were bringing it with speed and some character work. X-Pac was persona-non-grata on the internet at this point but he was still good in the ring)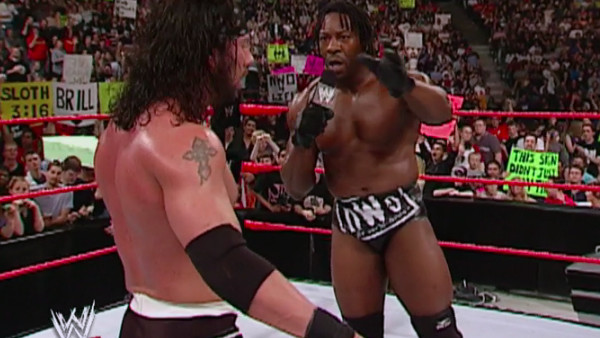 I keep forgetting guys like Booker T were in the WWE version of the nWo.
BOOKER T vs. WILLIAM REGAL:
(WWF RAW, June 3rd)
* Booker tries to make up for his partner's loss here, wearing nWo trunks. Regal, in black, is the European Champion at this point.
Both WCW guys, they do a decent high wristlock sequence with one of those Regal "slow spinning reversals on the mat" and takes him down, but Booker reverses a whip to his standing side-kick. Because it's WWE-style, Regal's up immediately and ducks another kick but eats a forearm- he lures Booker to the floor and smashes him into the apron a few times. Knees & European uppercuts have Booker reeling in the ring, but he hits a high roundhouse kick, chops and his scissor kick for two. Another big kick misses and sees Booker hung up on the top rope. Regal for some reason grabs the Euro Title AND a chair in plain view of the ref, and when the chair's taken out, Booker grabs the belt and donks him with it, picking up the cheap win at (3:58) to a solid pop. Regal only has himself to blame for that one. Booker gets on the mic after and DEMANDS his music play again for a big Spinaroonie- he'd keep emphasizing that more and more until he was a Main Eventer. Wrestling is weird.
Regal was such a weird fit for the WWE style- the "take a shot and fall, then pop back up for another one" didn't suit his slower, precise European style at all, but he still kinda made it work. This was mostly two guys tearing around the ring and hitting each other with strikes, but both are good at that so it still worked. The finish was pretty weak, though- it makes Regal look dumb, AND gives Booker a cheap win.
Rating: *1/2 (a rapid-fire strikefest with a bad finish)
CHRISTIAN vs. THE BIG VALBOWSKI:
(WWF SmackDown, June 6th)
* Both guys were kind of in an odd spot at this point- Christian was trying to make it work without Edge, and to be fair, WWE was pushing him pretty consistently to avoid Jannetty comparisons. "Valbowski" here was a weird one- he'd been re-repackaged after the Right To Censor angle faded out in mid-2001, but was off TV until the Rumble, where he returned to his old gimmick (the only time he was ever really over). Now he's using his nickname as his full name and is a babyface again, wearing red trunks with a black "V" on them. Christian's in black tights & a mesh shirt.
Christian attacks from behind before the bell, and both guys run around at a million miles an hour, reversing stuff by launching each other into the corner or onto the top rope and stuff- Val is going all-out, I gotta say. Some real fire to his stuff and he's bumping big, trying to show off. Christian gets a big running dropkick into the corner for two, then hits that inverted DDT on his knee for the same. Val comes back with a ton of running moves, then reverses the inverted DDT to his Perfect Plex for two. Big spinebuster and a variation of the Nagata Lock (sorta figure-four-ish) has Christian in trouble, but he hits his inverted DDT for two, but tries the Unprettier and Valbowski counters with the Blue Thunder Bomb (backdrop suplex to sit-out powerobomb) for the three (3:23)- Val wins!
Jesus Christ these dudes were in a hurry- the short match time and presumably both wanting to impress meant this was a huge sprint. Almost no selling (guys would just get up and start launching counters) but they were absolutely blitzing each other like crazy at a breakneck pace. Christian kinda overused his inverted DDT stuff at this point while Val was showing off what he learned from his Japan tapes, but it was fine. Kind of a surprising, pretty clean win from Val, who wasn't really in a strong place on the card at this time- at this point, it might have looked like Christian was tumbling down the card. But we'd see Val was just set up as a "second round job guy" to put over a heel.
Rating: ** (another insane sprint- no selling but tons of action)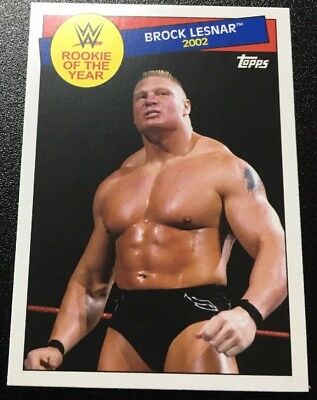 And I mean, they MEAN IT.
BROCK LESNAR (w/ Bubba Ray Dudley) vs. BUBBA RAY DUDLEY:
(RAW, June 10th)
* So Austin didn't want to do the match here and bailed, meaning this might have been a VERY quick decision. Brock had only been in the company about a month at this point and it was already clear something major was happening- not only was he Vince's wet dream, but he had intensity and Heyman as a manager. Bubba at this point was a freshly solo act- it wouldn't last, but he did about as well as possible with it given his skill level.
Brock attacks immediately and whips Bubba into the corner, Bubba howling in pain as he deflects off, but the next is reversed and Bubba hits a body attack & neckbreaker, then does a solo "Get the tables!". Heyman attacks him from behind, but Bubba just turns around angrily ("OH SHIT!" Paul shouts on camera, then dives onto JR & Lawler at the commentary table to escape). Brock gets caught trying to jump Bubba, but hits an overhead belly-to-belly on the floor in a big bump. Brock gets a bearhug as the fans sorta chant "GOLDBERG!" (like nearly all "Rookies tearing through the roster" get) into "We Want Tables!" but Bubba elbows free, only to eat a deadlifting side suplex, Brock showing off his strength. Overhead belly-to-belly gets two, and Brock just tries for another pin (good for a rookie to know that!), but shoulder-charges into the corner. Bubba just hits a release German and both guys are out, then wins a slugfest Dusty Rhodes-style (something that'd get him increasingly over until he was HHH'd) and another German gets two. Bubba catches him in the corner and hits a senton off Bret's rope for two, but chases Heyman around the ring and into it, spearing Brock on the follow through. But when he actually grabs Paul, Brock comes from behind and it's the gut-kick into the F5 for the win (4:50).
Interesting carry-job, as a green Brock was made to look like a monster, but Bubba got more than half the offense and made to look like he was smarter, with a lot of heart and good counters. I'm not used to seeing him hit Germans, but he matched Lesnar's energy and even got protected in defeat.
Rating: **1/2 (solid TV match- Bubba wasn't squashed but he wasn't "gonna win with the next move" either)
Matches We Miss: Chris Jericho beats Edge in a match I can't find on CageMatch- turns out Edge got hurt and had to forfeit, especially once Jericho attacked the arm and smashed it between a chair and the ring stairs. Test beats The Hurricane (1:52), Hardcore Holly beats Tajiri (3:40- too bad for a guy who debuted at last year's tournament), and Rob Van Dam beat Eddie Guerrero (9:42).
QUARTER-FINALS:
CHRIS JERICHO vs. THE BIG VALBOWSKI:
(SmackDown, June 12th)
* Jericho got a bye because Edge had to forfeit due to injury, while Val defeated Christian. Both guys are in red here.
Jericho attacks from behind before the bell, and they have a very "WWE Style" match, just barrelling off the ropes constantly, hitting nothing but strikes. Jericho pulls Val into the corner, then hits a backdrop suplex & sleeper slam, but goes crotch-first on the middle rope. He immediately comes back, reversing a whip to hit his running bulldog out of the corner, only to miss the Lionsault. Val comes back with those "knock the heel down repeatedly" WWE strikes, then hits a spinebuster to prove he deserves to be a main eventer, getting two. Jericho accidentally wipes the ref coming off the ropes, but takes the Perfect Plex for two. Y2J hits a low blow as the ref is still groggy, and finishes with the Walls of Jericho at (4:31).
Generic "Run & Gun" match, as they repeatedly fly off the ropes with every move. Much like the Val/Christian match but with less moves and just "guys hitting each other" until the end.
Rating: *3/4 (very short, simple match with generic offense)
If you see him making this face while coming down the aisle, he's jobbing.
ROB VAN DAM vs. X-PAC:
(RAW, June 17th)
* X-Pac beat Goldust, while IC Champion RVD beat Eddie. RVD is wearing a teal singlet with a skull/backbone design and that's pretty unique. X-Pac has baaaaaaaaaad "Jobbing Face" coming down the aisle, but manages to act up in the ring, sticking his tongue out and doing the "rock out" devil horns to the fans. Absolutely zero energy to him here, though. JR explains that the nWo brutally beat Booker T on last week's show, kicking him out of the nWo.
X-Pac wins a grappling contest on the mat and celebrates (while a MASSIVE "X-Pac Sucks!" chant breaks out- we were past the point of no return for him), so RVD does a series of kicks out of an armbar to fire back. Crowd is way into RVD, who hits his split-leg into a monkey flip, then clotheslines X-Pac to the floor and moonsaults him off the apron. And then he hits a baseball slide, suplexes X-Pac onto the barricade, and does his spinning legdrop off the apron to there! See, this is why he was over. X-Pac tries to come back, but sunset flips air and RVD hits a standing moonsault for two. X-Pac finally counters a leap with a Meaningless Mid-Match WWF Powerbomb and spinkick for two, then averts him fighting out of a neck-crank and hits a tope con hilo to the floor. He throws strikes in the ring but Bronco Busters his nuts into the corner (obviously a routine transition for him at this point) and RVD hits his "grab my leg so I can spinkick you" spot. X-Pac counters him with an X-Factor, but RVD counters THAT by dropping into the splits and popping him one, then hits Rolling Thunder (rolling senton) for two! RVD climbs, but gets dropkicked off the top! But when the ref checks on him out there, out comes Booker T, who hits the Book-End (rock bottom) on X-Pac, setting up the Five-Star Frog Splash for the win (6:00)- RVD steals one after a pretty long KOTR match!
This ends up being a pretty big showcase for RVD- X-Pac may have had "jobbing face" but he certainly didn't half-ass the match, acting as a great tackling dummy and giving RVD tons. There was a huge stretch where it was ALL Rob, but after that they were quick to change momentum every couple moves or so, often countering what was the initial counter. They were calling a lot of spots in there (LOUDLY, too) but were going at a good clip. One thing you notice here over modern spotfests (or, well, most WWE matches from this time) is that each move was allowed to BREATHE- instead of just popping up and whipping to the next thing, guys would do their poses beforehand, taunt the other guy, or actually SELL, so each move has impact.
Rating: **3/4 (very good TV match- 6 minutes of lots of big moves and counters, albeit with a weak ending)
BROCK LESNAR (w/ Paul Heyman) vs. BOOKER T:
(RAW, June 17th)
* Brock vs. Booker, and you can smell the screwjob a mile away, especially as the New World Order hits ringside immediately after introductions- holy god I forgot that the Big Show was on this version. It's Nash, X-Pac, Shawn & Show out here. Booker's in red and already really over, while Brock's in black.
Brock charges a distracted Booker and beats the hell out of him, hitting a overhead belly-to-belly and clotheslining him to the floor while Nash does his usual "sarcastically joke about the monster to try and deflate how serious a threat he is" thing. He and Shawn are BRUTALLY unfunny here, just doing goofy voices and squawking ("The man's as showboat, the man's a dancer- there is NO ROOM in the business for those kind of people! rolls eyes mah GOD, JR!"). More goofy voices (especially a "fake raspy" one) as Goldust comes out and gets into it with Heyman, and Booker FINALLY comes back from endless ass-kicking, but Brock grabs a kick and hauls him into a powerslam. Booker scores a pair of standing side kicks when Lesnar gets distracted by Heyman being shoved down, then gets the scissor kick… into the Spinaroonie! Alas, X-Pac & Big Show hit the apron, Booker knocking both of them off but walking into the F5 for the win (3:23)- the standard RAW Distraction Finish. The nWo comes into the ring and Goldust eats The Chokeslam, then does Booker. Shawn keeps doing cartoony dances, showing why he was a bad fit for the group- the nWo wasn't THAT silly.
Pretty weak match, as it was 90% Brock doing shoulderblocks and overhand forearms as "filler" between all the intramural stuff. Then Booker scores a couple kicks and gets distracted for the RAW Finish.
Rating: 1/2* (barely even a match- just one doing a beating, the other coming back, then the distraction- the camera barely stuck to the ring for half the bout!)
Bob Holly: Shoring up meaningless midcard matches since 1995!
TEST vs. HARDCORE HOLLY:
(SmackDown!, July 20th)
* Holly is here mostly as a guy who can drop a clean fall without meaning much. Test notably looks EXACTLY the same as he did in previous years- black shiny pants and the same hair and everything. Took him a while to get repackaged, but the bloom was off the rose by now.
Standard lightning-pace WWE match to start, Holly nailing a clothesline & powerslam of all things, acting like Test is half his weight. Test hits two clotheslines to come back, but Holly reverses the pumphandle slam with a bulldog. Test comes back with elbows, but Holly dropkicks him coming off the top in a very WCW-like spot! Test shoves him off from corner punches and misses a big boot, and Holly reverses the full nelson slam to a rollup for two. Test finally gets the pumphandle slam for two, having countered a whip, and they slug it out, Holly coming off the ropes but eating a VICIOUS big boot, selling it like he was TKO'd, for the three (3:10).
A very "Typical WWE Match" where they run around the ring doing Irish whips and brawling as "in-between" spots, before ending with a clean finish off a reversal. 1999-2002 sees a lot of KOTR matches like that, usually under 4 minutes in bouts involving guys with not much else going on (the "Steve Blackman Division"). Holly did a great job here, though- Test wasn't much for selling consistently, but Holly was strong enough to haul him around and do the "meat" of the match, and sold that finish like murder.
Rating: *3/4 (your basic "WWE Sprint", but with a clean finish)
At the PPV itself, we had Brock Lesnar beat Test (8:12) after evading the pumphandle slam and hitting the F5. Also, Chris Jericho vs. Rob Van Dam. RVD won with the Five-Star Frog Splash after a (14:31) marathon early in the card- this match has greater significance, as the IWC mostly was like "Yeah, that's pretty good", leading Jericho into a frothing tizzy online, about how they worked their asses off, that match was AMAZING, and "if you didn't like it, then stop watching me and stop watching the WWE, and take up bowling, because you will never like anything we give you". He checked out of being a regular internet voice after that, but sheepishly returned half a year later, apologizing for his outburst. One fan I remember talking to said "Yeah, but in his defense, I hear 90% of the comments he gets now are You were funnier in WCW".
Jericho's infamous reaction to the online reviews of his match from that same night- Cornette has a field day with how self-unaware Jericho seems, and how touchy he is about this "Four and a half-star match".
2002 KING OF THE RING FINAL:
BROCK LESNAR (w/ Paul Heyman) vs. ROB VAN DAM:
(6/23/02)
* So someone recommended I review the Vengeance match between these two, but it's not on YouTube I think- but hey! Another KOTR match (thus completing THIS review)! Brock's in black trunks and looks like absolute MONEY with that huge, bulky muscular physique, while RVD's in great tiger-striped tights.
RVD uses speed and thigh-kicks to try and wear Lesnar down, knocking him into the corner with a superkick that looks like it hit for real, then tries his "two shoulder-rams into a charging monkey flip" spot, only to be caught in a big powerbomb! Brock throws boots and rams RVD into the corner and poor Rob is just SCREAMING in pain after every shot, going all-out to put the new guy over. Twisting powerslam gets two. Long bearhug has Rob in agony, but Brock goes into the post off a charge! Brock catches a kick, but RVD avoids a powerslam and throws a ton of kicks, finally toppling the beast with a flying side-kick! Rolling Thunder! But he's launched off at two. Spinning legdrop & Five-Star Frog Splash… but Heyman grabs Rob while he's selling the ribs, and garrotes him on the top rope. But RVD falls back onto Lesnar, getting two! The crowd bought that and Heyman sells it like a heart attack-inducing kickout. RVD boots Heyman down for that and goes up- but Brock catches him trying a moonsault and hits the F5! Brock wins the King of the Ring at (5:36)! The Brock Era had truly begun.
Not a bad little match- they skipped the "feeling out" period and just threw bombs, RVD selling his ass off and screaming in agony with everything. Good psychology with the rib stuff, as RVD's Frog Splash caused him even more pain, then a distraction from Heyman gave him a tiny bit of an "out". Both guys had already wrestled so can be forgiven for doing a quickie bout. They would wrestle the next PPV at Vengeance, Brock winning again in a more substantial match, as it becomes increasingly clear that even the big names haven't found a way to beat Brock yet.
Rating: **1/2 (too short and not "big" enough, but they did pretty well for the time and even used psychology with the rib-smashing)
This tournament ends up being maybe the most successful ever, at least in terms of what it was meant to do- put over the Next Big Thing. Brock beating four name guys, all in a row, made him credible immediately, and carried him right to the World Title at SummerSlam. I mean, three of the four matches involved distractions, but STILL- you beat Booker T & RVD and that means something.
It's funny watching any WWE stuff from the early 2000s, though, because I'd never noticed how common their "do Irish whips to set up all counters" (something Joshi also did in the '90s) and "pop up immediately after getting knocked down and run into the next spot" were- these was clearly agented to ramp up the velocity of each bout, but it's a little odd to see it in EVERY MATCH, and even guys like Regal doing it. The "WWE Cadence" probably took some getting used to for wrestlers.